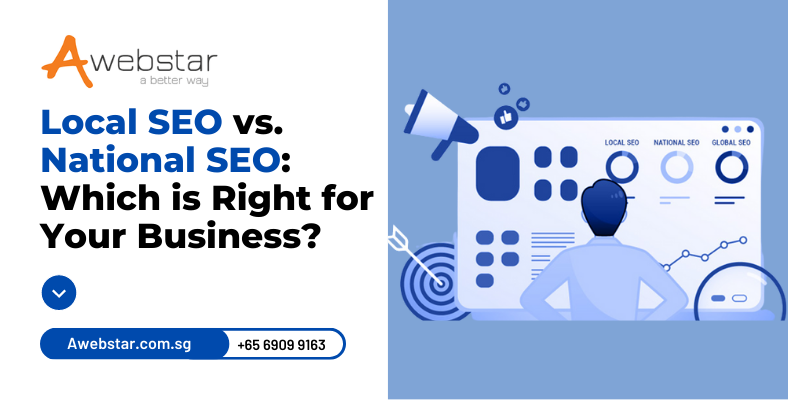 Local SEO vs National SEO: Which is Right for Your Business?
SEO is a fundamental requirement for any effective marketing strategy in the digital age. SEO entails improving your website to rank higher in search engine results pages (SERPs), hence increasing your website's organic traffic. When it comes to SEO, though, firms have two primary options: local SEO and national SEO.
Which strategy you choose to use will be determined by the nature of your business and the intended audience. Hence, when it comes to SEO, be careful to select the SEO Services that best fits your business and marketing objectives. The appropriate technique can make all the difference in the success of your marketing campaign, whether you're utilizing local SEO or nationwide SEO.
This article offers an in-depth comparison of local SEO vs national SEO, highlighting their differences and similarities to assist you in identifying the best option and implementing it to achieve your business objectives.
How does local SEO differ from national SEO?
You're not alone if you're deciding between local SEO and national SEO. This is a challenging choice that many firms, especially newer ones, must make. Simply put, local SEO concentrates on optimizing your website for searches within your local area, whereas national SEO focuses on focusing your website for national searches.
Local SEO differs from national SEO in terms of its optimization. Local SEO requires you to consider the geographic location of your target audience and optimize your website accordingly. You will need to add location-specific keywords as well as local listings and other information that will assist consumers to locate you in their area. National SEO doesn't require location-specific keywords, but you must ensure that your website ranks for the most common keywords related to your industry.
Let's break down the fundamentals of both local and nationwide search engine optimization strategies.
Local SEO:
You must focus on local SEO if you are a local business. Local SEO is the process of optimizing a website and online presence for location-specific keywords. This means that if you own a pizza restaurant in New York City, you should optimize your website to rank for phrases such as "pizza restaurant in New York City" and "best pizza in Singapore City." This will help you appear in local search results, allowing potential consumers to easily locate you.
If you don't optimize for local keywords, you could miss out on roughly half of all searches, according to Google. Local SEO is particularly critical for brick-and-mortar retailers, restaurants, and service businesses that rely on local customers. Make sure you're targeting local keywords so that individuals in your area may find your business through search engines. Also, you can think of taking help from SEO Agency in Singapore which will make your work easier.
Local Search Engine Optimization Relies on a Number of Factors, Including:
Google My Business listing: A Google My Business listing is a free internet directory listing that includes your company's name, address, phone number, and other details. Improving your Google My Business listing is essential for local SEO since it can have a significant impact on your local search engine rankings.
Local citations: Talks about the details of your company like name, address, and phone number (NAP) on other websites. Your business will rank higher in local search results with more local citations.
Reputation management and search engine rankings are both affected by online reviews, making them an integral part of local SEO. Your local SEO can be improved by encouraging customers to submit favourable reviews on Google, Facebook, etc.
National SEO:
National SEO should be at the top of your list of marketing strategies if you represent a large corporation. It's ideal for increasing sales and client reach.
Large businesses can more easily develop their presence in multiple markets and reach a larger audience with national SEO. Also, it is an excellent method for localizing and optimizing materials for numerous areas. By using keywords pertinent to each region and creating content that resonates with local audiences, businesses may reach more customers and improve their online presence.
Some of the Most Important Aspects of National SEO are:
Keyword research is essential for national SEO since it identifies the terms that your target audience is searching for. This can help you optimize your content for these keywords and increase your search engine rankings.
Content creation: Producing high-quality, interesting content is essential for national SEO, since it helps to draw links and improves search engine results. This includes blog posts, articles, infographics, videos, and other relevant forms of material.
Link building: It is the process of collecting inbound links from other websites to your own. As such, it can help boost your website's search engine rankings and draw more consumers across the country.
Local SEO vs National SEO: Which is Right for Your Business?
It is crucial to analyze which form of SEO strategy will be most advantageous for various types of firms. If you own a small restaurant, for instance, a location-based campaign can help you connect with nearby clients, and to make it a better way SEO Consultant Singapore can create a reliable local-based SEO strategy. If you are an online merchant, however, a national SEO campaign would be more beneficial for reaching a bigger, more diversified audience. Choosing an SEO plan depends on your business's kind and target audience.
>Local SEO is an important issue to consider if you're a business trying to increase your online visibility. Local SEO is the practice of improving your website and content so that it is more visible to local consumers on search engine results pages (SERPs). Optimizing your website for local search phrases, local directory listings, and more is involved. Local SEO aims to guarantee that as many local customers as possible are exposed to your business.
>When is it a good idea to use local search engine optimization techniques? Local SEO can help you contact potential clients who are searching for your products or services in your local market if you have a physical location. It is crucial for firms that are targeting a specific geographical area or have a local presence. Local SEO might also bring in new customers. For instance, if you own a restaurant in a certain location, local SEO can assist you in bringing your business to the attention of those searching for eateries in that area.
Who needs to Choose National SEO:
Navigating national SEO can be a challenge, even for seasoned business owners, because it is a more complex process with more frequent and drastic changes. If you're considering hiring an SEO Agency in Singapore for national SEO, here are some points to consider.
When should you pick national SEO for your firm, if you are a business owner? The answer is, it depends. Nationwide SEO can be a fantastic approach to gain visibility and rank in search engine results pages (SERPs). Yet, it may not be the ideal option for many businesses.
Consider the Following Factors when Evaluating Whether National SEO is Good For You:
>Consider the size of your firm first. If you have a tiny consumer base and operate a small business, local SEO may be a better option.
>Local SEO focuses on targeting local clients, and it can be an excellent approach to create leads and boosting sales. Alternatively, if you have a huge business with a broad reach, national SEO may be more advantageous.
>Nationwide SEO can help you reach a significantly larger audience and improve your SERP ranks.
Conclusion:
It's crucial to remember that search engines want to give users the greatest results on the SERPs for local and national SEO. Local and national SEO should be properly done to maximize your business's visibility. National SEO helps businesses reach a wider audience and generate more leads, while local SEO benefits local enterprises.
We at Awebstar which is one of the Best SEO Agency In Singapore recognize the significance of local traffic to online businesses. We give them the resources they need to obtain valuable local traffic and expand their consumer base. Our data-driven strategy promotes long-term success and true business expansion. We are devoted to delivering the finest possible assistance to our partners on their path to success.