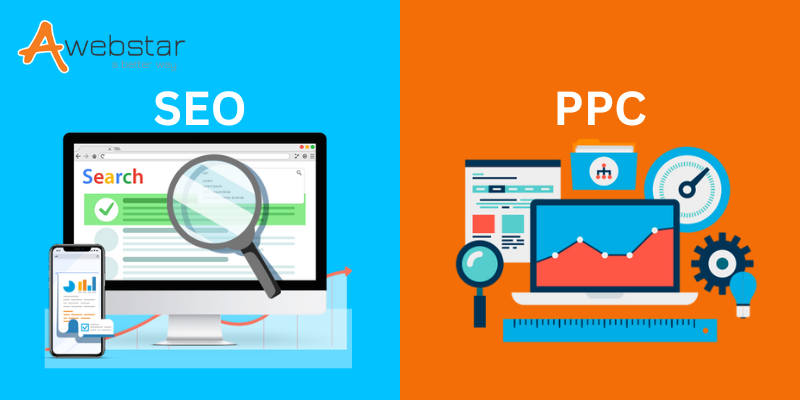 PPC vs SEO: Finding the Right Balance Marketing Strategy
In the modern digital era, Businesses have a wide range of marketing methods at their disposal. Pay-per-click (PPC) advertising and SEO services are two of the most often used techniques . Both approaches have advantages and disadvantages, therefore firms may find it difficult to choose which to implement. Should you spend money on PPC advertising to get traffic right away or concentrate on SEO to raise your website's rating over time? In this blog, we will discuss about PPC vs SEO and how you can find the right balance marketing strategy. You may Hire Adwords PPC services or invest in an elaborate SEO strategy, but the key is to find the right balance.
The fact is that there's no definite answer that fits all businesses. The proper ratio of PPC to SEO relies on a number of variables, including a budget, business objectives, target market, and competition. Based on this we'll offer advice on striking the ideal balance between the two when developing a marketing plan for your company.
How To Find The Right Balance Marketing Strategy:
Businesses need to take into account a number of important aspects in order to create the ideal PPC and SEO balance. Consider the following points when you choose the appropriate marketing approach for your company:
Determine your Budget:
It's important to take both short-term and long-term objectives into account when setting your PPC and SEO budget. While SEO is a long-term approach that calls for regular commitment over time, PPC advertising can be expensive yet offers rapid results.
So if your company has a tight budget, it could be wiser to concentrate on SEO strategy. This will help you lay a solid foundation that will bring in visitors and money over time. However, to boost immediate traffic and raise brand awareness, PPC advertising might be useful if you have the resources to invest in it.
Understand your Business Goals:
Understanding your company's objectives is crucial before choosing a marketing plan. So first determine whether you are trying to improve website traffic, brand recognition, or sales and revenue.
PPC advertising might be the best choice if your objective is to quickly increase sales and money. However, if your objective is to establish a strong online presence and gradually boost organic traffic, SEO can be a better option.
Know your Target Audience:
Selecting a marketing plan requires careful consideration of your target audience as their behavior can affect the outcome of your strategy. PPC advertising might be the best option if your target market is more inclined to click on ads and buy anything right away.
But, SEO can be more fruitful if your target market is prone to do research and compare products before making a decision. You may better tailor your marketing plan to your target audience's needs and achieve greater outcomes by being aware of their behavior & preferences.
Analyze your Competition:
Examining the marketing tactics of your rivals might give you useful information about what is successful in your sector. If investing in PPC is working for the businesses in your industry chances are it may work out for you. So, you can also focus on PPC if you want to stay competitive
On the other hand, concentrating on SEO can be a better plan of action if your rivals have a strong organic presence. You can spot market gaps and distinguish your brand by comprehending the advantages and disadvantages of your rivals. This will help you learn from their mistakes and make an overall better decision for your business.
Consider the Customer Journey:
The process of a potential client goes through multiple stages, referred to as funnels in sales. From the time they first become aware of your brand to the time they make a purchase is known as the customer journey. While choosing a marketing plan, it's critical to comprehend where your target audience is in the customer journey. If they are in the awareness stage, PPC advertising may help you reach them and introduce them to your business.
However, if they're in the consideration or decision stage SEO may be effective for providing the information they need to make a purchase decision. You can design targeted marketing initiatives that are more likely to produce outcomes by comprehending the consumer journey.
Test and Measure Results:
Finding the ideal balance between PPC and SEO requires testing and measuring the effectiveness of your marketing activities. To achieve that you can use data and analytics to monitor the success of your efforts and make necessary adjustments.
For PPC advertising, monitor the click-through rate (CTR), cost per click (CPC), and conversion rate. However, for SEO, you need to keep tabs on your website's interaction, traffic, and ranking analytics. You can determine which techniques are producing the best results and distribute your funds accordingly by measuring your results.
Focus on Quality:
In a marketing strategy, quality should be a priority, whether you're spending money on SEO or PPC advertising. Focusing on high-quality ads that are relevant to your target market will boost click-through and conversion rates in PPC advertising.
In SEO, producing valuable content for your audience can raise your website's authority and visibility. You can establish a solid internet presence and improve results over time by concentrating on quality. Thus, whatever path you take, make sure you are getting quality results.
Utilize Both Strategies:
With all the points we discussed till now, you must have understood that PPC and SEO are two distinct techniques. However, they can complement one another to provide superior outcomes.
For instance, PPC advertising can support your SEO efforts, which concentrate on long-term organic growth, by bringing rapid traffic to your website. Thus, using both tactics, you may develop a comprehensive marketing plan and flourish your online business.
Parting Words:
In conclusion, it's important to strike the correct balance between PPC and SEO. For that, you need to carefully analyze your budget, business objectives, target audience, competition, customer journey, and data analysis. You can develop a marketing plan that works for your company by taking the time to consider these things. Or you can hire reliable Adwords PPC Services or SEO services to offer an all-inclusive and create a balanced marketing strategy.