SEARCH ENGINE OPTIMIZATION – NO RANK, NO PAY
At Awebstar, we firmly believe that if you adopt the right SEO strategy then you will garner the right results and we are here to make that successful SEO campaign that will work for you. It will not just boost your rankings online but will also help you set up that successful business you have always been dreaming about. Contact us today and leave our experts to create the SEO campaign tailored just for you – so that it works right for you.
One of our very popular Search Engine Optimization (SEO) services is the unbelievable 'No Rank, No Pay' SEO service. We are proud to present you with our total result – driven Search Engine Optimization (SEO) service which is not just inclusive of a wide selection of expert strategies, implementation, and techniques but also comes with a guarantee. You don't have to waste your time behind a poor SEO campaign that will hardly boost your website and prove to be a waste of your money. Instead, you can rely on our 'No Rank, No Pay' service which as the name suggests will not demand a penny if you don't climb up to the desired rank you wished for. We keep ourselves committed to improve your search engine rankings and especially target your industry and audience. This ensures that you get greater and useful results and insights into your business. We are here to reserve that rightly deserved spots for your business online.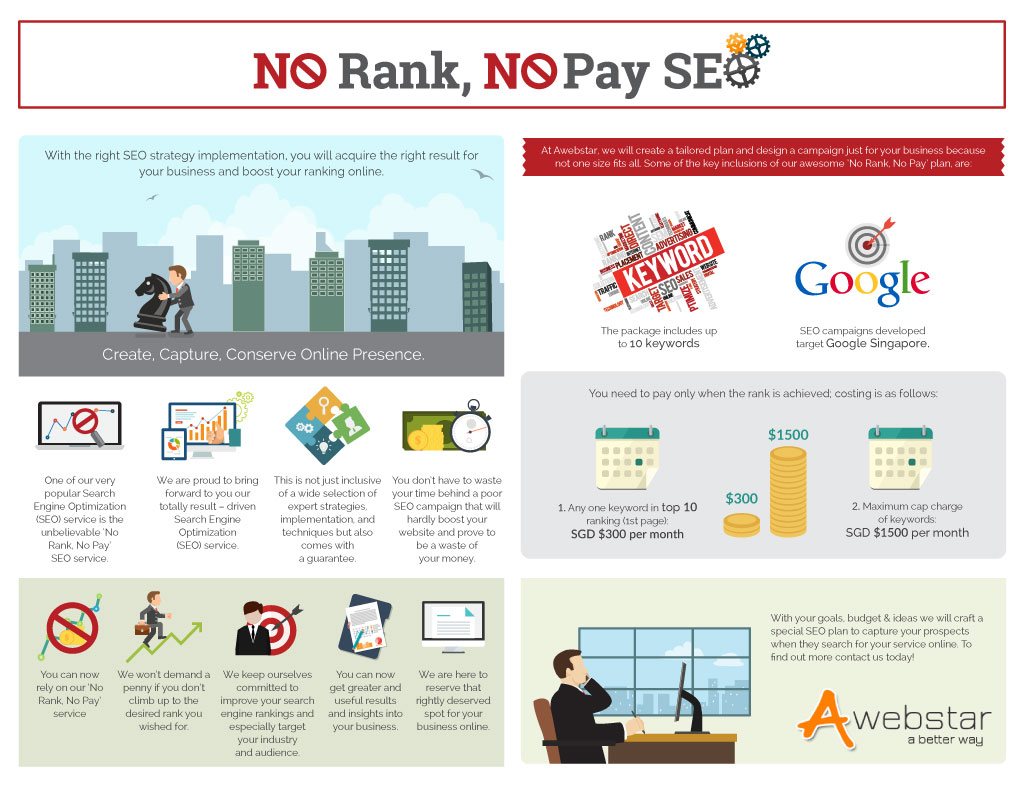 At Awebstar, we will create a tailored plan and design a campaign just for your business because not one size fits all. Some of the key inclusions of our awesome 'No Rank, No Pay' plan, are –
• The package includes up to 10 keywords.
• SEO campaigns developed by us target Google Singapore.
• You need to pay only when the rank is achieved; costing is as follows –
1) Any of the keyword in top 10 ranking (1st page): SGD $300 per month
2) Maximum cap charge of keywords: SGD $1500 per month
For us, your requirements are the main concern. Let us show you how we can make your business more successful now by setting up a campaign with your goals, budget and ideas in mind. Contact us today to find the SEO plan that is the perfect fit for your business because just like your special business it deserves the same attention.
| SEO Packages | Silver |
| --- | --- |
| Payment Terms | 6 Months Contract |
| Promotion | Buy 6 Months Upfront and get 1 Month Free! |
| Keyword Phrases | We sell in a bundle of 10 key words |
| Professional On-Page SEO | |
| White Hat SEO Methods Deployed | |
| Website Audit | |
| Major Search Engine Submissions | |
| Monthly Backlinks Report Personally | |
| Advanced Rank Checking Software | |
| SEO Specialist Assigned for Project | |
| Price | $588 |