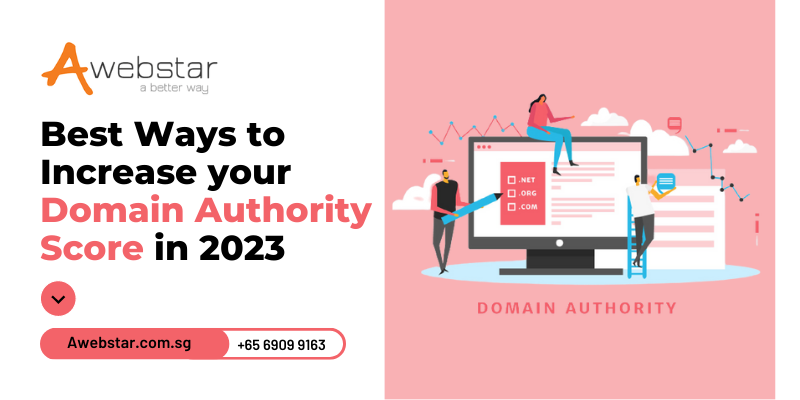 Best Ways to Increase your Domain Authority Score in 2023
In today's digital landscape, every business strives to achieve higher visibility and ranking in search engine result pages. It is the major aspect of Search Engine Optimization (SEO) Practices and domain authority is one of the decisive factors. Essentially, Domain Authority (DA) is a metric that indicates how well-ranked a website will be in search results. It has a scale of 0 to 100, with higher scores indicating the potential for higher rankings. Having the support of an experienced SEO services company is a must to achieve higher rankings.
Businesses need to constantly work on their domain authority to improve their search rankings and stay ahead of the competition. However, increasing domain authority is not a simple procedure and it demands precise strategies and upkeep.
This informative blog will impart some of the top strategies for raising your domain authority score in 2023. You will gain practical advice and insights, employing which you can enrich your search engine results. Whether you're trying to solidify your online presence or looking to boost your SEO efforts, this guide will serve as a solid reference.
Top Ways To Raise Your Domain Authority:
This segment will introduce you to the best SEO services tips to achieve an improved domain authority score.
Create High-Quality Content:
Each effective SEO strategy is built on the foundation of producing high-quality content. Plus, it should be educational and interesting for the readers. Also, use relevant keywords in your content to increase its visibility to the search engines.
Any accomplished SEO agency will guide you to create content that will be valuable and relevant over time, it's called evergreen content. The likelihood that this content will generate links and raise your domain authority score is higher. If you want to make your information more aesthetically appealing and interesting, you may also use multimedia components like pictures, videos, and infographics.
Focus on On-Page SEO:
Op-page SEO is making your website's content and structure more search engine friendly. This implies optimizing your titles, meta descriptions, headings, and internal linking structure. Doing so, you will be able to enhance your website's user experience and crawlability, which will certainly help boost your domain authority score.
Along with this, remember to make your website mobile-friendly, as the majority of people access the internet via their phones. Optimize your website's loading time as well, as a slow website can harm user experience and result in greater bounce rates. You can hire a reliable SEO service for website on-page SEO and achieve better rankings.
Build High-Quality Backlinks:
Your domain authority score is also greatly influenced by the number of backlinks supporting your website. Having backlinks from high-authority websites in your niche can take your domain authority to the next level. So concentrate on producing link-worthy content that benefits your target audience if you want to earn high-quality backlinks.
If you consult an SEO company, they would suggest you to do guest blogging, which is an effective way to build quality backlinks. You can reach out to new audiences and develop connections with bloggers and influencers by writing guest posts on other websites in your industry.
Improve Website Speed and Performance:
Another crucial factor that affects the domain authority score is the speed of your website and its performance. A website's sluggish and low-loading speed can have a negative effect on user experience and increase bounce rates. To improve the speed, you should optimize your website's photos, compress your website's files, and use caching techniques.
In addition, Make sure your website has sufficient resources and is hosted on a trustworthy server. To assess the performance and pinpoint areas for improvement, utilize tools like Google PageSpeed Insights or GTmetrix for website speed and performance testing.
Use Social Media to Promote Your Content:
Social media is an effective tool for spreading brand awareness and marketing your content. Sharing your material on popular social media sites like Facebook, Twitter, LinkedIn, and Instagram will help you increase website traffic. This can help you build a solid online presence and earn backlinks from credible websites.
To increase the effectiveness and reach of your content, make sure your social media profiles are optimized and active. Plus you need to maintain consistency by sharing your content frequently. Also, use relevant hashtags to increase the visibility of your material, and interact with your followers to create a feeling of community.
Parting Words:
So, this brings us to the end of our brief but informative guide on ways to increase your domain authority score in 2023. From the points we discussed above you can understand that a thorough and systematic approach is necessary to raise your domain authority score. You can hire a reliable SEO services company to get you a higher domain authority score and move up in the search results pages. Concentrate on producing high-quality content, optimizing the layout and functionality of your website, constructing high-quality backlinks, and utilizing social media. Lastly, keep in mind that increasing your domain authority score is a long-term process that necessitates continuous effort and attention.