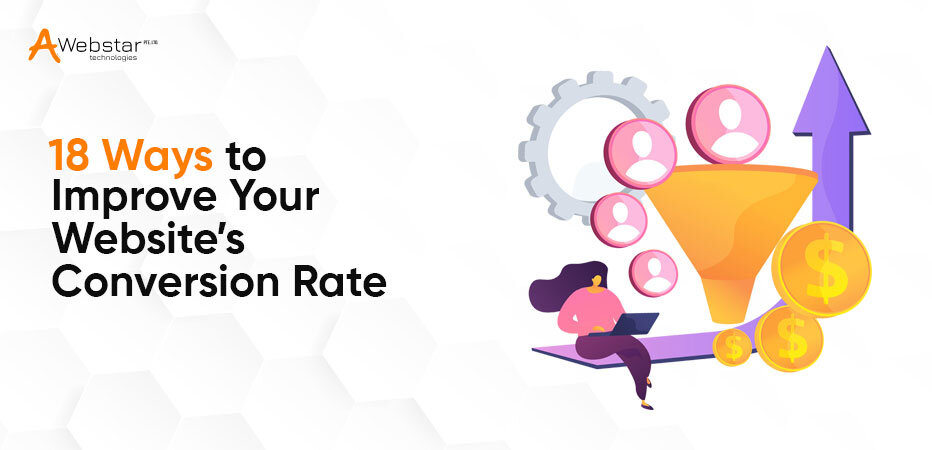 18 Ways to Improve Your Website's Conversion Rate
If we asked about the conversion rate of your website, what will be your response?
Would you answer the number proudly? Or get embarrassed while telling the answer?
The conversion rate is all about more revenue!
And, you always want to record it in increasing order, right?
Often, companies underestimate the potential of UX design, website speed, content readability, external links, CTAs, and many other elements, which further become the reason for the high bounce rate and poor conversion rate. 
Conversions are the core element of any online marketing campaign. Business owners run the marketing campaign in hope that customers will sign up for their services, buy their products, fill out a form, and others to get desired revenue.

Some Unbelievable Facts
According to a study, only about 22% of businesses are satisfied with their conversion rates. 
Even, a recent Akamai study has concluded that if your website takes longer than 3 seconds to load, you could be losing nearly half of your visitors. A one-second delay in page load times yields:
11% fewer page views

16% decrease in customer satisfaction

7% loss in conversions
If you're hitting the conversion rate around 2-3%, you're not doing too badly. But, this is not what most companies want, right?
Companies want a high conversion rate to gain a competitive advantage in the marketplace. So, what is a good conversion rate?
Another study has shown that the top 25% of websites have conversion rates of at least 5.31%. Whereas, the top 10% has conversion rates of 11% or more, which is almost 5 times greater than the average.
Hitting this percentage level can be a little tricky. But at the same time, having an ineffective marketing campaign will never take you to this point. 
Doesn't matter – whether you're applying a content marketing strategy, paid ads technique, affiliate marketing, or any other SEO strategy concepts. But sometimes, visitors leave the website without buying anything, which is a missed opportunity. For example, if 100 users visit the page advertising baby strollers, and 2 users actually click the 'buy button, then the conversion rate is 2%. 
Getting traffic to your website is great in the equation of increasing your website conversion rate. But if that traffic doesn't convert, it's almost useless.
So, what exactly is the conversion rate?

What Defines Conversions?
The conversion only occurs when a visitor takes action on a website, such as filling out and submitting a contact form, answering survey questions, or clicking on the "buy" button, etc. The percentage of total visitors after taking required action is called your conversion rate. 
Occasionally, business owners fail to get conversions due to poor branding strategy, which indicates zero online conversions. What could be the reason behind this downfall? And how can you make your conversion rate high?
When it comes to increasing conversion rates, website performance, usability, content quality, UX/UI design, page speed, age layout, CTAs, compatibility of devices, and other various factors play a big role. In other words, having an eye-catching design and fast page load speed will more likely convert visitors. But, this isn't enough.
There are a lot of factors that participate in the game of conversion rates.
In this write-up, we will explain those factors in detail to increase conversion rates.
So, let's get started!

What is the Conversion Rate?
As we discussed above, the conversion rate is the percentage of site visitors that complete the desired action. This action further converts the visitors into your customers. But the actions of visitors depend on the website services. 
For example, membership registrations, completing a purchase, signing up for a trial, email subscriptions, downloading an ebook or app, booking a demo, etc.
Website conversion rate is a key metric that helps in determining – how well your website is optimized. People adopt different strategies to determine the potential insights of achieving greater CTRs. 
Let's define, if you get successful in obtaining a high conversion rate, it means:
You are targeting the right audience for your products and services.

All the action, such as messaging, calls to action (CTAs), etc. resonate with your audience.

You have settled on reasonable efforts to make your user journey more peaceful and spontaneous.
How to Improve Your Website's Conversion Rate
Post Content that Suits Your Target Audience
One reason that may attack your conversion rate is poor content quality. Doesn't matter – how great your website design is. It's all in vain if the content is unable to generate the WOW effect.  
"Content is king" – this is still a universal statement. When it comes to content, it doesn't only mean text, sentences, paragraphs, and grammar. Pictures, videos, and graphics – all these elements are considered as important constraints in the content. 
Having inadequate readability and lousy formatting results in poor user experience and a higher bounce rate. So, while generating the content, some factors you must take into account:
Use subheadings and bullet points to throw more light on your content.

Add charts, images, screenshots, and quotes from industry experts, where required.

Give a bold color to your keywords.

Give your readers an invitation by asking a lot of questions in your content.

End your content with an actionable "conclusion" part.
But, make sure the reading and comprehension level of your content can make direct contact with your audience. Keep in mind the native language, tone of voice, writing style, phrases, and words, so the audience understands your writing speech.
Add a Pop-Up Window 
A Sumo study has shown that pop-ups can bring an average 3.09 % conversion rate to your website. And, you can also reach a 9.28 % conversion rate if you do it in the right way.
So, how can you reach this percentage? Here are some tricks:
Add various offers through PDFs, premium content, different products, other free stuff.

A 30-second delay timer on a pop-up can annoy your audience.

70% of users

say that they find irrelevant pop-ups annoying?

Set a cookie so the pop-up only appears per user for once.
Adopting such strategies gives a big boost to your conversions rates, which will keep the level of the complaint at zero. Well-designed pop-ups convert visitors into long-term customers, which further improves conversion rates. 
Exclude Unnecessary Form Fields
Annoying situation – filling out too many fields as required (*) option in an online form!
It can badly hit your conversion rate. This is where a recommendation is to remove all unnecessary form fields. Only add those fields that are required and essential for completing an action. 
Every time you remove the unnecessary field from your form, the chances of sign-ups will increase by 10%. Additionally, always ask for the necessary and required info. Otherwise, visitors will leave and it becomes difficult to connect people with the "filling form action". 
Keeping minimum fields in the form adds an imperative advantage to your pocket. 
Don't Forget to Add Testimonials, Reviews, and Logos
94% of customers say that negative online reviews are the reason to avoid a business.
Gaining credibility is the choice of every business owner. And testimonials and reviews play a vital role in this. 60% of customers prefer Google for reviews. 
Every customer makes a decision after evaluating the reviews of existing customers. So, you can keep at ease by providing testimonials or reviews from previous customers. If you have a service-based business, get testimonials from happy clients. 
Collecting more and more reviews on your product will drastically increase your conversion rate.  You can also add a series of logos, which further help in building instant trust with new visitors. 
Strengthen your CTA
An overall strategic purpose of a landing page is to acquire something from your audience, such as contact details, or let them click on the "buy" button. Through CTA- Call to Action, you can gain more conversion rates. Using CTAs like "Sign Up", "Start Trial", and  "Buy Now" will help in quickly capturing your visitors. While creating a CTA button, elements like button placements, color, and style play an imperative role. So, keep these factors in mind.
Moreover, always use the active voice rather than the passive voice. You need to use the strong verb to describe the action or make the results more oriented. The CTA starts with "Yes" (Yes, I want [your offer]!) works a lot better than a generic CTA copy. 
Assist Your Website With Live Chat Option 
Longer wait times can annoy customers. 59% of customers are more likely to buy from those brands that respond back in under a minute. 
Thus, implementing live chat is an engaging alternative to improve website conversion rates. Live chat tools are easy to add to any site. These tools will provide an immediate boost to your website. 
Live chat assists your website and your customers in real-time and solves all the queries. It leaves a positive impact on conversions and customer satisfaction, which provides the best return on investment. 
Create a Video for Landing Pages
Creating videos for your landing pages helps in engaging your visitors for a longer period of time. A study has shown that using videos on landing pages can increase conversions by 86%.
Uploading testimonial videos, explainer videos, promo videos, and demo videos spread the strongest message in the most effective format. But, while creating a video, make sure it's valuable to the viewer, specific to the landing page, and reflects a clear story and message.
Videos on the landing page helps illustrate the value of the product or service on offer. Thus, adding videos generates the possibility of accessing even more complex products. 
Add Incentives to Take Action Right Now
Your overall purpose is to achieve more personal gains. And the best way to reach this point is to encourage visitors to complete the desired action by picking up instant offers and incentives.
Offering discounts and incentives drive customer's loyalty and allow them to stay in touch with your brand.  Discounts, promo codes, and incentives motivate visitors. These will nudge customers to make a quick decision about a potential purchase. 
While posting an offer or incentive for your customers, don't forget to add numbers, emojis, and persuasive words. Always try to make the subject line stand out and more attractive.
Offer a Money-Back Guarantee
No business owners want to keep risks with a purchase if it's about increasing conversions rates.  And at the same time, customers also don't want to pay for services until they'll make sure that they get the money back.
Hence, by offering a money-back guarantee, you'll be able to increase more sales. Through this tactic, you can drive home the point of trying out the product/service.  So, remove the risk associated with the purchase. And be confident while offering your products, services, or other information. This will help in delivering a strong message to the consumer and remove any hesitations to purchase from you.
Also, offer a warranty or a trial period over products/services to generate reliability in customers' minds. 
Optimize For Mobiles
More and more customers are using mobile devices in everyday life. Hence, making your website mobile responsive adds a major accelerated growth in website traffic. If your mobile visitors don't have a good experience when they land on your website, it means you're lacking away from a huge portion of your potential traffic. 
There are a few key things you need to keep in mind:
A responsive website includes the same content and information on mobile devices.

Ensure information users are looking for is easy to find when they search it through mobile.

Make sure the CTA is properly covering the designated space on mobiles.

Have proper font sizes as it makes reading sizes on the smaller screen. 
Add Effective Headlines
The first thing that visitors usually notice is headlines. A headline defines the bottom line of your entire business into one bold sentence. It is intended to stimulate the interest of visitors, answer a question, solve a problem or be instructional. 
There are different types of headlines (like command headlines, direct headlines, question headlines, problem-solving headlines, instructional and how-to-headlines) that can promote better lead generation. While creating headlines, keep length, tone, use of statistics and numbers in mind. 
According to a study,8 out of 10 people read headline copy, but only 2 out of 10 read the rest. If 8 out of 10 people start reading your headline, you'll achieve a better conversion rate. 
Add High-Quality Images 
A study by Social Media Examiner has concluded that 32% of marketers say that visual images are the most important element. So, fill your pages with some interesting images, videos or helpful screen grabs to keep your reader engaged. Featuring text-heavy blog posts with attractive pictures and graphs attract more customers and allow them to take action further.
But, avoid overdoing it. Inserting more images and videos often makes an unprofessional impression. And, this is exactly what you don't want. So, take advantage of using screenshots or even occasionally sharing industry charts, graphs, and infographics.
Improve Conversions Through Chatbots
Adding chatbots on the website allows the customers to get easy access to obtain the answers to their questions instantly. Chatbots won't only save customer support costs but also work 24/7 without a break.
These technological tools can reach out to a larger audience and encourage businesses to increase website conversions. But how?
Bots can't only provide an immediate answer to FAQs but can also qualify leads by asking sales questions and directing them to the next level of your sales funnel. This further engages the customers to perform the required action, which converts into conversions. 
Spread the Word with Social Sharing Buttons
Social media is one of the most advantageous strategies to improve conversion rates. Spreading words about your organization through sharing social media buttons plays a big role in making buying decisions. Make sure you only add the appropriate social buttons to your website. For example, Twitter for quotes, Pinterest for images, Facebook for blog sharing. But, avoid sharing too many buttons. Otherwise, it can lay down your website, plus your CTR.
Giving social proof on a website can build customer trust and add credibility to your business. It gives a boost to conversions.
Add Trust Badges on Your Website
Another effective element that brings people to buy from your website is generating trust. Therefore, mentioning contact information, social profiles, and payment assurance give a few signals of trust.
Content details must include a contact page, email, phone number, live chat, etc. Make sure your site is featured with various payment methods, trust badges, certifications, and SSL. These trust signals also help with your SEO in addition to improve your site's conversion rate. Strategically placing your trust badges by your CTAs will also assist in boosting conversions.
Visual Appeal Is a Must
As the placement of CTA buttons is important, the visual appeal is also a main consideration when it comes to increasing conversions. Following the combination of colors or individual colors is a subtle yet powerful way to convert your customers. Each color has its own meaning and relates to a specific purpose. For example, red defines passion, black represents sophistication, and yellow symbolizes attentive. 
Therefore, while creating a CTA, determine – which color will affect your audience more in a positive way. A visually appealing website provides an instantaneous layer of communication. The photos and graphics also go a long way to create an authentic, solid first impression. 
Optimize Website Loading Speed
A 100-millisecond delay in load time can drop the conversion rates by 7%. It concludes that more wait times on loading a website negatively impact user experience, and hence, online conversions.
Therefore, it's recommended to optimize your website loading time by minimizing the HTTP requests, reducing service response time, running a compression audit, and minifying CSS, JavaScript, and HTML. 
Working on these factors will instantly increase the load time for visitors, which smartly engages your audience and their experience.  
Focus on Your Email Marketing Campaign
Well, an email list is one of the effective ways to nurture leads and attract more customers. 
 Statistics prove that sending emails increases conversions by 69%. Hence, it's highly recommended that focus on an email marketing strategy by sending an automated email to subscribers. Personalization and dynamic content is the main engaging point to let customers click on your emails. In case, if you're struggling to develop your email list, consider the following points:
Offer discounts to your subscribers and of course, make it clear what benefits are for signing up.

Host a free webinar 

Write a great subject line 

Add engaging CTAs
Following these key metrics will work best for your business in terms of conversions. 
Let's Invest in Improving Your Website Conversions
Indeed, high conversions become a major concern for every business owner. But, it all depends on – how appropriately you're focusing on customer experience.
So, if you want to convey your brand value proposition to your potential customers, it's suggested that focus on the above-mentioned key metrics achieve desired results. These are the gateways to increase your online conversions significantly.
If you require help in web design, and web development, or SEO services, you can take advice from our professional experts. So, reach us and feel free to contact us at any time!
Thanks for your precious time!