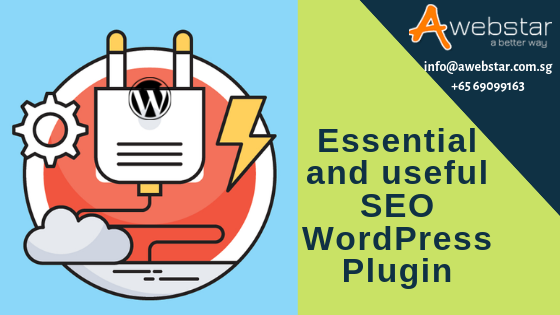 Essential and Useful SEO WordPress Plugin
When you develop a website using WordPress, it may not come with all the features that you would like it to have such as Google Analytics, SEO and automatic backups among many others. This is however nothing to give you sleepless nights as it is possible to take advantage of SEO WordPress plugin that can actually help to make your site work in a smart way.
SEO WordPress Plugin
Below you will find some of the options you have where some are free and others you have to pay to get the most out of your site.
Google Analytics
This is a great feature that will help you with marketing efforts. It is free of charge and it helps to measure sources of traffic, SEO traffic sources (including keywords), mobile data, social media traffic sources, geographic data, content performance and technical data among many others. Keep in mind that you can use Google Analytics custom dashboards to get data on specific marketing categories like mobile, social, SEO etc.
WordPress SEO by Yoast
This is a very robust SEO WordPress plugin that is available free of charge. It helps your site with a number of options such as sitemap options, being webmaster tools, Google webmaster tools, taxonomies Meta descriptions and title and social media SEO options.
iThemes Security
This is an incredible security plugin that protects your site from attack by hackers. The non-pro version is available for free and it offers 30+ ways to defend your site including things such as password reinforcement, brute force protection, hide login & admin, locks out bad users, file change detection, 404 detection, database backups, email notifications and away mode.
Back-Up Buddy
This is an SEO WordPress plugin that offers site owners scheduled and automatic website backups. It costs about $80-$150 per year. Backups are normally sent through Dropbox and email. With this, you are allowed to restore the site should anything happen to it.
Fancier Author Box
This normally displays an author box that is located at the top or bottom of the blog posts. It is available free of charge except for the people who would like to utilize the fanciest author box. This allows you to show the latest posts, display author bio, show social network and you can also work with customizable colors so that you can choose the ones that suit your site best.
Digg Digg
This is an SEO WordPress plugin that is categorized as a social sharing button. This allows you to view all the social sharing buttons that are found on the left. It is also among the free options and it is also used to show on pages and/or posts as well as print and email options.
Post Redirect/Quick Page
This comes in handy especially in a case where your URLs change for instance during migration as visitors will be directed to the correct and new URLs. It is free of charge and is ideal doe SEO friendly permalink structures that are new. This also helps to prevent 404 pages and broken links.
Gravity Forms
This is an SEO WordPress plugin that helps your contact form to do exactly what you want it to do. It costs around $39-$199 depending on the specific plan that you will be working with.
It comes with highly customizable fields and also has various 3rd party add-ons. It is also important to note that it is very easy to style, comes with autoresponders, spam production and option to export your entries.
W3 Total Cache
This is great for user experience and SEO as it makes your site load faster. It is free works on cache settings and you can get the option to minify codes and content delivery network settings.
Broken Link Checker
This is an SEO WordPress plugin that notifies you every time there is a broken link on your website. This is another plugin that you get free of charge. It monitors all the links that are found in pages, posts, blog roll and comments. It can also detect broken links, re-directs and missing images.
Notifications are normally sent to you by email or via dashboard. It also makes broken links be displayed in the posts although optional. It also helps to prevent search engines from following the sites that are broken on an optional basis.