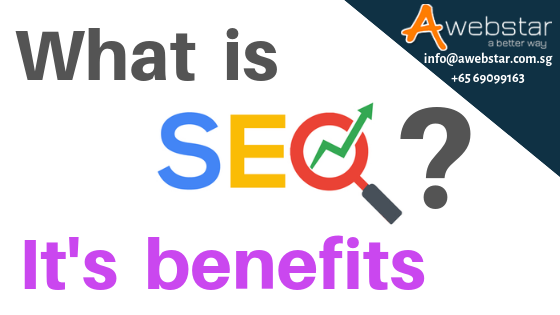 What is SEO? How Does it Benefit You?
To take their business to the next level, business people need to take advantage of SEO. What is SEO you may ask?
What is SEO?
The initials stand for Search Engine Optimization (SEO) and it can be described as a process of getting traffic from organic, free, natural or editorial search results to your website on search engines. This normally affects the visibility of a web page or an entire website in the search engines unpaid search results.
It is not an overstatement to say that businesses who do not practice SEO are in for a worse situation than the ones who do.
Benefits of SEO
This is because it brings about numerous benefits to a business and some of them include:
Increased Traffic
This is one of the major benefits that a business can get from SEO. This is because the websites that make it to the top positions on the search engine results from pages normally receive the majority of the click and impressions. This means that more people get to know about the existence of your site.
SEO focuses on creating keywords that are informative and relevant to Meta descriptions and title that show up on the result pages. Having optimized descriptions and tags helps to increase the click-through rate which in turn promotes an increase in qualified web traffic.
Return on Investment (ROI)
For people who have no clue what is SEO? It is important to note that it offers quantifiable and trackable results irrespective of whether you are a non-commerce or eCommerce site so that there aren't any uncertainties when it comes to ROI.
SEO agencies can track almost all aspects of the strategy including things like an increase in traffic, rankings, and conversions. Comprehensive analytics also offer the incredible ability to drill down to the granular level as well as demographics as well as other engagement metrics for people who have been able to interact with your site.
For the E-commerce websites, the SEO agencies can look at the paths that users take to complete a sale and the keywords that were used before the purchase was made. This makes it easy to calculate SEO strategy value.
Cost-effectiveness
SEO normally targets users who are looking for the products or services you are offering online making it one of the most cost-effective strategies that are used for marketing efforts. Its inbound nature helps businesses to save money and is normally better than outbound strategies such as cold-calling. Even though cold calling brings out some positive results, it normally costs more than 60% of the leads that are generated by inbound strategies such as SEO.
It also means that the site also gets to enjoy qualified traffic since it targets people who actually want the products and services you have to offer which helps you to save money and still get results.
Enhanced Site Usability
When asking the question of what is SEO? It also helps to mention that one of its benefits is that it makes the site more user friendly. This is because, in an effort to make the site easier to navigate for search engines, it concurrently helps to make your site more navigable to all its users too.
SEO seeks to rearrange the architecture of the site and it also links to make pages on the site easier to find as well as navigate. This way, users can find more information more easily on your site and at the same time search engines can crawl more easily on the site.
Brand Awareness
Top position rankings on the search engines normally result in noteworthy impressions and if your site is on the top openings, the website becomes more exposed. In addition to this, being on the first page of the targeted keywords also helps users to associate your brand with the keyword which instils trust since the companies that are found on the first page are normally perceived to be trustworthy.
The more your content and pages rank in high positions when it comes to the search engines, the more chances users see what you have to offer and also associate it with your brand putting it in a great position as an industry leader.
All the above goes to show that you should take SEO very seriously if you would like to take full advantage of all the benefits it has to offer.