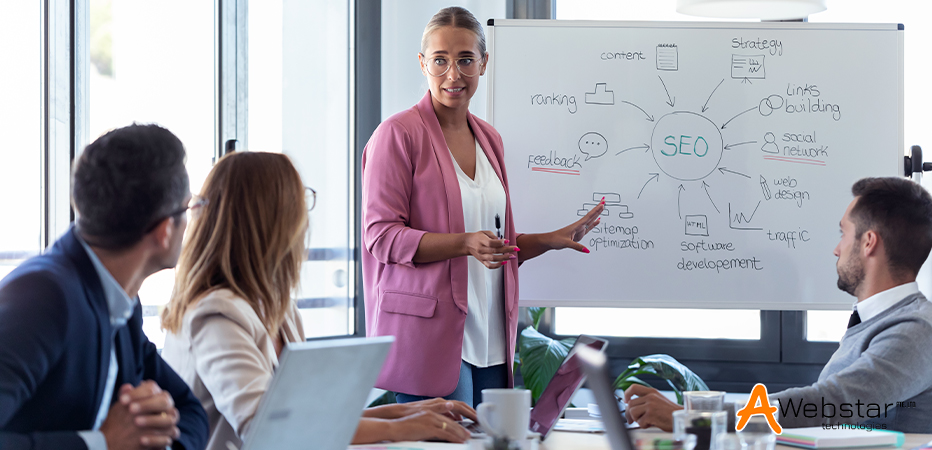 How Does SEO Work?
Search engine optimization (SEO) ensures online users a flawless experience when they visit your site. SEO makes it easy for search engines to determine what an individual or company is trying to communicate to their target audience.
The search engines confirm that the websites they refer a user to on their results pages have the most applicable content that an online user is looking for. Simply, statistics say that search engines are responsible for 68% of online experience. There is a 14.6% of close rate of leads and a 1.7% of close rate of outbound leads from search engines.  From the figures, it is evident that after understanding SEO working, the strategies can be opted to enhance the visibility in leading search engines.
What Do Search Engines Want?
It is important to understand the criteria that search engines determine whether a site is relevant or not. It evaluates the content such as title, descriptions, and text. Additionally, monitoring your site's performance is also involved. They check if the relevant site functions properly and responds quickly or not. 
Relevant sites are considered as an authority as per the kind of content they include. It is important to provide links to other sites that offer valuable information to your online users. Your site is also considered authoritative if other sites reference the content you have included.
User experience is another important factor that search engines consider when they are evaluating your site. You can choose a reliable digital marketing company to assure enhancement in the user experience. They have professionals who know all the in-outs of making the site more appealing, easily navigable and user-centric.
What SEO is Not?
Search engines rely on search engine spiders to know the included content meets the users' needs. Some people assume that they can use search engine optimization tricks to get higher rankings. Certainly, there are things that you should watch out for when you are trying to exploit SEO.
Avoid keyword stuffing in your content. Overusing keywords on your online pages will not boost your search engine optimization efforts.
Another SEO mistake that individuals and organizations make is purchasing links. If you are buying links and the information that you have included on your site is not relevant, then, you cannot achieve successful results. Hence, it is essential to include links that are related to the content. 
If users find it difficult to navigate your site, search engines will rate it poorly.
It does not matter how relevant the content is if people cannot find what they are looking for within the shortest time possible. One of the things that can affect user experience is the inclusion of too many ads.
If a user has to navigate from one page to another or juggle around to get information, then, they will move and never visit again. That is why it is advisable to focus on enhancing the user experience as part of your search engine optimization efforts.
How to Advance your Search Engine Optimization Efforts?
The most effective way to boost your search engine optimization(seo) efforts is by exploiting the content you include on the site to its fullest. To do this, you need to make sure the content is simple, easy to understand and engaging. Also, it is important to make sure you limit the number of links that you include on a single page.
The content on your site should include terms or keywords that your target audience is likely to use when they are looking for the information that you provide. Research about different variations of the terms they may use and then integrate them creatively in the content.
If possible, you should limit the number of images that you use on the site, especially when explaining critical details. The search engine spiders do not recognize images and it means that they will not pick up the important information you have included in them. So, it is advisable to use text to make it easy for search engines to understand and index the content.
If you intend to use content from other websites, it has to be valuable and unique for your audience. However, the content should add value to what is already available on your site.
Concluding remarks
Website optimization for search engines is not an impossible task. If you do not know anything related to a technicality, then, of course, it is difficult for you. But, you can turn to the best SEO agencies for help! 
Awebstar is an SEO agency holding years of experience in optimizing client sites and making them SEO-oriented. If you are a newbie to SEO or would like to improve the optimization, then, choose us! We give affordable custom SEO packages considering the business size and business requirements. You can choose the one that fits better.