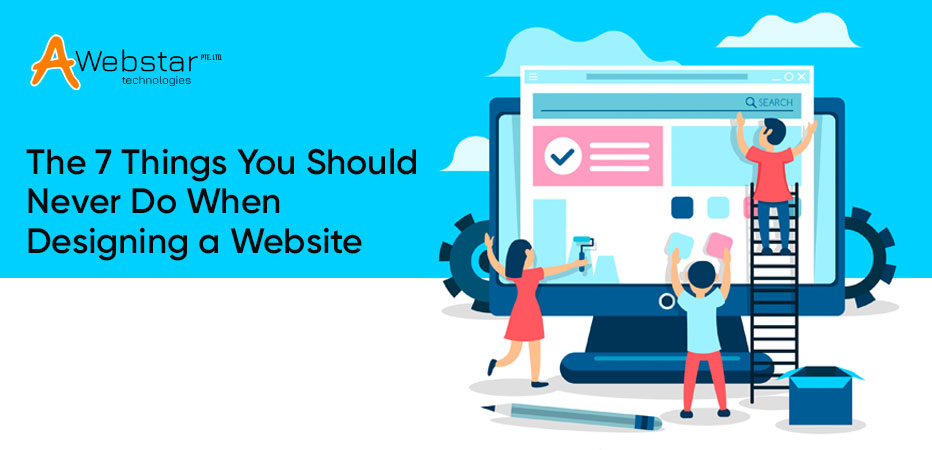 The 7 Things You Should Never Do When Designing a Website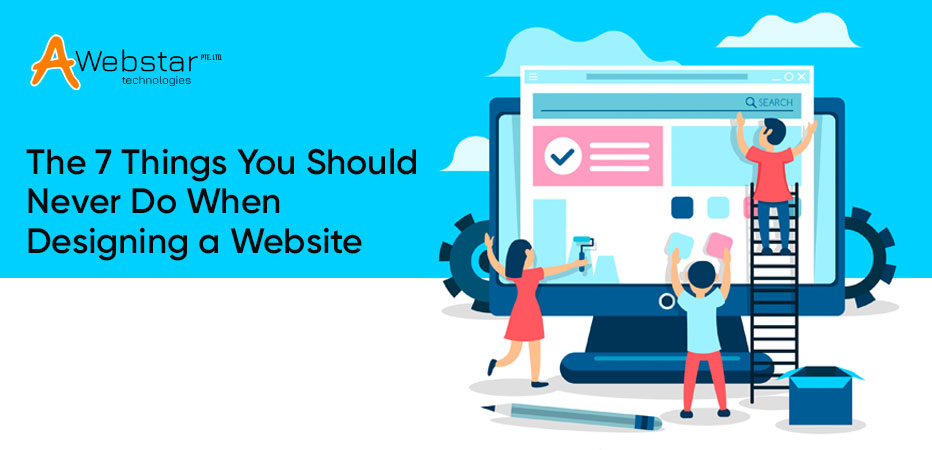 Fact- an effective and engaging business website is important to achieve a positive user experience!
A professionally designed website with advanced features and functionalities maximizes the business's potential.
Not to forget, the most creative sites offer:
Great customer experience
Regular conversion flow
Increased qualified leads
Most of us think that just having a website can increase traffic and create an online presence. It is not true, though!
Believe that some common and unknown mistakes while designing a website can quickly lower all your efforts.
According to informal research, of 3,475 customers, solving the design mistakes is not considered. This results in the disinterest of visitors and they prefer to quit the site and move to your competitors.
So, if you want to improve the number of sales, and conversion to your website, there is a need to fix those mistakes. Of course, it takes effort, but this is not rocket science.
So, giving you an advantage, we are outlining the common mistakes of web designing that can impact any business. 
Be it your first-time web designing project or you own a website already, knowing about the below mistakes will help you fix them. Let's check them out!
7 Website Design Mistakes to Avoid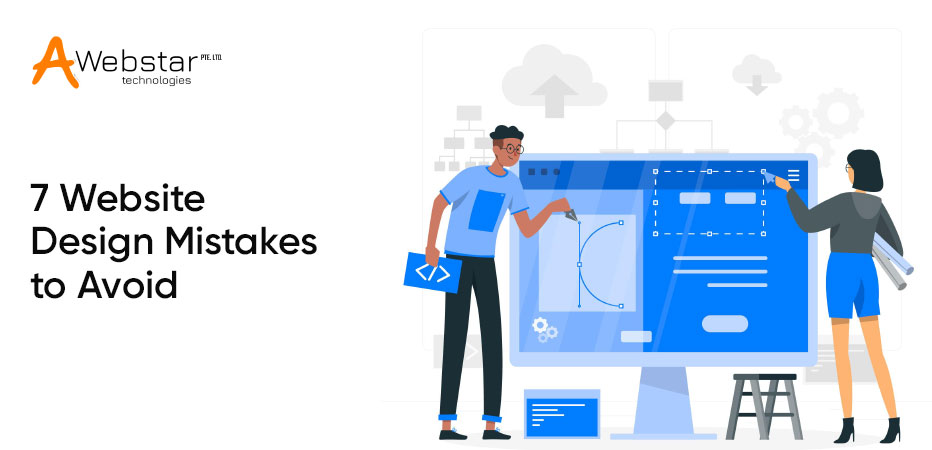 A professional website should be elegant, easy to access, and capable of generating leads.
If your website fails to fulfil the audience's needs and receives little traffic, it's time to avoid the website design mistakes listed below.
Not Considering Design Approach Before Implementation
Many designers and businesses rush to the implementation stage without first developing a design strategy. It is one of the most common mistakes.
Instead of following the proper methodology, the designers make assumptions about what the consumer wants and start designing the website. Of course, this is not the best way to build a website, especially if the goal is to maximize conversions.
As previously said, the first step is to understand the design thinking technique. In simple terms, you must research to learn what consumers want and plan out a design strategy. Develop a mindset that allows you to relate with the users, gain insights into their problems, and tailor solutions accordingly.
Overall, developing a method before implementation helps you understand the project's objectives, scope, technology capabilities, and efficacy.
Remember that if you do not understand your clients, all of your site-building efforts are nothing. So, ensure you do not make the same mistake.
Confusing Call-to-Actions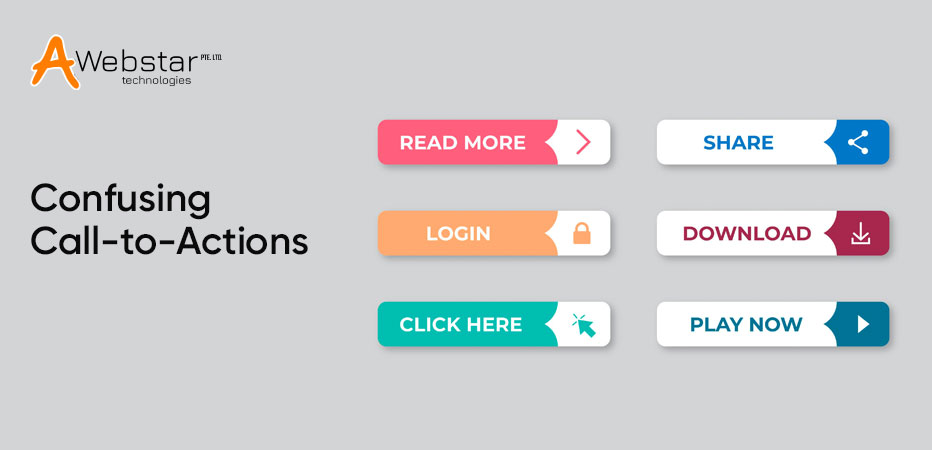 Several business owners may have told you that their websites receive a lot of traffic. Yet, they fail in meeting the web design goals, such as convincing customers to sign up for emails or make purchases.
Here, another mistake is failing to include clear CTAs. Websites have a lot in common with marketing strategies and sales funnels. The visitor moves through the website's funnel, from the researching stage to a possible buyer.
So, overlooking the importance of the clear call to action can result in no conversions. Additionally, overusing the CTAs leads to annoyed visitors.
Hence, whatever your goal for designing is, whether it's to convince users to make a purchase or to become regular readers, ensure design allows you to achieve it all.
Poor Navigation and Accessibility
The typical mistakes of failing to gather ideas, creating a roadmap, and conducting analysis have affected several websites.
One of the most significant mistakes is the poorly organized website navigation and menu. Definitely, navigating through poorly created websites is inconvenient and leads consumers to seek solutions elsewhere.
Let us take an example!
You want to create a website with a lot of pages. Assuredly, depending on the types of services or products, you'll divide the information and pages into sections and subcategories.
Why?
To make website navigation easy for the visitors. Furthermore, until the website is not optimized for mobile friendliness, the navigation cannot work the same on all devices.
So, putting it all wrong can only result in a bad customer experience and negatively impact your business in multiple ways.
Cluttered Website Design With Excessive Content Quantity
Users prefer to read only 28% of the text on a website page during a typical browsing session. It is clear from the below that web page credibility is crucial. Too much content and a lack of focus on the proper information might leave users confused about the site.

So, to keep the content length short while maintaining the content structure for easy scan, implement these:
Short and concise paragraphs
Proper formatting including bold, underlined, or italicized text
Descriptive headings and subheading
Content created following the guidelines will be easy to scan, and visitors will receive more information.
Designers' desire to give the best experience to their visitors; sometimes leads to cluttered website designing. However, while it was popular in the past, sticking to web design standards is important in 2021 to meet customer needs.
And, failing to create scalable designs from the start leads to problems later. It's hard to revamp a website's design from the ground up if it already has several unstructured pages.
So, try to avoid scalability issues by focusing on informative content in fewer words and organizing it as per the layout. It is because scanning the structured content with the right headlines, bullets, and numberings, short paragraphs are easy to scan.
Irrelevant or Poorly Designed Images
We all know that website functionality is critical so that the users can make the desired actions such as signing up for the newsletter or making a purchase.
Here, functionality does not mean only the proper navigation, informative content, or CTAs. Graphics and visuals are of utmost importance for effective web designing.
When designed inefficiently, images can confuse the users. Also, the low-quality pictures will annoy the users and make them leave your site, resulting in reduced conversions.
Therefore, avoid cluttering up your website with irrelevant or low-quality pictures or numerous photos, as they might divert the focus from CTAs, limiting the conversions.
Not Focusing on Relevant SEO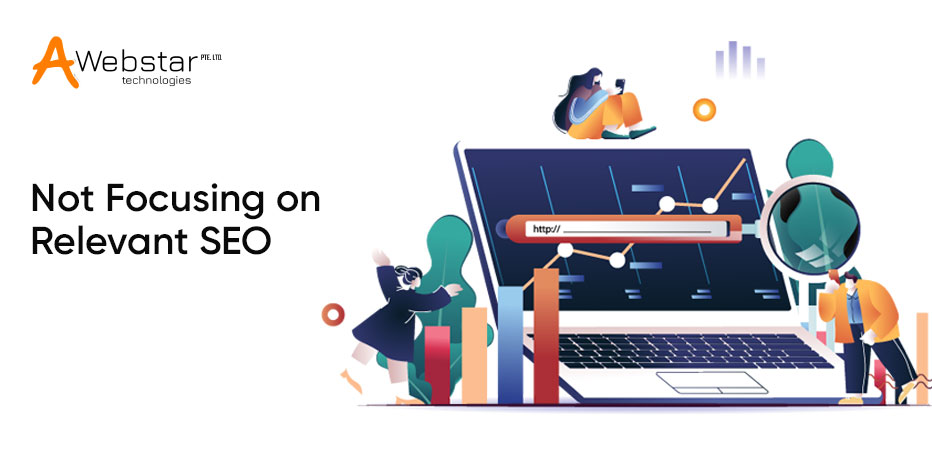 To your knowledge, web design involves more than just creating layouts, templates, and pictures. It combines the importance of content and SEO friendly design.
The best thing about SEO is that it lets you eliminate most of the mistakes by helping you design your site from its viewpoint.
Broken links are the first SEO mistake made by web designers. Searchers looking for answers and encountering a 404 page not found impacts the brand's image. Also, it gives the impression to buyers that your company is a scam, resulting in negative web visibility.
Another SEO mistake is failing to use meta tags and headings, as well as publishing unorganized content. Similarly, using larger fonts instead of H1 or H2 will not have the same results.
So, to get the best results from your business website, accept the importance of SEO and analytics while following web design guidelines.
Not Prioritizing Cross-Browser Compatibility
Just because the website you created works well for your preferred browser, it doesn't mean it will operate across multiple browsers and devices too.
Also, not all of your consumers or target audience are using the same browser or device that your website is compatible with.
For instance, your site appears with a form that is critical to your lead-generating efforts. When you are done creating, you tested it in your browser to make sure it worked properly, and it appeared to be flawless.
Now, let's imagine some of your consumers don't use the browser that your online form is optimized for. As a result, the form will appear misaligned, load slowly, and the submit button is non-functional. Furthermore, in addition to the risk of a negative brand impression, you may lose potential visitors.
Hence, whenever you're developing a website, make sure it works on multiple browsers, is bug-free, and is simple to use.
Conclusion
Ultimately, all of these factors show that a website is an important company asset and that making it creative to make a good first impression is critical.
Bring in more business by avoiding the mentioned web design mistakes while designing the website. Yes, it is not a comprehensive list, but a profitable starting point.
Looking for assistance in website designing? We are here to help!
Awebstar is a leading web design company with expertise in a variety of niches. Our knowledgeable and experienced website designers ensure that all design requirements are followed and that the site receives the most conversions possible.
Are you making any of these errors? Or do you have any more mistakes you'd like to share?
Share your thoughts with us. Thanks for reading!