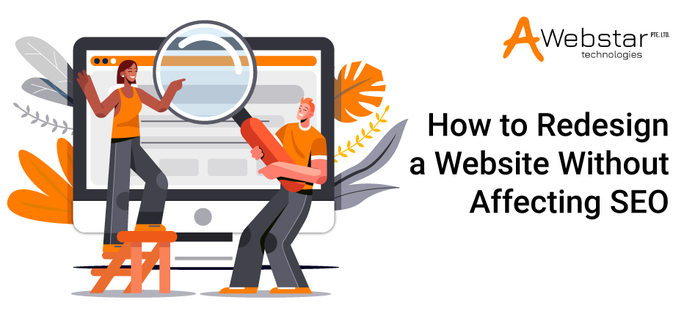 How to Redesign a Website Without Affecting SEO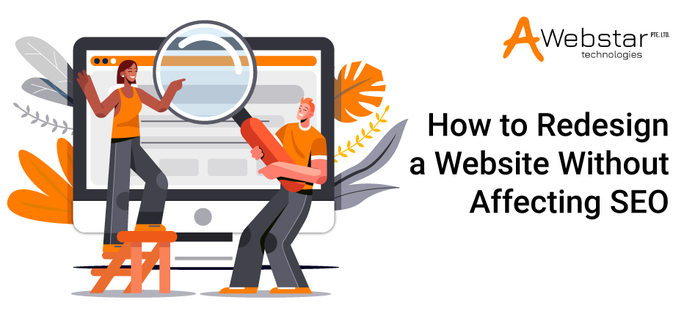 Are you tired of trying to figure out how to revamp a website without risking your SEO efforts and rankings?
Of course, each website requires a unique representation. Here, website upgrade comes the necessity. Everything must match for SEO purposes, from site URLs to page titles, structure, and descriptions.
Stats say:
75% of customers perceive the brand's credibility depending on the site's design.
Also, 8 out of 10 customers are likely to stop interacting with websites that are not mobile-responsive.
All this clearly says that a poor website as a whole contributes to affecting SEO efforts and declining brand reputation. Hence, a website redesign is required to rank well and keep up the business exposure.
Many organizations are afraid of coding and rewriting web pages for several reasons. Furthermore, if redesigning is not done effectively, it can have a negative impact on long-term site growth. Thus, affecting SEO in multiple ways.
The truth is that people's tastes and preferences evolve throughout time. As a result, the longer you leave the site unattended, the more out-of-date it will appear. Overall, it states that even if you put a lot of effort into digital marketing and other approaches, you may not be able to maintain the rankings.
However, if website revamping is done correctly, it can raise the SEO strength, thus benefiting the business in enormous ways. In addition, it will keep the site up-to-date and result in more leads and conversions.
As a result, we've come up with certain website redesign concepts and methods that can help you improve site functionality and user experience without affecting SEO.
Why is SEO Essential for Website Redesigns?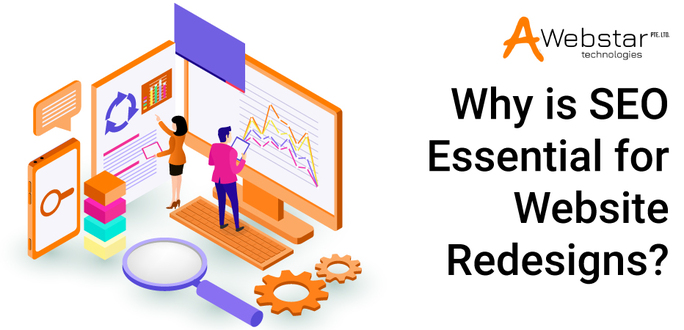 Establishing a business website begins with the urge to generate profits and continue with the same. Here, website revamping is the key to increasing website traffic and SERP rankings. Thus, raising business ROI.
Redesigning a website makes it more appealing to the engaged audience. Thus, the possibilities of generating higher ROI are increased.
However, besides the profits, the website comes with two varying functions. It includes:
Drawing the potential audience
Engaging and transforming them into leads once they have visited the website
Here, if you redesign the website neglecting the SEO, it would pose challenges in attracting the audience. Besides, it would quickly influence your other digital marketing efforts.
Overall, it may lower profitability and necessitate website redesigns a lot of time to make up for the losses.
Hence, website redesigning without neglecting SEO is vital by all means.
Successful Website Redesigns Tips Without Affecting SEO
Create a List of Old Website Pages
The initial step in the process is to download the website's URL structure. Redesigning a website entails significant changes that may have an impact on URL restructuring as well. Therefore, it is vital to restore them; otherwise, your website's rankings may suffer.
How to do so?
You can utilize the sitemap, plugins, or crawler to obtain the URL configuration.
Utilize Temporary URL for Website Redesigns
When it comes to website redesigns, the next step is to think about SEO. Many companies delete important information from their outdated website pages. Also, they sometimes find it easier to update the URL of every single page without any redirections. However, this is something that can be the source of affecting SEO as a whole.
Hence, it's important to recognize that revamping shouldn't be done on top of an existing site. Setting up the site to a temporary URL and making changes is the best way to do it. Once you've finished making adjustments, you can jump to the domain.
Establishing a separate design environment will help to keep search engines from crawling or indexing your incomplete site. You also don't want your visitors to see the pages that are still in progress.
Examine the Existing website
You may encounter a business downturn if you have no clue how your existing site structure appears and performs. You may switch or redirect the old website to the new one. However, crawling the website to test its functionality is necessary before you begin. Broken links, HTML, CSS, features, and other parts of the site should all be checked. All this will help to identify the reasons why and what has changed in the website.
Site Audit is Essential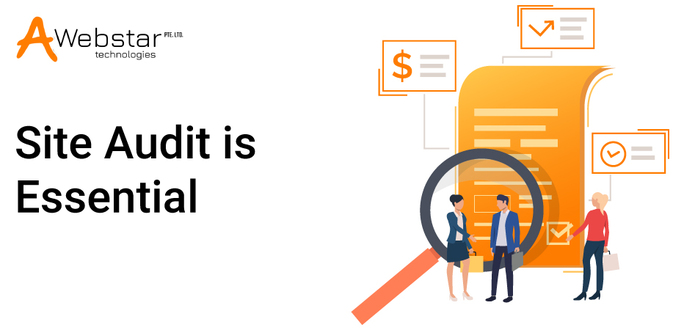 When examining the site is over, site auditing comes into play. Of course, you must be aware of what search engines expect from the websites and what they do not like.
For example, you can check the following manually:
Website performance and speed
Content redundancy
Pages crawled by Google and more
All this can better help to spot the areas with issues. Thus, providing the idea and need for improvements and where the website is performing great.
Perform On-Page Optimization
Changing the website design would require on-page SEO to analyze content. How to do this?
You can follow the below tips:
Keep the headers, meta titles, descriptions, and other content the same during website designing.
Maintaining a sheet to compare the alterations that took place during the website redesigns process.
Accurate 301 Redirects
When you use 301 redirects, an old URL is directed to a new one of your choice. It also informs the search engines that the modifications are significant and permanent.
The 301 redirect lets you save all the SEO-value features to your newly designed pages. All this simply depicts that the right redirection is necessary for SEO-based website redesigns. Besides, it will help to maintain the site functionality and investment made earlier on marketing tactics.
Switch to New Site and Enable It
Once your redesign work is over and the website is finalized, switching to a new site is necessary. Afterward, enable the new design by submitting the site's XML on the search engines. You can better seek assistance from professional developers.
However, there are a few things to think about. For example, you modified the temporary URL previously. When the site is activated, make sure this functionality is entirely deleted.
It is clear that improving SEO strategy would be challenging if there's no data backup. Hence, changing the codes would not be sufficient. Ensure you keep track of it all and gather the data in one place.
Test Robots and Robots.txt
A thorough link to redesigning the sitemap may be included in your robots.txt file. If you include the new sitemap in your robots.txt file, search engines will have an easier time crawling and indexing your site.
We discussed earlier the need to prevent the landing pages from indexing. Now, it comes to checking these pages and making them available for indexing. Besides, if there were any canonical links, ensure all those appear as well upon site activation.
Post-Activation Audit and Monitoring Rankings
Ultimately, the step comes to monitor the occurring changes in the rankings. There are several tools that you can utilize to keep a tab on SEO strategy performance.
However, more things require attention post-auditing. It includes:
Test the better performing content and put more effort into it
Cross-check the implementation of redirects
See if meta titles, descriptions, and headers are appearing the way they need to be
Eliminate the plugins from the site that are no more of use as they can lower the site performance
Differentiate the website speed of the old to the new one
Do test the site's compatibility with multiple browsers. This is one effective way to ensure the site loads well.
Find if there are any 404 errors and correct them
Focus on website's mobile-responsiveness
Summing Up
To conclude, having such a roadmap eliminates most of the website redesigning hassles without neglecting the SEO significance. All you need to do is monitor every change you make, find any room for errors, and fix it before launching the site.
So, make a plan ahead of time and follow all of these procedures to achieve a more functional, appealing, and SEO-friendly website. The best is to hire the professionals of Awebstar. It is a web development, designing, and SEO agency possessing years of experience helping attract clients via its effective strategy and appealing designs.