8 Most Important SEO Tips to Make Your Website SEO-Friendly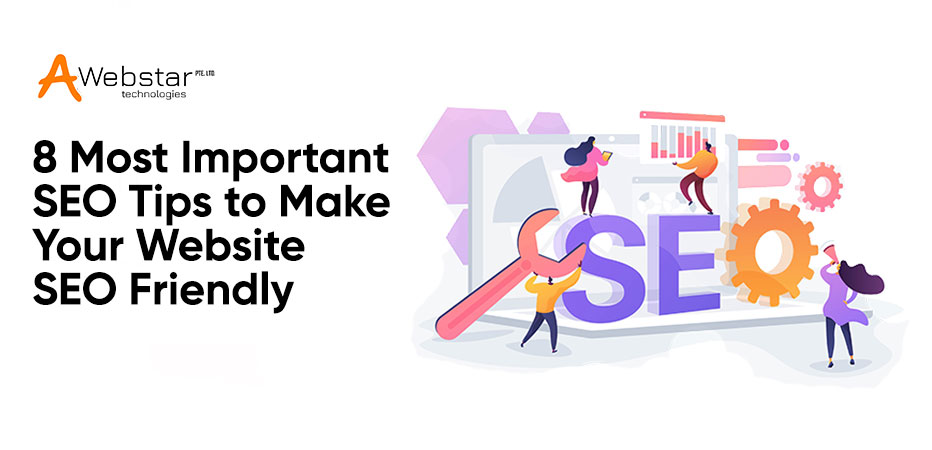 A lot has changed in the arena of SEO.
Furthermore, the demand for a powerful and effective website necessitates the creation of a website. But again, the website demands SEO-friendliness to expand online brand exposure, especially on the SERPs.
For example, focusing on keywords isn't the only way to achieve organic rankings; picking the proper keywords is also a component of the equation.
Keywords are critical not just for getting a company's website to the top of Google search results, but also for learning more about customers and their habits.
Additionally, the availability of enormous SEO tactics in the market makes it daunting to decide which one to use and which one to neglect.
Is link building a viable strategy? Should you go with on-page SEO or off-page SEO? Will any of the SEO tactics be suitable for your requirements? All these questions are worth it.
Every company wants more leads, but no one knows if they can get them without spending money on marketing. Also, choosing an SEO agency for advanced assistance is sometimes the best option.
However, simply focusing on all of the approaches listed below will allow you to discover all of the answers to these questions. Let's get started.
Tips to Making SEO-Friendly Website


Select Relevant Keywords
The selection of the proper keywords becomes easier when you have a relevant niche topic.
But do you know what keywords are?
The major words that drive people to a site relevant to their needs are called keywords. However, utilizing the keywords rightly is only possible when your website is summarized in different aspects.
For instance, you can integrate SEO-friendly keywords to the website sections like Podcasts, Blogs, About Us, and so on. Also, you will want to add the keywords to meta titles, descriptions, and website URLs.
Therefore, it's critical to optimise the keywords to fit the searches of visitors. Additionally, SEO service providers are beneficial in obtaining the most accurate keyword analysis.
Assume you own a scarf-making business. You can use keywords like "knitting," "weaving," and so on.
However, not all visitors will use these keywords in their searches. As a result, you can target long-tail keywords.
You'll be able to easily leverage targeted searches and enhance revenue this way.
Eliminate the Elements Slowing Down the Website's Functionality
For a website to perform properly and SEO to be effective, page speed is critical. Earlier, we were accustomed to waiting for websites to fully load.
However, in today's fast-paced world, a slow page would only frustrate customers, preventing them from engaging with the site.
Potential buyers believe that a website that takes a long time to load is untrustworthy, but this is not always the case.
This means page speed does take precedence over potential buyer perceptions. However, businesses are recognizing the importance of website speed in increasing sales through SEO, making speed the most in-demand of all.
Hence, businesses need to eliminate all the ineffective and non-essential components. If your website is built on the WordPress platform, remove any plugins you aren't using.
Also, ensure that the unnecessary widgets are removed from the sidebar.
Link to Other Sites Leveraging Relevant Content
Many people assume that linking to authoritative content sites diverts traffic away from a web page's main page.
However, the truth is link building is still an important aspect of SEO methods.
How?
Link building benefits both businesses and readers in a variety of ways. After all, you won't be able to get anything unless you're willing to offer.
However, to reap the benefits of outbound linking, you must be ready to link credible content to your pages or blogs. But keep in mind that quantity is less important than quality.
If you have authoritative links, focus on developing more trust in your business rather than concentrating on low-quality connections for quantity.
Write Information-Packed Content Followed by SEO
Many bloggers and content curators still rely on the outdated SEO strategy of employing keywords to drive traffic.
Many people still aren't leveraging long-tail keywords and instead prefer black hat SEO or other manipulative techniques.
Altogether, what businesses can do is to forget about keywords or Google guidelines while creating content. Instead, write informative content that users want to read.
It may come as a surprise to some, but prioritizing readers leads to more engaging content that is trusted by search engines. You'll be able to improve user experience and develop trusting consumer relationships while producing content for the readers.
Build Online Presence With Social Media Channels


Social media is a crucial aspect of Search engine optimization, as are social signals. You need to improve your business social media channels.
Several studies clearly show that social media likes, tweets, and shares can impact the website search engine rankings in enormous ways.
Want to know how you can do it?
Here's the following:
Create interesting and valuable content and share it across all of your social media platforms
Request others to share your posts on other social media networks
You can host several events to increase shares
Include share buttons to make your content more noticeable
So, what are you waiting for? Leverage social media efficiently.
Publish Quality and Unique Content Consistently
For many marketers, creating interesting and distinctive content is a huge task.
When developing content, discipline is essential for both the B2B or B2C businesses. Uniqueness is one of the most important factors that affect search engine rankings and content freshness.
Hence, if your company is presently online or considering converting your brick and mortar store to an eCommerce site, distinctive and interesting content is a must.
Implement Right Keywords to Images
SEO is highly dependent on the images. We also know that Google offers a separate section dedicated to images.
Hence, it depicts how important images are for SEO.
For this reason, you need to add keywords to the images followed by the right text or captions. However, this does not imply that keyword stuffing is the answer or that it is acceptable.
Additionally, remember that creativity is prioritized by relevancy when it comes to image optimization.
Respond to Queries and Comments


Responding to reader comments in the spaces below the postings is critical to the community's continued success.
Hence, whether the feedback or comments are positive or negative, make them recognize the worth of your content and provide everything they expect.
As a result, readers will feel appreciated, and if their expectations are accomplished, they will continue to connect with the company in the long run.
SEO Tips- Conclusion
Hope these tips help you step towards increased traffic and higher rankings. If you're still having trouble meeting your objectives, hire some SEO agency to do it for you.
Besides these tips, here are additional ways to reach the target market.
If you have content on your website that is no longer important to your readers, replace it with new information.
This way you can easily keep track of backlinks, social media engagement data, and so on.
Additionally, instead of using straightforward phrases, learn to focus on long-tail search terms and produce the same phrases. And ensure the web pages are responsive and mobile-friendly.
Thanks for Reading!!