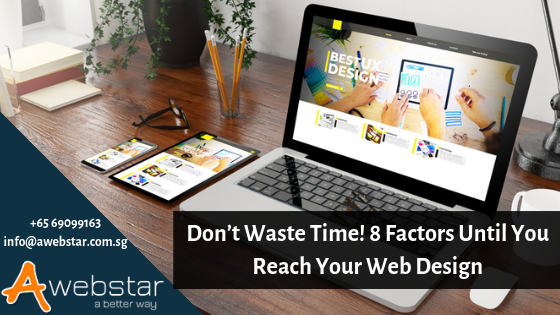 Don't Waste Time! 8 Factors Until You Reach Your Web Design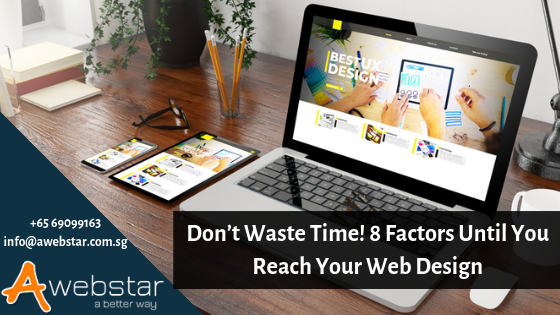 A website for a business is just like a gun for a soldier. A soldier needs a gun to protect his countrymen and a business needs a website to increase its exposure and profit. This very comparison of soldier and business sounds a bit insane. The only point in here is that a website is very crucial for the growth of a business. This is why businessman like you opt for a website design company to leverage the full functionality of a website.
A website design of a business can make or unmake their market. It all depends on the approach of a designer. In this post, you will get to know eight factors that are very crucial while designing a website for a business. After this post, you will be able to comprehend the correct procedure to approach a website design for your business. These factors serve as the elements that combine to make a good website design.
So, without further ado let's get you started,
Enticing Typography
Type of font or typography is a very unique and effective way of establishing a brand. There are many companies which use typography to distinguish them from their competitors. There are certain ground rules to follow when setting typography for your business brand. The font you choose for your business must define or represent the class of your brand. It is a subtle hint for your customers about who you are.
A company with nature similar to IBM using comic sans will never be wise. It is not good one lah. They can misguide your consumer base. So, choose your typography carefully. Using it is always enticing but always take special care while using it can save a lot of inconvenience for you and your customers.
Images Of The Hero Layout
Large images are always preferred when it comes to the hero layout. Are you confused about what "Hero Layout" is? Well, it is the very first layout of the website visible to your customers. It generally contains an image, a large image that covers the entire window with either a business statement or tagline of your business.
The responsiveness of the image is paramount. You must make sure that the image you use in the layout is responsive by all means. Images can really help you to tell your customers a story without any content in it. That is the power of an image.
Responsive images in the hero layout make a good user experience. The level of engagement is also expected to increase.
Background Videos
Videos in the layout that plays automatically can be leveraged to add loads of things to a page. They can either tell your prospects a story or they can simply reduce any of the content by convincing the required message. They are a very effective tool to make your prospects understand your business in an enticing way.
These background images are focussed on catering your prospects a new level of enticement as soon as they land on your website. There are studies which say that you can process a video 60,000 times faster than a written content. It is always difficult for a user to comprehend a huge chunk of content. The videos are always consumable.
Semi-Flat Minimal Design
It was Apple who first introduce semi-flat minimal design back in 2013. After that many other multi-billion organisations introduce semi-flat minimal design in their icons. These minimal icons are without any perception of three dimensions like a shadow. These are not only easy for a user to understand but also very fast to load which makes your website fast to load.
A flat design is always easy for the user to comprehend. It also gives your website a flow of consistency which is unattainable from three-dimensional icons due to their versatile nature. Make sure to have these flat designs on your homepage to give your user consistency. It is way too much professional than multidimensional icons.
The Hamburger Menus
The time of a comprehensive menu is history now because of the introduction of hamburger menus. There was this time when detailed menus serve the users well. They were easy and approachable. But now the priorities are shifted towards the precious space in the layout.
This is the reason why hamburger menus are on trend. They are visually attractive and minimal in consuming space. Even Google Chrome started using this incredibly handy hamburger menu. It is like a hidden menu. Removing a busy navigation always end with the good user experience. Make it distraction-free with hamburger menu in your website design layout.
Make Use Of Whitespace
This element is one of the most controversial topics of all time. It promises to be user's eye soothing. However, some web designer claims it to be very misleading. The key to using whitespace is a strategy. A perfect strategy can lead whitespace to be the deciding element of design for an interactive user experience.
What is a Whitespace? It is the designer's dilemma which you can say as the vacant space on the website. Giving too much information can be very tiring for your viewer. You need to give your user a place of rest in order to enhance the user experience. Make a calculated use of whitespace and see your user experience increase from the oblivion.
Easy Traditional Navigation
This is another controversial web design element on which the views of web designers can vary. Some reckon it to use navigation in a unique way in order to engage the viewer while other depends on the traditional navigation.
Traditional navigation is always prefered by most of the designers because it is not only easy but also the viewer knows that layout. When you make your website navigation easy for your viewer they tend to engage more in your website. Unique, creative navigation can sometimes be the demand of the situation but these situations occur once in a million times. Traditional web design is the best bet for you to have when designing for easy user interactions.
Fast Page Load Time
Most of the designer never take into account the speed. They are too focussed on making an interactive design that they forgot that these elements of designs can be too heavy to load on the website. This results in slow page load time which affects the SEO rankings of a website.
Web designers must make sure that all the images and graphic elements on the website are optimised for speed or else there can be some serious consequences surrounding the traffic of the website.
Concluding
So, these 8 factors are very crucial for a web designing company. You must make sure that you get all these factors right if you are willing to spawn your business with a resourceful business website.
I hope you like the points I mentioned above. Did I miss something? Why don't you mention that in comments and I would love to appreciate you to enhance our knowledge? Se La Mat Jalan for now!