Best SEO Tactics to Boost Your eCommerce Business!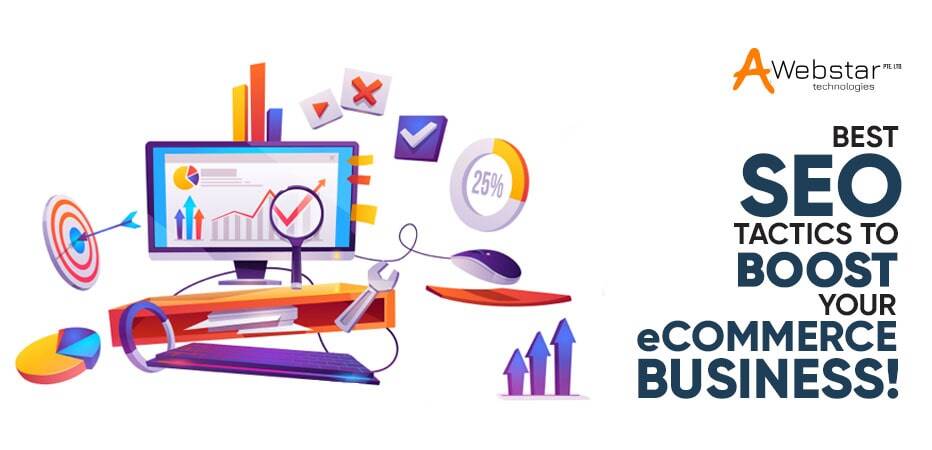 So, you're an owner of your e-commerce business and struggling for organic results! 
Really, quite a critical situation! 
But, don't worry! We have a solution.
There is no doubt to say that many e-commerce businesses are facing various problems like –  inadequate customer traffic, lack of conversions rate, poor user experience, low website visibility, and many more. 
With the high-rise of global competition, it becomes impossible for e-commerce websites to overcome such issues. For this, every e-commerce owner has to adopt and formulate new techniques for maintaining their establishment in the market. Embracing your business with the right marketing strategy means you're compelling more customers to buy products from you.  
So, What you've to do to enjoy consistent traffic? And, which strategy do you need to focus on ranking your website well? And, how can you run your e-commerce business successfully? The solution to these problems is – Search engine optimization (SEO).
True Facts
Search engine optimization facts suggest that

39%

of global e-commerce traffic comes from search.

SEO provides a 14.6% average conversion rate as compared to other traditional strategies.

By 2023, it's predicted that total retail sales will hit more than

$6.5 trillion

.
Don't you think applying this strategy correctly will give edge advantages!
Then what are you waiting for? Come with us and read below all the latest SEO tactics to improve your eCommerce store.
Let's get started!
What is SEO?
SEO refers to "search engine optimization". Simply put, SEO is a process of improving website rankings in the search engine result pages. It is a technique that can increase the website's visibility for relevant searches. Thus, it concludes that the better the ranking visibility of your pages in the SERPs, the more likely you can obtain maximum benefits in terms of capturing both prospective and existing customers to your business.  
The main tasks associated with SEO are – high-quality content creation, selection of specific keywords, building backlinks, optimization of meta titles, descriptions, and image tags, and many more. 
So, how does it work?
Generally, search engine bots crawl the web pages by going from site to site. These bots will gather all the information about those pages and put them in an index. Further, the search engines' algorithms analyze pages in the index by taking into account hundreds of ranking factors. This will further determine the pages to ensure that they match the user's original search query. 
 If it's, then your website will rank on the web. Otherwise not!
Why E-commerce Businesses Need SEO?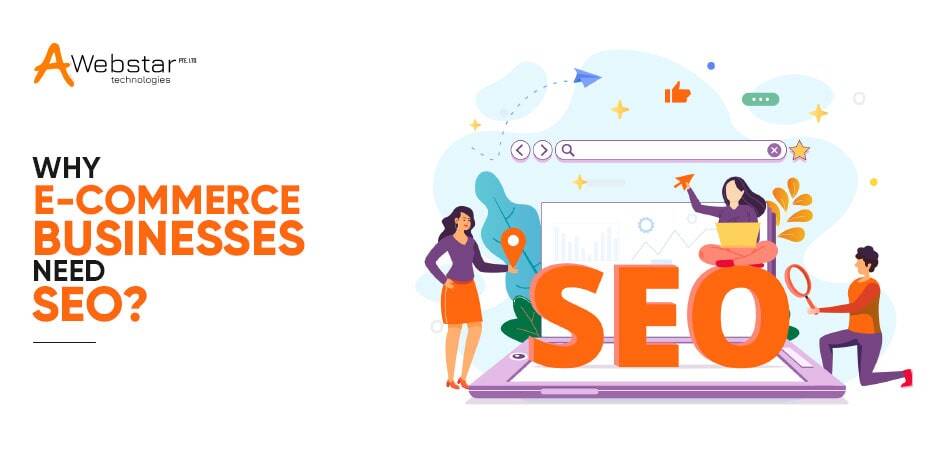 Need to see the organic results for your e-commerce website?
Of course, you need to focus on various SEO strategies for your online store!  Research has been shown that nearly 60% of all traffic on the web starts with a Google search. And, 70.6% of all traffic originates from search engines like Google Bing, Yahoo, and YouTube.
Hence, when you start properly, you'll continue to gain an extended amount of traffic, plus sales. Writing up relevant blog content along with appropriate keywords, your traffic can continue to rise, which will increase with time. Therefore, it's essential to narrow down all the important aspects related to robust SEO strategy and apply them to stand up among the leaders. 
Building a successful Shopify store means it must be available on the internet and has a well-established reputation in the market to boost up your business. That's why it's essential to optimize your website and deliver valuable content to both search engines and users so your website is properly displayed in the SERPs for your potential customers to find and buy. 
Amazing SEO Tactics to Boost Your Business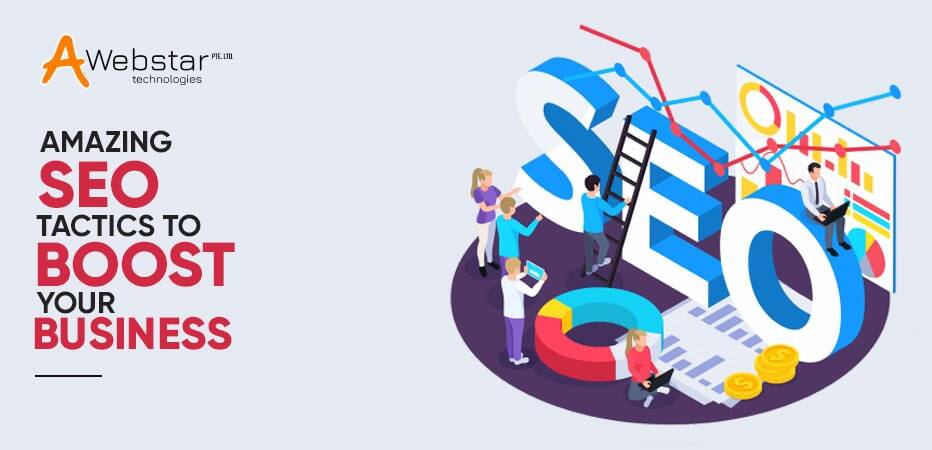 So, how can you give your business a new face through SEO? The task isn't that tough! Just adopt these below-mentioned tactics and take your online store promptly to the highest level.
Write Relevant and SEO-Friendly Content
One of the most essential aspects of running a successful e-commerce website in SEO – Content Marketing. Whether you're writing content for your e-commerce web pages or a little description of products, make sure it's relevant, compelling, high qualitative, unique, and meaningful. Without content, your users won't get any information about your products and services, thus, they'll not prefer to buy. Therefore, while developing content, keep these points in head:
Determine what your audience searches for

Provide solutions to your users through meaningful content

Understand the motives of users' questions and develop content accordingly.
Mentioning quality information, people are actually seeking, on the website will connect you with users. To succeed in your e-commerce business, you need to focus on writing content that is authoritative with long-tail keywords. This won't only users keep coming back to your website, but search engines' algorithms will also satisfy. So, optimize your blogs for SEO regularly.
Create Unique and Creative Tiles and Descriptions for Each Product
For ranking in this competitive market, it's recommended that write unique and creative titles and descriptions for each product page. Page titles and descriptions affect traffic. Search engines often use titles and descriptions to form a snippet in the SERP, which will affect the click-through rate of the link to your site. 
Therefore, to improve the effectiveness of your page, a description should be encouraging, so your users will go to the site and get some kind of benefit. The length of the description should be 157 characters, whereas the length of the tile must not exceed 70 characters with space.
Think About Site Structure and Navigation
As mentioned above, all search bots index the Website's information. So, when a user searches for a query, the search engine displays the most relevant pages on the top. Generally, the method of eCommerce website development includes creating the structure, web design, programming, publishing and others. In this, you also need to make a convenient menu, navigation system and internal linking. 
The user must intuitively understand where to look for the desired product. But, if the navigation and architecture of your site are too complicated, the bots won't index your pages properly. An easily navigated site and a site with a simple architecture will appear more trustworthy. Your visitors can easily navigate to your site, which further increases the chances of getting more conversions.
Focus on Right SEO Keywords
Want a successful SEO strategy? Of course, you need to start with keyword research. Determine what keywords your audience uses the most and use them on the most important pages and in the metadata. When choosing keywords, consider the volume of searches for them, their complexity, relevance and popularity of each word. 
You can use keyword research tools, such as Keyword Planner for this. You also need to pay attention to competitors' keywords So do research on their sites, keyword strategies and take a look at their popular products. By observing your competitors, you can imagine which keywords are generating the most profit.
Add Content to Category Pages
Category pages in e-commerce websites provide real value to users. Hence, you need to ensure that the category pages of your site are being optimized properly. 
When users start searching for the desired product from the corresponding section of the site, they'll get all related information regarding the page and its products. Therefore, add a unique description to each category page. For example, describe which product groups the user will find in your store. Try to write more than 300 words of description. 
User-Focused Optimization
The new updates in Google focus on improving the search user experience. One of the latest updates in Google is BERT. This update analyzes the structure of a user search to understand the context of why the keywords are used. 
This concludes that you need to write content for your audience about what they are actually looking for. For opting this, you need to talk to your customers to understand their needs in a better way. Developing a user intent content and focus on each page of the buyer's journey will provide you with enough information about them. 
Mention Reviews on Product Pages
Before buying any product, every customer wants to know about the opinion of other people who have already used it. For helping your customers, it's recommended that you add the ability to leave reviews about your products. This is a good way to get highly user-generated content. 
Make sure you submit all received reviews, including negative ones. But, never avoid responding to negative reviews. You can thank your users and make a promise to fix flaws. Make sure that the site's functionality allows customers to easily write product comments.
Mobile Optimization
Today, most people use smartphones and tablets to go online. That's why it's important to have either a responsive site that adjusts to the screen size or a separate mobile version. One of the essential tactics if you're an e-commerce business' owner. By choosing the mobile version, you make your landing page convenient and functional for viewing on a mobile device. 
So, build an e-commerce website that isn't only responsive for all mobile devices but it's also compatible with all browsers. Having responsive websites means you're ranking your website for mobile SERPs. When a user will search for your product using mobile, they'll get results on the top. Hence, you'll capture more audience and enhance your bottom line. 
Add Schema Markup
Schema markup creates an enhanced description (also known as rich snippets), which appears in search results. This is a code that is put on your website to help the search engines return more informative results for users. Its goal is to help search robots better understand the content of the page and, thereby, improve search results. 
In e-commerce websites, make sure that your products have schema markup to earn rich results in the SERPs. According to Google, you can use markup for specific products but not for categories. You can use the "name," "image," and "price" to add your product information in the rich image viewer. Always remember that rich results make your search listing stand out and dramatically improve your CTR.
Identify and Fix Errors
Errors on your site can never uplift the websites in search engine result pages, and thus, leave a negative impact on your ranking. When bots crawl a site, they'll determine and analyze every detail about the site, such URL, content, links, etc. If search engines find any error on your site, your site may fall down in ranking. 
Some errors in websites are redirects, broken links, poor quality images, etc. So, ranking your website, you need to get rid of these errors and make use of various SEO tools. These tools will crawl your website, analyze it and advise what exactly you need to do for enhancing its position in the SERPs. Fixing all relatable errors will help you get more consistent results in terms of your conversions and transactions. 
Improve Page Loading Speed
If your e-commerce pages are taking too much loading time, search engines won't rank your site. As a result, it'll obviously increase your bounce rate, which isn't competent for your business. For this, you need to take of few things into consideration:
Reduce file size, compress heavy pictures, videos and other content.

Use good hosting. 

Use Content Delivery Networks (CDNs) as it'll help in increasing loading speed, plus the security of websites.
Wrapping Up!
If you're planning to produce new leads and maximize the extent of your e-commerce website, you need to focus on a robust SEO strategy and content marketing. These both will take your business to the next level and capture more and more visitors to your website. By using tools, doing thorough keyword research, attaching long-tail keywords, creating quality contene-Commerce Businesst, optimizing meta titles and descriptions, and others, all these factors give your e-commerce business a new shape and maximize the business productivity, plus visibility.
For boosting your e-commerce business, you can take help from our SEO experts as we're well-aware of all strategies and ensure that your business is operating among the leaders.
Need urgent assistance in your e-commerce business! Contact us now and take your business to the next level!
Thanks for reading!!