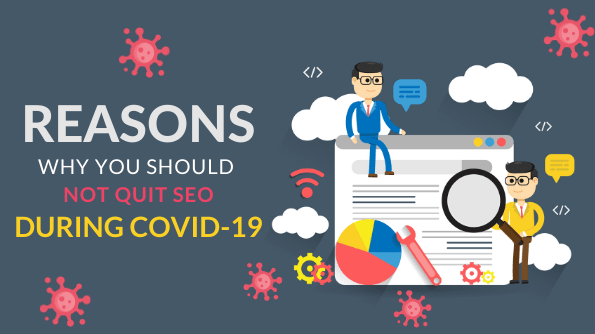 Reasons: Why You Should Not Quit SEO During COVID-19
The world is going through an unfavorable phase right now!! And the reason is COVID-19 or coronavirus. 
It has made everyone deal with the unforeseen challenges to their daily lives. No one has ever imagined living this situation in peacetime.
While writing this article, there are 8,014,129 confirmed COVID-19 cases across the globe.
We all have only two questions in our minds. First, when this will end? And how much will this affect our lives or how our lives will look when this outbreak will over?
Almost every country has announced definitive measures, such as staying at home, lockdown, shelter in peace. These restrictions are meant to stop the spread of COVID-19 to a large extent.
Besides, every other industry is facing an economic crisis which is literally worrying the business owners. That indulges them to re-evaluate their business strategies, market spendings, and budget, but without compromising SEO.
We cannot deny that this pandemic impact is very aggressive and that the businesses are trying hard to survive in the competitive market, even though several are about to shut down.
However, you should ask yourself some questions in this adverse situation:
Is closing the business or accepting the bad outcome the only way in the COVID-19 outbreak?

What about the SEO for a website or blog? Should I stop doing it in a pandemic situation?
It is seen that most of the businesses are following the same league and are not changing any of their business strategies. Believe us- this way, you will not succeed. 
Do not follow the same route, change it. Even now, you can preserve your business from drowning by following an accurate way.
Here, in this article, we have reviewed why you should not stop SEO and what are the major challenges that you need to overcome.
Forthcoming SEO Challenges
The effect of COVID-19 is increasing every hour and the businesses are already facing the issues in their marketing efforts and SEO strategies. Below are two basic challenges that most of the businesses are going through:
Challenge 1# Change in a Searching Behavior
Because the coronavirus is expanding to a great level in every country, the behavior of every customer is also changing accordingly.
Below we have shown the google trends that reveal how the percentage of the coronavirus search result has accelerated from last some months.
This search has also given rise to an for some medical products, such as household supplies and surgical masks. Check out the statistics of the same below: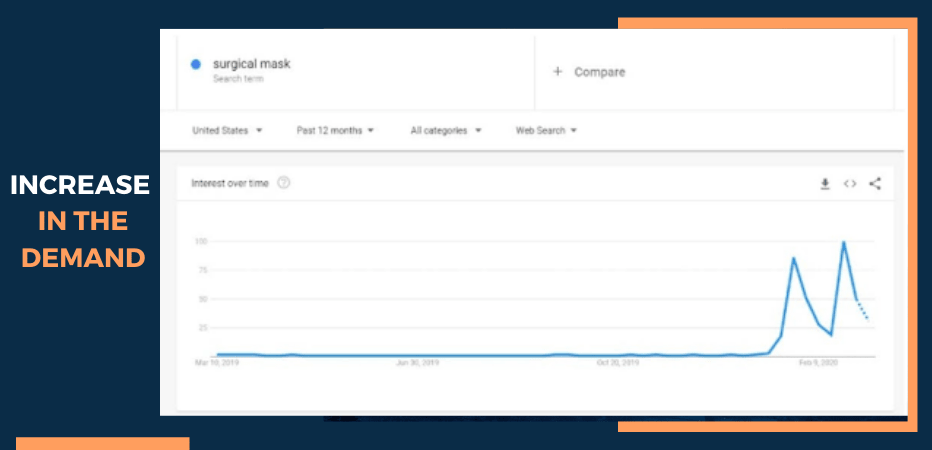 Meanwhile, searching for other products has fallen. As this fear in everyone is regularly increasing, hence, the users have stopped searching for other things. 
In case, your business is providing products that are a need of an hour, then you will notice a surge in the Google search dashboard. On the other hand, if your business deals with other sectors, such as travel, retail, and entertainment, then the chances that this outbreak can put on a huge loss on your business economy. 
Just some changes in the existing content are not going to help you to improve the SEO rankings. Even though most are concerned about the finances, family, and health, hence, they will most probably search for the recent news on COVID-19.
Challenge 2 # Drop-in Product Demand
Since the time the COVID-19 has expanded globally, the economic professionals have examined that the economy worldwide is about to take a loss of a large extent around $2.7 trillion. The below figure is showing the recent statistics of the global COVID-19 economic impact.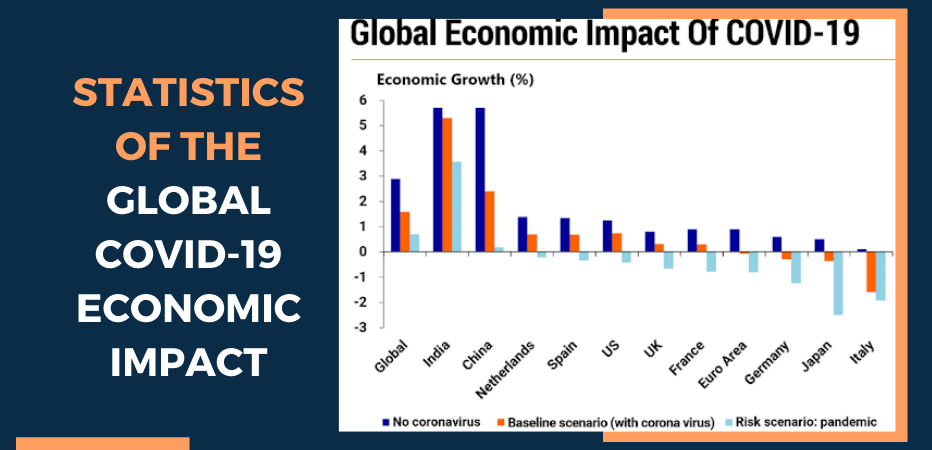 Considering this, many businesses have started experiencing a loss and it is estimated that things will worsen in the coming weeks.
What this implies is that- it would be a challenge for the businesses. And, if there will be a downfall in the market, then the product demand is going to decrease and will surely, affect every customer pocket.
Improve Your Business Profits Without Quitting SEO
The Coronavirus impact varies from one business to another. They should not panic in this non-favorable situation. Instead of pulling back or responding emotionally, they should emphasize on SEO. 
Even though your business overall sales must get influenced because of COVID-19. But, you can even now get over it by practicing the essential SEO actions today!!
Implementing this will make you stand out and defeat those who are still performing the existing strategies. This will help you to put forward the SEO rankings and will improve your business reputation. 
Keeping this all intact, we are giving you the many reasons that how not quitting SEO improves your business value.
Main Revenue Stream 
Of course, your business surely will get a stroke. You need to give your 100% to remain in the list of best businesses. Staying back is not going to work now; you have to work smarter and get as many customers as possible at your business door. 
There is a need that your business needs to get more visible to potential customers. Quitting SEO is not a good option to adopt; you will get a decline in your ranking otherwise. 
Changing business strategy and staying adaptive is the first thing; pausing this will give a halt to the flow of getting leads. It will negatively affect the influx of sales and new leads that will ultimately give rise to more difficulty if crisis effects are being observed. Also, the users will not stop the search, because the outbreak is already changing the behavior of spendings.
A Big Shift to Online Shopping
Right now, the world is like a spinning ball. All need to work to survive in this tough world. But, keeping to the prior strategies is not going to work. They all need to find new ways to stay.
We all are pursuing social distancing, and most of us are seeking for online shopping. It is because of the reason that the business owners and customers are looking to get what they want while putting themselves at less risk.
This implies, do not be too fast to leave the online marketing. Most of the businesses are losing the physical footfall; so, adapting SEO and savvy marketing is the best option to go with. 
Getting New Ways to Spend the Time and Catching the Home Working
Do not think that the users will stop purchasing from you if you are a B2C business and also if you are not the leading retailer of the toilet roll. 
Obviously, they will search for the services and products they need to work and live. Also, according to the business, there is a possibility that you will see an improvement in the conversion rate.
A quick move to home working implies that an increase in the online searches for any product or service will give some sort of distraction from the crisis. It is because all are looking for new ways to aid themselves and the families to spend their time. 
Like, it has been seen that the sales of gaming consoles, notebook sales, and TVs have increased. Hence, if you are even now noticing an improvement in sales, then you will definitely get a hike. We cannot give it a name of leisure, several are spending the time productively. 
Spin the Bottle Regularly
As per the commercial perspective, each business owner is trying their best to run their company as normal. This implies, those who are in the B2B sector, must look for the customers that need business assets such as, specialist services and physical equipment. 
Frankly, if you are a professional service provider, most customers will quickly find the resources or time to get your job on themselves, so they will need the expertise and skills.
Bring Real Money
In this COVID-19 crisis, all are looking for ways to earn money. The only marketing strategy that can offer a higher Return on Investment (ROI) than SEO is nothing but an email newsletter.
Though, you cannot get the mailing list just like that. This can be achieved by generating demand and SEO is the trusted tool to achieve this.
However, it is not appropriate. SEO, either organic or paid approaches the customers when there is a requirement. Do not consider the Top of the Funnel and Attribution. SEO provides lead and sales because the customer is associated already with the business when he is searching for service or product.
Also, even if the customers are living in quarantine, they still require services and goods. Undeniably, the people when at home need more comparatively. Noticing your brand in the field of vision, you can boost the purchase decision. 
Yet, if the overall sales of the service or product are declining because of the pandemic or savings, then, you can balance the losses by spending in the all-inclusive search marketing program that enables you to get the customers who want to purchase the necessities.
Measuring Result of Investment is Possible
If your approach lies on the top and experiences the lack of the funds, then you need to reorient the efforts towards customers with a more strong intention to purchase. 
SEO centralizes their aim to focus on the user's category, but more specifically, you can show that your work is efficient. Despite brand awareness work, SEO can be evaluated easily. You only need to look at the potential customers or sales in the reports and analytics systems.
This way, you can optimize the work processes and budget if required. Even in the coming months, you will notice a deep change in the customer's behavior. Hence, this situation demands you to have data-driven promotions.
The nature of SEO is reactive, the competent marketers revert to changes and data correspondingly. Hence, they can easily transfer the budgets to the key phrases that have more formulated intentions to purchase or promote content that can revert to the customers' mood accordingly.
Also, if you are falling off the budget, then, each dollar spent has to be efficient. Employing search marketing, you can discover if the investment works for you or not.
Mobile Search Gets Prioritization
This time, everyone is in need of sanitizers and toilet papers and this need is ever increasing. And, now the businesses are in shortage of the same. 
As everyone is bound to go outside and they need to stay at home. Therefore, at this peak time when all are searching for whatever they require, you need to be active. And, in case, if they do not get what they need, they will look for other alternatives.
Hence, this is a golden opportunity for you to grasp. Get in touch and improve visibility in the major search engines so that the users can approach you whenever they need the goods and services.
Be the forward thinker and carry out the proactive approach to be ready for the upcoming months.
Profit and budget for products with growing demand

Constrain efforts to rank those topics and products that are linked to them

Begin link building campaigns on the alternatives even that are hard to access and high-priced.

Do not forget the SEO budgeting as the keyword cost of the limited items will amplify as the demand improves.
Get More Results in Economic Turndown
As a businessperson, obviously, you want to stay ahead of your competitors. In this period of economic crisis, most of the businesses are shutting down and this implies, you have less competition. Hence, you can get most deals that can give advantage to you in the long run.
It does not matter if this will remain the same in the coming year or months. Or, we will get used to the new normal (more or less), the situation will stabilize every time. Even at that time, the SEO strategies and techniques will remain effective to secure the customers worldwide. And, surely, if you are not taking Search engine optimization lightly in this lockdown then you will notice the best results in the coming time.
Also, you need to follow that you cannot experience the results overnight with search engine optimization; and it takes time to run an efficient SEO campaign. Hence, you must not stop practicing SEO at any time. 
You have to make the SEO campaigns that can grant you the results in the future as well. The results might provide you revenue that every business needs to survive in this tough timing. 
Hire Our SEO Experts for Excellent Results!
Everything Will Come to Its Place Soon
You must have heard that- tough time passes. And the current situation we all are facing will pass and everything will be back to normal.
But, the world is different, there are new norms, new standards, but one thing that cannot get changed is- Search Engine Optimization. It is known as the best way to secure as many customers as you can.
The businesses that consider efficient downtime promotion programs will get rewards when everything will be back to its place. Particularly, those who have invested in Search Engine Optimization. Even though its results cannot be achieved overnight, you need to be patient- it will take some time. Also, working on SEO this now, in the global restructuring and changes period, it is probable to achieve results for the future.
Additional Information
There are some tactics for building business marketing strategies in the COVID-19 outbreak. Check out below:
The sooner you will respond to the current downtimes and shift the business marketing and SEO strategies in real-time trends, the more you will get beneficial results from the changed customer behavior.

Make an automated reporting dashboard to examine the traffic and obtain informed investments.

Integrate "COVID-19", "virus" and "coronavirus" as the phrase-match negatives as Google is blocking the ads that are gaining profits from coronavirus. Therefore, considering these words as the negative keyword will safeguard.

Use negative bid modifiers in more affected countries or areas, according to service or product availability.

Leverage traffic monitoring tools, like, Google Trends regularly.

Examine search query reports for phrase and broad match keywords.

Analyze shopping campaign traffic with dashboards

Review statistics of predominating conditions and assure that your blogging, ad copy, and website messaging fully promote the employee's and customers' wellness. 

Examine measures, like Click-Through-Rate (CTR) and Cost-Per-Click (CPC) to monitor if customer's buying and search behavior is growing.

Give your dedication to the health and safety of the supply chain, workforce, and consumers.
Overall Takeaway
When it is about SEO, most of the businesses are spending billions each year and yes, there is a reason behind it- it does work!!
Indeed, we all are in the tough phase. But, just a small SEO action can result in the plus point for your business in the coming years.
Do not panic, however, put your brand at the upcoming economic recovery forefront. And, do not forget SEO can do that for you.
Keeping that in mind, be smart and play wisely. Look after the above-mentioned tips and grow your business even now!!
If your SEO program is underfunded, lifeless, or non-existent, then, get into shape and jump to success!!
Do let us know about your views related to the article. Feel free to contact us to learn how we can assist you to drive success for your brand; in a difficult time as well!!