A Few Reason Why Your SEO Campaign is Not Giving Results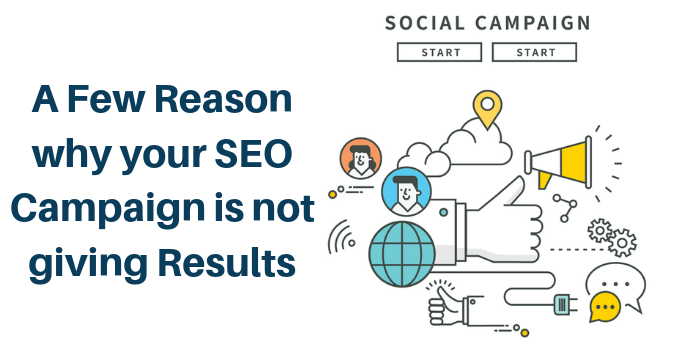 If you are putting in effort for SEO,  you probably know that it is one of the greatest tools that can help you rank highly on various search engines such as Google, Bing and Yahoo. This helps to increase the visibility of your site and ultimately makes it more successful.
If you are not getting the desired results from your SEO campaign, it means that there is something you are doing wrong and it needs to be changed as soon as possible to help you benefit from excellent results.
Reasons Why SEO Campaign may not be Giving Results
Some of the reasons why the campaign may not be giving you results include:
Lack of Effective Planning
It is not possible to dive into SEO blindly as you need a customized strategy if you want the SEO campaign to work out well. This means that you have to do your homework well to get the best possible ROI.
Start by conducting an SEO audit as this helps to evaluate the performance of the site based on specific SEO criteria like site maps, site structure, cross-device/browser compatibility and page speed. This will also help you with competitor analysis, keyword discovery and link analysis.
When you have all this information in place, you can easily create a customized SEO strategy to increase lead flow and drive relevant traffic.
Poorly Designed Website
A poorly designed site could be one of the reasons why your SEO campaign is not working the way it is supposed to. This is because it normally leads to poor user experience where visitors may not want to spend time on the site to see what it has to offer.
For this reason, you need to come up with a design that will impress the visitors to offer ease of navigation, great organization of content and a great feel and look so that people will want to spend a lot of time on the site.
Using Duplicate Content
When you using duplicate content, it sabotages your SEO campaign. This is because it makes it challenging for the search engines to index your site in the proper way.
Google bots do not like when its work is made more difficult thus it can end up penalizing you which decreases the rankings of your page.
To avoid this, you need to make sure your site only had original and fresh content all the time. This is something that is valuable to the search engines and the site as well.
You Have Not Installed Analytics and Goal Tracking
Another reason why your SEO campaign is not bringing in positive results is the fact that you have not installed analytics and goal tracking.
These are very important tools as they help to give you all the details you need to know what is not working and what is. This gives you the insight that is needed to know the past choices that you have made that will affect your current performance.
Using Too Many Keyphrases
Stuffing the same keywords and phrases on a single page is one of the bad SEO practices that could be giving you bad results with the SEO campaign. This normally confuses Google and in order to give search engines the clarity it needs to index your content properly, it is best to focus on only one or at most 2 keyword phrases for each page.
This, however, does not mean that you are supposed to limit the keywords that are supposed to be used in the overall SEO strategy.
Not Building Right links
Among the reasons why your SEO campaign may not be working is because you are building the wrong links. In the wake of Penguin and Panda updates, it is important to keep in mind that you cannot just build links as you please.
This simply means that you cannot just spend a few dollars to get about 10,000 links as you will soon be discovered and your ratings automatically drop. The key here is to use natural-looking and high-quality websites if you want to benefit from the process.
If you are not willing to put in the effort to get top-notch links, you better pay someone to do it and you can be assured that you will end up benefitting highly from it.