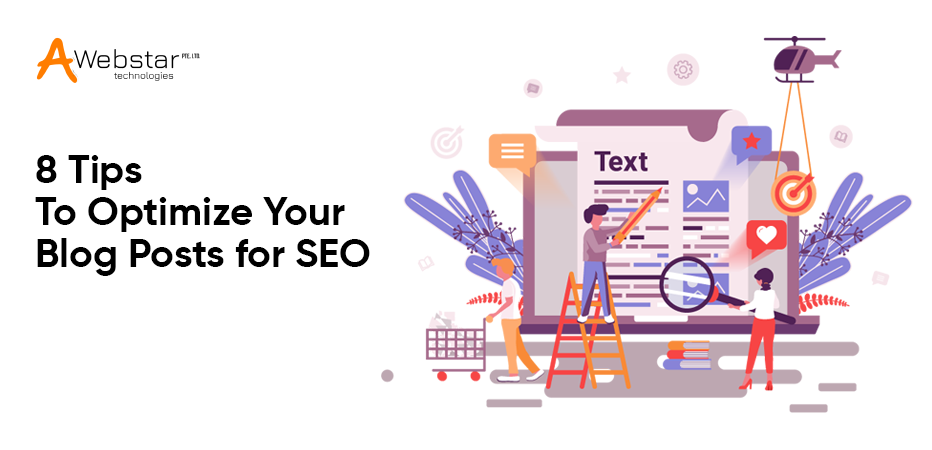 8 Tips To Optimize Your Blog Posts for SEO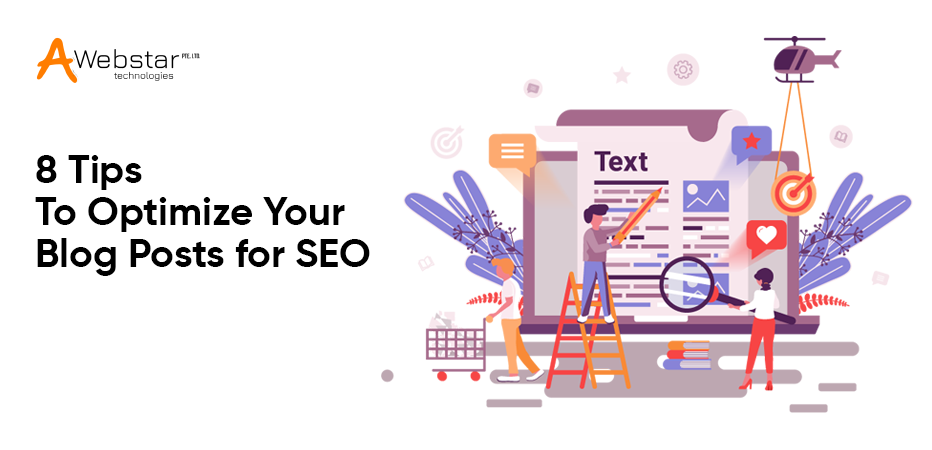 While it comes to content optimization, the best time is when you're creating it. However, optimizing the existing blog posts is possible and beneficial when updating with the latest information.
Creating engaging and alluring content that drives the visitors is half of the battle.
The question of the other half comes to how marketers can get customer's eyes on their blogs.
Unsurprisingly, SEO is the best approach to do this, from luring users to the blog to increasing the site's online presence.
What's more??
Visitors will be interested in your blogs since they will be directed to blogs by typing in relevant keywords to the search.
Implementing the right SEO will help you overcome all the hurdles coming the way of the reader's interest. Hence, if done correctly, searchers will surely end up on your blog.
In addition to all this, you need to maintain the quality of content. Also, creating well-structured content and writing stuff relevant to their expectations is vital.
This is because customer retention is crucial to SEO success and business expansion.
So, no matter what size or type of business you have, the strategies below can help you optimize your content for SEO. Also, employing an SEO agency is always beneficial for saving time and effort on tasks you may be unaware of.
8 Ways to Optimize Blog Posts for SEO

Execute Astute Keyword Research
Many beginner marketers or businesses use their assumptions about what topics their customers may be looking for.
However, there is no need to work blindly. You can conduct thorough keyword research and determine what your target audience is expecting.
Keyword research is a method that several writers or SEO experts leverage. This helps in exploring the titles or topics based on customer searches.
Furthermore, the keywords are also beneficial in planning the content strategy. This will ensure that you pick the right keyword and provide your consumers with the blog results they desire.
For instance, you can use the SEMRush keyword research tool. This will not offer you in-depth keyword data. Also, you can explore LSI keywords, content readability, content length, and much more.
Focus on Long-Tail Keywords
It's vital to concentrate on keywords that are as clear as possible to the chosen topic.
Furthermore, it is not important how many keywords you incorporate in the blog. The thing you should concentrate on is what your consumers will look for.
What will your customers search if they want to learn to write blog posts or want to explore the benefits of content optimization? Their searches can include phrases like "how to produce a blog post" or "what are the benefits of content optimization."
Furthermore, visitors must hold decent reading skills and be aware of keywords that are inappropriate to content requirements.
Incorporating long-tail keywords into your blog posts is a solid piece of advice in this case.
Such keywords depict the search intent of the customers. Also, you must incorporate these keywords in your content headings, body, and page URL as well.
Internal Linking to Content Can Not be Overlooked
Inserting internal links into your blog article is another effective SEO tactic that requires no technical knowledge.
Internal linking enables readers to explore the website, allowing them to stay longer on your site.
Moreover, this helps search engines in locating the high authority pages you wish to provide your clients.
Always keep in mind that the anchor text for a hyperlink should be no more than five words long.
Also, ensure the customers about the benefit of clicking on the link and where it will direct them. Eventually, this will increase the number of clicks on your blogs or internal links.
Lastly, ensure the internal links to blogs or content are appropriate.
Providing anchor texts only for the sake of hyperlinking will be of no service to the users.
Besides this, Google values end-users and the worth that content provides.
Incorporate Rich Media like Video or Images into Your Posts
Always remember that high-quality material isn't solely dependent on creative writing.
Engaging content is frequently ranked higher in SERPs by Google and other search engines.
Hence, the blog posts must include the media kinds such as bespoke infographics, videos, and images.
You will want to be certain that your blog postings include graphics and videos in between paragraphs. Additionally, you must be mindful of copyrights while adding photographs.
Most beginners introduce the images to their content by copying from another website. However, this can lead to legal trouble as you can not use another site's copyrights without permission.
Now you're wondering where you can get free images to use in your blogs?
You can use Canva to make your own personalized, interesting, and unique graphics. However, ensure you optimize the images too for SEO purposes.
Now comes about video content!!
Of course, videos are more engaging and appealing than images. You can easily transform the blogs into video content by producing vlogs, slideshows, or other content forms.
However, ensure you don't embed the videos directly in your blogs. This is because WordPress does not entertain videos, and your hosting provider can not handle them.
Aim for Featured Snippets Content

Google makes every effort to respond to consumer inquiries quickly. They've done this by introducing feature snippets in the answer box.
Featured snippets are the content that appears on the top of the search results. They frequently present in the form of bullet points, how-to instructions, or question and answer formats. Overall, these snippets answer common searches such as why, when, how, what, and more.
Google has no specific algorithm or set of criteria for selecting content for featured snippets. Hence, it's best to optimize the content and deliver content that's relevant to client needs.
For instance, if Google chooses your content for feature snippets, it will gradually rise to the top of the search results.
For optimizing your content for feature-rich snippets:
Utilize a snippet for SERPs indexing.
Also, you can see what kind of snippets Google returns for that search.
Now, organize your content accordingly.
When it comes to styling the content, emphasize clear and straightforward content with appropriate headings.
Readability is Critical
When it comes to SEO content optimization, readability is crucial. Of course, easy-to-read blogs and articles frequently rank higher in search engines.
It only takes a few seconds for visitors to decide whether they want to stay on the site or leave. This means you have less time to convince your audience to stay and keep navigating.
Readability makes it simple for people to browse through blog posts fast. Keep the sentences short and paragraphs small. Also, you can use heading, punctuation, and bullet lists for easy reading.
Additionally, an SEO plugin lets you automatically detect readability issues and provide recommendations for fixing them.
Some tools that you can use include Grammarly, All in One SEO plugins, and so on. Also, you can hire an SEO services company to explore SEO or have the SEO experts handle it all.
Optimize the Existing Posts With Updated Content
Many beginners and even experienced marketers overlook the need to optimize older blog posts. Even after the content is published, you are not done with content optimization for SEO.
As a result, here are some things to think about after posting content:
Promote on Social Media Channels: Leverage the social media platforms to market your blog posts or content. Also, you can use any app, plugin or extension to automate such tasks.
Monitor Search Rankings: You might be optimizing your content for SEO, but what about the blog's search rankings? It's vital to keep track of rankings, which you can achieve by following the right methods.
Incorporate Internal Links: You can go back to your site's old blogs and add links to your new blog posts. This will assist you in gaining link juice for your articles while allowing users to explore more.
Additionally, you should consider optimizing older posts regularly so that you can concentrate on growing the rankings.
Track Mobile Responsiveness and User Experience
When it comes to web design, SEO-Friendly Web Design and Responsive Web Design is no longer a choice. Even Google now prioritizes mobile-first indexing.
In comparison to desktops or PCs, search engines now favor indexing and web page ranks for mobile versions.
You should ensure that your website design is responsive if you want to track mobile-friendliness. As a result, your blogs' URLs will be similar on mobile and other platforms.
Furthermore, this will prevent backlinks to your blog from being split into two URLs, resulting in improved inbound link potential.
Aside from that, there are some more stylistic yet successful techniques to offer an exceptional customer experience. Prevent using huge blocks of text that are difficult to read on mobile platforms.
You can use headers to split your content and organize it accordingly.
Other ways may include incorporating the mobile-friendly test tool by Google. This highlights the most common issues and offers advice for how to resolve them.
Optimize Your Blog Posts for SEO With Awebstar
SEO is crucial for enhancing a company's online exposure and driving visitors to its website.
However, generating SEO-optimized blogs does not necessitate learning Google's algorithms or being an HTML expert.
Awebstar Technologies offers Digital Marketing and SEO services to help you in streamlining and simplifying the process. From a variety of tools to cutting-edge keyword research technology, our collection of resources can handle it all. This will allow you to use time towards creating engaging content and generating potential traffic.
Once you can explore the pinpoints, you can leverage these tips to provide the content that lures your audience.
So, whether you need to optimize your blog posts for SEO or boost their search engine rankings, we are here to assist you.