Complete Guide: How to Generate More Leads With SEO
SEO is important for different purposes, including lead generation!   
The leads generated from SEO are more inexpensive than those obtained from different channels. 
Remember, leads are the essence of your business. Without them, there is no business! So, it is better to work on powerful SEO strategies for not only improving the organic traffic but also to grow online visibility.
How are SEO and Lead Generation Related?
SEO is the process for increasing the visibility of a business in search engines like Google, Bing, Yahoo. Typically, the general tasks included with SEO are; optimizing content with targeted keywords, building backlinks, etc. Or, we can say that it is a practice of enhancing website ranking in the organic section (non-paid) of search results. 
Whereas, lead generation captures the user's interest in your services and products to make sales. Henceforth, it is an important factor for business-to-consumer (B2C) and business-to-business (B2B) companies. Lead generation is helpful in:
Business growth

Bringing-in qualified leads

Providing a transition from lead to customer
SEO can increase the visibility of your company through organic traffic on search engines, thereby supplementing the lead generation efforts. Certainly, SEO and lead generation work hand-in-hand.  Accordingly, more visibility on the search engine's first page assures more interaction with your business. So, to boost revenue, sales, customer base, and to stand out, SEO is a must. Implementing the right SEO strategies is likely to produce leads as you are attracting the potential audience in the right place and at the right time.  
In brief, we can say that:
It assists in ranking the targeted keywords

The targeted audience can find the content from organic search results

When the audience likes the content, you can convert them to lead and create a sale. 
How to Use SEO for Lead Generation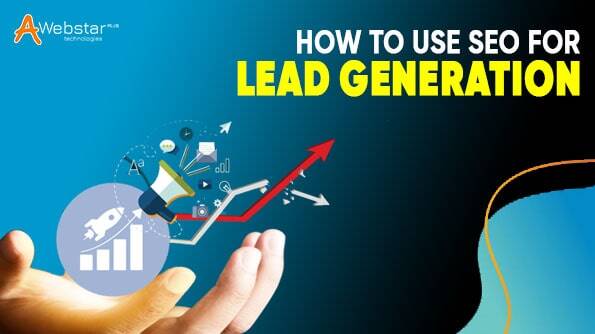 Understand the Target Audience
All businesses have different stories. Remember, powerful content marketing needs an extensive study of the target audience's requirements, behaviors, and desires. With more specifications, you can acquire more potential and valuable customers. Initiate by:
Examining the user's personas, 

Determine the target audience, 

Generate content that connects the center of the target.
Look After the User Intent
You need to find the exact meaning of the keywords that your potential customers use when searching. Hence, there is a need to know why the customers carry a particular search and what they want to have. These insights will allow you to optimize the content to fulfill the intent.
Find New Ways to Perform Keyword Research
Those days are gone when we rely on competitive indicators and search volume. From time to time, Google updates its search algorithm, which aims to provide users with the best search experience.
Therefore, you must study the content published by the top-ranking websites to know Google's evaluation. After knowing, you can build a more authoritative and competitive blog post.
Content and Homepage Optimization
Content creation is also an important point in generating leads. Quality content drives conversations with potential customers. Significantly, each content you make requires careful planning. Below, we have mentioned the ways to achieve this goal:
Homepage Optimization
Use the content on the homepage in the best possible way. Create an eye-catching header, optimize the page for Search Engines optimisation (SEO) and initiate by integrating:
City or local information and business address

Related keywords

Quality concise content

Specific URLs

H1 tags and Titles tags among others
Audit the existing content for: 
Correcting the subheadings

Integrate related links and keywords 

Consistently generate consistent and relatable content
Mobile Optimization
Nowadays, everyone has moved from desktop to mobile. Saying that- the world is mobile is not wrong. Surprisingly, there are more than 58% who want to use mobile phones over anything. Hence, mobile optimization is a significant lead generation tactic.
Most of these customers use mobile phones for searching the services or products. Google states that 78% of every local mobile search leads to offline purchases. Simply, it explains the website's optimization importance for improving sales. 
Hence, if the website is not mobile-friendly, or non-responsive, optimize it to make it more appealing and readable to mobile users. Undoubtedly, mobile optimization investment improves the chances of securing high-quality leads.
Formulate Efficient Meta-descriptions
The meta description is the HTML code defines what the web page has. Although, their expansion directly affects the ranking of web pages, it has a significant impact on their click-through rate (CTR). So, for boosting the conversions, make the meta-tag that is appealing to the user. There are many factors to consider for effective meta-description:
Make it appropriate and specific with target keywords.

Length: The meta-description considers the comprehensive pixel limit by Google. 

Generate value by adding the benefit or solution.

Employ action-oriented language to secure clicks.
Get Alt Tags for the Images
Did you know that Google only displays pictures with Alt tags? Assuredly, tagging images improves the chances to be in Google image search. Hence, make sure to use descriptive text ALT tags on the images.
Create High-quality Backlinks
Backlinks are an important Google ranking factor for any online business. Always remember- "quality is important". 
Ofcourse, not all website links have the same importance. The websites with high-DA (Domain Authorized) are valid. Hence, find out the potential links in trade organizations or business associations in your market segment. Additionally, prior partnership or cooperation with different brands can also assist. Contact them, create a guest blog for high-value backlinks.
Visible and Accurate Call-To-Action (CTA)
Just as it is essential to acknowledge the forms on the website, it is correspondingly essential to pay attention to CTAs. Hence, provide the right CTAs to act upon and follow the below-mentioned tips for the best results.
Place CTAs perfectly

Do not cover them in corners

Make CTAs as active as possible

Handle CTA image buttons preferably than links

CTAs should instruct visitors in the simplest and easiest manner.
Therefore, when the landing pages are simple, clear, and focused, you can eradicate the number of distractions or confusion the audience is experiencing. Not to forget- with engaging content, the audience will be directed to follow CTA.
Overlook Common SEO Errors
Too many keywords are one of the most common mistakes people make. So, not only does it present your content as difficult, but it does not develop a compatible and true fan base. Other SEO mistakes are:
Article spinning: Choosing an article from a different website and editing it to make it look new.

Link buying: While advertising on different websites, assure that the link is set to "no-follow".

Duplicate content: Assure the content is non-duplicate and unique.

Hidden/invisible text: Do not use similar font colors as the background color.
Speed
Website speed matters a lot. Definitely, the visitors do not like to wait to get it to load, they simply abundant it and move to another. 
Indeed, SEO prioritizes the site with higher website speed and gives a higher ranking. In addition, the faster website reverts to search faster and makes them rank higher.
So, for enhancing the website speed, select a reliable web host. In addition, eradicate the website effects, such as plugins, spam messages, and redundant scripts. Remember, to clean the database and fix the broken links.
Publish Fresh Content Regularly
Website updated regularly with new content assures to be Google's first pick. It does not end at Google only.  In definite, there are more search engines that provide preferences that assure your business site is active. Though, it brings search engines to crawl for the websites and each time they crawl, the recently posted content improves value. 
Adding the benefit, regular blogging is the new and best method to publish new content on the site. Research has confirmed that the companies that generate blogs have 126% more leads than the non-blogging companies.
However, blogs allow you to describe the products and services, share news, comment on the latest events related to business, business updates, and so on. So, it has to be search engine friendly besides, do not compromise on readability.
Engage More on Social Media
The fundamentals of indexing the content have changed for some time. These days, social media has established its name to an extent. Importantly, regular posting on social media improves your chances to be on search engines. Moreover, more than half of the population uses social media to search for their preferences.
So, our recommendation is to optimize your social media profile and publish maximum to improve visibility and generate high-quality leads. Significantly, you can accomplish this by:
Using related keywords on every post

Using appropriate hashtags

Integrating the social media sharing button to the website

Show regular activation on social media
Wrapping it Up
Do not overlook SEO, as it helps to generate high-quality leads. Though, some of them are time-consuming but fruitful, but, this all is worth the shot.
Try out the above-mentioned tips to achieve so. Get more traffic, more customers, and more sales. In case you have some queries and suggestions, then you can ask us in the comment section below. Our team will help you resolve your doubts.
Thanks for reading!!