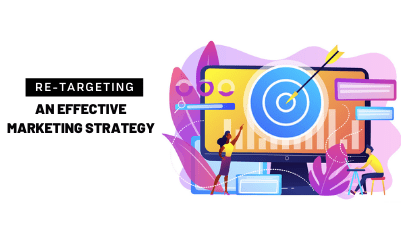 Re-Targeting: An Effective Marketing Strategy to Convert Your Website Visitors into Buyers
Accept it or not? Most of your website visitors are not going to convert on their first visit. 
According to the survey, only 2% of the customers convert to their first visit to the store. And, if you are not practicing to eradicate it, then the chances that you are losing potential customers are more. On the contrary, you are losing the opportunity to convert those customers who have shown interest in you lately. 
If you are facing the same issues and have tried every possible aspect to rectify this then, retargeting is the only solution you can go with. You need to look at the below statistics to understand the power re-targeting holds:
Most of the online viewers enjoying seeing the retargeting ads.

25% of them

prefer it as it reminds them of the products they wanted previously.

There are

70% chances

that the customers can buy the product from you than from your competitors.

Re-targeting holds more customer engagement; that is, the CTR for a display ad is 0.07% (approx), and for retargeting, it is 0.7%. Therefore, it can be said that CTR (Click Through Rate) of the re-targeted ad is

10X more than

that of the generic ads.

The other placement strategies have less lift as compared to re-targetingComparatively, the re-targeting has more lift in

business names by 1046%

. 

B2C and B2B brands consider re-targeting as their budget with

70% of brand awareness

. 
The data given above is suitable to conjecture the popularity re-targeting has. So, we can say that re-targeting has a crucial role in digital marketing. Now, it becomes vital to understand what retargeting is.
What Retargeting is?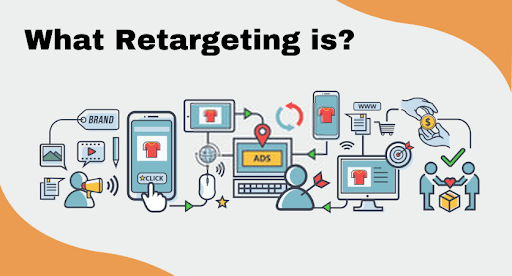 It is a paid advertising method that includes sending your brand's ads to targeted customers who have visited your site. Re-targeting is known as a powerful conversion optimization tool and branding tool. Fundamentally, the thought behind designing such an advertising tool is to help e-commerce sites attract users who don't convert shortly.
Therefore, with this advertising choice, online marketers can see their brand amid eminent customers. Future customers of your services can check redirected ads or redirected emails, and ultimately, they will arouse their urge to purchase products.
Though, businesses like Google, Facebook, and Twitter are now providing re-targeting options for your convenience to re-target customers directly from their platform.
Retargeting and remarketing both are different. Several users consider both as same. But they are not. Retargeting is a subset of remarketing. Both define an element of advertising to their customers more than once. But, Re-targeting aims to get more traffic, whereas Remarketing is only limited to emails.  
Our focus here is only to grasp every fundamental aspect related to re-targeting. It is intended to enhance conversions and brand awareness. 
History of Retargeting
Louis J.Montulli has invented "cookie" in 1994 at Netscape communication corporation. The invention of the cookie is to examine whether Netscape visitors have already visited the website or not. Until the cookies were introduced to the world in 1995, the time when Internet Explorer 2 was integrated. 
After one year, an article named "Explosing" was published. This article has revealed the slanderous code, which has stolen the user information. Later in 1998, DoubleClick issued "Boomerang" as the first formal version of retargeting.
Then, in 2010, the concept of re-marketing was introduced by Google AdWords. That permitted the users to install the code on the webpages and integrated the visitor's data.  
To make it more functional, they have upgraded the tag code in 2012 for every website page to give more useful information and targeting. 
They made remarketing accessible on youtube in 2013. In a similar year, facebook has attained 845 million users and has established "FBX retargeting," their retargeting platform. 
Google has built a robust tool, "The Remarketing list for Search Ads for Google Analytics," in 2015 for connecting and retargeting analytics with Adwords. It works by matching the keywords from Google searches and pages browsed. 
How Retargeting Works?
As a cookie-based tool, it uses Javascript code and proceeds to anonymize audiences across the entire network. There are many forms of retargeting, such as CRM retargeting, email retargeting, search retargeting. The one which is used rapidly is site-based retargeting. It is the manner of advertising to customers who visit the website when they leave. 
These ads appear on several other sites, keeping your brand a leader in your site visitors, who are continually rebounding to bring them back. In several best practices for redirecting ads, when used in conjunction with outbound marketing and inbound marketing, it works very well.
While multiple digital marketing strategies can be used to drive traffic, such as AdWords or content marketing and targeted display, but, sadly, these approaches don't support with conversion optimization.
Contrarily, retargeting can increase conversions, but it won't attract visitors to your site. Therefore, it is required to combine one or more technologies to improve ROI.
It would be beneficial if you check out the benefits retargeting has before initiating any online advertising campaign.
Benefits of Retargeting
The significant thing that retargeting gives us is that it encourages online marketers to generate brand awareness. Let's find out the advantages retargeting owns:
The best tool to pitch potential customers
Retargeting has the potential to pitch those potential customers who visit your website to find your product's details. It is better than that of the existing cold calling tools. Because the potential customer has visited your website and has shown an interest in your product. The best you can do is to notify or poke them to move to the next step. Hence, with the retargeting approach, you can reach only those customers that you think can give success to your brand. 
Aware you about conversion percentage
Retargeting is known for giving only the benefits to your business. Another advantage it can provide you is that it gives an idea about the areas where there is more proportion of retargeting conversions. These statistics can be beneficial as it lets you disclose the secrets of your conversions. Accordingly, you can create a future roadmap for online marketing efforts to boost your business results. 
Drive leads from the funnel faster
Any marketing funnel aims to push the customer's dows from several stages. So, if you know that they are coming back to you after purchases, then try to make it two or three using the concept of retargeting. 
As it is now clear that 92% of the customers do not buy on their first visit to your website. So, this stat makes it vital for you to follow the customers and assure that they come back to you at a productive stage. What it requires is just Retarget them with the new content.  
When a visitor comes to your website and doesn't get convert, do you think you can send them back to the homepage when you are organizing the remarketing campaigns? Certainly, they cannot comprehend the content there, so the approach that you can follow is to push them back with some fresh content. 
Retargeting is about building trust
We think it is now clear that retargeting is about retarget your ads to get the visitors back to your website and convert them to leads. Ensure that when someone visits your site, and they don't purchase, retarget to them so that they can check the ads you are putting in. But, don't behave like a stalker; instead, be certain. Make them feel they know you and let them give you a chance. 
Types of Retargeting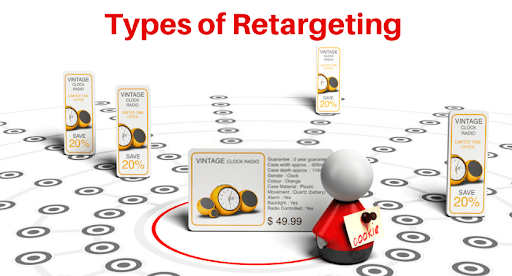 Re-targeting can be categorized into six types; namely, Website retargeting, email retargeting, CRM retargeting, Remarketing lists for search ads, social media retargeting, search retargeting. Let's comprehend every type briefly.
Website Retargeting
It is a method of showing ads to those who have visited the site but does not get converted. Website retargeting uses the data to get back the visitors to increase conversions, reducing shopping cart abandonment, and encourage brand awareness.
Email Retargeting
Using email retargeting, you can show the ads to subscribers or to the users who have opened the emails you send. It works like a traditional way. Like, the cookie stores in the browser when the users open the email. With that cookie, the users get identified when they browse social networks or another website.
Now, it is not an ideal solution as Google has changed the way of displaying images. As Google reserves images, so, the retargeting pixels cannot be released in the user's browser. And without that, the list of users cannot be made to whom ads need to be shown.
CRM Retargeting
The alternative that can be used instead of email retargeting is CRM retargeting. CRM lets you display ads to the users according to their email addresses. It only requires you to upload the email addresses of the retargeting provider. The providers match that data with the data from their online or offline CRM to find the users and show them the ads. 
The Success rate of retargeting is dependent on the match settings being selected while uploading the data. And, if you use CRM retargeting, then, you have to choose a company that gives services like Perfect Audience and Ad Roll. 
Remarketing list for search Ads
The remarketing list for search ads is available in Google Ads. The current remarketing list can be used to reach the website visitors when they go back for searching. Classic search text ads can be used despite banner ads. The remarketing list of search ads sometimes gets involved with search retargeting as both of them use "retargeting" and "search." Though, they are not that dissimilar as well.
The remarketing lists for search ads permit you to display the search engine text ads to those who have been to your website. It enables only those to view Facebook ads and banners which have not visited your site but have used the related phrases and keywords. 
Social Media Retargeting
It is a form to display ads on social networks. There is a confusion between the social media retargeting and site retargeting. To make it clear, site retargeting defines the process only and does not mention anything related to the channel. Banner ads were the default channels to display the ads on the websites before the Facebook exchange.
With social media retargeting, you become definite about where you want your ads shown. Twitter, Facebook, Quora, Youtube, and Facebook are the social media platforms that are dealing with retargeting. 
Search Retargeting
The search retargeting gives you the way to reach new and potential users for your business. Search retargeting permits you to display the ads to the visitors who have explored the keywords previously associated with your business, but have not visited your website. 
It is considered as the best way to reach the users exceeding the initial search. It is more efficient as it targets the recently visited users. The search retargeting displays the ads on the web and facebook.  
Best Approaches to Take Benefit from Re-targeting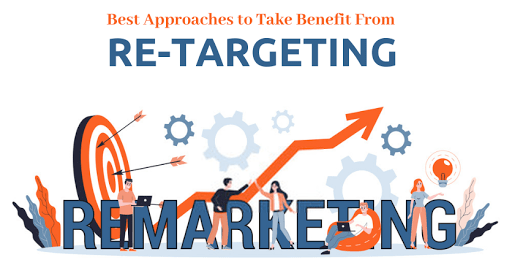 It is evident that retargeting is used to increase your business ROI. Considering this aim in mind, we are giving you the best approaches to retargeting using which you can boost your business sales. 
Frequency caps
To conduct the retargeting campaigns, frequency caps are considered as the best approach. The frequency caps are used to restrict the customer's confusion. It is a method of preventing the number of times an individual notices your ad that simultaneously, prevents them from feeling confused. Continuous visiting your website by the customer does not imply that they will buy your product.
Do not give unnecessary publicity that will result in harmful effects. So, reduce the number of your campaigns. Use the frequency caps that instantly helps you to minimize your act of publicity. Don't give them the chance to provide negative feedback by regularly following them. 
Customer segmentation
Understand that every customer is distinct from one another. They have different purchasing decisions and viewpoints. With the customer segmentation, you can comprehend their behavior and differentiate every message in several purchase funnel stages.
Its works in such a way that when the visitor visits your website, segmentation can target them with distinctive beliefs and give them the brand transparency. When the visitors move toward the product page, assure that your site shows them the appropriate ads related to the products. It can be said that customer segmentation is the process of serving you with engaging and relevant ads to eminent customers. 
View-through conversions (VTC)
VTC is the method to discover the number of converters after video ads or display ads. The change in conversions reflects in the AdWords as VTC. It does not display those ads that have not critical buying decisions. Although, these ads lead the customers to buy from them. VTC gives ads with the quality data from the ad performance using the conversions that displays in the specific window when the user checks an ad. 
Stages of the Marketing Funnel to Retarget
Convert your visitors to customers with the four critical stages of the marketing funnel. Group them into four stages, such as cold traffic, warm traffic, hot traffic, and Post sale.
Cold Traffic/Awareness
Those users who have never heard about your brand before and never got engaged with the content as well come under the cold traffic stage. Precisely, the newbies of the website are cold traffic.
It is tough for the market team to convert the visitors to the conversions at this stage as they don't have any experience with your brand. Even if it does not mean- you can't nurture them with retargeting. You can handle their email id's to remarket with Facebook ads.
All you need is to upload the custom list of the email id's who have downloaded the lead magnet and build an advertising campaign for a particular group. Practice the remarketing ads direct customers in cold traffic stage through content regulated to warm traffic, like, case studies, webinars, etc. 
Warm Traffic/Interest
It is the traffic that lingers around to finalize the product as they continue to research, which is more suitable for them. To get more from the warm traffic, check out the below ideas:
Integrate different product list the customers have clicked in from your website. You can consider facebook product carousel ad format to showcase again. 

Use the email addresses of the customers if you have and send the links related to their interest (the blog posts being clicked in the previous email). 

Provide them with free content as much as you can to gain their attention. You can offer them the white paper or the e-book considering their relevancy as the primary concern, especially if you are practicing B2B. It is noticed that

78% of B2B

customers consume only the relevant data before concerning the seller. 
Hot Traffic/Purchase and Evaluation
The customers of the hot traffic are the one that chooses the purchases that solve their pain points. Try to make your customers feel that you care for them. Assure that you are in the customer's mind when they execute their decision. 
Hot traffic is basically the evaluation and purchasing lead. The customers might come up with questions like:
Is mobile-payment applicable?

What is the mode of payment?

Is paying through a master card possible?
Examine previous customer's queries and find out their concerns before purchasing. The trick is that you can use their answers to solve the questions of new buyers with remarketing advertisements. 
At this point in the stage, you cannot afford to be careless; it is an urgent demand. Provide them with the reasons to buy from you either from discounts, offers, or time-sensitive promotions. 
Almost 97% of the customers look for deals while shopping, so do not let them drag anywhere else and try to give them the convenience they are looking for. 
Post-sale
After fulfilling all the steps mentioned above, it's time to maintain a relationship with them in the future. Try to bring them further through your funnel. Show them the products they have purchased from you and display them the products that are similar to their taste. Using this approach, you can boost Customer lifetime Value (CTV) and encourage them time and again. 
It can be said that it is the contribution of the net profit of the customers to the company over time. Post sale is the best manner to achieve long term ROI with the advertising campaigns. 
Retargeting Advertising Platforms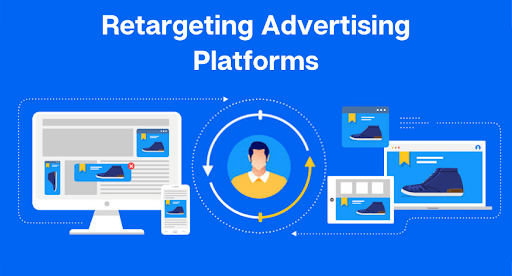 There are numerous platforms on which the retargeting is possible. Here, we are giving you the best platforms; you can choose the one according to your specifications. 
Google Ads
It is the best and the leading platform for retargeting. With Google Ads, you can lessen the risks of the high costs, higher conversions, and fewer CTRs (Click Through Rate). 
Here are the various types of Google Ads retargeting:
Standard retargeting: Aims to show ads to the existing customers because they use the app on the GDN (Google Display Network).

Dynamic retargeting: Displays the ads with the products or services that users viewed on an app or website.

Retargeting list for search ads: Lets you show ads on the existing customers because they examine the searches for what they need on Google.

Customer list retargeting: Allow you to upload the list of contact information of your customers. 

Video retargeting: Authorizes you to show the ads to those who have communicated with the Youtube channel or your videos.
There is a certain way to build a perform a retargeting campaign on Google Ads:
Step#1: Login to Google Ads
Step#2: Click on Campaigns
Step#3: Build New Campaigns
Step#4: Click on "Create a campaign without goal guidance" to check all settings and options.
Step#5: Choose display.
Step#6: Choose "Standard Display Campaign".
Step#7: Select Audience and pick Remarketing and Similar Audiences.
Step#8: Select the customer's list.
Step#9: Choose "Create Campaign".
Google Ads will build a retargeting tag for you. You can email a mobile app tag or retargeting tag to the webmaster or yourself. The description can be given of how to add it to the app or website. And, if you are building remarketing campaigns from Google Analytics, you can notice a checkbox to consider the tracking code on the site. Google can create an "All visitors" list. 
AdRoll 
AdRoll is the other retargeting platform that provides user-interface and internet coverage interface. Customer segmentation is seamless with AdRoll. Yahoo, Facebook, Microsoft-Adrool, and Google platform permits you to reach 90% of the customers online. 
Re-targeter
As an advertising platform, it provides retargeting services like facebook exchange, website retargeting, email retargeting, search retargeting and CRM retargeting. Find the benefits it holds:
Re-targeter works only on the websites that have 30,000+ unique visitors per month to get exposure to significant traffic. 

It lets you customize the settings according to your needs, like user income, demographics, intent, and locations.

It gives you access to the full interface without any restrictions.
Social media platforms
There are numerous social media platforms that are best for retargeting purposes. Facebook Ads and Twitter Ads are some of them. 
Facebook gives you two types of retargeting, namely, List retargeting and pixel-based retargeting. 
List retargeting means you can have a ready-made contact list, and all you need is to upload it to Facebook. It will automatically find out the contact's email address, and connect it to the Facebook users and shows adds to them. 

Pixel-based retargeting are the ads that are shown to those visitors who have visited your website. Its coding is done in JavaScript that associates it to browser the time when they visited the web page. Later, the cookie informs Facebook about the type of ads to serve to the customer according to the pages they have visited. 
The other retargeting platform is twitter. Twitter ads provide remarketing services by organizing campaigns.
Concluding Remarks
Now it's your turn to act! We have presented a comprehensive guide to you of retargeting. Undoubtedly, it is a practical approach to traffic conversion. And it focuses on advertising to those who are well-known with your brand (product and services). That is why this approach is more preferable to get more ROI than other channels. But, do not annoy your customers with excessive advertisements. Use only the profitable method to engage them and insist on them to purchase from you. 
If in case retargeting campaigns are not providing fruitful results, then do not allow yourself to bounce back to the visitors. Change the ads, execute a new offer and showcase the add effectively. 
Go through this blog, start retargeting today. We assure you that you are not going to regret it. It is worth the time and effort.
We hope you liked this article. Your engagement will be highly appreciated.
Thanks for reading!!