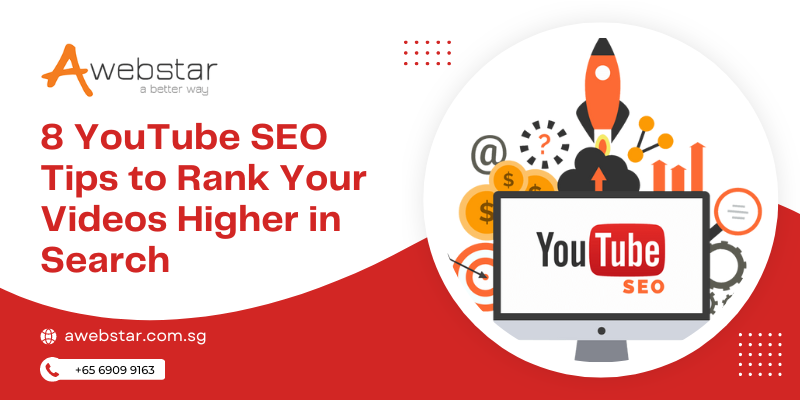 8 YouTube SEO Tips to Rank Your Videos Higher in Search
YouTube is the second largest search engine with 62% of internet users watching video content every day. Such a great audience on the internet accessing YouTube depicts that there are ample opportunities for businesses to grow. Nowadays, many businesses are using YouTube to convey their brand message and provide informative content in response to customer queries.
Posting good quality video content on YouTube is one thing. How to raise users interest in your videos and optimize those for higher rankings in the search results is the question. Luckily, Best YouTube SEO Services come to the rescue. It is a tactic of channel and video for improved rankings. It includes optimizing keywords, meta titles, descriptions, and playlists. Besides, there are more tips and tricks that facilitate visible results.
So, let us talk about these tips in detail and how significantly they will encourage more engagement. Furthermore, improve your video placement in search.
8 Result-Oriented YouTube SEO Tips:
Include The Targeted keyword In The File Name:
YouTube SEO begins even before you upload a video on your YouTube channel. Yes, making it one of the prominent SEO techniques for attracting informative content lovers on YouTube. The first and foremost SEO tip is to include the target keyword in your video file name. Uploading content with a file name full of codes and digits (for example:VID_6745221756.mp4) often confuses YouTube with what your content provides.
The algorithm of YouTube considers multiple items before selecting and ranking content in search results. These include video titles, hashtags, and, most importantly, file names. Such ranking factors make it crucial to use a descriptive and unique file name with targeted keywords. Most video keywords tend to be "tutorials", "How to", and "review". For example- If your business is about cooking, uploading video content with the file name "How-to-make-chocolate-cake.mp4" will do best.
Use Targeted Keywords In The Video Title:
Understanding the user search intent is crucial to make your video match their search query. When a user looks for videos to watch on YouTube, the first thing a user does is make a search query. Be it "spongy cake recipes" or "tutorial for website development", a user looks for compelling video titles. Integrating targeted keywords into the video title helps closely match the user search query. It is crucial to ensure that the video title is effective, clear, and to the point.
Matching the video query a user is looking for, influences the user to watch your brand videos from the search results. The utmost crucial question arises, how to decide on a few keywords among a crowd of thousands? Taking a helping hand from a prominent YouTube SEO Specialist eases doing so. With experienced specialists by your side, it gets easy to choose the best keyword for your video title and get better results.
Start Using Hashtags To Increase Reach:
Hashtags are among the most popular and recent additions made to the YouTube user interface. Hashtags allow using relevant terms to your content, just as you use in Instagram posts. Relevant hashtags help find your content and drive traffic by boosting likes, comments, shares, and, most importantly views from enormous sources.
You can use your brand's name and related topics as hashtags to ensure content reaches globally. Also, remember not to use way too many hashtags in your content. Over-hashtagging might lead your content to be flagged by YouTube. Use 2-3 hashtags related to the topics of your business.
Use Custom Thumbnail For Better Results:
As a user, what do you look at when scrolling on YouTube for watching videos? When looking for a crucial piece of information, you check views and start watching the one on top with great views. Have you ever noticed that most viral videos on YouTube have attention-grabbing and customized thumbnails? On top of that, when you look at these videos, most likely you click on these videos. You'll agree with this.
Thumbnails influence our emotions and make us click on the video, and watch it completely out of curiosity. This makes using custom thumbnails on your videos one of the result-oriented YouTube SEO techniques, to get more clicks and views. A custom thumbnail image on the video's result influences viewers to watch the video contributing to high video views. Great views on videos make YouTube rank your video higher in the search results.
Create Playlists For Videos With Similar Topics:
It is crucial to upload videos consistently to your YouTube channel to build engagement and brand awareness of your business. With adding more and more videos to the content library, it is vital to categorize videos of similar topics.
Categorizing and creating keyword-optimized playlists makes YouTube algorithms clear about the video's information intent. It also helps in keeping viewers engaged by getting clicks from one video to another with similar topics in the playlist. Conclusively, resulting in an increased view count and better search placement.
Take Advantage Of YouTube Cards & End Screens:
Another practical YouTube SEO tip is adding cards and end screens on the YouTube channel to increase the channel's viewership.
YouTube Cards: YouTube describes cards as "preformatted notifications". These cards appear on mobile, desktops, and tablets which businesses can easily set up for promoting brand videos. These cards are represented as a small white circular icon that looks like "i" at the top of the corner. This card asks users to subscribe to the YouTube channel.
End Screens: End screens look the same as cards but these only display at the last of a YouTube video. These are visually more detailed in nature. Businesses can use end screens to promote other videos on a YouTube channel and encourage more views, traffic, and subscriptions. For example- Add a website development step-by-step process video visual link at the end of the video.
Promote Your Channel And Videos:
There are enormous ways to market and promote your videos and channel across the internet. Below listed are some prominent ways to increase overall views and engagement on the content.
>Embed your videos in the blog posts with relevant topics.
>Create informative videos about product demonstrations and post them on your brand's website.
>Respond to comments and user messages on videos.
>Promote your videos and channel on websites, forums, and newsletters.
>Link your YouTube channel to as many places as possible including blogs, magazines, articles, and many others.
>Advertise and promote your videos on email marketing.
>Consistently post content across social media channels like Instagram, Facebook, and many other social media platforms.
Build Engagement With YouTube Comments:
As a user, what do you do while watching videos on YouTube? You'll highly agree, while watching your favorite video on YouTube, you scroll down to check the comments. We all do. Comments provide a short description and the user's outlook on the audience. It also facilitates valuable feedback to a brand.
For businesses, responding to comments is one of the best ways to build engagement. A concise reply to a user's query, and liking heartwarming comments posted by users encourage a strong brand relationship with the audience. One of the best ways to build maximum engagement is by pinning the best comments posted by users. Not only with doing this, engagement will increase but users will get more likely to visit the channel again and again.
Conclusion:
YouTube search algorithms and trends consider multiple metrics to rank video content. Some vital factors include video engagement, appeal, and information relevancy as per the user queries. In addition, the current and overall views, the increase in views, which audience is viewing the video content, all these metrics matter. Hence, YouTube SEO for video content optimization is essential to fulfill all these metrics and increase rankings
Also, you can connect with us for any query at Awebstar Technologies. We're one of the top-leading SEO agency providing YouTube SEO Services with desired search results. Having a guiding light across will get you to top search results.