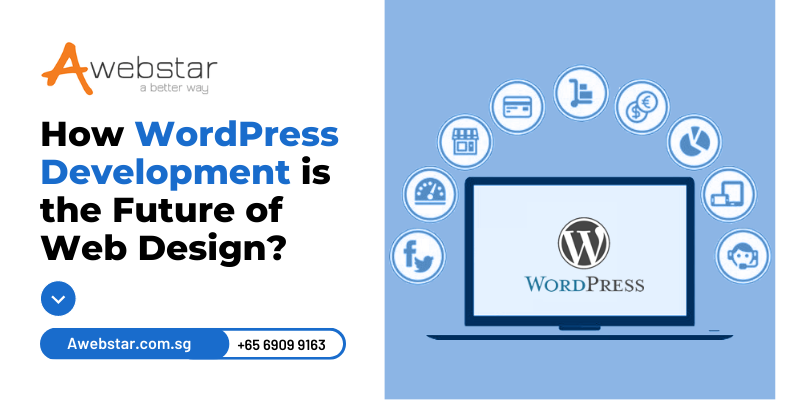 How WordPress Development is the Future of Web Design?
Your website is the first point of interaction between the user and your business. This first impression can make or break their perception of your brand. Thus, having a strong online presence in today's digital era is essential for both individuals and businesses. This is possible with a website that is not only aesthetically pleasing but also practical and user-friendly. Hiring Reliable WordPress Development Services can help you with this.
WordPress is the most popular and widely used open-source CMS (content management system). Over 40% of websites on the internet use WordPress to manage their websites. It is the ideal platform for web design because of its adaptability, simplicity, and wide selection of plugins and themes. In this article, we'll explore why WordPress development is the future of web design. This exploration will also uncover how it can help companies and people who want to establish a credible online presence.
Factors that Explain Why WordPress is the Future of Web Design:
This segment discusses the facets that reflect the potential of WordPress as the future of web design.
Flexibility and Customizability:
WordPress is the platform of choice for web developers because of its renown for adaptability and customization. The platform provides free and premium themes that you can personalize to match your brand identity. You can build a website that is distinctive and in line with your particular needs with thousands of themes and plugins available.
With plugins, you may give your website extra features like social media integration, contact forms, and e-commerce possibilities. WordPress also has a solid codebase, which enables developers to produce unique solutions for their customers.
User-Friendly Interface:
WordPress is highly customizable and user-friendly, which expands its accessibility to a wide range of users. You can maintain your website and add material, create pages, and more thanks to its user-friendly interface.
Moreover, you don't need to have advanced web development skills to use WordPress. This makes it a great option for bloggers and small company owners. WordPress makes it simple to update your website with fresh material, graphics, and videos, without the need to engage a web developer.
SEO-friendly:
SEO is essential for any website since it affects its visibility on search engines like Google. WordPress is a fantastic platform for web design because it is very SEO-friendly. Search engines find it simpler to crawl and index your site with this cutting-edge CMS.
In addition, you may optimize your site for search engines by using a number of plugins, such as Yoast SEO. WordPress makes it simple to add meta descriptions, titles, and keywords to your posts and pages. This increases your likelihood of appearing higher in search engine results (SERPs) multiple times.
Mobile-Responsive Design:
Having a website that is mobile-responsive is crucial given the rise in popularity of mobile devices. There are numerous mobile-responsive WordPress themes available that instantly adapt to the screen size of any device.
As a result, your website will appear fantastic on desktops, tablets, and mobile devices. In addition, you can design a unique mobile version of your website using plugins like WPtouch. This mobile responsiveness makes your website more accessible to the users which ultimately increases the traffic to your website.
Scalability:
WordPress is a fantastic solution for organizations of all sizes because of its incredible scalability. This platform can meet your demands whether you're just getting started or have an established web presence.
As your business expands, you may add new pages, content, and functionality without having to start from scratch. WordPress also offers a tonne of customization options, enabling you to design a website that's specific to your company.
Community Support:
WordPress has a wide community including users, developers, and designers. This ensures that the platform continues to produce fresh themes, plugins, and resources. So, you can rest assured that if you need to make some changes to your website, you can always use the latest design elements. Plus, since it's an open-source platform, you can always turn to a WordPress developer for website advancements.
Moreover, WordPress has a substantial documentation library that makes it simple to locate answers to your questions. Plus, thanks to the wide community, WordPress will advance and expand, making it a dependable and long-lasting choice.
Security:
Any website needs to be secure, and WordPress takes this seriously. Regular upgrades to WordPress are released to address security flaws and enhance the platform's overall security.
Moreover, a number of plugins, such as Wordfence and Sucuri, are readily available to assist you in securing your website. You can relax knowing that your website is secure with WordPress.
Cost-effective:
WordPress is a great platform for businesses and individuals wishing to establish a strong online presence because WordPress development services are also reasonably priced.
The platform is open-source, making it free to use, and there are lots of readily accessible, reasonably priced plugins and themes. You can use these elements to enhance your website's functionality and aesthetic appeal.
Wrapping Up!
With all the things we discuss in the blog above, you must have realized that WordPress development is the future of web design. WordPress has everything you need to build a powerful online presence: flexibility, user-friendly interface, SEO friendliness, mobile responsiveness, scalability, community support, and security. WordPress will continue to be a key component in the future of site design as more companies and people use the internet to communicate with their audience. It's the best platform for building a website that matches your individual needs, whether you're a small business owner, blogger, or a huge corporation. So hire a reliable WordPress development company and give your website the heights it deserves.