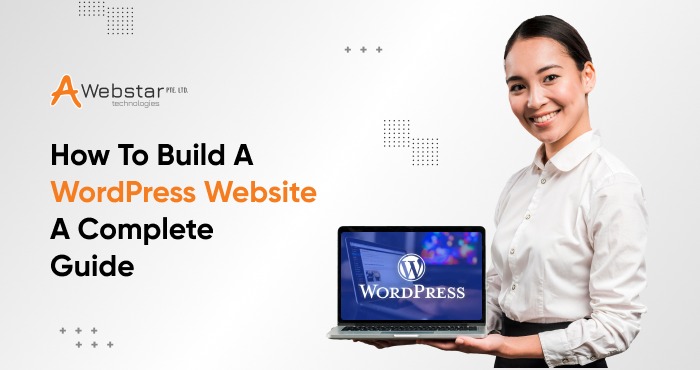 How To Build A WordPress Website: A Complete Guide
In our present interconnected world, owning a website has become an essential part of the ladder to success. Therefore, creating a website that represents your business is a fundamental step towards achieving your ultimate goals. Now, you can start building your own site for your business, blog, portfolio or online store with basic knowledge.
There exists one such software out there to help you to create a dream website design . It is so easy to use that virtually anyone can successfully create a unique and professional-looking website. Moreover, It is the world's most popular and user-friendly content management system that has simply transformed the way we build and manage websites. With its user-friendly interface and an extensive library of themes and plugins, WordPress empowers both beginners and experienced web developers to design stunning and functional websites. 
This blog post will mainly focus on the basic fundamentals to advanced techniques to build a WordPress website so as to bring your online vision to life. So, wear a developer's hat to be one and let's start on this exciting journey to build your own WordPress website.
Step-by-Step Guide on How to Build a WordPress Website
This part of the blog post will make you familiar with the steps that are involved in developing a WordPress website from scratch. So, without any further delay let us get started with it. 
Getting Started: Domain and Hosting Selection
The starting step when building a WordPress website is to get web hosting. Essentially, you must use a web hosting service for your site to be available on the web that costs the least. The best WordPress hosting Services include a free domain name as well as a one-click WordPress installation. This makes the process of creating a WordPress site a lot easier.
Moreover, you can purchase a domain name directly from one of the best domain name registrars such as GoDaddy or Google Domains. Then, conveniently you can connect your domain name to your web hosting service. The next step is to connect your web hosting service to WordPress. In other words, you can now install WordPress.
Choosing the Right Theme
A website template that controls the way your site looks and functions is termed a theme. There exist thousands of options to choose from. Sites like Hostinger and ThemeForest are such sites where you can browse and buy premium templates.
It is simply to make your time worth investing to find a theme that best suits the site you are building. Ultimately, once the best theme is found the next step is to purchase it and then download the theme files.
Usually, you can retrieve free themes from WordPress but they generally require a lot more work. So it is recommended to invest in a well-designed premium theme.
Install Essential Plugins
Plugins are those essential pieces of software that add functionality to your WordPress website and thus enhance the user experience. There are options for every type of website and user. Frankly, there are over 55,000 available plugins and some of the most popular plugins that are available include the following:
Yoast SEO: It helps you improve the overall score of your articles and pages. With this plugin, you can set your main keyword, meta description, slug, SEO title, alt text for your images. Apart from this it also recommends the best practices for achieving good readability.
Jetpack: This plugin helps you with marketing, design and security. You can find site analytics, automated social media posting, multiple WordPress themes, spam filtering, and downtime monitoring. Also, malware scanning, security, lazy loading imaging and much more are provided among its various features.
Akismet: This Plugin is good for automation and security purposes. It does not allow malicious or problematic content to be published on your site. Therefore, it is mandatory for blog and business owners who receive at least ten comments on a daily basis.
WooCommerce: This plugin allows you to turn your WordPress site into an online shop. Hence, you can sell your products to your clients on the web. With the flexible customisation options available, you can sell both physical and digital goods, add product variations, and use affiliate links and extensive payment methods.
WPForms: This plugin allows you to create a fascinating contact form using a simple drag-and-drop interface. You can simply create trendy forms without hiring web developers.
Creation of Content
You can breathe life into your WordPress website with compelling content. Once your website is set up you can start creating essential pages like a homepage, about us and contact page. Putting on engaging and informative information directly aligns with your target audience. Moreover, content is the king in the digital world so make sure that your articles, images and videos are relevant and well-organised.
Furthermore, regularly updating your website with fresh and valuable content keeps your visitors engaged and thus encourages them to visit again. Overall, if your content strategy is in place your WordPress website will become a magnet for your desired audience.
User Experience and Navigation
The success of your WordPress website entirely depends on the way your target audience relates to it. User experience and navigation are the soul foundations in this regard. So, it is necessary to ensure that your site's layout is responsive and adapts to different devices and screen sizes smoothly.
Additionally, creating logical categories and labels to guide visitors through your site also helps to retain the audience. Furthermore, inculcating a user-friendly menu structure along with testing your website's speed to optimise loading times enhances user satisfaction.
Search Engine Optimisation
Your website will become more and more visible when your SEO game is on point. You must start by researching and putting relevant keywords throughout your content. Additionally, you should optimise images with descriptive alt tags that help in keeping your structure organised.
Also, make utilisation of SEO plugins to further make the process smoother. Plus, regularly updating your content will boost your site's ranking and drive more organic traffic along the way.
Testing and Fixing Bugs
The next step after fixing your search engine optimization for your website is to test and fix any bugs that may incur. You can use various troubleshooting techniques to further improve the working of your website. This step is carried out so that when you put your website into usage for your audience no such issues arise.
Market and Deploy your Website
In the end, you must plan to market your website. As a matter of fact, businesses that get found online have invested in a variety of website marketing strategies to help gain visibility online. This will help drive visitors to your site. Here are a few tips you can use to market your website. They are listed below:
Revisit your SEO strategy
Repurpose existing content into new channels: For example, a blog post can be converted into a video or an infographic
Forums like Reddit and Quora can prove to be a great way to promote your website
Set up a profile on Google Business profile
Engage your target audience on social media
Lastly, when you are sure about the proper functioning of your website, deploy it into the public domain.
Takeaways
In a nutshell, owning a great website matters a lot and makes a huge difference in increasing your business revenue. Moreover, it is a bridge that connects you with your visitors and leads. Thus, it is responsible for creating a positive first impression with new users and hence increasing conversions.
Awebstar Technologies has a team of highly experienced and creative WordPress website developers. We ensure that we add all necessary features to provide proper exposure to your business. Hence, the development team produces a handful of leads thus assuring you to give cash inflow for your organisation.