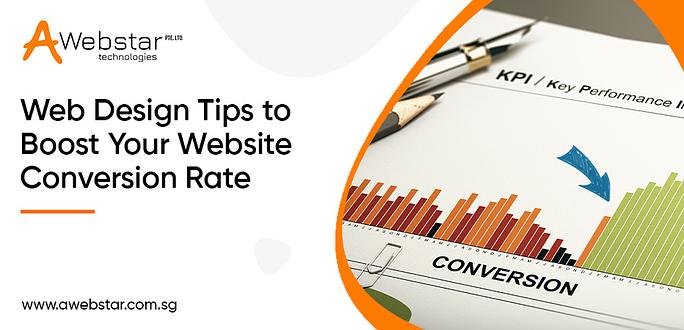 Web Design Tips to Boost your Website Conversion Rate
Simply said, conversions are what keep your business afloat.
One of the goals of any website should be to encourage visitors to take some sort of action, such as making a purchase or signing up for a mailing list, that will lead to a sale.
Website layout optimisation helps to boost conversion rates. The design, the features, even the more advanced ones. The basics hold true whether one is discussing a store in Singapore or reaching out to a community in Canada.
Modern web designers are concerned with enhancing the user experience, streamlining navigation, and optimising for mobile devices. Whether you are situated in Singapore or abroad, the actions needed in obtaining a web design company are similar. Read this post if you want a larger number of individuals to make purchases from your website.
What do you mean by Optimization of conversion rates?
To get some perspective, let's define some artistic terms.
In the context of a website, a "conversion" occurs when a visitor does the desired action, such as filling out a contact form, downloading a lead-generation PDF, or completing a purchase.
Conversion rate is a measure of what quantity of people who visit a website actually do the desired action. The conversion rate of your website is calculated by dividing the number of users who took the required action by the total number of visitors to your website.
Increasing the "conversion rate" of a website involves increasing the percentage of site users who successfully accomplish the desired action.
Conversion rate optimization strategies that use site design to attract more visitors and convert them into buyers
Carve out time for split-testing
Website design that is generic in nature is not the way to go. There's no guarantee that one piece of design advice or trend will lead to the same level of success for a website or business as another. While both a coworking space and an IT consultant may benefit from professional site design, their specific demands may vary greatly. You may need to keep up with the growth and popularity of trendy design components if you want to include them into your work.
The design of your shop has a direct impact on its success. If a new strategy is not producing the desired results (more sales), it may be time to reevaluate the current approach and try something else.
Put in place evidence from your social circle
More people will come if you have a nice name, and many of them will end up buying something. Increasing one's standing through gaining approval from one's peers. Credentials earned by professionals can be displayed, while the endorsement of well-known figures, positive reviews from customers, and internet engagement can all serve the same purpose.
You are free to employ any method you see fit to demonstrate your renown and provide an overview of where your brand and its products stand in the market. Displaying testimonials from your happy customers to potential new customers can boost sales and conversions.
Consider the value of white space
Negative spacing refers to the white space used in design (or white spacing). A good user interface practice is to provide some breathing room around all design elements. An overabundance of images on a landing page can make it appear disorganised.
Make good use of white space to highlight and split data tables. Help shoppers find the information they may use to make smart purchases. Approaching a good web development company would help you to build your website with the capability to improve the conversion rate.
A Call to Action
The call to action is also the key to success. It's the result of customers actually wanting to buy your stuff online. Using vivid colours and engaging wording will help your business succeed. The colours green, orange, yellow, and red are frequently used to emphasise calls to action. Complementary colours can be used to direct the eye of the visitor to the desired action on the page.
Less Choices
When given a wider variety of options, people tend to take longer to make a decision. When designing a website, fewer alternatives are better for conversions. Instead of bombarding visitors with options, make it simple for them to perform the key action you want them to complete on your site.
Just try out a basic format and see how it goes
Using a minimalist layout, the website's purpose and functionality may be maintained while remaining streamlined. This may need skipping over or disregarding some design details that are irrelevant to the final product's usability. Increasing people's options and features may help distract their focus. Therefore, keeping things simple may help them concentrate. Facilitate user decision-making by displaying options clearly.
Reduce the amount of time it takes for the site to load to a minimum
Loading times must be quick if you want to keep your visitors interested. In addition to influencing first impressions and whether or not consumers will return to your site, site load speed is a factor in Google's algorithm, which determines search engine results.
Recent studies have found that the average website load time for a laptop or desktop computer is 3.21 seconds. If a page takes five seconds to load, a user is 90% more likely to abandon it than if it took only one. For each additional second, it takes for your website to load, you may anticipate a 7% decrease in conversions.
Your site's visitors are likely eager to find solutions to their problems. Making your website load quickly will boost your conversion rate.
Decide things rationally after carefully analysing the data
You can only convert so many people to customers if you aren't giving them what they want and need and don't know how they are interacting with your website. Information is required to provide satisfactory responses to such queries.
After putting in place some of these best practises, you might begin monitoring user behaviour in search of further opportunities to boost conversion rates. If you want to know how people engage with your content, heat maps are a fantastic place to start.
The next stage is to conduct a survey of your current clients to ascertain their level of satisfaction with your services as they currently stand, as well as their suggestions for areas in which you may improve. By gaining a deeper understanding of your potential customers, you can adjust your company strategy accordingly and identify unmet demands that can inspire new product developments.
Final Thoughts
There are a plethora of methods for improving conversion rates once you begin researching. Prioritize the most pressing issues and resolve them one by one. Now is the time to start working on improving the user experience, you can also take help from web design company to optimise your website. Find out what problems site visitors are having and how to solve them. For optimal performance on mobile devices, websites should adopt a mobile responsive design. Prior to implementing any new tactics, you should first examine the demands of your firm and its clients.