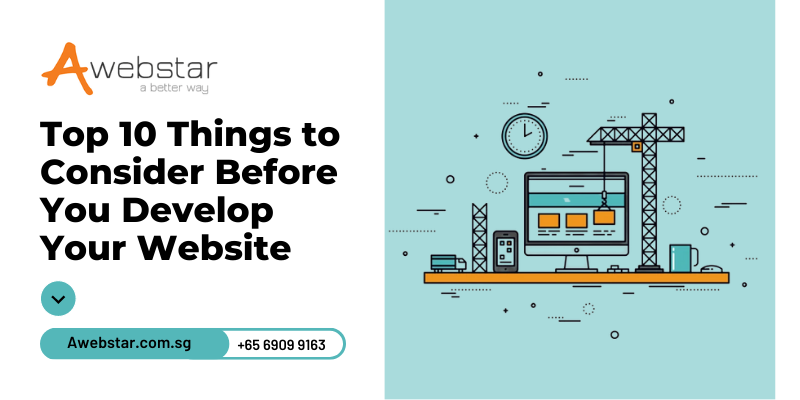 Top 10 Things to Consider Before You Develop Your Website
In this rapidly digitising landscape, any company or person wishing to develop their online presence needs to have a website. However, creating a website is more than just creating a few pages and posting them online. Investing in a new website is a significant decision whether it's a small or established business. So, you must find the right Team for Web Development in Singapore, to guide you through the process. Plus, several elements need to be taken into account before you develop your website.
This informative blog will address the benefits of having a website and the top 10 things to consider when developing a website. Whether you are a business owner, a freelancer, or a hobbyist, this guide will be a solid reference. It will help you navigate the complex world of website building and ensure that your website is a success. So, without further ado, let's dig in and cover the main components you need to keep in mind before establishing your website.
Benefits of Developing a Website:
Building a website has several advantages for both people and corporations. Moreover, hiring an experienced Singapore Web Development Company will help you reap the following benefits.
Improved Visibility:
A website gives you a stage on which to present your goods, services, or concepts to a large audience. You will be able to reach more people and make your brand more noticeable.
Enhanced Credibility:
A properly designed website can enhance the legitimacy of your company or personal brand. This can assist you to draw in more clients and cultivate closer bonds with them.
Enhanced Customer Engagement:
Having a website gives you a platform to interact with your clients through varied channels, including blogs, social media, and email marketing. This can improve customer loyalty and help you forge stronger bonds with your clients.
Better Customer Service:
A website can offer your clients a 24/7 informational resource about your company, goods, or services. As a result, your customer care personnel will have to work less and your customers will be more satisfied.
Cost-Effective Marketing:
Marketing your company or personal brand online can be done at a low cost. You can drive traffic to your website by integrating varied digital marketing channels and social media platforms without spending too much time and money.
10 Things To Consider Before Developing Your Website:
This segment discusses the factors you need to keep in mind before developing your website. Hiring a reliable crew for web development in Singapore can help you develop a robust website considering all the elements mentioned below.
Purpose:
The first element of consideration is the purpose of your website. Ask yourself if it is for e-commerce, blog, personal usage, or for business. Having this clarification makes the decisions about your website's design, content, and operation easier.
For instance, you should concentrate on building an online store with secure payment methods if you're designing an e-commerce website.
Target Audience:
After you have a firm grasp of the purpose of your website, it is crucial to determine your target audience. This will help you ascertain their needs and expectations better and optimize your website's design, content, and user experience accordingly.
For instance, if young adults are your target market, you might choose to utilize a more modern design that emphasises aesthetics and social networking. If older folks are your target market, you might choose to employ a more conventional layout with larger text sizes and simple options.
Domain Name:
Selecting the ideal domain name is crucial for creating your online identity and winning over your audience's trust. Make sure to pick a distinctive and simple-to-remember domain name that represents your brand and is pertinent to your company.
Additionally, check that the domain name is available to use and is not already trademarked by another business.
Website Platform:
Selecting the appropriate platform is crucial if you want to build a website that satisfies both technical and business needs. Popular website platforms include Squarespace, Wix, Shopify, and WordPress.
Every platform has benefits and drawbacks, so it's critical to select one that fits your technological requirements, financial constraints, and website requirements. Do your research or consult a web development company in Singapore for proper advice.
Design:
Your website's design is extremely important for drawing in and keeping your visitors. Thus, it's essential to produce a design that complements your brand identity and objectives while also being aesthetically pleasing and user-friendly.
It's better if the look and feel of your website match your brand's colours, font, and style. Plus, have a clean and uncluttered structure that makes it easy for your audience to navigate and quickly discover the information they require.
Content:
Another element that is essential for engaging and informing your visitors is your website's content. It's crucial to create excellent, captivating, and relevant content that resonates with and benefits your target audience.
Plus, the content should be optimized for search engines to increase the website's visibility. You can do it by adding relevant keywords and meta descriptions. It's best if you make it visually engaging as well by adding photos and videos to support the text.
Navigation:
The efficiency of your website's navigation directly impacts the experience of your visitors so it's essential to ensure user-friendly navigation. So make sure it's easy for the users to browse your website and find the relevant information.
The menus and submenus on your website should be simple to find and should be easy to understand. Plus, it should also be consistent across all pages, with links that function properly and direct visitors to the appropriate page.
SEO:
SEO is something you can never take for granted as it's an essential practice to raise your website's search engine ranks. To make your website easier for search engines to scan and index, you must optimize its content, meta descriptions, and keywords.
Using related keywords, optimizing images and videos, and constructing backlinks from reputable websites are some fundamental SEO strategies.
Mobile Responsiveness:
Nowadays more and more people are accessing the internet through their mobile phones, so it becomes necessary to have a mobile-responsive website. The layout and appearance of a mobile-responsive website can automatically adapt to the screen size of any device.
This guarantees that your website is simple to navigate and easy to view on any device, including desktops, tablets, and smartphones.
Security:
Last but certainly not the least element is your website's security which is critical to safeguard your audience's personal information from hackers and malware.
Implementing security measures such as using SSL encryption, updating software regularly, and using strong passwords can help protect your website from cyber threats.
Parting Words:
Developing a website is a significant investment of time, money, and resources. By considering these ten factors before starting, you can ensure that your website meets your business goals. Additionally, these factors will help you find the right team for web development in Singapore. So utilize this knowledge and build a website to provide a positive user experience and achieve long-term success online.