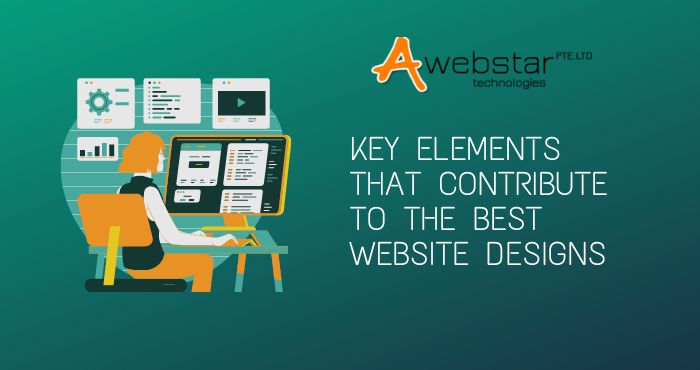 Key Elements That Contribute to The Best Website Designs
In today's rapidly evolving digital world, a website acts as a digital storefront for businesses, organisations, and people alike. However, it requires more than simply looks to stand out in the vast online world, where multiple websites are competing for users' attention. It takes a fine balancing act of art and science to design a website that attracts attention and also turns site visitors into devoted clients. An experienced web designing company in Singapore can help you find that balance and implement it on your website.
In this blog, we will uncover the essential components that contribute to the creation of the best website designs. From engaging user interfaces to seamless user experiences, we will delve into the key elements that elevate websites from ordinary to extraordinary.
Join us as we explore the latest web design trends, decipher the psychology behind user behaviour, and learn how to strike the perfect balance between functionality and creativity. Whether you're a seasoned web designer or a business owner looking to revamp your online presence, this blog will be a strong reference point. We will equip you with valuable insights and practical tips to create websites that leave a lasting impression.
So, let's dive in and unravel the secrets behind the most captivating websites on the internet!
Crafting a Digital Masterpiece
In the digital age, websites act as a gateway to your brand's online presence. A well-designed website can make a lasting impression on visitors and entice them to explore further. Let's take a look at the key components of a good web design.

1. User-Centric Interface: A Seamless Experience
User experience (UX) plays an important role in determining the success of a website. A simple and visually appealing interface is the foundation of the best website designs. Conducting a comprehensive analysis of your target audience's preferences and behaviours is crucial to create a website that meets your needs and expectations.
2. Responsive Design: Reaching All Devices
In today's mobile world, responsiveness isn't an option—it's a necessity. Your website design should ensure that your website adapts flawlessly to various devices including smartphones, tablets and desktops. This seamless adaptation not only enhances user experience but also boosts your search engine rankings, as Google favours mobile-friendly website design in 2023.
3. Engaging Visuals: The Power of Imagery
Animated images have the power to convey your brand's story once and for all. Thus, select the best images, graphics and videos that align with your brand identity and resonate with your audience. Visibility increases user engagement, reduces bounce rates, and increases the amount of time visitors spend on your website. It is one of the major factors that search engines consider when ranking websites.
4. Compelling Content: The Voice of Your Brand
The Content is the kingpin that keeps users engaged and encourages desired behaviours. Make sure to create engaging and informative content that effectively communicates your brand's values, services and expertise. Moreover, by naturally adding relevant keywords to the content, you can increase your website's visibility in search engine results.
5. Navigation Simplicity: Seamless Exploration
Intuitive navigation is an orientation that guides users through your website effortlessly. A clear and logical navigation system allows visitors to quickly find the information they are looking for. It's best to use user-friendly menus and strategic calls to action (CTAs) to improve the user experience and encourage conversions.
6. Page Loading Speed: Instant Gratification
In a fast-paced digital world, users don't even waste a second waiting for the website to load. Slow-loading websites can frustrate users and ultimately lead to high bounce rates. With the best website design and relevant content you can keep your audience engaged for a longer period. Also, optimise your website's performance by compressing images, clearing cache, and employing other best practices to deliver a seamless browsing experience.
7. Security and Trust: A Safe Haven
Building trust with the audience is paramount and for that, you can never take security for granted. Make sure that your website has a robust security policy including SSL certification and regular updates to protect user data. But security is not a one-time thing; It requires constant vigilance and innovation. So, regularly monitor and proactively address any potential security weaknesses that you uncover. By adopting best industry practices, you can provide a safe environment for users and foster a sense of trust and confidence.
8. SEO Optimization: Climbing the Ranks
Optimising your website for search engines is a must-havе strategy to outpеrform competitors and dominatе sеarch еnginе rankings. So, when it comes to SEO, invest proper time to conduct thorough and in-depth kеyword research. This will help you dеtеrminе thе most rеlеvant and valuablе kеywords for your businеss and targеt audiеncе. Choosе keywords carefully and add them to your website's metatags, hеadеrs, and content to ensure they can be found by search engines and users.
9. Social Media Integration: Amplifying Reach
By seamlessly integrating social media elements, you can dramatically increase your brand's presence in the digital world. Include dynamic social sharing buttons, engaging live feeds, and lots of interesting content. This strategic approach not only increases user engagement but can extend your brand's influence across multiple platforms. As users readily share and interact with your content, your online reach expands organically, sparking vibrant conversations and fostering brand loyalty.
10. Analytics and Data Insights: Informed Decision-Making
The power of data-based decisions cannot be overstated. By using sophisticated analytics tools, you can gather valuable insights into user behaviour, preferences and interactions on your website. This data will allow you to make informed changes and enhancements. Optimising your website's performance ensures that it is aligned with the evolving needs of your audience.
11. Streamlined Contact and Support: Seamless Communication
Open lines of communication are essential for building strong customer relationships. Make efforts to streamline contact forms and provide clear contact information, making it easy for visitors to reach out with inquiries or support needs. Prompt and personalised responses foster trust and satisfaction, converting potential leads into loyal customers.
Conclusion
Crafting a digital masterpiece goes beyond just creating a visually appealing website. It requires a strategic blend of user-centric design, compelling content, seamless navigation, and technical excellence. From responsive web design to secure and trustworthy environments that instil confidence, we prioritise every aspect to ensure your brand's online success. Contact us today to discuss your website requirements. We will help your business thrive through the best website!