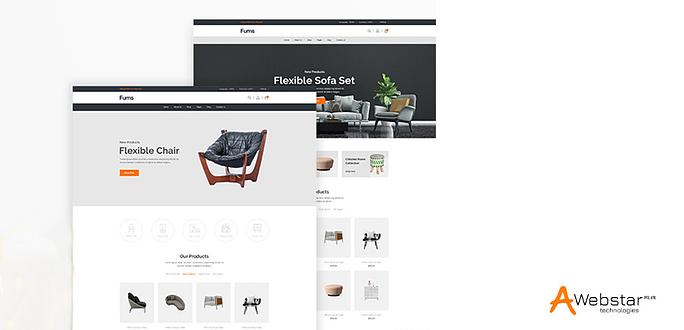 Do's and Don'ts of Using Website Templates
Designing a professional and engaging website can be challenging and time-consuming for those with no technical knowledge and skills. Sometimes, it also looks expensive to develop a specific website for entrepreneurs or small firms.
Pre-made website templates might be used as an intermediate fix in this situation. Using a ready-made template while building a website can help you save time, and money, and ensure that no design errors are made. It includes all the necessary features to create a responsive website, from SEO optimization to WYSIWYG editing.
There are numerous typefaces, color schemes, and layouts available for the built-in website templates. Filling out the necessary information describing the business's offering, including its vision and mission, is a requirement to make a template function. Additionally, you can replace the stock photos with personalized ones, update the changes, and you're ready to go. Isn't it incredible!
However, your choice of website template, regardless of whether you want to build an eCommerce or CMS site, affects the end design results.
So, in this article, we'll go through the specifics of a page template as well as pitfalls to avoid when selecting website templates.
Let's begin!!
Overview of Website Templates
Website templates are referred to as pre-designed layouts that display the website's characteristics. It includes the arrangement of content, images, media, and more onto a webpage to build a compelling and easy-to-use website.
The best part about the templates is it makes customization easier. Moreover, it ensures total control over the appearance and functionality of the template. Simply said, these ready-made templates make it easier to build a website with little to no coding skills needed.
Do's of Using a Website Template
Choose Color Theme That Differentiates Your Brand
One of the most vital web design decisions is to choose the ideal color scheme. It impacts the site's exposure, brand uniqueness, and UX. Here, you can choose a different website color other than the template's default one. But make sure the graphics and colors go well together.
Also, focus on color theory. It's all about thinking about how colors and visuals go together. For example, everything from sales conversions to CTAS, marketing initiatives, and more, all these website areas depend on the right color scheme. This helps in easy website navigation or seems familiar when clicked through.
Design for Easy Navigation
You may have put a lot of effort into defining the site structure. But even then users ignore it. Why? Because the site is not easy to navigate. Hence, it is essential to keep the site design simple. The ways include integration of visuals, graphics, etc. Keep the content short, precise, and informative. Utilize negative space and ensure using readable fonts.
Keep the Website Layout Consistent
The easy customization of templates attracts modifying each webpage. However, it might affect how consistently the website looks. Yes, every page must have the same backgrounds, typefaces, and color schemes. However, no two pages should have the same design. For instance, the layout for the landing page and blog pages must differ.
Pick Readable Fonts
A wide variety of font choices are available in website themes and layouts. You cannot, however, employ each one of them. Choose two or three alternatives, then create a hierarchy using the font sizes.
Keep the font size and style readable. Additionally, the color contrast must appear elegant on varying gadgets and screen sizes.
Customize to Ensure Simplicity
The website templates include a tonne of widgets, animations, and graphics. With so many modification possibilities, you're tempted to use them all, which leads to an intricate website design. Thus, resulting in a poor user experience.
So, concentrate on providing the visitors with reliable information. Additionally, make the navigation easier to use and keep the CTAs relevant.
Look for Template Support
Make certain that the site template vendor you select offers necessary support. You can relax knowing that technical problems are quickly fixed or that pre-sale inquiry has answers.
Sometimes it's difficult to understand how to use a template. The support staff should be available to answer any questions you may have about using templates in this situation. Numerous channels of communication are required to reach the support specialists when needed. As a result, you do not need to compromise on providing a top-notch customer experience.
Keep the Templates Updated
Choosing an ideal website template is not sufficient. Its frequent updating is essential to keep up with the user's expectations that evolve each day.
Considering a plan of action?
Run an audit of the site and A/B testing
Gather customer input and make changes as necessary
Implement the most effective strategies used by the competitors
Don'ts of Utilizing a Website Template

Picking Template Failing to Meet the Requirements
You can not directly jump to designing or developing a website. Firstly, you will need to pick and prepare the ideal resources. This is also true in the case of website templates.
Look for the pre-built templates that offer the desired site structure and functionality. Count on all these factors when assessing the multiple website templates.
Ease of website navigation
Think about your budget for a website template
Is the template SEO-friendly?
Template customization convenience
Is the website template responsive or not?
Do you need a template or theme for website design?
Besides, modern templates come with a wide range of customization choices to fit the existing brand requirements. It could include the font choices, color varieties, and more. Now, it is up to you what features you want to incorporate and eliminate the other ones that you will not use ever.
Selecting Templates Comprising Unresponsive Components
You will find most of the available pre-made templates responsive. Such templates make website navigation and viewing seamless across multiple devices. However, some still hold on to the non-responsive components like content or size that does not fit the specific screen type or size. Also, it could be something like fixed elements like set widths and image sizes that make navigation challenging. This makes the components like content, media, and others display outside of the framework, which convinces users to leave the website. As a result, preview the templates and check if they appear well on both the mobile and desktop devices. See if the content adjusts well to screen size and or if any elements like images are appearing smaller in size. This way, you can analyze the responsiveness.
Neglecting User Feedback
Before buying any template, go with reading the reviews. Any template with a one-star rating is not worth choosing. Also, it may lack most essential features that would only create a hassle when building a website.
On the other hand, the templates with 4 or 5-star ratings are worth the investment. They may be featured with extended functionalities and customization options. Thus, making you tailor the website outlook as per your preferences.
Simply filter the template search by ratings and sales. This will help you find a reliable website template.
Avoid Utilizing a Free Website Template
A free template does not assure the quality and design and expected website functionality. It comes with branding logos promoting other businesses or simply those who designed it. Even the free templates comprise malicious code resulting in security risks.
So, it is great to invest in premium templates or employ third-party services. It can help scan the templates and check any malicious code to assure safe installation. But do prefer those with reviews and ratings.
Avoiding Modification of Outdated Template
Keep in mind that templates include pre-styled elements and content. This reduces the need for design time and development resources. However, if numerous companies use the same template, the website will start to look similar to that of competitors. As a result, when employing a template that is often used, constant updating is required. It will avoid the website looking similar to those available on the internet.
Selecting an Inappropriately Coded Template
The built-in templates for platforms like Drupal, WordPress, Shopify, etc. can be written to the highest standards. However, if thorough development and review processes are not correctly carried out, some may fail in the same.
Therefore, avoid selecting templates that have unsafe coding and are not lightweight. Utilize a template that is well-optimized and search engine friendly.
Overlooking the Guidelines for Effective Website Design
The professionals design the pre-built templates with great expertise. However, the customization convenience to users, most of the time, results in significant design changes. Ignoring the guidelines such as navigation, content consistency, and appearance can result in poorly-designed websites.
Hence, learning all the design tactics and following the principles is essential, along with the use of ready-to-use templates.
Summing Up
To conclude, these are all the essential do's and don'ts of using the website template. Your go-to approach must include all these do's. This way, you do not compromise on the website template's usability, layout, and other features.
Website templates with minimal coding requirements have made it easy for people with no coding knowledge to create elegant web apps or sites. But there remain the chances of them risking the site's SEO, functioning, or security. So, going through these essential don'ts and following the best practices to avoid them is essential. It will help achieve a compelling website that is secure and highly functional.
At Awebstar, we provide a wide range of services including website design and development, mobile app development, etc. We use pre-built templates for web design and customize them. Therefore, delivering you a responsive website for your business while saving you time on coding and modifications.