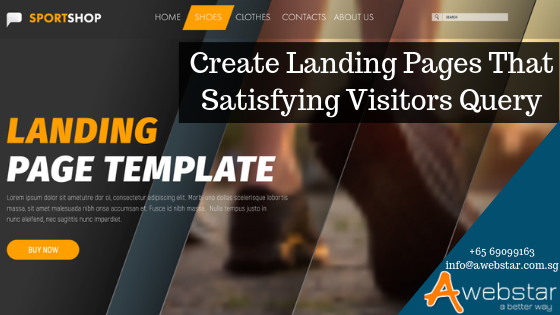 How To Create Landing Pages That Satisfying Visitors Query
It is a cold-hearted fact that websites are losing their edge over the audience. You must be wondering why is this happening. Everything that happens, happens for a reason. Website designers usually make a website just as a visiting card of a business. Not following the marketing funnel is one of the major reason here.
What should you do?
There is a reason marketer created landing pages. In order to cover this overwhelming factor of a website, they come up with a solution which includes a landing page.
What Is A Landing Page?
You can consider a landing page as a web page that is designed in accordance with the marketing funnel. This way you can direct your message to your audience. In general, a user is landed on this page when he clicks on an Google ad or something like that. The entire page is focused on one thing, "Call To Action" button.
The sole objective of a landing page is to make the user click the call to action button to increase their conversion rate. The action may be purchasing, leaving comment, review, or acquiring email ids. Whatever the action is, you can get it done via a landing page.
Before we get any deeper to how to create a landing page for your website, let's discuss some of its many benefits.
Benefits Worth Knowing About The Landing Pages
There are some of the benefits you would like to know before you start building one for your business website.
When you emphasize on website's homepage rather than the landing page, you have to make sure that your homepage ranks well for all your keywords. That's a big task if you ask me!!! Rather than focusing on the homepage of your website, if you focus on the landing page, you just have to make sure that your landing page ranks for certain relevant keywords not all of them. This makes landing page more direct and results-oriented than that of the homepage.
Bolstering about a single one of your product on your homepage is not a good idea right? So, a landing page facilitates you to a separate page where page where you can do that all and lure customers in.
Landing pages are the best way to get maximum from Google Adwords. Direct them to your specific landing page where the action is inevitable if the message is clear and concise. Get maximum ROI from Google Ads with your stunning landing pages.
Creating a mailing list is also one of the applications of landing pages. The audience is less likely to leave their email ids on your homepage. Landing pages can directly call for their email ids for your mailing list.
So, you can have it all when you have the right approach in designing a perfect landing page.
Let's Create a Landing Pages That Satisfies Visitors Query
In this section, we are going to discuss how to make your landing pages enticing and result-oriented. We will cover some of the anatomy of the landing pages and which tenet can help you in increasing the effectiveness.
The Compact Anatomy Of The Landing Page
Here is the list of elements that are crucial in a landing page,
The Headline Of The Page
This is the first element of the page that catches the eye of your audience. A heading is an amalgamation of visual and words. Both of them must be set right to convey the message. The words must be direct and the visual aka font of the heading must be soothing. Don't overwhelm your audience as you do on your homepage. Keep it simple yet attractive.
The Body Text Of The Landing Pages
The text on the landing page is like the words you speak to your audience. They must be clear and right. The beauty of a landing page is that you can use the body text to make viewers stay on your page for longer durations. They also play a crucial role in driving the user to act positively on your call to action.
The Keywords On Your Landing Pages
Keywords are important everywhere. However, there is a catch. Don't use keywords on landing pages as you do it on your homepage. Remember, you designed landing pages for specific actions for your audience. It is not a regular page, I repeat!!! It's not a regular page. Target your landing page for only one keyword and rank them well to get maximum output.
Images & Social Sharing Buttons
Images and social sharing buttons are also very relevant for a landing page. When a visitor sees an enticing landing page, they tend to share it and at that moment social sharing buttons come in handy. Rightful images can help you to set the tone right which will make them stay on your landing page for longer durations.
The Call To Action Button
This is the most important element of a landing page. A CTA aka Call To Action button must be distinctive from all the elements on the landing page. Your visitor must comprehend that distinctiveness or else everything will go in vain. Make sure that you placed it right with a coherent text.
Things You Need To Take Care When Crafting Your Landing Page
There are certain benchmarks that must be attained in order to craft an enticing landing page. Let's have a look into that,
One Means Only One Call To Action Button
I want to start this point with a simple critical counterintuitive point. If the landing page is profitable this much, then let's leverage it with multiple calls to action buttons. That can be your first thought. When that happens, believe it or not, you are doomed. Having more than one call to action button will always confuse the visitor which mostly lead them to abandon the landing page resulting in poor conversion rate. Remember, only make one call to action button. This will give you undivided attention to your visitor and will certainly result in high-end results.
Make Your Content Directive To Help The Decision Making of Your Audience
The copy of content plays an important role in every aspect. You have to design your content in such a way that you can guide your audience to the call to action button. Remember, CTA is the destination and your content is the pathway. So, direct your path correctly and your audience will arrive positively at the destination.
Keep Testing Results
It doesn't matter whether you are getting results or not. You must keep the cycle of testing ON. Try new things, new design layouts, new images, and set new tones for your content to see how are they influencing the final results. This will unleash the best landing page for your business and you will get high-end results bettering every time you test.
Over To You
The change starts with yourself. Yes, this quote is close to the fact. In the web designing realm, you can easily push limits by continuous efforts of testing and trying. However, you want to keep that under certain guidelines. A landing page is all about conversion rate. If you want a higher conversion rate, landing pages can certainly provide you favorable outputs.
I hope that you like the post. Leave your comments and let me know your thoughts about it.