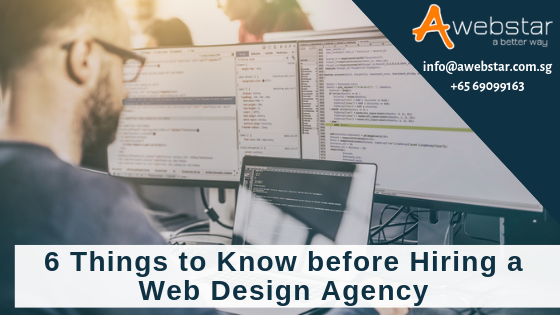 6 Things to Know or Note before Hiring a Web Design Agency
With more people embracing online shopping and reliance on the internet to search for an ideal business or company to outsource their services, any business or institution needs a website designed with professional expertise.
It is estimated that on average a person takes about a minute to consider that a business website is worth to continue reading. Website image is everything when targeting online visitors and, therefore, requires a skilled expert web designer to make it generate traffic and leads to your business.
Evaluating and hiring experts in web design is not an easy task unless you are an expert in web design yourself. Getting a web design in Singapore is not that difficult though if you have the rights tips on what to look for while evaluating the web designer of your choice.
Internet usage in Singapore is quite popular, and there are many web designers around with different levels of professionalism and skills. Below are given
Things to Consider Before Hiring a Web Design Agency
1. Expertise of the Designers:
Find out from people and their clients and what they have done for them. Have their services provide the expected results? Read clients testimonials and see if their strategies work. Ask the web designers ideas that they will put forth website and evaluate their creativity.
"The web designing team should give you the pros and cons of using a different approach to your type of business"
2. Comparing Portfolios When Looking for Ideal Web Designers
Review their services portfolio and ensure that they cover all aspects of web designing. That is to avoid looking for other agency when the firm does not have complete services in web design. Look for samples of what they have done and compare with what you want so as to pick the ones that suit your tastes. Looking for a web design company that is versatile is not that hard, it is not guaranteed that sample web design techniques that worked ten years will still work. Choose the agency with flexible approaches that have easy functionalities and successfully worked.
3. Standardised and Appropriate Skills with Affordable Price
Pay keen attention to the biographical and description services information and evaluate the agencies with the current and updated technologies. Look for web companies that can optimize your website to Smartphones and tablets.
That is because of a high number of people that use phones to access the internet, and this trend is increasing at a very high rate in Singapore.
Also, look for a web agency that has at least one Control Management System platform (CMS). That is a software platform that enables you to control and manage the website after launching it.
4. Experience
Finding a web agency company with a good experience is easy as well since internet usage and technological advancement is quite standard. Compare what they have done and if you are satisfied with how they faired in the number of samples.
Test the websites they have designed both with your phone and monitor and see their response to the different screen resolutions.
Pick the ones with an excellent and admirable experience not just in the number of operational years but samples creativity and skills in their web designs.
5. Compelling Content
Ask yourself the highlights what you consider fruitful results. Is the content valuable to your clients and do the samples present a high standard of professionalism? Will the content samples promote your businesses or will it live customers with more questions to ask?
Find out the web agency that you are more comfortable with their content and the one standard content and that is in line with what your clients expect to get.
6. Technical Support Even After the Website is Done
Are they reliable in assisting you in managing your website? Find out what the clients say about the support they have received. Website development might take a while and even longer when you do not have the necessary support. Ensure their team is skilled and guides their clients accordingly.
With the above guidelines, you will be able to find a Singaporean web design company, not only for them but all across the globe.
" Find the once that change the direction of your business by driving more traffic your way because of Colourful, attractive and featured designs." With a perfect determination and keen attention, you will land perfect experts you need to design your company.