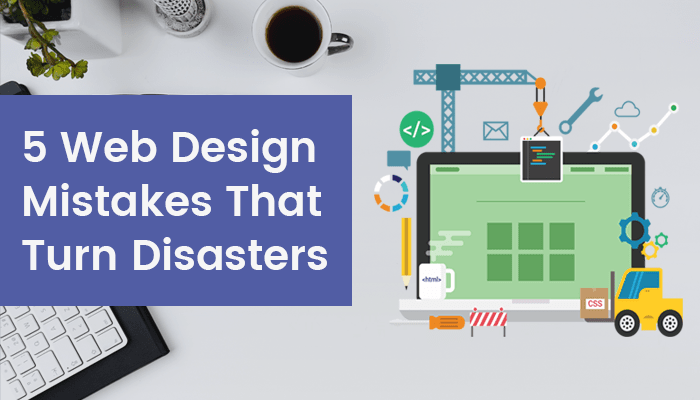 5 Design Mistakes That Turn Disaster
The Internet has approximately 1.8 billion sites. It is essential to have an appealing web design to engage and attract online users. 59% of users are likely to browse well-designed and beautiful websites. Ignoring these important elements does not let you stay ahead in the online space. The main reason behind this is that you only have 0.05 seconds to please the users and make an opinion about you. Web design is a big deal- hence, there is no room for poor navigation, weak content, and any error. Otherwise, your business reputation and ability to engage visitors will suffer, hence, cannot generate a return audience.
Web Design Mistakes That Can Turn Your Business into a Disaster
1. No Uniformity in Web Design Elements
Every site has its own style. Individual design elements necessarily needed to combine with a common style for all pages of the website. It helps to achieve uniformity and facilitate the interaction of visitors with the site easily and effortlessly. Also, the websites with uniform design elements attract users, and they are most likely to visit more than once from different sources. Internal page headers, subtitles in the texts, links, buttons, menu, icons, search bar, etc, are some important places of websites where uniformity in web design elements matters a lot.
 2. The Use of Small Fonts
Many website owners mistakenly believe that users read the content of the site. Hence, they integrate as much information as possible regardless of the use of fonts. To believe, it is a great mistake. Always keep in mind that fine typography makes it difficult for people to view the content and prevents the eyes from moving freely around the site.
If you want to continue the use of small typography, use it only on short texts, divided into paragraphs and separated by a phrase or image. In the same way, consider using a larger font for titles, subtitles, and important content on your website. Content presented on your site using a professional font easily catches the attention of the targeted audience.
 3. Endless Page Scrolling
As a matter of fact, endless scrolling can be an ideal solution for individuals, if they want website visitors to have in-depth knowledge about specific tops. But, this approach can backfire on you if users do not search for something specific. However, look for the flow of information to orient themselves in the way they like.
Remember that scrolling is easier and faster than a click and works well on mobile devices. But, infinite scrolling causes great inconvenience to users, and they might leave your website immediately without giving you any business opportunity. As a web designer, simply test the effect of endless scrolling on user behaviour. However, consider using pagination instead of scrolling if it suits your needs very well.
  4. Too Many Pop-ups
The use of pop-ups on websites is soaring rapidly with each passing day. Well-designed pop-ups can bring a lot of benefits to entrepreneurs and help them expand their business by leaps and bounds in all directions. Essentially,  it is advised to check the other side of the coin. Sometimes, pop-ups cause discomfort and annoyance to users and leave your website soon after landing without taking any action.
Try to avoid using "aggressive" pop-ups on your website as much as possible. Make sure that it doesn't appear immediately once visitors land on your website. Not to forget, make them hidden with no presence of overlapping content. Create attractive popups with attractive texts, helping users to collect some interesting info and take the desired action.
5. Background Video / Audio
These days, many website owners use video or audio backgrounds for websites. It helps them (in some cases) to attract the attention of users. But, it can have adverse effects as well. Millions of active internet users are not comfortable with websites having video or audio back groups. Notably, such resources create the impression of you as a technologically advanced brand or company. But it slows down the site loading speed up to a great extent. As a result, the visitor's attention is lost, which is a direct loss to your business.
As a website designer, do not follow the trends blindly just to make your website look stunning. Similarly, if you use a background video on your website, make it helpful that can convey your brand value. Let it be a small, but very high-quality video that deserves the attention of the audience. That is to say, if possible allow visitors to control the sound and repeat the video with the 'play' and 'pause' buttons as per their desire.
Conclusion
Undoubtedly, web design is a vital factor that formulates an opinion of your business. Keeping the above-mentioned mistakes would be a great help! If you are unsure of how you can avoid designing mistakes, hiring a web designer is suggested. They have skills and are proficient in creating error-free web designs. Get ready to experience the traffic flow to your website and high conversions every day. 
Do you find these errors worthy? Are you aware of other web-designing mistakes? Share your thoughts with us in the comment section below. Thanks for reading!