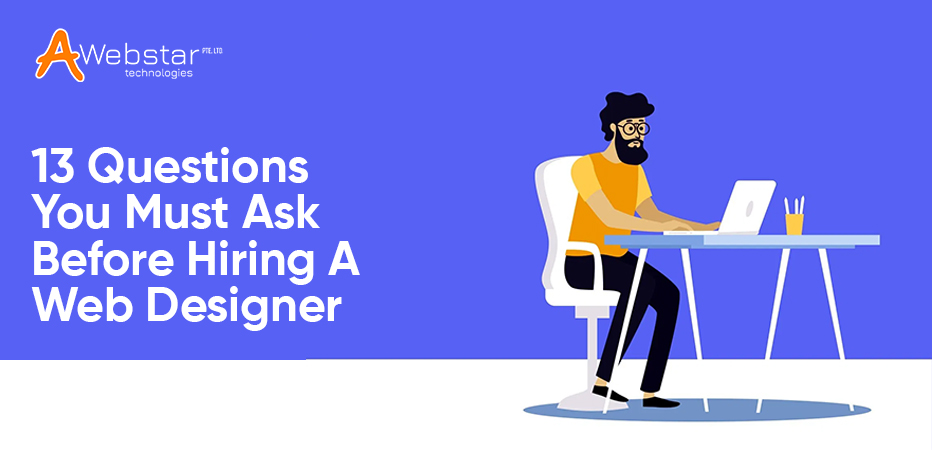 13 Questions You Must Ask Before Hiring a Web Designer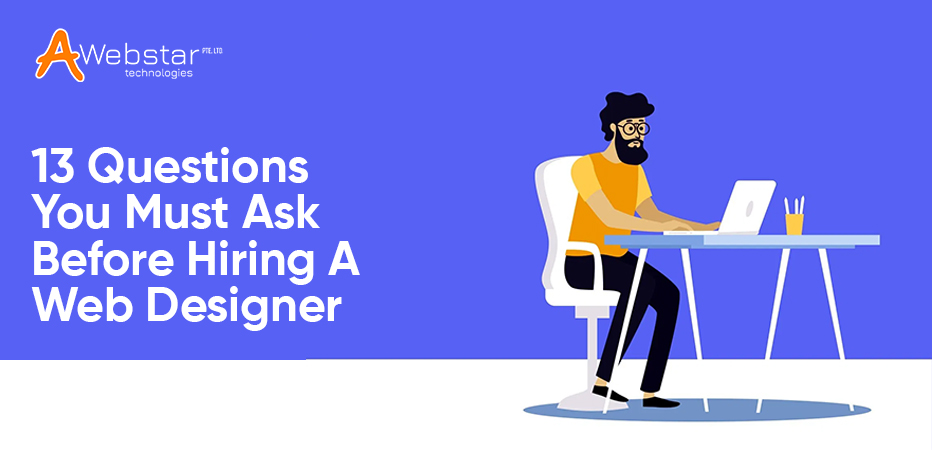 Consider eyes as your souls' window and website your brand's portal!
The users only take 50 milliseconds to make an opinion of the website that decides if they liked your website or not if they will leave or stay.
Certainly, website creation is a complex process, and it completely depends on the decisions you make when choosing the right specialist. Even a non-technical person can easily create an e-commerce site or website platform, but the trick is to make the site attractive to your target audience. 
Simply put, a web designer should take your business as seriously as possible. It is quite challenging to choose the best web designer company to grow your business. 
To do this, you must decide whether to choose the cheapest or the most expensive, local or foreign specialists, a team of designers or one person. So many questions come to mind, even before you start thinking directly about the design itself.  
The requirements for a UI designer and their responsibilities are constantly changing and expanding, which is typical for any profession related to technology.
So what do you need to do to get a good designer? You must first put a series of questions in front of them in order to understand whether this is the specialist who is right for you. Do you know about the important characteristics that a good web designer should have? Here are questions you should look out for when choosing the right designer for your business.
13 Important Questions to Ask the Web Designer Before Hiring
Which project are you proud of and why?
With the best project as an example, the employer hopes to see the style and range. If the designer doesn't have real projects then, you can ask them to draw their ideas and what approach they will use to attract the customers. This is a thousand times better than nothing.
Give him the time to explain how the problems will be solved and what goals they will prioritize. This will give you an idea of ​​the design thinking that will be applied to the projects.
Which type of research do you complete while beginning the website design?
With this question, the designer gets separated from the pros. Most will simply deal with it and start creating the website. Whereas the experienced ones will assure that they are creating the right website. 
The research can start with building the unparalleled market positioning and target market and start from there to express the brand. What is your aim? What attracts the most potential customers? Each of these questions is notable in creating a thriving website.
Can you analyze my website before creating a new one?


If there is an existing website, then, do ask the web designer if the feedback or the website analysis can be given. Accordingly, you can find out the idea and thought process of the designer.
Genuinely, the designer likes to assist you and offer you what your website requires. It will not influence you to create the new one if making some changes are enough.
Additionally, if you want to include the content from an existing website in the new website or want to send the links to the new domain, then, ask the designer regarding the process also.
How do you interact with the UX designer (s) and developer (s)?
Your potential UI designer should be comfortable discussing this issue. Since both UX and UI designers work directly with design, which means they understand each other without words. 
When UI designers need to tweak, change, add, or remove something that the UX designer has provided. They should jointly discuss wireframes, UI elements, characters, and think about how the changes they make could affect the user experience. 
UI and UX designers should also jointly test the product at the development stage and provide feedback to the developer.
Can you make the website fully editable?
This question also comes as individual needs and wants. Though, if you want to make changes in images, banners, text, and add additional features without understanding the coding; you have to build this upfront. After completion of the website, ask what you can edit and how much you have to pay to get someone to edit it?
What is a Call to Action (CTA)? Does the designer care about it?


A Call to Action is one of the most important elements of a website, platform, application, or digital interface. In short, this is an interface element that pushes the user to the desired action; buying a product, downloading a report, reposting an article, donating money, etc. The wireframe and UX designer's prototype should reflect which Call to Action would ideally captivate the user.
A good UI designer should immediately notice the indicated call to action and pay more attention to this element when designing. An element can be accentuated by color, size, font, position and alignment- all of this is at the mercy of the UI designer.
Do you find the mobile-first approach to design effective and why?
Ideally, your candidate should explain that the mobile-first approach emerged as a consequence of responsive web design in order to make the designer's work more efficient and effective. This approach involves creating the first version of the design for the smallest screen. 
Only then does the design expand for larger screens. This approach saves time and improves designer efficiency. When a design is initially drawn for a large screen, it can be very difficult for a designer to fit all the elements onto a smaller screen afterward.
How to use visual weight effectively?
Similar to call to action and color theory, visual weight refers to the basic knowledge of a UI designer. Visual weight is about empowering an element to stand out from the surrounding design and grab the user's attention.
Not all elements have to be equally heavy. For example, Call to Action elements are more important than simple captions or abstract images. Typically, a designer makes such important elements "heavier" with contrast.
And that doesn't necessarily mean contrasting colors. Contrast can be expressed, for example, in the position or size of an element. A Call to Action button may look larger ( or heavier ) simply because it has more space in the design than its surrounding elements. This means that this button has a lot of visual weight (that is, higher importance).
What is an Optimized Website? How do I create it?
An employer needs a candidate who understands the importance of optimization and knows the basic principles. List the key points; What are some simple ways to optimize your website? Use these best practices:
Optimize images to reduce loading times.

Compress all graphic assets and save them in an appropriate format.

Create only the images you need so that the responsive part of the project doesn't slow down your website.

Minimize CSS files.

Choose the best solutions for your mobile experience.

Limit the number of fonts and download only the ones you need.
In which Content Management System (CMS) are you an expert?


CMS is what you used to build and manage the content on the website except you are preparing a website coding from the beginning. It is essential to understand what CMS your web designer is an expert in and use in creating the website particularly when you will be integrating content and handling the website post-launch.
Is your CMS supporting eCommerce and growth? Does it have every functionality your business wants and will require in the future? Can the changes be made on your own?
Does he have SEO experience?
It is a fact that small business owners are not usually looking for individuals to carry out their SEO processes. Therefore, it is very important and even significantly cheaper if you are hiring a web designer who is also experienced in SEO. 
The right web designer knows design and SEO services go hand in hand seamlessly. If you need your content to be indexed by Google and other search engines, then you must have a website designed with clean code using CSS.
Does he have experience in SMM?
Social media should be intertwined with your website design. Thus, choosing a designer who has extensive experience in SMM will not only expand your business, but also increase brand awareness. The social media pages and the website complement each other.
What support/training do you provide when the website is launched?
If you are one of those who like to make updates and changes on your own, then make sure the web designer knows the web platform which is easy to use and user-friendly so you can develop and maintain the website by yourself. Know about the website training lessons from the web designer. Most of the designers provide group workshops, 1:1 training, and custom video tutorials for customers.
Or, if you like to make the changes and require updating and do not want to do it yourself. Then,  ask the web designer if he provides a post-launch maintenance/support package for long-term assistance.
Make sure he can meet deadlines and provide secure hosting!
Before signing a contract, ensure the designer can meet the deadline. Also make sure of the number of changes you can request and the timeline for which the project milestones will be carried out and how they will be submitted. In addition, you guarantee if the hosting is secure and that the software will get automatically updated. Even if it costs a little more, it costs less than repairing a compromised site.
Can you justify your design decisions?
And finally, the main question that will determine your new designer's ability to make good design decisions. Ask the candidate to take any example / project / site / application from the portfolio.  Let him tell you about the various aspects of the design of individual elements and the project as a whole.
Ideally, you should hear from the designer the reasons why he chose such colors, sizes, shapes of elements, so he arranged and aligned the blocks. The answer to this question perfectly reflects the design thinking of the candidate. You will see if your potential UI designer's decisions are deliberate, or mostly random or experimental.
One last question…
Are you feeling more adapted and have much understanding of which questions to ask the able web designer before beginning the project? We thought so! Share your thoughts in the comment section below. Thank you for reading!