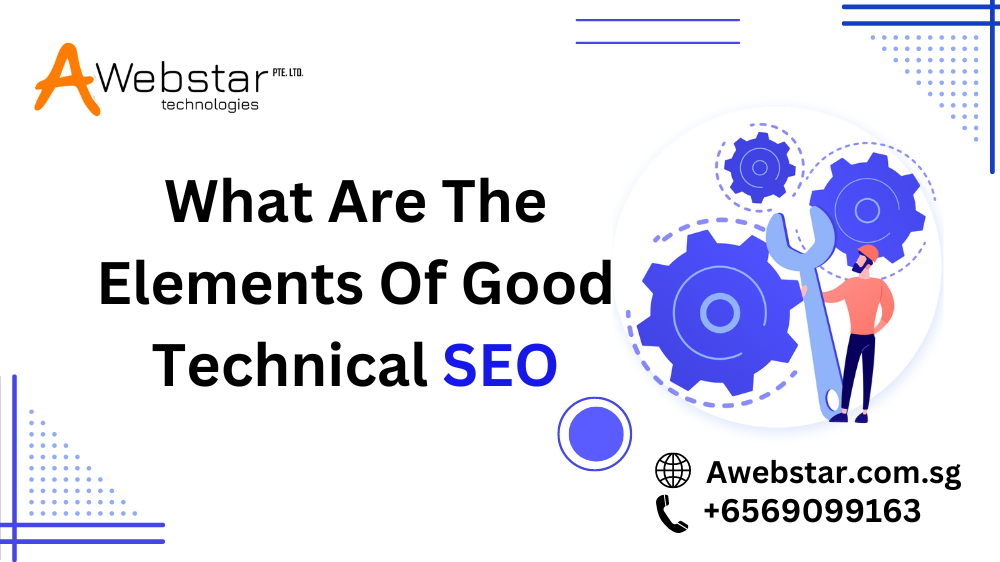 What Are The Elements Of Good Technical SEO?
Do you know even a few seconds of delay in webpage load time can cause massive losses to businesses? Slow loading webpage increases the bounce rate which results in losing potential quality leads. Luckily, businesses with great technical SEO capture more traffic flow and leads. In today's digital world, about 2.5 billion business websites direct their marketing strategies online. Regardless of the business size, it ensures that the website is technically well-optimized and leads to a successful digital business.
Optimizing the technical elements like HTTPS status code, XML sitemap status, and easy navigation improves search rankings. Thinking about how? A technically optimized website allows easy crawlability and indexability, renderability and rankability. Therefore, ensuring that the search engine spiders index the website content quickly and rank in the top SERPs.
Is your website's technical SEO up-to-date? Whether you have a new website or have been around for a while but not getting desired search engine results. Then, some technical issues are hindering your search engine rankings. Some technical SEO Services include keyword strategy, content analysis, effective backlink development, and a user-friendly website. Implementing these modern strategies will adhere to global reach, top search engine rankings, and better annual ROI for the business.
This article will help you learn about the 06 elements of technical SEO. These elements will provide an exceptional user experience and enable your business to rank high in the SERPs.
Top 08 Elements Of Technical SEO:
1. HTTPS Status Code:
HTTPS status code is one of the ranking influencing factors of your website. Websites with HTTP URLs do not allow search engines and targeted users to access your website content. Seamless HTTPS code helps lookout URL errors, including 404 errors and broken links. Removing these errors will enhance the technical SEO of your website. Ensuring that the website is 404 error and broken links free enhances user experience and improves the SERPs ranking.
2. XML Sitemap:
The XML sitemap is known as a search roadmap. It allows search engines to understand the content available on the website. It ensures maximum website visibility and increases the chances of getting noticed by search spiders and crawlers.
Optimizing the XML sitemap contributes to the successful technical SEO of your business's website. Follow these easy tips and get indexed faster by search engines:-
-Ensure that your XML sitemap is formatted properly in an XML document.
-Make sure it follows sitemap protocol.
-Update the website pages in the XML sitemap.
-Sign in to Google Search Console and submit the XML sitemap.
3. Selecting a Specified Preferred Domain:
Selecting a preferred domain name enables search engines to recognize the business name. It is a name that is easy to remember and a part of the Domain Name System (DNS). Domain name enables internet users to input a combination of words. It is associated with physical IP addresses used on the internet. A unique name appears after the sign@ in e-mail addresses and after the www. in a web address.
Whether you're setting up or updating your website, specifying and selecting a preferred domain is one of the crucial decisions. When you choose a domain, you are instructing the search engine for the variation you want to use for your website. Make sure that the domain name is short and easy to type.
4. Site Structure and Navigation Optimization:
The architecture of your website is crucial for technical SEO. The website content should be well-organized so that search engines navigate and understand the content easily. Optimized website architecture navigates search engines and website users to crawl your content and understand it better.
Whether you are planning or updating your website architecture, consider the following things for effective site structure:-
-URL Structure
-Navigation Menu
-Categorization
-Internal Linking
The businesses' products and services on the website are in front of the target audience and visitors. An efficient website structure navigates and encourages users to facilitate purchase prospects.
5. Crawlability, and Indexability Checklist:
Businesses need to pay close attention to the information Google and search engines are identifying. Search bots extract website data and identify whether the website content can be crawled and indexed by the target audiences.
The more you invest in SEO, it results in more crawlability and indexability of your website. Use keywords, titles, and descriptions that help the search understand your content better. Crawlability and indexability are easy to optimize by improving the sitemap, using internal links smartly, and selecting the best hosting service.
6. Renderability and Rankability Checklist:
Google and other search engines retrieve website pages and run page source code to access the content. It helps understand the structure and layout of your website and content well. Every business wants its website to climb up high on the SERPs. Great ranking requires relevant and high-quality content which is optimized with keeping the ranking factors in consideration.
Search engines evaluate the content, links, and visuals and determine the website's rankability. Effectively analyzing and optimizing the content and keywords ensures the website structure is user-friendly and helps reach top SERPs.
7. Ensure Mobile-Friendly Website:
With the increased number of mobile phone users today, it has become a necessity to have a mobile-friendly website. The majority of the visitors are smartphone users. Lacking a fast and smartphone-accessible website affects search engine rankings.
A website design should be responsive in terms of adjusting and adapting according to the size of the devices. Businesses should ensure that the website is fully responsive and displays the best quality possible for smartphones, tablets, and desktop users.
8. Website Load Speed Check:
The website loading speed is one of the most significant ranking factors. Websites that load quickly rank on the top of the search results by various search engines. Optimizing the webpage load speed is important for lead conversion.
Businesses can reduce the webpage loading time and increase the webpage load speed by following these tips:-
-Start using fast hosting.
-Use a faster DNS (domain name system) provider.
-Lower "HTTP requests"- Minimum use of scripts and plugins.
-Lower the use of heavy themes. Invest in custom-made themes.
-Avoid adding many scripts in the <head> section of the website.
-Compress the web page size. By reducing the size of the visuals, the website takes less load time and opens up the webpage quickly.
-Use one CSS stylesheet (code used to tell a web browser how to display your website) instead of using multiple.
You can employ SEO services from a reputable company as they have a team of experts well-versed in everything from designing to development, marketing, and so on. Thus, assures taking your business growth to the next level.
Wrapping Up
Websites with updated technological characteristics receive higher search engine rankings on SERPs. The checklist facilitates the elements of a great technical SEO. Fixing technical issues in a website is crucial to boost your business visibility in the search rankings. Investigating the technical issues and finding the respective solutions is important to enhance the organic rankings.
Are you looking to improve the technical SEO of your website? Your best course of action is assistance from Awebstar Technologies, a well-known and leading SEO company that will effectively improve your website search ranking and drive more traffic flow to your business's landing pages. Our team has years of experience and relevant knowledge, expertise, and skills that will get more traffic flow, increase sales, and ultimately maximize the overall ROI of your business.