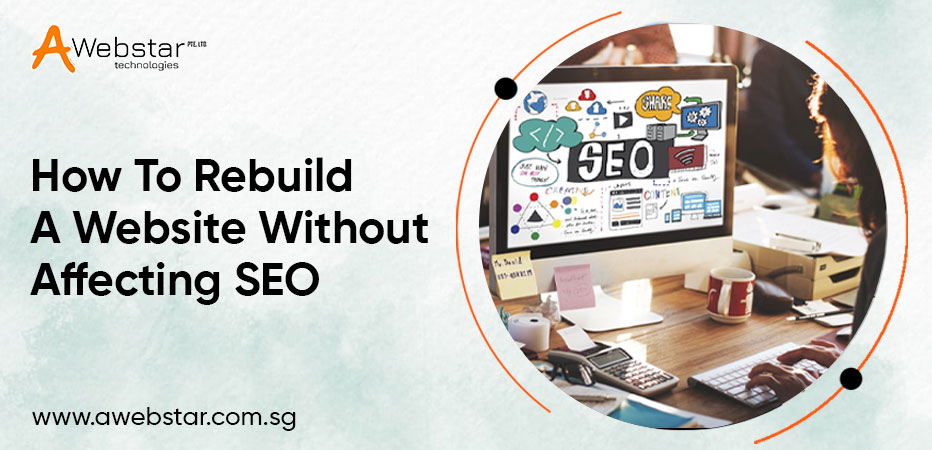 How to Rebuild a Website Without Affecting SEO
When rebuilding a website, it's important to double-check a number of factors to make sure they won't hurt search engine optimization and results. If you don't do this, search engines may lose trust in your site.
There are many good reasons why a website needs a redesign. The following are some of the most common causes:
Specifically, you want to update the site's visual aesthetic.
Seems like you need a rebranding.
You've made up your mind to replace Joomla with WordPress. To increase mobile traffic, your site must be optimised for mobile use.
Let's assume, for the purpose of simplicity, that the domain name will remain the same and just the layout will change in each of the above instances. Google actually likes it when site owners update the content, appearance, and operation of their sites on a regular basis and pays them for doing so.
Updated website designs and the importance of search engine optimisation
What really counts is the bottom line. Redesigning your website is almost like an investment in your company's future. It will pay dividends in the form of increased traffic and revenue.
If you're redesigning your site, chances are you want to make it more engaging for visitors. Theoretically, the effort and money spent making your website more aesthetically pleasant will result in a substantial boost in sales (via branding or business lead development).
In any case, your site serves a dual purpose:
Exposure to your target audience
Keeping visitors engaged long enough to convince them to make a purchase once they reach your site.
Redesigning a site without thinking about how it will perform in search engines is a wasted effort. If you do this, you'll waste years of work establishing your digital marketing infrastructure. Thus, your company's financial line may take a blow; ROI for your website makeover may be delayed. Further, a reliable SEO agency in Singapore has the best of all ingredients to eliminate the tension related to the search engine optimisation.
A redesigned website, does it have an effect on search engine optimization?
This may all sound overwhelming, but try not to worry. We'll explain everything in detail and simplify it all for you.
Setup new site set using a temporary address
When redesigning a website, it's best to make a copy at a temporary URL. Also, work on the redesign, and then switch the domain name to the new URL.
Because of the technical requirements, this setup is best handled by or with the help of your hosting provider.
Don't make design changes on the live site.
Maintain the same structure and specifics.
You can start planning the specifics of your site's content and architecture once you have amassed your SEO data. Keep the site's content unchanged even while you update its appearance.
How your pages are arranged in the address bar is a reflection of your site's architecture. Therefore, you shouldn't change anything about your website's content or structure, including the URLs.
Nonetheless, if you wish to change the URL structure or specific pages, 301 redirects will need to be put up. Use a plug-in to streamline the procedure.
Get Up to Speed on SEO and Know Your Options
After you've set up your maintenance page, it's time to compile your SEO data so you can make an educated decision before making any alterations to the site's visual design. The effect your changes had on the site's overall performance may then be assessed.
In order to determine which of your blog posts and pages were the most popular, you can simply export the relevant data from your Google Analytics tracking tool. Next, you need to check your site's page rankings for your chosen keywords using Google Search Console or similar tool. Once you have the data, save it so you can refer to it after making design modifications. You can also hire the best digital marketing company in Singapore to not compromise on the SEO parameter.
Utilise the updated website to avoid any technical issues (all at once)
You've waited a long time for this, and it's a crucial next step. Your brand new website, which you have painstakingly planned, coded, and tested, is now live and accessible at your beck and call.
As of right now, it is recommended that you immediately begin using the new website.
On the other hand, if you have a large website, you could do it in stages, but Google recommends doing it all at once to speed up the crawling process.
Verify the new site using Google's Console panel once it's live
When manufacturing has commenced, quality control should be the top priority. I would recommend doing the broken link check again just in case anything was missed the first time.
The next thing to do is to see if a webmaster tool recognises the site as legit (on both Google and Bing).
If you want to monitor how major search engines like Google and Bing index your site, you'll need to authenticate it again.
You should always know where you stand
It is strongly suggested to have a monitoring system in place before and after a website overhaul.
If you want to keep tabs on where you are in relation to specific keywords, you can do it either manually or with the help of a tool like SEMRUSH.
Your focus should be on spotting any unexpected movements in the rankings. Either up or down, so that you can make the necessary adjustments.
Don't panic if you observe a sudden drop, and don't get too enthusiastic if you see a sudden spike in the days immediately after the redesign.
Things warrant concern if they're poor on some sites after two weeks.
The changed website appearance or URL does not impact majority of websites function. Web page content changes are the most common source of rankings problems.
If you're not trying to increase a page's search engine rankings, avoid making big content changes.
Final Remarks
Website redesigns don't have to be harmful to search engine optimization (SEO) provided you follow the aforementioned recommendations.
Instead, your search engine rankings and visitor numbers could benefit from an updated design.  Mobile-friendly, quick to load, and intuitive are some of them. It is better to take the assistance from the professional Website design company in Singapore or any part of the world which will help to recreate the website while making sure to include all such explained parameters.