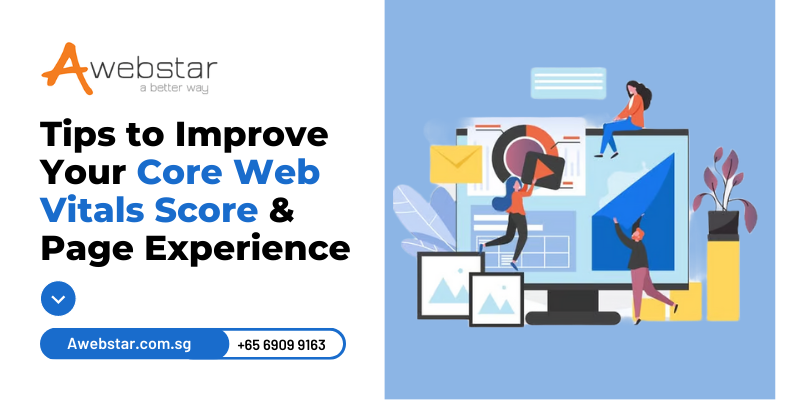 Tips to Improve Your Core Web Vitals Score & Page Experience
A solid online presence is essential for any company or website to succeed in the modern digital age. The Core Web Vitals are now an important consideration in evaluating your website's ranking following Google's recent algorithm update. The higher your score on this collection of measures, which gauges how user-friendly your website is, the greater your chances are of appearing higher on the search engine results page. To achieve a higher core web vitals score you must sort the Best SEO company in Singapore has to offer.
The Core Web Vitals are a crucial component of SEO services, which comprise measures like page speed, interaction, and visual stability. They offer vital details regarding the general user experience on your website. In this insightful blog, we will provide some valuable tips for raising your Core Web Vitals rating and enhancing your website user experience. With the aid of these suggestions, you can increase your website's performance and user interaction. This will also raise your website's search engine ranking.
However, before we jump to the tips, let's brush up on the fundamentals.
What is Core Web Vitals and Page Experience?
Essentially, Core Web Vitals Score is the indicator of how well your website performs in terms of user experience. Google utilizes a set of three indicators to assess a website's user experience. Among these metrics are:
The Largest Contentful Paint (LCP): The LCP metric calculates the time it takes for a webpage's greatest content element to load. For a positive user experience, the LCP should be less than 2.5 seconds.
First Input Delay (FID): The FID is a metric for gauging how quickly a user interacts with a website and how quickly the website reacts to that input. Less than 100 milliseconds is a desirable FID score.
Cumulative Layout Shift (CLS): The CLS is a metric that counts the number of unexpected layout changes that take place as a web page loads. A low CLS value is desirable as a high rate of layout changes can result in a frustrating user experience.
You need to have a "good" score in all these three metrics, to pass Google's Core Web Vitals assessment. Having the support of a good SEO services Singapore provider can help you achieve this efficiently.
On the other hand, page experience includes a comprehensive set of elements that Google uses to ascertain the overall user experience of a website. This includes important factors like mobile usability, safe browsing, and HTTPS security, and also incorporates Core Web Vitals measurements. All of these elements are essential for delivering a positive user experience and are taken into account when listing websites in search engine results.
Tips to Improve Core Web Viatals Score and Page Experience:
The attempt to improve the Core Web Vitals Score and Page Experience requires a combination of technical know-how and user-centered design. Here are some pointers to help you enhance the performance and optimization of your website
Optimize Your Images:
Images are undoubtedly an essential component of every website, but large picture files can drastically increase the loading time of your pages. It is best to optimize your images to minimize their size and avoid this issue.
You can use products like Adobe Photoshop or free online image compression tools to optimize your photographs without sacrificing their quality. Also, it's a good idea to save your images as the proper file type, such as JPEG for photos and PNG for graphics and logos.
Minimise Server Response Time:
Server response time is the time it takes, calculated in seconds, for your server to react to a request from a user's browser. Slow page load times can have a detrimental effect on user experience due to a slow server response time.
Consider switching to a faster server as part of your hosting plan or adjusting your server settings. You can also utilize a content delivery network (CDN) to distribute your website's content over numerous servers to reduce server response time.
Minimise JavaScript Execution Time:
JavaScript is another essential part of modern web development and if not optimized correctly it can impact the FDI score of the website. To combat the slow website loading and lags you can work to improve the JavaScript execution time.
For this, you can reduce the number of JavaScript files on your website, minify your JavaScript code, and defer the loading of non-critical JavaScript files. This can significantly improve your website's performance and user experience.
Use a Content Delivery Network (CDN):
A content delivery network, as the name suggests, is a network of servers distributed across the globe. It is used to store copies of the material from your website to create multiple contact points.
When a user requests content from your site, the CDN server sources the material from the servest nearest to the user's location. Doing so, significantly lowers the latency and speeds up page load times. Moreover, CDNs can lessen the server strain on your website and enhance its overall performance.
Regularly Audit Your Website's Performance:
To impart a positive user experience, it is essential to carry on regular auditing of the website to ensure its security and performance. With these tests, you can find areas that need work and work on to improve them.
To test the functionality of your website and find areas for improvement, you can consult experienced SEO Agency Singapore options. Or you can utilize tools like Google's PageSpeed Insights, Lighthouse, or WebPageTest.
Parting Words:
Optimizing your website's Core Web Vitals Score and Page Experience is crucial for providing a good user experience and improving your search engine ranking. By implementing the tips outlined above, you may speed up server response times, decrease page load times, and provide an overall wonderful user experience. Plus, these observations will help you mark an end to your search for the Best Seo Company Singapore has to offer. Also, to guarantee that your website is offering the best user experience possible, remember to frequently evaluate its functionality and make improvements as necessary.