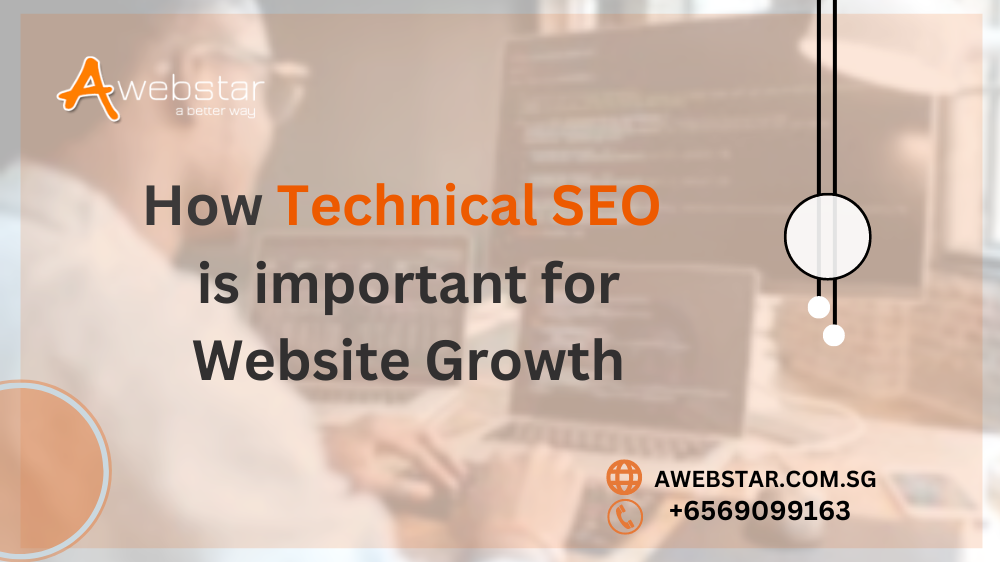 How Technical SEO is important for Website Growth
Do you know that Search Engine Optimization (SEO) is evolving continuously? Search Engines are constantly changing their algorithms to enhance the user experience and provide the best SERPs. According to recent market research, websites have climbed up the SERPs rankings by implementing excellent technical SEO. Technical SEO makes a website faster, improves crawlability issues, widens global reach and engagement, and many more. Other benefits include enhanced website security and a technical error-free website. Conclusively, a website with excellent technical SEO services enhances overall business growth with increased sales and high ROI.
Are you struggling to get your website on top of the SERPs? There are enormous companies that provide technical SEO services that will ultimately increase your website visibility and search engine ranking. These services include implementing effective SEO strategies like keyword research, quality content and appealing visuals, effective link building, etc. Incorporating these strategies widen reach globally and increases website loading speed. Moreover, excellent technical SEO results in more traffic flow, better search engine ranking, and improved overall business awareness.
This comprehensive guide will help you understand the importance of excellent technical SEO and its 07 benefits for website growth.
Keep reading!!
Top 07 Benefits Of Technical SEO For Website Growth:
1. Helps Achieve Better Search Rankings:
Website optimization is one of the best ways to appear in the top SERPs. Search engines like Google and Microsoft Bing analyze website content effectively and raise the website search ranking accordingly. A website with excellent technical SEO enhances website design, structure, code, and content. Structured website design enables search engines to discover, crawl, and index website pages.
Effective technical optimization enhances your brand visibility driving more traffic to your website. Following are some of the considerations to be followed to rank in the top search results:
-Publish Relevant, Quality, and Authoritative Content.
-Identify and target specific keyword phrases to drive organic traffic flow.
-Make sure that the content structure is clear and correct.
2. Determines Technical Content Error:
The other benefit of a technically optimized website is an error-free website. Technically optimized website fixes various technical errors like broken links, 404 errors, etc. These errors affect the credibility, user experience, and website traffic flow. Constantly monitoring and resolving technical errors enhances business growth. Additionally, it boosts the credibility of a website, encouraging more website traffic with enhanced user experience.
3. Widens Global Reach And Engagement:
Every website owner wants to reach billions of internet users. Many succeed, but many do not. Thinking why?
Technical errors and poorly optimized websites lower search engine ranking. Various factors like keywords, quality of the content, technical aspects, and many more affects website visibility in the SERPs. A website with optimized keywords, great content, titles, and backlinks is considered relevant by search engines for user queries. Moreover, a technically optimized website ranks high in the search results encouraging global reach and more user engagement.
4. Enhances Website Security:
Website Security is another benefit of a technically optimized website. These include server configurations and dismissing hacking attempts to build robust website security.
-SSL (Secure Socket Layers) protects the website from potential hackers.
-HTTPS is a ranking signal that effectively ranks a website as per the content in the organic search results.
-HTTPS uses the SLS/TLS protocol that encrypts communications between a user's web browser and a website. Also, it provides end-to-end data security of the information sent among various applications over the internet
5. Fast Website Speed:

A fast-loading website is critical for search results' top ranking. If your website takes more than 5 seconds to load, the audience will leave your website page. The target audience undoubtedly gets frustrated and presses the back button. Consecutively, it increases the bounce rate and decreases the conversion rate. Fast-loading website ranks better in the SERPs. A technically optimized website ensures that the website is quick and mobile-responsiveness.
To do the Site Page Speed Optimization, follow the metrics mentioned below:
-Optimize the website code.
-Use multiple CSS stylesheets.
-Limit HTTP Queries
-Reduce file sizes.
-Compress visuals-size.
Explore a top website optimization SEO agency and contact a reliable and reputable agency. Their experts are well-versed in website speed optimization and possess the skills and expertise required.
Book your consultation right now!!
6. Improves Crawlability:

The ultimate goal of technical SEO services is to improve website crawability. Search engine bots crawl your website page, gathers information from each web page, and access each web page to index properly. Technical SEO optimizes websites and servers that enable search engine spiders easily crawl and index your website effectively. Furthermore, this improves search engine organic rankings, enabling the website to rank high in the organic search results. Following are some of the parameters that effectively improve the crawlability of a website:
-Create an XML sitemap.
-Optimizing Website Architecture
-Setting a URL Structure
-SEO Log Files Check
-Use robot.txt.
-Check Website Meta Tags and robots meta tags.
7. Enhanced Content And Appealing Visuals:

Visual content is undoubtedly one of the result-oriented ways to engage website visitors and increase lead conversion. Visuals make your content more attractive to the target audience and the visitors who visit your website page. Appealing and rich informative content in visuals, particularly picture content, gets more engagement.
For a long-lasting impression on your audience, an emotional connection with the audience is crucial. The target audience shares the content once you hit the right nerve. Also, these enable the incorporation of keywords, serving the purpose of ranking high in various search engines. Furthermore, Appealing visuals and informative video content keep the website visitors engaged and impulses their buying behaviour resulting in increased sales and ROI.
In Conclusion:
Search Engine Optimization heavily impacts the success of a business. With search engines constantly changing algorithms, emphasizing high-value and quality content is crucial for a great user experience. Are you struggling or finding it hard to optimize the technical aspects of your website? Do Not Worry!! We are here to guide you.
Awebstar Technologies is one of the top-ranked professional and best SEO agency in Singapore that provides visible and proven results. Everyone wants to be in the top place in the SERPs, so why not select a team of experts? SEO experts will undoubtedly, increase the performance of your website and improve the overall online business growth. Their experts possess years of experience, relevant knowledge, expertise, and skills that ultimately enhance online business growth.
So, what are you waiting for? Get your website technical SEO optimized now and take your business to the next level by availing of these benefits and many more.