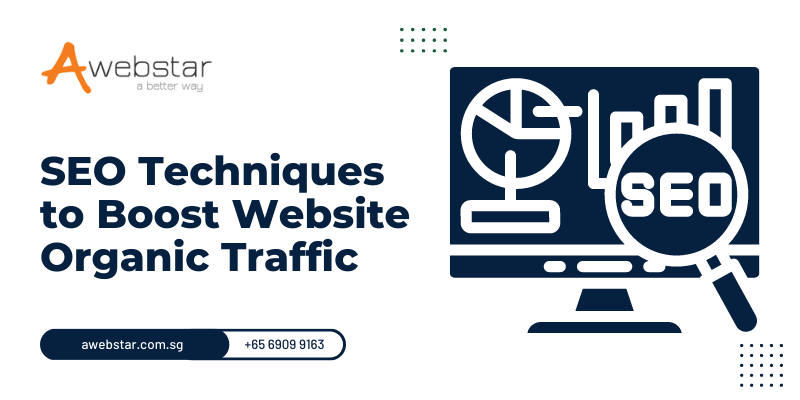 Top SEO Techniques to Boost Website Organic Traffic
Today when businesses are making efforts in marking their presence in the search engine top results, competition is massively increasing. The challenge for every business is to get more and more organic traffic to their website. While many businesses are taking a helping hand from a top SEO Agency, many are following result-oriented SEO techniques. The goal is the same to increase organic website traffic.
What are these SEO techniques catering to improving website organic traffic? From studying the techniques used by best-performing competitors in the search engines to optimizing your website's overall aspects. This blog highlights the top result-techniques SEO techniques used by top-ranking search engine websites.
The following are the 6 SEO techniques for you to follow to improve your website visitors organically. Not only following these techniques will help you increase your website's organic traffic and also enjoy top SERP ranking.
6 Result-Oriented SEO Techniques To Increase Website Organic Traffic:
Check Website Internal Links:
Internal links are hyperlinks connecting web pages. Checking website internal links are one of the SEO techniques that can significantly improve website organic traffic. These links are crucial for your users and search engines. With internal links, users and search engines find content on your website. It is critical to ensure that your website content is linked somewhere on the web. This allows search engines to understand your website structure.
When your webpage points at more internal links, search engines consider it high-value content and rank accordingly. So, when a user searches for the information, Google will rank it better generating more organic traffic to your website. Not everyone is aware of how internal linking strategies can significantly improve their website's organic traffic. These strategies are to be formulated with keeping various aspects in consideration. Strategies formulated effectively can improve your website ranking on search engines, influencing the traffic to click on the website.
Create And Publish Relevant & High-Quality Content:
Another one of the guaranteed SEO techniques to increase your website's organic traffic is creating high-quality content. Content quality is one of the crucial factors that determine the quality of traffic to your website.
What do you look for while searching for information online? Information that is easy to read and interactive often gets our attention. Here are a few of the following pointers to keep in mind while creating and publishing your website content:
-Easy to read and understand.
-Well Formatted Content.
-Informative and Relevant.
-Mobile-friendly content is a must.
-Publish weekly blogs & articles.
-Keywords optimized content.
Analyze Competitor's Keywords Gap:
A competitor's keyword analysis is the process of identifying valuable keywords that your significant competitors are highly ranking at, but you're not. This is another crucial SEO technique, often known as keyword gap analysis. Every keyword gap identification will present you a chance to ace up organic traffic to your website improving search engine ranking.
But, not every time doing so gets along with desired results. Why? There might be thousands of keywords your potential competitors rank their websites for. Looking for relevant keywords according to your business niche is crucial to get desired organic traffic to your website. There are a few important points to consider before getting along with your competitor's keywords. These are:
-Keywords should be relevant and valuable.
-Keywords should be related to your business.
-Look for high-volume and audience-centric keywords.
Clear Up Toxic Links:
Backlinks are the links connecting a website from one page to another website. In simple words, these are the hyperlinks that lead and connect one website to a different website containing additional information. These links direct search engines that your website is a trustable source of information on a particular piece of content.
Backlinks are crucial for SEO making them a contributing factor in website traffic. A website comprises many backlinks and not every link is good for your website. There are bad links, often known as toxic links. Toxic links in your website significantly website ranking, organic traffic flow, and lead conversion. Following the guide below will help you remove the toxic links from your website:
-Check your website's backlinks.
-Discover good and bad backlinks by identifying the link's quality.
-Look for the toxic links affecting your website traffic.
-Remove these toxic links from your website.
-Set alerts to avoid bad links in the future.
Website Visuals Optimization:
Visuals SEO refers to the optimization of images on your website to get more organic traffic from search engines. Paying close attention to visual optimization is crucial to attracting your potential target web traffic. Image optimization does not just mean optimizing your website visuals, it's much more than that. Website image optimization involves creating and delivering the best-quality images in an ideal size, format, and resolution to enhance user engagement.
Search engine rankings and website traffic go altogether. Top search engine ranking often gets more organic traffic. Which website do you click on when searching for your query? Undoubtedly, top search engine results. Therefore, follow the checklist for optimizing your website visuals and experience with more website organic traffic.
-Consider using a descriptive file name for website images.
-Use accurate, relevant alt text for traffic accessibility.
-Compress visual size to maximize website loading speed.
-Create an image blueprint.
Core Web Vital Optimization:
Core Web Vitals are one of the crucial SEO techniques. These are performance-measuring metrics that help keep your website organized and facilitate more recognition. By optimizing these vitals, your website's visibility will significantly improve providing users with a positive experience while browsing your webpage. The following are the three pillars of Core Web Vital:
A. Largest Contentful Paint (LCP):
Search engines consider the overall webpage loading speed as one of the crucial factors for maximizing the user's experience. Optimizing the visuals, content, and overall website improves website loading speed. Lower the LCP, the better the website loading speed.
B. First Input Delay (FID):
FID Optimization enables the website elements to be visible to the visitor in less time.
C. Cumulative Layout Shift (CLS):
Optimizing the website's CLS restricts shifting the webpages' layout unexpectedly without user interaction.
When looking at these SEO techniques, focus on improving the overall website. This includes website loading speed, visual appearance, organic traffic, and most importantly, search engine ranking.
Don't want to struggle with improving these overall aspects of your website, SEO services can help achieve desired results. The service providers are well-versed developers, experienced and skilled in optimizing website overall aspects with boosting website traffic.
Conclusion:
Integrating these SEO techniques will significantly improve the website's organic traffic. Now that you are aware of the SEO techniques, it's time to start implementing these for desired results. Whether you have a small website or a full-fledged website, check the following aspects and make improvements accordingly.
Even a tiny mistake can get your website to lose its potential traffic. Furthermore, affecting the overall business functionality. It's never bad taking a helping hand from experts. You can connect with us. Awebstar Technologies is a top-leading SEO company in Singapore with an excellent SEO expert team who will optimize your website. With result-oriented SEO techniques, your website will significantly get desired organic traffic. Don't waste your time.
Book your consultation with us today!