How to Start Your Business Marketing on Social Media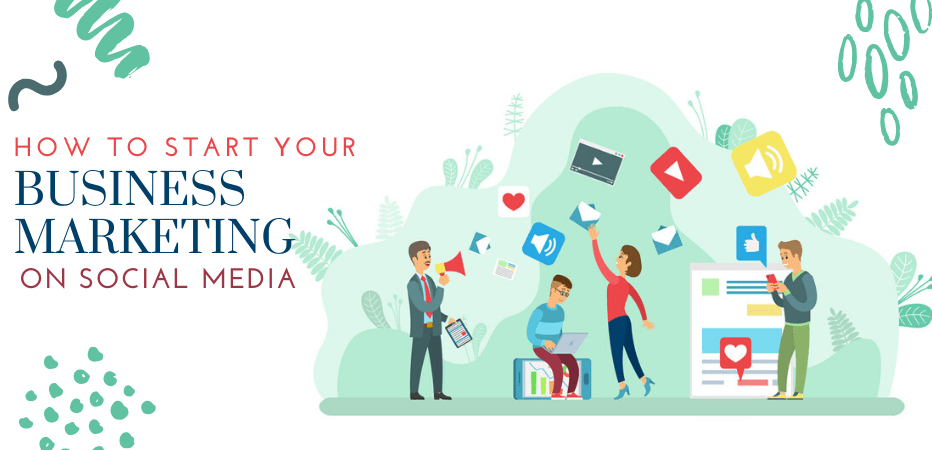 Social media is inevitable. Its powerful presence has changed the way we live our lives!!
Its craze reveals that it is here to stay; surely it has become one of the prime sources of information and news. It does not end here.
The social media platforms are different in the way it makes customers interact.
Social media is not only a platform that provides the means to communicate beyond social and loyal boundaries but, also, it gives infinite opportunities to share customer-oriented content, such as, videos and photos.
The question that arrives here is that- is it worth considering social media in the businesses?
The impeccable social media platform growth has been seen in terms of size, and many other metrics, etc. If you tailor content to the audience of social media platforms, you will definitely be thriving.
The statistics say that almost

50% of the world's population

is of social media, which is around 3 billion users worldwide.

73% of marketers

accept that their attempts with social media marketing are "very effective" or "somewhat effective" for all businesses.

48.2% of Baby Boomers, 77.5% of Generation X, and 90.4% of Millennials are estimated

active social media users

.

54% of social browsers

leverage social media for researching products.

In 2019, 321 million new visitors associated social media, and by 2020, the total number of social media users increased from 3.48 billion to 3.8 billion (an

increase of 9%

)

91% of

social media users reach social channels through mobile devices. In a similar manner, approximately

80%

of the total time consumed on social media sites happens on mobile platforms
Your business must generate efficient social media tactics to influence your target audience. In the past two decades, it has become one of the main marketing channels.
Why Consider Social Media Marketing?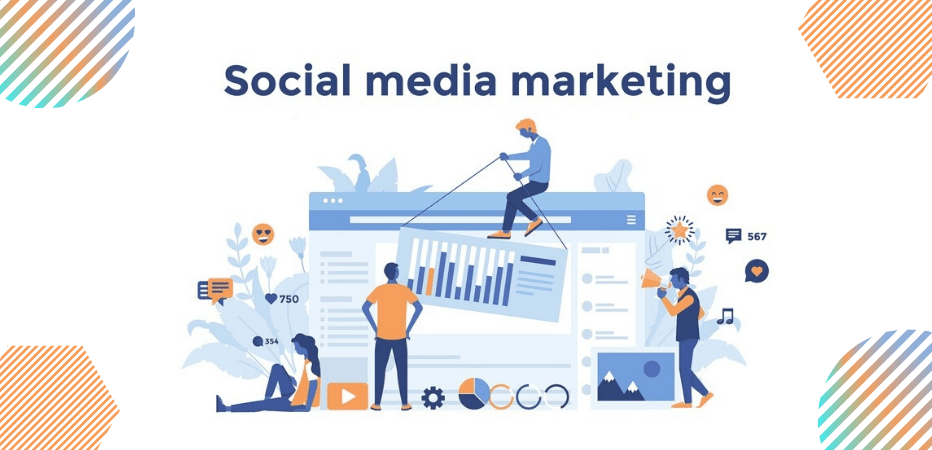 You might not consider that your overlooking of social media presence is impacting your web presence today. Hence, there is no fun in waiting to let the magic happen. Better is to follow the recent social media trends and use them in your business.
Social media is notable for all businesses industry or size and securing customers on social media has a direct influence on the bottom line and sales. Hence, if you are using social media in your businesses and does not notice the appropriate results, then this comprehensive guide is for you. Keep on reading!!
What's Important- Human to Human or Business to Business?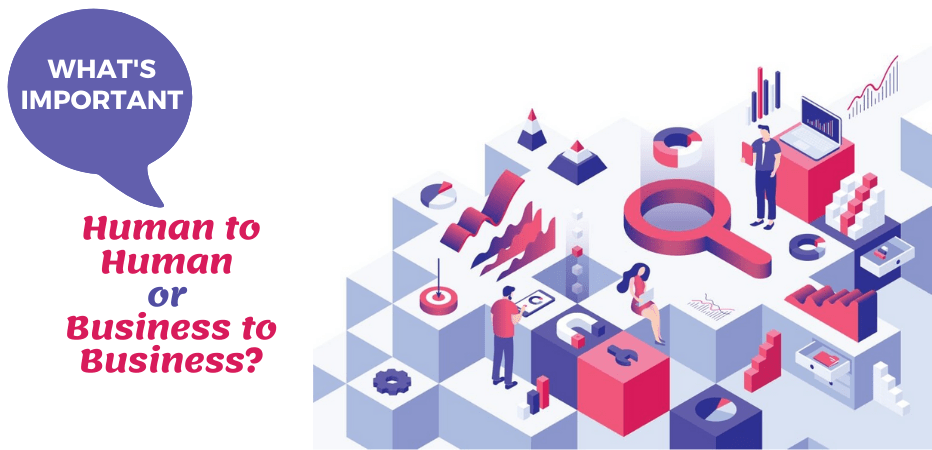 Social media marketing provides you with the opportunity to "humanize" your business. It is compelling because it allows you to coordinate with users in a person.
We advise you to leverage this and interact with users on social media as a brand representative instead of a faceless company from the media campaign. The end results are such that- you are administering a lot of users, despite the sector you are in.
Best outcomes can be obtained if you will consider social media interaction as personal, this way, you can increase social media visibility.
So, if you are trying hard to understand how social media strategy can help then read further. We will brief you on how the companies are using social media to market their business, to increase the engagement rate and bring in the leads.
We assure you that by the end of this post, you will understand the power of social media for business marketing and how it can work perfectly for your business.
Guide to Follow For Social Media Marketing for Your Business

Consider Multiple Platforms to Create Profiles
Many companies put slang like, "We are on Facebook now" on their websites. It is considered as one of the most effective social media strategies.
So, if your business has the Facebook webpage then you are following the right direction. Besides, using only one social media channel is not enough to thrive. Therefore, there is a need to make your presence on almost every social media platform.
The reports have revealed that not more than half of the businesses are using YouTube, Instagram, and Twitter for business marketing. In addition, even more than one-third of the business owners are taking benefits from Snapchat and LinkedIn.
You need to know your target market before starting creating the business profile on any of the social media channels. Once you have created the Facebook page, you have to find out what are the other social media channels that you can use in brand marketing and can include in the marketing strategy as well.
We advise you to create one of your YouTube channels. The videos are more understandable by the audience – it is the best source to engage more customers. These videos can also be published on different platforms as well.
Find Out Your Target Audience
It is imperative to know the target audience if you have an urge to taste the success in digital marketing, particularly, for social media marketing and media presence growth.
Like, finding whether you are dealing with a small or large business. It will assist you in creating a buyer persona that reveals the demographics and traits of the potential customers. And let you find out how they are linked to their social media account usage.
After you know who your target audience is, you can easily create social media messaging. Then only, you can be in a better position to take benefits from the paid traffic techniques of the social media platforms.
Moreover, it is also beneficial to know which stage your customers are in:
Are they in the Consideration or Research Phase and are they finding the solutions to some social media account issues that the businesses are facing at this time frame?

Else, they are still in the Awareness Phase and are finding that they have an issue and it's their job to show their issue and their pain points or needs are?
Determine the Marketing Goals
You cannot carelessly post content on social media for no reason. Before performing any other operations, you have to determine your marketing goals.
Some of the goals that the businesses are seeking to fulfill social media strategies:
As brand awareness, lead generation and customer engagement are the fundamentals to consider social media. This does not mean that you should have your social media.

You can use social media to offer customer service or directly drive sales.

Whatever the reasons are; assure that they are described clearly.

It can be considered as any other marketing approach for a company.

If you don't set your goals first, you won't control ads on print ads or radio, so you have to consider social media strategies in a similar way.

After deciding the goals of the social media campaigns, it is better to finalize the content to post.
Establish the Social Media Team
After deciding the plan to delve into social media marketing, you have adequate resources to execute it. Right after the scaling of the social presence, you cannot handle each aspect by yourself only. There is a business you have to manage, and yes, you need assistance.
Establish a team that has different skills and have different proficiencies.
Your team must have a content writer who can write some sort of social content.

The video and graphic designers should also be there in the team who can control the multimedia sphere.

The team also requires the analytics person who is an expert in accessing the weakness and strengths of the campaigns and track the progress as well.

Those companies who cannot hire a proficient team because of the budget constraints can hire freelancers within the budget only.
Regularly Post the Content
As of now, you must have created your business profiles on several social media channels. Ensure that all of them are active.
And, if someone started following you some days back and your current post is three to four days old, then they will unfollow you soon. They are right on their part!! There is no fun in following the brand which is not posting regularly.
In addition to that, what about those who are following you already? Those will not move to the web page on their own to know the recent updates. So, you should start posting the new content on your timelines and homepage. This strategy is one of the known strategies to stay ahead of your competitors. Consider if the competitor is publishing only once a week, or a few times in a month, then, by posting regularly, you can build a long-lasting impression.
Make the Customers Interested in Your Brand
Every business must have many followers to stand out in the tough competition. Or, you cannot gain a single follower to read your content. When you have increased social following, you can more easily turn followers into customers.
It is because of the reason that the customers like to purchase from only those brands that they are following on social media. Below are some of the main reasons that the users are interested in following your business on social media:
The content is engaging

You are providing an incentive

They are interested in your services and products

You are providing them preferential promotions

They require to reach some customer service representative

Their colleagues or family are following your brand
Assure that the integrated content is valuable and updated. You must have seen that gaining followers will improve your chances of driving more sales. Organize a contest and promote discounts and flash sales.
But, do not post too many promotions, otherwise, many will unfollow you. Even though, it is estimated that approximately 46% of the audience unfollow those brands who are publishing much of the promotional content.
** Spamming the followers and posting daily- there is a difference**. The users do not only want to check the posts of the brand. So, if you are posting many times a day, then the follower's homepages and timelines will be overwhelmed with the post, which is obviously something they do not want to see.
Make Social Media Videos
Putting the video content on the social media web pages to engage more and more customers is a valuable deal. However, making videos is a daunting task.
If you do not have essential types of equipment to shoot some high-quality content, and does not have some suitable location to shoot or just a little stage fright, it's not difficult. Below are some of the ways that you need to follow while creating social media videos:
The video content should fulfill your goals and objectives.

Do not stop after making one-create more.

Keep it minimal.

Do not hire anyone to do the needful- do by yourself.

Write a script – do not wing it.

Edit videos according to the requirements of each social network.

Optimize the messages in every post.

Revert back to every inbound video comment.

Prioritize video analytics.

Integrate social analytics with video analytics.
Establish Relationships with Social Influencers
How would you react when you find out that you can boost your social media presence without publishing the content on the webpage? Surprised!!
When someone thinks of social influencers, they consider athletes and celebrities. However, working with celebrities may not be suitable for the marketing budget of small businesses. But, influencer marketing is proliferating the customer acquisition method in the digital world.
In addition, 67% of brands intend to improve their influencer's marketing budget next year. You can discover social influencers that are more cost-efficient than celebrities.
Try to work with micro-influencers to increase the credibility of your products. This influencer might not have several followers, but you can let them publish content about your brand for a few hundred dollars. You can also offer free products only by exchanging the posts of your brand, to get out of trouble. This approach is efficient as the interaction between micro-influencers and followers is higher.
Leverage Live Video Streaming
More of the businesses can get advantages by advertising live video content on social media platforms. Instagram, Facebook, and YouTube all integrate many options to do this.
Generally speaking, live video streaming can improve engagement metrics to a higher level. It will even provide you with more genuine communication with the audience. Also, you can use live streaming in several ways. Although, the more preferable is behind the screen look.
Explain to your followers how the business is working behind closed doors. Show them your offices, production facilities, and inject them to your employees.
It will make them exhibit about the new things of the businesses, and how this all can bring in to your brand. The live video is the best distribution strategy for events, product demonstrations, or Question & Answer sessions.
The live audience can comment on the stream itself in real-time. Assure that you revert back to the comments and respond to them perfectly.
Coordination From the Central Dashboard
Posting on every account also has a disadvantage as well. It is a bit confusing. You want to publish the post on social media today, but, on which platform? YouTube? Twitter or Pinterest?
Here, you have to use some tools for coordinating every social effort. Spending on social media management platforms- like, Sendible, Sprout Social and Hootsuite to offer you a convenient centralized dashboard.
Accordingly, every social media logistics can be examined on a single screen. Several social management platforms are accessible, find out, and choose the appropriate one for you.
Use Automation Tools
According to your business size, you probably are managing your business responsibilities. Performing the duties of the social media content manager might not be your plan, and, this job cannot even fit into your daily working hours.
In addition, hiring the best one for this job is not at all cost-effective. And, you cannot even afford that. Undeniably, the automation resources are here to solve this issue for you. It allows you to schedule all of the posts beforehand. Apparently, you have the time to fix the time and dates of the future posts.
The other benefit gives us is that it reverts back to the message in an appropriate time frame. Instead of analyzing the social platform separately for these messages, you can get benefits from the software to send messages to one inbox. And the response can be given from the software itself.
Promote User-Generated Content (UGC)
This is related to our discussion of the type of content you must be posting. Sharing content that supports user-generated content will not go wrong. It is directly related to consumer purchase decisions
The UGC will assist you to create brand awareness. Suppose you host a competition on Instagram, and contestants must use one of your products to post photos including them. Now, your small or new business has reached a large audience. Those who are following the participants in the competition will perceive your brand as promoted, even though they are not following you.
Up to 92% of customers believe that if the referral is from their acquaintances, then they will believe the referral. The UGC is an excellent way to attract more followers and eventually turn these followers into customers or buyers.
Include Ephemeral Content
There is a difference between the regular posts and ephemeral content. The regular posts are intended to post on a daily basis but the ephemeral content can only be displayed for a small time-frame, like, for 24 hours only.
Snapchat and Instagram are those social media channels that are one kind of place to post the ephemeral content. It is because of the reason that- they include the "Story" feature.
Also, we advise you that if you want to post the content many times in a day, put it in the story only. It will not enable the followers to spam you. So, if you have not taken ephemeral content into consideration then do it now, and promote your business as much as you can.
Link, Link and Link Again
After establishing the powerful social media presence and running, then you have to link to the maximum. But, you cannot stretch it too much- avoid those who are feeling that they are being spammed, but still it is important to strengthen your brand.
The biggest advantage of having many social accounts is that they can merge with each other. Post a blog post and associate it to your Twitter page.
Publish images on Instagram and allow users to know more about Facebook. One social existence can be connected to several other existences and improve customer volume.
Post a photo on Instagram and invite people to learn more on Facebook. One social presence can link to several others.
Track the Business Social Media Reputation
Each social media site is an excellent place to share your business information. Besides, the secret is that you are not the one who knows about the brand. There are others as well- who knows this.
When others are examining your websites, give them some time to track your business reputation. Know what others have views related to this. If the response is positive, then spare some time to show some gratitude towards them. And ask them to keep up the good work. And if, in any case, the response is negative, then know how you can do better and improve.
Monitor the Results of Social Media
What at the initial stage of this article, we have discussed?
Identify your goal of accessing social media-whether it is to increase sales, providing better exposure, better service, or other factors- it is invariably good to outline the goals.
In the process, you need to estimate your progress in achieving these goals. If your aim is to boost sales, examine the numbers – are they increasing? If your aim is to get better service, then take feedback- does your social effort really work?
Engaging in social media requires energy, time, and money. You don't want to waste any of these resources. If you follow up and evaluate the results, you can assure that they are not getting wasted.
Start Social Media Marketing for Your Business Today!
So, What Are Your Opinions?
Establishing a social media presence is quite essential in today's age and for that, you need to have excellent marketing skills.
Though, many businesses fail to achieve because of the lack of expertise and knowledge. Keeping that in mind, we have mentioned the best ways that you can follow to do so.
We assure you in no time, you can achieve success. Do let us know how you liked this article. Also, if you have some related insights to share then do share that as well.
We hope for your success!! Thanks for reading!!