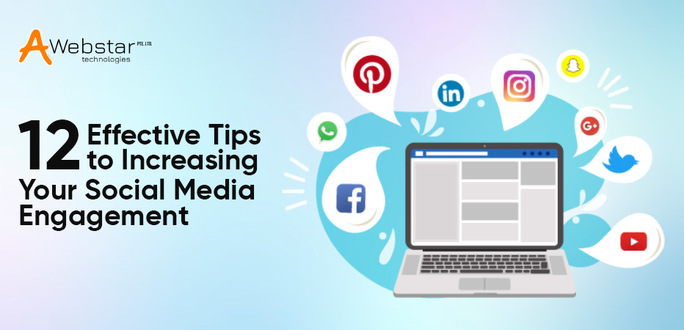 12 Effective Tips to Increasing Your Social Media Engagement
Social media is incomplete without engagement.
When creating an online business store, social media engagement is important to consider. Many businesses aim to reach a large audience yet fall short in improving involvement.
By engaging customers, you can increase followers and raise brand awareness. Furthermore, investing time and hard work to build strong relationships results in higher ROI and customer loyalty.
Every business is utilizing social media to market their goods or services but neglects the importance of social media engagement. It's more than just using hashtags and following Facebook communities or groups.
So, let us talk about how to raise your social media involvement to new heights.
Overview of Social Media Engagement
You can define social media engagement as the volume of shares, likes, or comments a user provides to specific content on social media.
It can appear in the forms such as:
>Instagram Comments
>YouTube Video Likes
>Article CTRs (Click-Through-Rates)
>Facebook Post Shares
Also, you can consider your phone's pop-up notifications as engagement tactics. It could be a friend request, retweet, or comment to promote communication across social networks.
So, there are tons of ways to engage customers with social media content based on the platform you're using. After all, increasing online interaction must be a top priority for every company.
Importance of Social Media Engagement
What is the purpose of media involvement?
In recent years, organic reach on social media has decreased. Only social media accounts with a high level of interaction are safe.
In simple terms, social media posts with friendly interactions are likely to receive more engagement. Stats put it better
>On Facebook, brands, and users send and receive over 8 billion messages in a month.
>With 2.7 billion active users, Facebook is the most popular platform with the most engagement opportunities.
>Responding to questions on social media raises customer support by 25%.
All of this shows the importance of interaction in building relationships. Social media helps to learn about the community and clients and provides pleasant experiences.
12 Effective Tips to Improve Your Social Media Engagement
Surely, social media helps businesses to communicate with the audience in real-time and boost bonds.
Of course, when your business has online exposure, people get to know you. This refers to customers making purchases, subscribing to newsletters, and taking other actions. Hence, converting them to a potential audience.
Assess Your Social Media Platforms Engagement
Before you begin to work on improving engagement, you need to understand where you are lacking. Determine how frequently your followers or audience interacts with your online content.
After you've completed your analysis of audience engagement, you can start making improvements. There are several online tools for calculating interaction levels across various platforms.
For example, you can assess engagement rates using the built-in capabilities of social platforms. Every social networking channel has a built-in analytics tool. You can use third-party solutions if functionality isn't available.
Also, you can employ a social media agency to handle the customer involvement needs.
Build New Audience Engagement Strategy

If your engagement expectations are not met, you need to develop a new marketing plan. Marketing strategy means defining the particular goals and KPIs you wish to achieve.
Of course, the best aims are measurable, so set the exact number of followers you want to gain and in what time frame. And ensure all these measures are followed.
Always remember that social media and content marketing are interlinked. Hence, share the relevant content on social networks that your audience wants to connect with. To do so, examine the analytics and determine which content generates the most engagement and target it.
Host Giveaways and Contests
Hosting contests is one of the simplest ways to increase audience engagement on social media. Of course, the media rewards will involve asking users to like, share or tag the post. It can also include following the page.
People participate in contests because they have an opportunity to win something for free. Furthermore, this is a way of attracting the audience to complete a specific CTA.
Additionally, if the strategy works, you will surely enhance consumer following and brand loyalty.
Publish Content Consistently
Posting content on social media networks helps the engagement to stay strong. A few posts, memes, and inspirational quotes on Twitter for some time won't produce any results. In terms of content marketing, you must be consistent.
This will assist you in staying on top of the minds of your target audience. It will also make the Facebook, Twitter, and Instagram algorithms prefer your content, increasing exposure.
If you're having trouble creating content, you can use automation tools to help. It will free you from the difficulties of social media postings. You can schedule the posts for a specified timeframe suiting your social media management requirements.
Consider Live Streaming
With the new features adding up daily to Instagram and Facebook channels, brands have options to raise engagement. The live capabilities on Facebook and Instagram allow you to interact with your audience in real-time.
How to do so?
You can advertise your product launch, any corporate event, or a celebration live on the internet. You can also try weekly live streaming to engage your social media connections.
However, keep your page updated with event reminders before going live so that your fans don't miss out.
Promote Attractive Deals and Offers
Not all the time you need to figure out advanced strategies to improve social networking. You can try this tested and successful strategy to connect with the target market and customers.
Provide attractive offers such as:
>Cashback
>Discount coupons
>Free delivery/shipping
It is beneficial for both sales and social media engagement. You can try varying offers to see how the customers respond.
For instance, Facebook has an "offer ad" function that makes promotions simple. All you have to do is ensure that the offers you choose must remain within your budget.
Cross-Promote Your Content Across Social Media Platforms
Cross-promotion of content across social media platforms boosts engagement across the board. Promoting material across a wide range of platforms increases the chances of the content being seen.
So, remember that cross-posting and cross-promoting are two different things. Cross-posting means sharing one single piece of content on multiple channels. On the other hand, cross-promotion refers to the efforts put to attract followers to your social networking accounts.
Providing links on your social media networks is a simple approach to promote your content. This will allow your active users to follow your every post.
For example, you can post the Instagram account link to your YouTube video descriptions. Similarly, you can add the Facebook profile URL to your Instagram bio.
But, make sure that content voice is customized to the various platforms. This means you should post different content on Twitter than you would do on Facebook or Instagram. Thus, resulting in increased conversions.
Promote Video Content
Images and graphics are effective than just posts for increasing engagement on social accounts.
If we talk about Instagram, you are already posting images to engage followers. Thus, the question of how to boost engagement on this platform arises.
The solution is to create more and more videos. Publishing videos bring a fresh change to your regular content or image postings.
You can implement this similar strategy on other social media solutions as well. But how will you make your videos perform better on these platforms?
Use the best meta descriptions, titles, tags, and keywords. It will not only help your videos rank higher in search results but will also make them easier to find.
Represent Customers and Followers
One unique way to increase social networking engagement is to feature your consumers. Delivering consumer-generated content and their views will benefit you.
To begin with, it will display to the followers that your current customers are happy with your business offerings. You can gain your fans' loyalty by sharing and respecting their posts.
How to gain more involvement?
Combine your efforts with the right hashtags. Encourage your consumers to post photos of their purchases on social media and add hashtags to their stories.
Create and Publish Useful Content
Increasing the audience does not mean it will boost the involvement. It is vital to share valuable content related to audience expectations.
It won't connect you with the audience if all you do is promote your business. Such as what you're offering or how amazing your brand is. Thus, consider communication rather than simply advertising.
Suppose you run a clothing brand. Posting the latest clothing designs will only go far with sales. Here, you can provide some dressing advice to increase participation. Also, produce some tutorials on how to dress for various occasions and other events.
You can also implement these ideas to generate creative posts:
>Surveys and Polls
>Animated GIFs
>Contests and Events
>FAQ Sessions
So, the right way to find if your content is connecting with the customers. To do so, analyze, track responses, and repeat.
Maintain a Faster Response Time
If you use social media just to share content, you need to make the most out of it. Social media marketing is a platform that can be used to provide customer support. Even consumers utilize social media to communicate with brands, raise queries, and share their thoughts. Not only that but they also expect instant solutions.
In addition to this, when you help your customers with their problems on social media, people see it. Thus, making them follow your brand.
So, whenever any query arises, always deliver quick replies. A quick answer helps in increasing consumer satisfaction while saving time to provide additional support.
Also, immediate responses to queries can help you invest time to stay as helpful and friendly as possible.
Utilize Social Media Engagement Tools
In addition to all these tips, you need to utilize the right tools to make the best out of social media.
It can be hard to run social media, especially when having a company profile. Such as sharing other's content, posting videos and images, and following people can all be stressful.
Here, you can make use of the right social media engagement tools.
>Buffer is a great tool that helps in handling social media activities using a single dashboard.
>Another tool is Hootsuite Insights that provides a detailed overview of your engagement efforts.
>Canva is an excellent tool for photo editing. It crops pictures to exact specs and allows adding filters to increase interaction.
Write Attractive Headlines for Social Channels
Poor headlines do not draw attention. Thus, writing simple headlines can be helpful in attracting user's attention to your social media platforms. Spend some time creating attractive information that will make users click to explore more. All in all, make the headlines attractive.
Get Started to Increasing Your Social Media Engagement
Improving social media engagement can result in fast business growth. It does not matter if you are not aiming for a huge fan following. Customers will continue to be a critical part of the business and engagement.
Keep it as simple as possible. Create a uniform posting schedule, include more videos, and connect with your customers regularly. Performing all these tips will help you in achieving better involvement. However, remember to set goals, use the best tools, and fulfill your commitments.
Conclusion
You can't improve or upgrade anything if you don't know where to start. When it comes to business, it's also fair to hire trustworthy services. Your organization can create customer-company relationships with the help of Awebstar. With minimal effort, our social media services in Singapore help companies in growing awareness and improving support. The professionals closely monitor the outcomes. Overall, our engagement activities boost the performance of social media and result in sales.