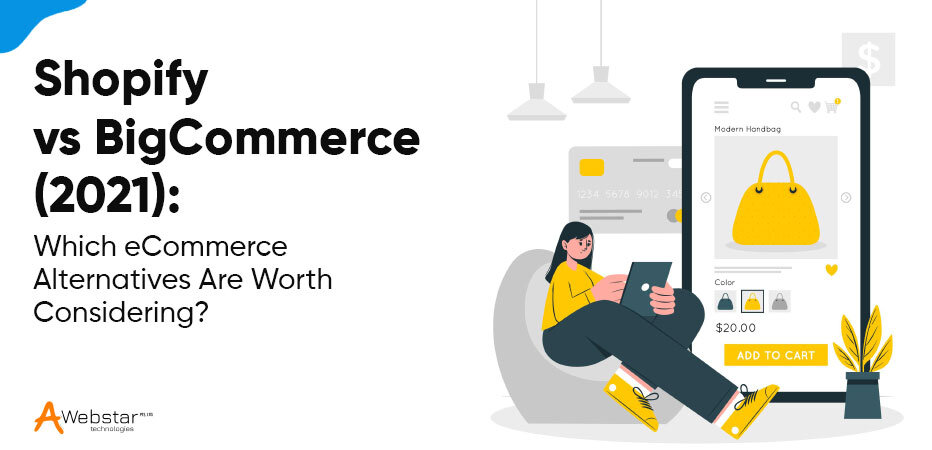 Shopify Vs BigCommerce (2023): Which eCommerce Alternatives Are Worth Considering?
Choosing the best eCommerce platform is a smart move. While researching, you must have bumped into Shopify and BigCommerce- the leading Software-as-a-Service (SaaS) eCommerce website builders in the eCommerce market.
Both Shopify and BigCommerce are perfect on their own. However, each one has its similarities and differences, which might be quite challenging for you to pick the right one. In this article, we have narrowed down the key differences between the two. This makes your job easy to choose the best platform for your business.
Here, you will find the answer for – which platform is better, Shopify or BigCommerce? Which is easier to use?  What about better plans and pricing? Which has the best web design in Singapore?  etc.
Shopify Vs BigCommerce: Briefing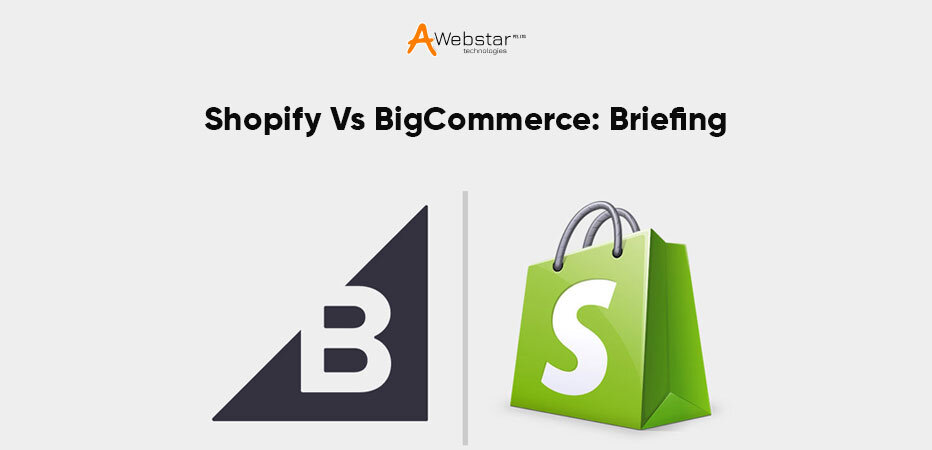 Shopify is a cloud-based eCommerce solution that enables businesses to create an eCommerce website and sell the products easily.  
It was established in 2006 and is set up in Ottawa, Ontario, Canada. While writing this, Shopify has locked 1,000,000 online stores and is majorly used by 175 countries.
It allows you to build an online store without knowing the technical skills. With a Basic Shopify plan at $29/month, a standalone and fully-functional eCommerce website can be created. Use its 14-day free trial plan without credit card requirements. 
BigCommerce is junior to Shopify; it was founded in 2009 and basically from Sydney, Australia. Since its origin, it has shown rapid development in the eCommerce software market.  The platform has registered 90,000 online stores approximately in 65 countries. From newbies creating online stores to well-known brands like Toyota, all are the BigCommerce clients.  Give it a try with a 15-day trial period without any credit card. Its standard plan starts at $29. 95 per month.

From the above graph or from the verdict of one million users, we can say that Shopify is taking charge of more than BigCommerce.  But wait! The future of BigCommerce is more powerful and is growing rapidly. 
So, will you create your business website on your current favourite Shopify or consider BigCommerce for the more bright side?
Despite all this, the gist is that both of these platforms are used to create an online store without any coding or designing skills. You do not need to hire a Shopify website developer or BigCommerce website designer. All you have to do is to choose the best template from the options,  upload the products, fix the price and that's it!
Let's find out the comparison of these website builders on the areas that need more consideration:      
Shopify Vs BigCommerce: Pricing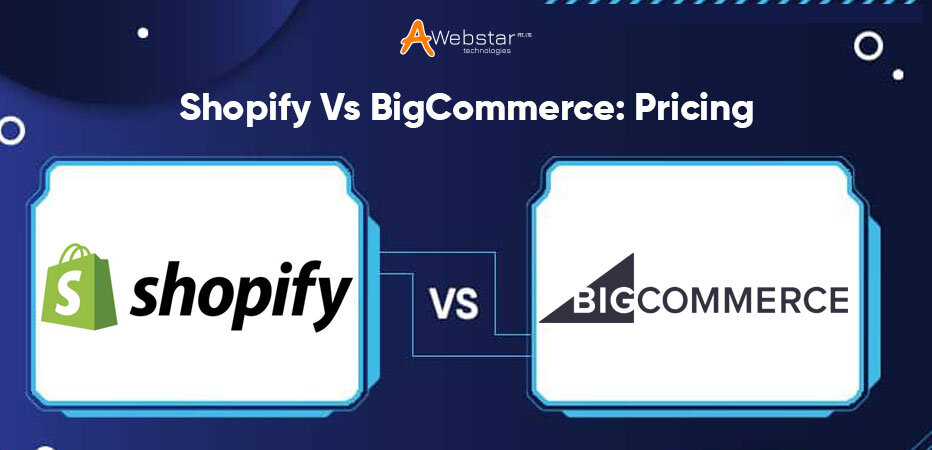 Price is the main question that every customer has in mind while picking the best platform. Shopify and BigCommerce are budget-friendly. However, a few differences are there that require consideration.
This can be seen from above that the selling of products online is affordable with the Shopify Lite plan. Although, the backside of this plan is that it does not offer those features that assure a fully-functional eCommerce website. Instead:
It has a "Shopify Button" for an embeddable widget. It is similar to the "Buy Now" button of PayPal and permits you to include the shopping cart to the current website.

The Facebook page can be used for product marketing.

The products can be sold from Point of Sale (POS) in offline mode.

Shopify backend helps in managing inventory and orders.
The three economic plans of BigCommerce are part of the "Essentials" range. The sales method of this plan is different from the Enterprise plan. You can either click here or check out the "Essential" tab from the BigCommerce website.
Shopify "Basic" Vs BigCommerce "Standard": Key Difference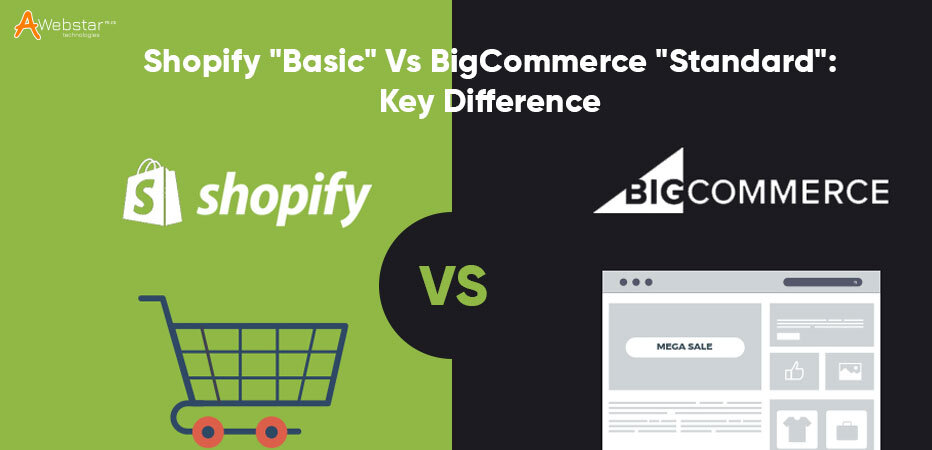 The main difference between Shopify and BigCommerce price includes analyzing the "Basic Shopify" plan ($29/month) with the "BigCommerce Standard" plan ($29.95/month).
Of course, these plans are more preferred by the new users. Nevertheless, both enable plans are selling a large number of goods. 0.95% difference of Shopify with BigCommerce allows the users to use its exceptional features, know them below:
Built-in page builder

Built-in review and rating system

Professional reporting feature

Real-time carrier shipping quotes from third -party providers

Automatic currency conversion considering geolocation.
Shopify does not have a review and rating feature in its plans. You can use a separate tab to access it. However, Shopify offers a free app for the same (Product Reviews App).
With the Shopify review app, many third-party applications can be installed for reviews and rating features. Most of them provide more advanced-level features in comparison to the Standard Shopify "Product Reviews" app. 
Despite, the BigCommerce has an exclusive set of features in its $29.95 plan, but, the "Basic Shopify" has two important advantages over it:
The Shopify plan does not imply any restriction to sales whereas BigCommerce has set its sale limit to $50,000/year in its Standard plan.

Shopify provides an abandoned cart saver** In its Basic plan, in contrast, BigCommerce includes this feature in its $79.95 plan and more.

**Abandoned cart saver is the feature that sends emails to those uses who abandon the website without purchasing. Definitely, it is more practical in improving the revenue rate of your online store**.
Transaction Fee
The transaction fee is the revenue percentage that the website developers receive from the sale you secure. The point here to consider is that BigCommerce does not charge any transaction fee in any of its plans. Although, Shopify includes the transaction fee in between 2% and 0.5% (according to the plan the user chooses). You can avoid the Shopify transaction fee by using the Shopify Payment option.
Credit Card Fees
The fees which you are paying to the third-party payment processor for making sales are credit card fees. You can choose a suitable payment processor, Shopify provides almost 100 whereas BigCommerce offers 65 integrations.
The user can also receive the special rates on the processors that Shopify and BigCommerce recommends. Shopify authorizes the in-house payment option while BigCommerce authorizes the PayPal payment option. These options charge 2.9% + 30¢ on every transaction.
Shopify Vs BigCommerce: Enterprise Plan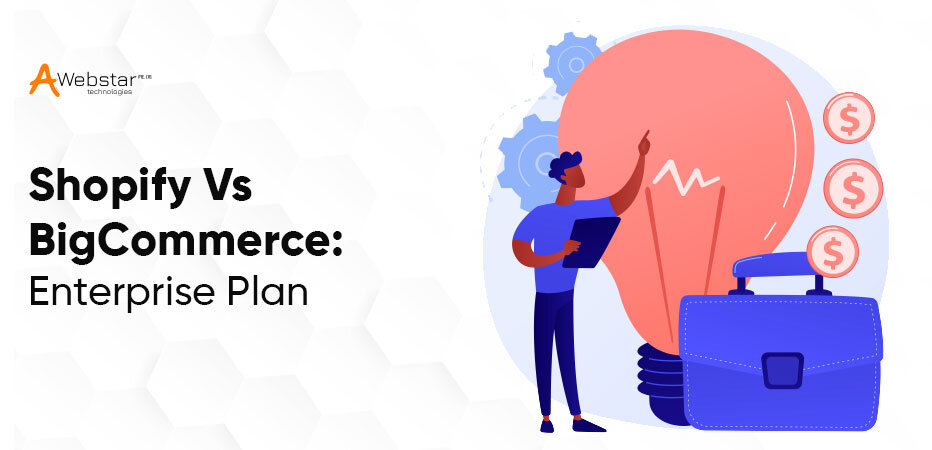 While comparing the payment option of Shopify and BigCommerce plans, it is essential to note the additional packages or features of both.
The large online store owners carrying several transactions from PayPal or other payment methods must check the Enterprise plans of Shopify and BigCommerce.
Shopify provides "Shopify Plus" and BigCommerce provides "BigCommerce Enterprise" Plans. These are the enterprise-level versions that are already included in Shopify and BigCommerce. The enterprise-level plans offer below extra features:
Great support for developers

Improved server uptime

Extra security features

Dedicated SSL certificates 

IP addresses

Onboarding support 

Customer service
Choosing between Shopify and BigCommerce for Enterprise plans starts with an interaction with the sales or marketing team. 
The Plan "Shopify Plus" is an affordable enterprise platform for fast growth. Many leading names, like Heinz and Lindt, are benefiting from the service. It includes functionalities, like fully-customizable checkout pages and 3D product pages. With this plan, you can:
Use custom automation methods 

Receive more security 

Quicken the checkout process 

Reduce the transaction fees with Shopify payments Improve the localized experience globally
When it is about the BigCommerce "Enterprise Plan", you can surely get the below benefits:
24X7 customer care support

No transaction fees

Multi-channel selling

Built-in apps and tools for growth

Customizable and built-in tools for growth

DDoS protection
Pricing: The Verdict
It's a Tie. The pricing of both platforms is much identical. It is better to say that choosing between Shopify and BigCommerce relies more on the price of the features or tools you like to include for building the eCommerce website Singapore.
Shopify Vs BigCommerce: Ease of use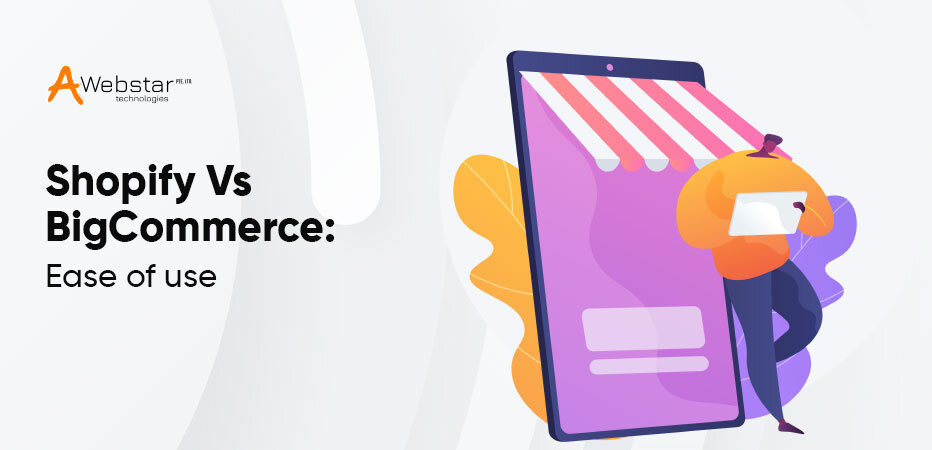 The user-friendly features of Shopify and BigCommerce make them easy to use platforms. However, it does not mean that these builders promise no difficulty. Indeed, a learning curve is always there.
Both, Shopify and BigCommerce have a menu on the left side from where you can choose your tasks, like, tracking orders, adding content, analyzing reports, and so on. From the right side of the screen, you can upload or edit and check the content.
For content management, Shopify and BigCommerce are not much different from WordPress and Squarespace.  Hence, if you know these CMSs before then, you can easily and quickly grasp the eCommerce website builders. 
As BigCommerce uses more technical terms. Hence, it is not an ideal choice for beginners. The users might need to search to know the terminologies before performing the task. Hence, this makes BigCommere a difficult platform to deal with. Though, its effective built-in features assure a higher-level of customization. 
When it is about Shopify, an eCommerce website can be created easily. Its user-friendly editor and onboarding process is appreciable. From its left side menu, the user can access any option and the detailed wizard shows the steps of creating the online store.
Ease of Use: The Verdict
Hard to Say! The main difference is the BigCommerce technicality that does not make it beginner-friendly. So, Shopify leads in terms of ease of use as compared to BigCommerce.
Shopify Vs BigCommerce: B2B Solutions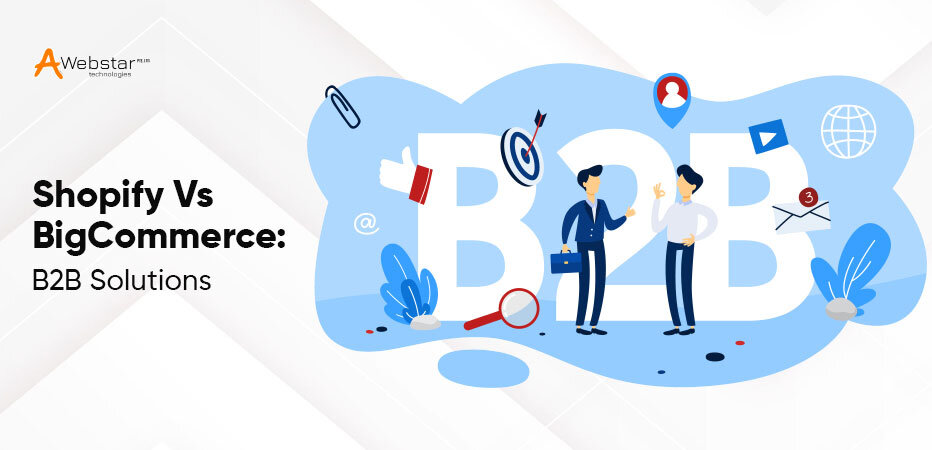 Before choosing the right eCommerce platform for your online store, it is worth considering the B2B capabilities. 
BigCommerce can build B2C experiences for B2B customers quickly. Also, it has native B2B features on Pro, Plus, and Enterprise level plans. With the customer groups, the retail and wholesale customers can access the domain. It assures the best buying and checkout experience.  
Moreover, customers are only linked to one customer group. So, you can provide the wholesales access to particular bulk discounts, customized price lists, and product categories, etc.
Shopify does not provide wholesale or B2B experience to the store owners. For accessing the different wholesale channel, upgrading to the "Shopify Plus" plan is required
Although, you can implement some workarounds for selling the B2B products, like:
Downloading of the wholesale app for invoices

Creating and sending the discount codes to every wholesale customer

Starting alike Shopify store (one for wholesale customers and another for retail customers)
B2B solutions: The Verdict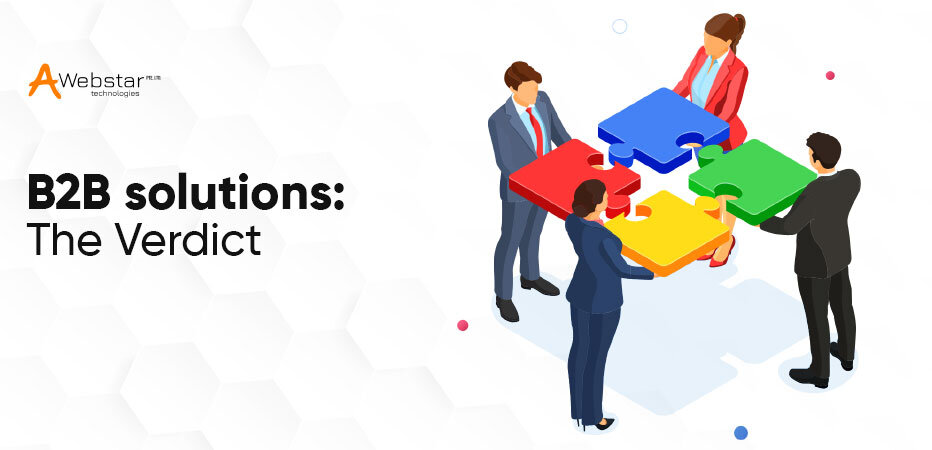 For an ideal B2B experience, Shopify suggests creating one more store. Although, because B2B functions only exist in wholesale channels, you may need other applications to provide features such as bulk pricing. BigCommerce is handy in ensuring B2B experiences. So, here, it wins! 
Shopify Vs BigCommerce: Templates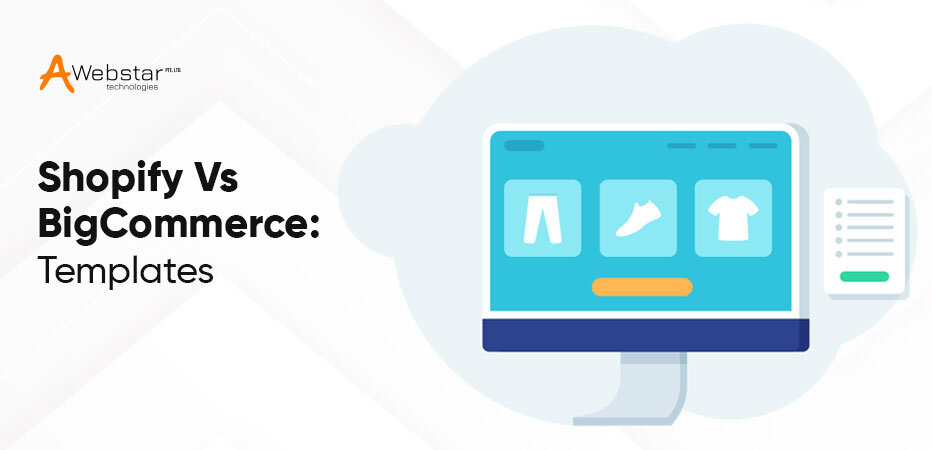 Templates or themes are the overall look, style, or appearance of the online store. So, it is essential to acknowledge it while picking the eCommerce platform.
Shopify and BigCommerce are good players when it is about templates. But, some differences are there that need consideration. Have a look below: 
Free templates
Both eCommerce website builders include several free templates- Shopify has 9 and BigCommerce has 12. Many variants or styles are also there that give you more choice in free templates. 
Although, the Shopify themes vary from BigCommerce in a comprehensive way. Some BigCommerce free themes vary only in that they use somewhat different colors.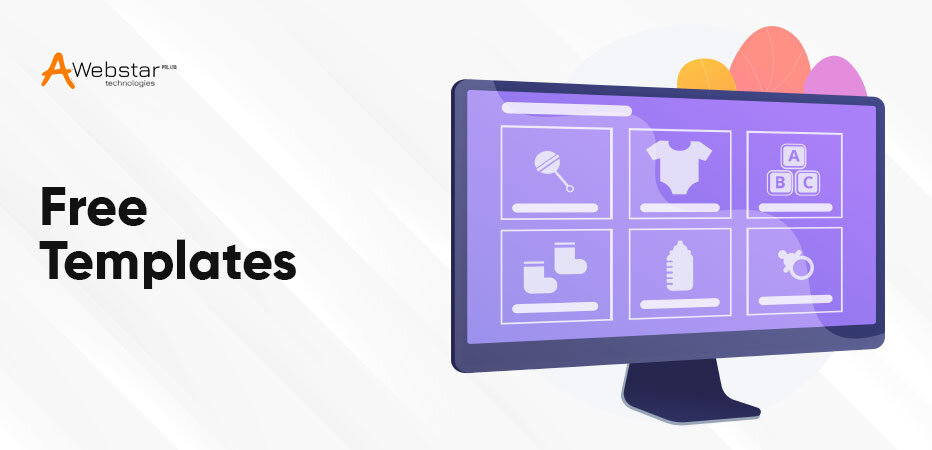 Though, the "page builder" functionality makes the editing easy. With the "drag and drop" interface, you can manage the content of web pages. Also, it is more flexible than Shopify with a content layout. 
With Shopify, you can use a similar editor to place the elements on the home page. An app, such as Buildfy can be purchased to use this feature on your web pages. The existing WYSIWYG (What You See is What You Get) editor can also help.
When it is about designing, it is recommended to use the beauty of Free Shopify themes. After all, it is everyone's individual choice. The BigCommerce templates are absolutely modern and professional in appearance.
Here, we end up saying that you can either use Shopify or BigCommerce template to build a professional eCommerce website. More choices can be taken from Shopify and more editing can be entertained from BigCommerce. It must be noted that despite the properly designed and appealing design, you cannot get profitable results if the content is of poor quality.
Premium Templates
With free templates, there are many premium template options. Shopify has 64 premium (paid-for) templates that range from $140 to $180. And, when it is about BigCommerce, it offers 150 premium themes approximately and ranges from $150 to $300.
Many times, BigCommerce provides discounts on premium templates. This is how you can use the paid-for them at less price and enjoy the benefits.
Even though, the figures signify that BigCommerce provides more paid themes. But, it is worth reminding you here: like with the product's free themes, several premium themes are the same in one way or the other.
It is true in the BigCommerce themes, like 'Chelsea Bright', 'Chelsea Bold', 'Chelsea Clean', 'Chelsea Warm' etc. These templates seem different but are variants of the same.
Comparatively, the premium Shopify themes are different from each other. They have different variants that are similar to one another. The Shopify theme offering is the best thing as it makes browsing and finding the template gallery easy.
A comprehensive range of filters assists you to pick the template as per the industry and design type. You can choose the theme according to the choice of the design elements, such as parallax scrolling, video background, narrow or wide layout style, and so on.
Customizing Templates
Shopify and BigCommerce customize the template properly either by categorizing it into CSS/HTML or with the controls from the Content management system. This means that from any of the choices, you can have an appealing online store window that displays the products professionally. 
BigCommerce makes page customization easy. With the page builder tool, you can drag and drop the elements on the relevant pages. 
Shopify makes fonts adjustment simple in the themes. You can also access different fonts, like, Google fonts, web-safe fonts, and Monotype's licensed fonts). The fonts are used in the free templates as well.
On the other hand, BigCommerce gives you limited font choices in free themes. You can install the web fonts manually to improve the templates' feel and look. Also, BigCommerce cannot hide or show specific components simply. 
Templates: The Verdict
Both have free and paid-off templates. So, saying one is a winner could not be justice for the other.
If you are unable to get the right template for your online store from Shopify or BigCommerce, you can purchase them from third-party providers. There are some websites that provide a comprehensive range of themes for Shopify and BigCommerce.
Shopify Vs BigCommerce: Sales Features
Creating an online store and ignoring the sales channel is not a correct approach. So, choose the channels where the selling becomes profitable.
Sales Channel
BigCommerce creates an omnichannel experience. It makes the products available on channels rather than the online storefront. With BigCommerce, you can sell the products on:
Amazon

eBay

Instagram

Pinterest 

Facebook

Anywhere you can include HTML with "Buy Now" buttons
Selling and promoting the products is also easy on Google Shopping of the Google Shopping by Orders and Sales App. 
With an addition to the eCommerce website, the Shopify merchants can market the products on the below channels:
Instagram

Facebook

Amazon

Messenger

"Buy Now" buttons from Shopify
You can also visit the Shopify App store to know the free and paid applications that help in selling on Google Shopping cart.
Inventory Management
BigCommerce has a powerful, native and simple inventory management system. It efficiently manages the inventory level and finds the product trends. Hence, you can track the inventory between offline and online channels.
Shopify allows you to set up, create and manage the inventory counts. Additionally, it can check the inventory adjustment history of various products.
Point of Sale (POS)
With BigCommerce, you can link the eCommerce website with POS to sell online and offline consistently. From here, you can control the product catalogue from one location and accordingly, synchronize it.
Many POS integrations include integrated payment processing, both offline and online. To use POS with BigCommerce, you must connect hardware from third-party platforms, like, Clover, Vend, Hike, etc.
Shopify has an application on Android and iOS for POS systems; you can sell in-person.
Shipping and Payments
Shopify and BigCommerce enable you to include several shipping options, like, price-based rates, calculated shipping rates, free shipping rates, from third-party providers.
With BigCommerce, you can access the third-party real-time shipping rates on any of its plans. But, to access the same, you have to buy the "Advanced Shopify" plan.
Australia, Canada, and US residents with "Shopify Shipping" on every plan make accessing discounted shipping labels easy. It does not even demand signing up to the account.
Shopify charges 0% on every plan only when you can use the "Shopify Payment" for processing the card transactions. Its' payment has a built-in payment processor without third-party payment solutions. Shopify payments can be used in specific countries. 
Hence, if you are not living in one of those, you can consider an external payment gateway provider. Indeed, it charges transaction fees as well.
Dropshipping
Dropshipping is the sales model where you cannot keep selling goods. Instead, the user takes the order, provides the essential details to the supplier, and then sends the products to the customers.
It does not require many funds initially (because there is no demand for buying some stock before selling).
But, due to fierce competition in the dropshipping marketplace, the profit margins are often very low. 
It is also challenging to find ethical commodity suppliers. Many dropshipping suppliers offer products manufactured in the Far East, where working conditions are harsh.
Shopify gives many choices to drop shippers. With the integration of Oberlo and Sprocket, the fulfilment method is simple to handle. 
BigCommerce has an app marketplace, like Ali Express, with some product sourcing apps.
Both, Shopify and BigCommerce include an app that allows you to do everything from setting up the shipping from suppliers to source products, to Shopify selection and so on.
Sales feature: The Verdict
We cannot make one platform win when it is about sales features. They both are winners in specific terms. On the one hand,  Shopify has more customizable sales features and on the other, BigCommerce integrates more valuable features.  That is to say, both, include the features that a specific eCommerce website needs.
Shopify Vs BigCommerce:  Marketing features
Marketing functionalities and tools are profitable for promoting the business. Potential customers from the best marketing channels assure the probability of sales. 
BigCommerce allows you to synchronize the stored data from leading marketing platforms, such as Gsuite and MailChimp, etc.
Shopify has built-in tools for building long-lasting relationships with customers. You can choose and use the template from the ready-made template's list.
Another major marketing feature of BigCommerce is that its functionalities are aligned with the SEO best practices for assuring industry-specific SEO imposed in every website. It gives full control over title tags, URLs, metadata, header tags, etc. Creating 301 redirects is even easier with BigCommerce. This eCommerce platform automatically builds 301 redirects when the URL or name of the category or web page is changed. 
BigCommerce has the segmentation tool for personalizing the customer's buying experience. It includes a more advanced plan. You can send the automated abandoned cart recovery emails to customers who left their shopping at the checkout.
Shopify SEO boosts on-page optimization with the custom meta description and title tag. It has a simple interface in each product and page editor. You can easily create the 301 redirects and prompt automatically when the product or page URL changes.
Knowing the product performance is from the Shopify basic plan. You can find out the product performance and get the basics some particular product is selling. However, you cannot find every analytics (profit and sales report). And, you have to upgrade to a more advanced plan.
Marketing feature: The Verdict
Shopify and BigCommerce know the value of marketing in eCommerce stores. Both eCommerce platforms offer exceptional tools to make your online store get noticed.  
Shopify Vs BigCommerce: GDPR Compliance
GDPR is General Data Protection Regulation, emerged in 2016. It makes rules for managing data for every European resident. However, it affects data processing of financial records, medical records and all internet activities.
The GDPR promotes trust between businesses and their customers. It makes the process of collecting data a transparent approach. Those not following the rules of GDPR go through severe financial penalties. Even if your business is US-based, considering GDPR is essential.
Below are the key priorities that Shopify and big commerce owners must follow:
Secure processing and storage of data 

Right privacy and cookie notices

Receiving consent from the users to sign-up to an email list

Method to opt-in or withdraw consent before running unnecessary cookies.
All of the points mentioned above can be met quickly. Creating the proper notice and adjusting the data capture form to comply with GDPR is not easy. But, BigCommerce has an advantage in meeting the fourth condition.
For assuring the GDPR compliance in the respective area, perform the cookie banner to the website visitors to:
To pick the cookies to operate before running the cookies.

For the consent for running the cookies.

To withdraw the consent later.
With BigCommerce, the users can include the third-party scripts and assure that they operate only with consent. For Shopify, several applications deal with the issue and offer the best features. 
GDPR compliance: The Verdict
In any case, you can have either Shopify or BigCommerce to fulfil the basic GDPR requirements. However, BigCommerce is more user-specific in terms of GDPR cookie consent issues. This functionality is not a feature that users must provide to the application.
Shopify Vs BigCommerce:  SEO
Both the platform includes the best SEO features for their potential users. Shopify enables the users to include the keywords, alter and insert meta titles, descriptions, generating robots.txt and sitemap.xml files automatically, and blocking the duplicate content from the canonical redirects.  Undeniably, more Shopify SEO content depends largely on including and researching keywords.
If an inexperienced user over-optimizes the content and inserts many keywords, then it could be indecisive. Hence, you must insert only the mostly-required keywords and avoid adding keywords in descriptions, meta title, and text content on pages.
BigCommerce, also, includes an exclusive list of built-in SEO features. This eCommerce platform customizes the meta-titles, descriptions, and content on every page. BigCommerce makes proper snippets easy in the search results with ideal canonical redirects, automatic microdata integration, and an optimized website structure.
Shopify and BigCommece, both include every fundamental SEO feature that every online store requires. These can be included while creating the content and product pages.
While building a new web page, do not forget to incorporate the following:
Custom meta titles and descriptions

Keyword research to add on pages

Alt attributes for every image

Optimized web page content for customers and easy understanding of search engines crawlers

Specification option, like, colour, size, or measurement to add in the schema markup

Scheme markup as per availability and requirement

Headers in page content according to availability and requirement
The above does not have any extra feature which can be available to you by third-party providers (Services or apps).  Despite an appropriate optimization of product pages and new content for SEO, there are few more things that you have to follow for appropriate ongoing SEO maintenance on both eCommerce platforms. Check out below:
Run your eCommerce website from the Google insight tool for ensuring that your page speed is best.

Check out if the robots.text file and sitemaps are updated regularly.

Verify the website for images and broken links and then, fix them.

Monitor the website navigation and architecture every after some months to assure that it works best for search engines and customers.

Find out how the customers are searching for your product (ongoing keyword research). Research keywords and trends on a regular basis.
SEO: The Verdict
If you want to compare the available features that are built-in the platform, then, assuredly, BigCommerce wins. But, if your intention is to have a fully-featured online store, then Shopify is the only choice. It includes many third-party applications. Both have different terms for offering SEO features and expertise to their customers to make it easy for you to decide the best one.
Shopify Vs BigCommerce: Support and Security
Customer support and security are essential at any step while creating an online store. Of course, you require ongoing help to customize the eCommerce platform to fulfil the evolving requirements.
Support
It does not matter you are choosing Shopify or BigCommerce, you will get access to the below:
Help centre

Email support

Video tutorials

Community forum

24X7 phone support and

 live chat support
24X7 live chat and phone support are the best options. However, valuable knowledge centres are best.  
BigCommerce help centre has all the helpful information. But, Shopify has the prompts in the website dashboard which links directly to the suitable page in the Shopify help centre. Those who want to learn on their own can use this feature.
When it is about Shopify and BigCommerce, updating to the higher plan opens priority support. Shopify unlocks access to an experienced support agent with its "Shopify Plus Plan". BigCommerce gives you an onboarding consultant with its Enterprise plan and gives priority support on the phone. 
Security
Both Shopify and BigCommerce provide free SSL certificates on every plan. BigCommerce allows you to upgrade to the most advanced SSL certificate (ranges from $59 to $299).
Shopify and BigCommerce are PCI DSS compliant providers. This means that these website builders fulfil the needs of the Payment Card Industry Data Security Standard to give security on the credit card breaches.
Support and Security: The Verdict
Indeed, both Shopify and BigCommerce are secure platforms. Though, the customer support of Shopify is par as compared to BigCommerce. These website builders give 24X7 phone and live chat support, besides Shopify knowledge centre is more profitable than the other. 
Shopify Vs BigCommerce: Automatic tax rules and VAT MOSS
US and Canada
While operating an eCommerce store, you sell products in jurisdictions with separate tax rates. This has to be revealed in product pricing.
Particularly, it is difficult for dealers in Canada and the USA. The reason lies in the fact that many provinces/states employ various tax rules. The best thing is that Shopify and BigCommerce enable you to apply the tax rates for Canada and the USA automatically. 
Even though Shopify allows the users to do this easily, but, for BigCommerce, you have to install an app.  
European Union
If you want to sell the digital products to the European Union customers with either Shopify or BigCommerce and want to improve €10,000/ year in revenue then, you must know VAT MOSS that is VAT mini one-stop stop.
It asks you to use the individual country rates of VAT for digital products. If your business is outside the EU, then even the rates will apply.
Automatic tax rules and VAT MOSS: The Verdict
Shopify, on the one hand, is providing an easy way to implement this with the Digital Download app. On the other hand, BigCommerce has complexities in doing the same. 
Shopify Vs BigCommerce: Scalability
Performance
Shopify and BigCommerce, both have application stores. Shopify has more applications as compared to BigCommerce. 
When it is about Shopify, it has approximately 4000 applications while BigCommerce includes over 800 applications in its pocket. 
BigCommerce integrates with the built-in features that your eCommerce website requires. And it does not depend on any third-party application. Hence, you can say that it is the most scalable website builder. Whereas, the range and size of Shopify marketplace address it as a comprehensive platform.  
ECommerce shopping cart performance is very vital for sales and higher productivity. It assures that your important visitors notice you, stay, and do not switch the tab to another website. 
Considerably, the website's page speed, loading time must be fast. Any delay in page loading maximizes the chances of bounce rates. The faster website converts customers. 
Shopify and BigCommerce load fast and give an excellent experience to their customers. Comparatively, Shopify's loading time is best.  
Internationalization
Extending sales improves the chances of growth. Typically, you can secure more sales if you sell visitors' currency. Therefore, selling in different countries enables customers to select their own currency. 
To an extent, Shopify permits you to carry this out perfectly- it's free "Brooklyn" and "Debut" theme has a currency selector feature. Although, if you do not choose any of these themes, then you have to include a code to the website for accessing a selector.
Another worthy thing here to notice is the automatic currency conversion. It uses IP addresses to know the visitor's location and offer related currency prices. It is only applicable in Shopify (when the user has a third-party app or Shopify Plus plan). You can use the "Geolocation' app" to convert the country.   
From all BigCommerce free themes, you have a more reliable multi-currency solution to promote automatic currency conversion. 
Scalability: The Verdict
From both, Shopify wins! It has more applications, guarantees more website loading speed (average of 1.4 seconds), whereas BigCommerce page loading speed is less (average of 2.4 seconds).
Shopify Vs BigCommerce: Buying Domain Names
You can easily buy domain names from Shopify and BigCommerce. This way, you can create your website easily without configuring the DNS (Domain Name Settings) records by the domain name provider.
Though you can purchase a domain name from a third-party provider for the fastest DNS lookup time though,  DNS configuration is not a very difficult task.
What more you can avail of purchasing from the third-party is that you do not have to take a shot in the dark. If anyhow, you lost access to Shopify or BigCommerce account, and you have purchased a domain from any of these, then you will lose authorization not only to the CMS but for the domain as well. 
Scalability: The Verdict
Both work best for the customers who intend to buy the domain name from them. It is an individual choice on which one they think is best for their eCommerce website. 
Shopify Vs BigCommerce: Other Considerations
Content, Responsiveness, Customer login and checkout options, conversion, etc. can be overlooked. As of now, you must have got an idea that Shopify overcomes BigCommerce by its applications. 
Content/Blogging
Posting the content is one of the best ways to boost traffic to your eCommerce website. Even, you can include a WordPress blog to have the best user experience. Here, as well, Shopify leads! As if you want applications that improve social media integration, image management, content creation, SEO, etc, then Shopify has many options.
Mobile
Shopify and BigCommerce both have themes and templates including the responsive design. It implies, your online store appears best on phones, desktops, laptops, or tablets, etc despite which platform you are using.

Conversion 
Shopify integrates thousands of sales optimization and conversion applications. Most of them are better with 4000 to 10,000 user ratings or have 4.9-star ratings. BigCommerce has 100 conversion applications. It adds applications and customers quickly and easily.
Customer Logins and Checkout Options
To log in for buying either on Shopify or BigCommerce, the customers have to sign-in. These platforms make it easy to add the customers manually and use the CSV approach to import and export the customer's list. BigCommerce provides customer's store credit easily, but, in the case of Shopify, the user needs a paid app.
Staff Accounts
BigCommerce leads to Shopify when it is about the staff accounts. Shopify restricts the limit of the number of users logging in and manages the online store. BigCommerce enables you to build many staff accounts for the eCommerce website (on any plan). Hence, the businesses with many individuals who require access to the eCommerce website backend will assuredly acknowledge the scalability that BigCommerce gives in this area. 
Shopify and BigCommerce: Analytics
Shopify and BigCommerce provide a broad range of reporting tools, such as:
Marketing reports (shows how you earn the customers)

Customer reports (shows from where the customers originate, the average of new and returning customers, total spendings and the last order details)

Search data reports (shows the most search products in eCommerce website)

Finance reports (tax reports, sales, etc.)

Abandoned cart reports
Additionally, other reports can also be obtained with Shopify and BigCommerce.
When it comes to Shopify, the users can build custom reports on the "Shopify Plus" and "Advanced Shopify". BigCommerce demands extra fees to give access to "eCommerce Insights" reports for more comprehensive information on customers, products, and abandoned carts.
BigCommerce "additional fees" is "$49" on the "Plus" and "Standard" plans, "$99" per month on the "Pro" Plan, and "$249" on the "Enterprise" plan.
Even if BigCommerce is not budget-friendly, then even, it gives the best advantage then Shopify when it is about reporting. The reason behind this lies in the maximum report types it gives on the "Standard" plan.
On the contrary, Shopify has a costlier plan. With the $79/month plan, you can use the reporting functionality.
When you opt for the cheaper Shopify plan, the statistics can only be available from the online store dashboard. To get more insights into your eCommerce store, when it is more about traffic, then, you should install goals and Google Analytics to create custom reports and to measure conversions.
Pros and Cons of Shopify and BigCommerce
Both Shopify and BigCommerce offer pros and cons for your online store. You'll notice some of the pros and cons are the same for both platforms. But it's important to be aware of the features of BigCommerce vs. Shopify, and how they might benefit your business.
BigCommerce
Pros
BigCommerce offers better value for money than Shopify. Neither will drain your bank account and overall, BigCommerce and Shopify are pretty well matched when it comes to pricing. However, BigCommerce has a slight edge thanks to its built-in features and fewer additional costs.

More flexible if you want to switch your theme.

Has more built-in features, which is massively more appealing.

Provides marketing tools and functionalities to build your business.

Provides the necessary features for your store protection and validation for safe online payments.

The difference in the quantity of apps can be explained by the fact that BigCommerce provides quite a lot more functionalities which results in lesser needs for users to add apps.

BigCommerce has a very clear edge when it comes to facilitating multi-currency payments.

No transaction fees to worry about, so more of your money goes to you

Lots of solid SEO features to help you rank online

Scalability for companies who want to grow rapidly online

Fantastic multi-channel selling capabilities
Cons
Difficult for beginners to use, particularly with complex terminology

Requires some knowledge of coding

BigCommerce plans have annual sales thresholds

Multi-lingual stores aren't easy to create with BigCommerce

Editing interface is difficult for beginners
Shopify
Pros
Shopify has better customer support. It has the edge over BigCommerce because of its automatic direction to relevant support pages. Both eCommerce builders have multiple help channels, but Shopify has the extra addition of social media support.

Shopify is easier to operate than BigCommerce, making it the top choice for beginners.

Has better designs and offers more choice, both in features and in more up to date templates.

Offers more customizable features on offer than BigCommerce because of its extensive app store.

Oberlo is the one powerful tool that gives Shopify the upper hand for dropshipping.

Shopify facilitates the communication of a company's information, stimulates customer interest and motivates action.

Shopify's user base is much larger therefore the bigger number of apps available.

Shopify provides the necessary features for your store protection and validation for safe online payments.

Great backend with tons of ways to add functionality with plugin tools and extensions

Brilliant Inventory system for managing your transactions

Support for multi-channel selling on social media platforms and other environments

Lots of themes and designs to choose from

Support is excellent, with a 24-hour dedicated team
Cons
Shopify applies additional transaction fees and only 15 staff accounts even with the Advanced Plan.

Only the 'Advanced Shopify' plan allows third party real-time shipping rates.

Limited options for scalability: You'll need to rely on third-party multi-currency apps

Transaction fees are an issue unless you're using Shopify Payments

You need to reformat your site every time you switch templates

The blogging features aren't as good as they are elsewhere

URL structures aren't ideal for SEO
Is there anything better than Shopify?
Certainly, Shopify is an ideal choice for creating an online store.  But, it might be not for many. Some might need a more scalable solution or can outgrow at some point. 
So, in that, you have BigCommerce, which gives tough competition to Shopify. It is a flexible, powerful, and leading Shopify alternative.
Unquestionably, both work best to start a successful and profitable online store. 
 Analyzing Shopify alternatives is not about choosing the best or worst option, it is only about a solid understanding of your requirements, skills, and price. In this way, you can pick the right platform for your eCommerce website. 
Is Shopify better than Bigcommerce?
To be honest, the head-on comparison between Shopify and BigCommerce makes it tough to choose the best one.  
Both of the eCommerce platforms provide easily accessible tools and interesting templates to create an online store quickly. For the customization and right shopping experience, Shopify and BigCommerce give many integrations and add-ons.
Many decisions in Shopify Vs BigCommerce depend on the user's preferences. Though, saying that Shopify has a slight edge over BigCommerce is not wrong. Definitely, it is the first option for all online stores of all sizes and types (from start-up to large enterprise). It is flexible, easy-to-use, and holds the built-in potential for financing and fulfilment. 
The $9 monthly plan of Shopify is most suited for small businesses to try out eCommerce business and has the complete support of dropshipping. 
However, BigCommerce is the top-most choice; it has a user-friendly admin, several add-ons, and an extensive feature set. It works as an ideal solution for many businesses. 
So, saying Shopify is better than BigCommerce is not fair. Give your time to explore both Shopify and BigCommerce with their free trials. 
Is BigCommerce next Shopify?
Saying- BigCommerce the next Shopify right now is not appropriate. However, it does not imply that it is losing investment. This only means that we all have to set the expectations for this Software as a Service (SaaS) stock respectively.
From the most important and obvious fact, it is clear that Shopify is larger than BigCommerce. It is known that Shopify provides services to businesses about 15 times that of BigCommerce, and its sales revenue is about 15 times more than BigCommerce. Shopify's market value is more than $110 billion, which is 20 times the BigCommerce. These factors show that BigCommerce is growing at a fast pace and choosing it is not a wrong decision. 
Its open SaaS network and a special focus on business-to-business eCommerce give it an advantage in certain areas. Moreover, we cannot choose a single winner when it is about the eCommerce platform. The success of Shopify does not define BigCommerce failure.
FAQs
Which is the best eCommerce platform, Shopify Or BigCommerce?
Both Shopify and BigCommerce are top-most online managers and website builders. Undoubtedly, both overlap a lot. 
So, while comparing Shopify and BigCommerce, it is tough to choose the right winner.  In the end, we can say that these platforms definitely have differences that help you to decide the true winner. 
What is the main difference between Shopify and BigCommerce?
Shopify vs BigCommerce Standard give the same features and limitations. But, the major difference is that BigCommerce does not have any limitations or boundaries for creating the staff accounts, though, Shopify has only two. Products, bandwidth, file storage, everything is limitless. 
Can we migrate BigCommerce to Shopify?
Shopify's Import Store app provides customer data, products, and orders to be migrated from Bigcommerce to Shopify. However, before importing to Shopify, it is necessary to export the data from BigCommerce.
Now it's your turn to decide: Which is Better, Shopify vs BigCommerce?
Both Shopify or BigCommerce are excellent platforms. They have some similarities and differences that make them better in particular scenarios and types of users using them. In the end, it depends on your business preferences to choose the right platform.
Share your thoughts on the Shopify Vs BigCommerce difference. Which platform do you prefer to use? Does it have all the features you need to build an online store? 
If you have any query, ask in the comment section below. Thank you for your time!