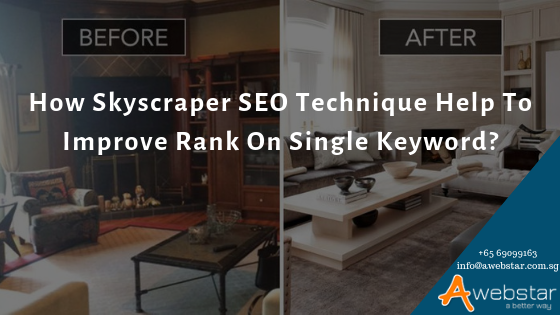 How Skyscraper SEO Technique Help to Improve Rank on Single Keyword?
A lot of us are active in the realm of digital marketing. I mean really active!!! We generate, pro-create, and discover ample of content in order to get higher keyword rankings. But all our efforts turn out to be in vain.
When the darkness overpowers the light, we all looked at the best solution. This solution was provided by the Lord of light in SEO, Brian Dean. He calls it the skyscraper SEO technique. You might have heard a lot about this. It is like a buzzword travelling in the SEO realm.
Hey, isn't Skyscraper is a type of building?
Yes, it is. Which is exactly Brain conveyed with his creativity. In a town, a skyscraper always catches the eye of everyone. The builder of that building is getting a free advertising here (If you observe it as I did). Everyone talks about it and ask more about who actually build it.
Same as the real skyscraper, if you successfully build a skyscraper content, you will get free backlinks.
You might be wondering, what a skyscraper content is!!! A content which is equally useful or more useful than the already published content is a skyscraper content.
Got it right? Another thing to wonder is, how will it help to get you backlinks?
It is a pretty fair question, many people might brainstorm that but the answer to this question is pretty straightforward. People love to direct their prospects and peers to the right direction.
The profit of skyscraper content is that you already know what is trending. You don't have to anticipate anything. Everything is served on a platter here for you. All you have to do is provide the reader with a new angle to it. The one who succeeds in that can leverage the skyscraper technique.
Ok, how you will do that?
This is the exact question, which will be answered via this post. We will address this question and will give you all the insight you need to know about the skyscraper technique to improve ranking on one single keyword. Yes, one keyword.
Gee that can be done!!! Don't get surprised. You will rank only in one keyword which you might want to use as an anchor text for the backlink. That will help you in increasing your SEO rankings on single keywords.
Let's get started with the methodology of the legendary skyscraper technique.
Learning How Skyscraper SEO is Done
In order to solve this problem, I have come up with an awesome 5-step guide that will guide you on how to effectuate the skyscraper technique. Let's get to it and understand the actions that you must take to understand the working of the skyscraper SEO technique.
Without further ado, let's get you started,
Step One: Find The Most Trending Content In Your Niche
The first step to a groundbreaking backlink campaign is to find a topic that is already at the top of the table. You must know what you are looking for. Be clear and concise in your approach. Once you find the topic, search for the highest shared content over the internet.
I usually use Buzzsumo to find the most trending topic on the internet. For instance, I look up for Trending topics in SEO content marketing. Have a look at what I've got here,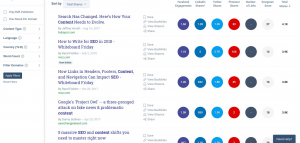 See, that's how you can get a fair idea of how you can actually choose the right post to design your skyscraper content. You can target the evergreen score or the number of links or any of the social media platforms with the highest sharing number. It is entirely up to you. Choose one topic and your first step is complete in order to create the content for your campaign.
Here, I have selected the first post written by Jeffrey Vocell of Hubspot. As the post's sharing is quite consistent in all the social media platform plus the Evergreen score is also pretty high (It will help me in creating a

This piece of content is long, descriptive, and very engaging as well. It is a well 9-minute read. That can be a tip-off for you.
While selecting any content for your skyscraper campaign, make sure to measure all the pros and cons because this requires hard work and you don't want to blow the opportunity. So, choose your target content very carefully.
Let's move on to the next step,
Step Two: Stage is Set, Create a Better Version of the Content
Now, you have the topic and you know the path. All you need to do is create content more awesome than the selected one. Remember one thing, the content you are aiming to create must be a longer and updated version of the one you selected. As in this case, we have selected the Hubspot post by Jeffrey Vocal.
Let's break this up and see how you can actually strategies even better content than the Hubspot (The Hubspot marketers are also humans right?).
Make Sure to Create A Unique Design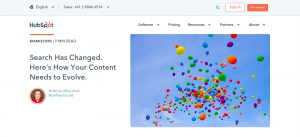 This is important here. When I say create a better version of the post, I mean in everything. No matter how tiny or fine the thing is, you need to make sure that your post has better elements. For instance, you can make sure to use a well-directed image that can be more relatable to the topic. There are many free tools available to do that. You can use Canva or Pixlr for editing images and add graphics.
Make Sure to Exceed the Word Count of the Targeted Post
Now, this step is very important to comply. You must make sure that your post covers more in terms of word count. However, I recommend not to use excessive filler as they will deteriorate the quality of your content. There are many studies that show that a page with over 1,000+ words tends to get more shares than that of shorter content.
So, make sure that the extra words you wrote should add value to the post. For example, as in the Hubspot post, the closing section is too short. You can more insights that will close your post effectively.
Search for Influencers Who Previously Linked Articles for the Same Keyword
Generally, this step seems too easy as compared to the above two steps. To analyze backlinks, SEMRush is my favorite tool. It is easy to use and very accurate as well. All you need to do is, add the URL of the post and then check for the backlinks in the backlinks section.
The number of backlinks can be directly seen in the overview section of the dashboard. It is like this.
See, the Hubspot post got 237 backlinks. That shows how qualitative the information is. Once you got the number of backlinks, you can check which influencer uses this post. The information will look like this,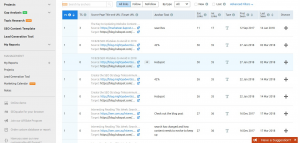 Isn't that easy to find influencers with SEMRush? So, do the math with this tool and get to know which influencer you should approach the backlink. Now, all which is left is pitching the influencer right.
A 3-3-7 Formula for You to Pitch the Influencer Right
Influencers are the elite class that isn't stupid at all. They are the personas that inspire people like you and me. So, pitching the same old same old is not going to work here. You need to be smarter.
They know when they see a pitch template whether it is started by his name. Follow these breadcrumbs in order to get hold of these influencers. They usually get more than a thousand emails about the same. You need to make your message different and unique. Let's see how you can do it,
Your Emails Should be Personalised
This is a very important aspect. Just by mentioning the name in the mail will not help you in getting the attention of the influencers. So, you must design the body of the mail to address the influencer only. Personalizing emails will set you apart from 90% of cold mailers who send them requests on a daily basis.
How to Follow Up?
The art of following up is very tricky. The first thing to note is that 90% of email replies are sent under the timespan of 2 days. So, there is bad news. If you haven't got a reply, you might never get that.
There is a very innovative formula which generally known as the 3-3-7 pitching formula. It is a follow-up technique that will seal off your chance in getting their attention. The numbers in the formula are the number of days that you need to follow up. After the initial pitching, you wait for three days and then mark a mail for enquiry. Then, after the first enquiry, you wait for 3 more days and mail again. Then, at last, you will enquire after 7 days. This makes a total three enquiries in the span of two weeks. It is like a code of professionalism.
When you pitch the right script and follow up correctly, the winning chances increases up to 10-20%.
Monitoring is the Key
After all the tedious work, you need to check for results. In order to check how high your skyscraper content is ranking on SERPs, you can make use of an amazing tool that is Monitor Backlinks. You can even track ranking factors as well. You can opt for a 30-days trial. It is a very productive tool.
How will it Help You to Improve Rank on Single Keyword?
This question is common nowadays. People want to know, whether it will affect the rankings of your keyword. When you get backlinks on the anchor text as your primary keyword, you do gain emphatically in rankings. There is no denying that backlinks do have a deep impact on SEO rankings. When these backlinks are from influencers, they surely add value to your website and your keyword.
Concluding Remarks
So, this is all the top to bottom working process on the skyscraper technique. How do you like the post? I hope it does answer all your queries.