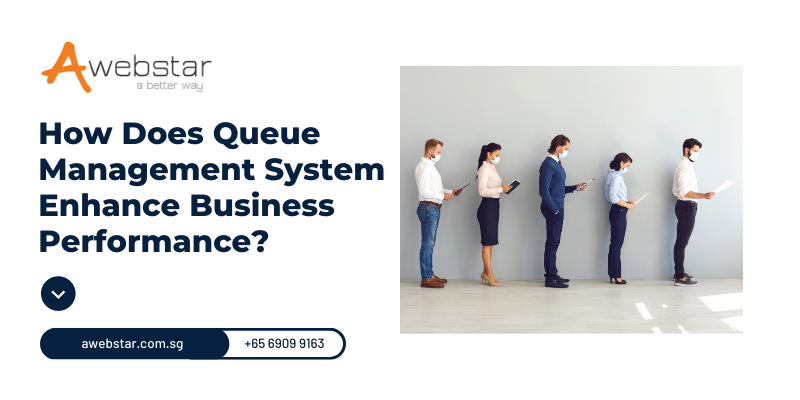 How Does Queue Management System Enhance Business Performance?
In the past, queues were used as a way to complete transactions on time. However, with the rise of e-commerce, companies are now looking for ways to streamline their business processes. One way that businesses can increase efficiency is through the use of a Queue Management System. Such a system helps businesses manage their queues and efficiently process orders in real time. Furthermore, a queuing solution is useful when there are large numbers of customers waiting for their orders to be completed.
When it comes to business efficiency, many people think of employee productivity. This is a good start, but it doesn't go far enough. Many businesses spend more time doing repetitive administration tasks. As a result, they fail to focus on vital things like effective marketing and sales that can take their businesses to greater heights.
Here, deploying queue management software can be beneficial. It can help improve customer service levels by reducing errors in data entry; Such software provides a central location for all customer requests. It can help identify opportunities for reduced costs or additional revenue streams through improved sales processes. Furthermore, it can help eliminate manual tasks that consume valuable time and resources but don't necessarily make sense given current business needs.
Brief About Queue Management System:
Queue management systems (QMS) help businesses increase their efficiency by providing them with greater control over their workflow and the ability to manage their queues more effectively. A QMS allows an organization to automate a wide range of processes across multiple departments, including order processing, customer service, invoicing, sales tracking, and more.
Ways Queue Management System Boosts Business Performance:
The use of the best queuing system can be beneficial to businesses in many ways. It allows them to have better control over their operations, as well as improve efficiency and customer satisfaction. Here are some ways a queue management system can help boost your business performance.
Enables Real-Time Monitoring of Performance:
Queue management software comprises multiple features and one is real-time performance analytics. It offers data on administration performance. Also, the real-time information of all the departments can be easily tracked.
The supervisors or managers can recognize the peak timings and allocate the staff and other resources accordingly. Furthermore, such software can help track the staff's attendance and reorganize the work schedule accordingly.
Reduces Staff Burden:
Overcoming customer service hassles can be challenging for staff, especially when done manually. Here, the integration of a smart queuing system helps to efficiently manage the work and keep up with the customer flow. As a result of improved efficiency, companies can maintain their brand image at all times, which increases customer loyalty and sales. Moreover, excellent customer service will be delivered and the staff workload will reduce.
Better Control Over Your Operations:
When there is a lack of employees at the end of the day, it can negatively affect your business. If an employee leaves early and another comes in later, it will cause a delay in production. This is one of the reasons why businesses need to have more control over their operations by using a queue management system. Here, an appointment management system can streamline the process by ensuring that all the bookings are processed correctly. This eliminates human error and reduces any chances of no-shows or cancellations.
Besides, using a queuing system, you can monitor all activities taking place during each workday without having to worry about anything else happening at the same time. You will also be able to determine how much time each employee spends working on their tasks. It will help you assess how much time they spend doing vital chores instead of wasting time on other tasks such as social media or personal conversations with other staff members.
Boosts Customer Satisfaction:
Deployment of an online queue management system helps handle queues efficiently. Virtual queuing enables customers to get e-tickets, book their visits online, and reach the premises only when it's their turn. The businesses are left with a lot of time to focus on delivering quality customer service and staying ahead of the competition.
Also, having interactive devices like kiosks deployed into the facility, customers can have access to quick and customized service. Thus, saving them from queuing hassles, and upgrading their experience.
Conclusion:
So, investing in a queue management system is a great idea to maximize business efficacy and improve brand recognition. Besides its functionality, it comprises analytical data that helps gauge employee performance and queue traffic. However, leveraging all of this is possible when you deploy such software offered by Awebstar. It automates manual tasks like online appointment scheduling. The staff gets more time to focus on other vital chores and stay productive. The peak timings can be recognized and staff for other resources can be allocated accordingly. All in all, queuing software contributes to improving overall business performance and building brand recognition.