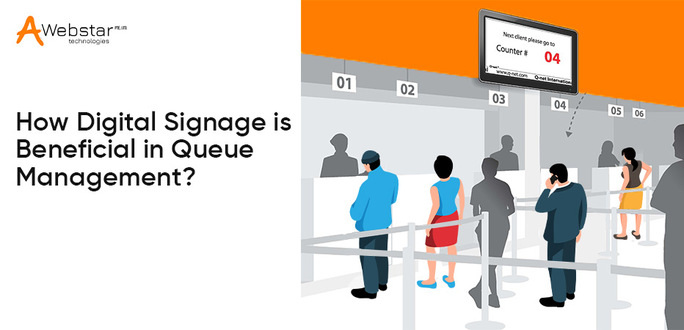 How Digital Signage is Beneficial in Queue Management?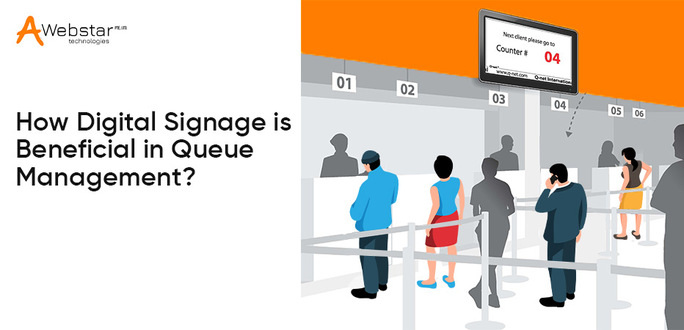 People always have something to do other than wait in lines to be served. All modern customers want immediate service, and long lineups here appear frustrating. Whether you're in charge of a retail store, a bank, or entirely something else.
The necessity to manage huge lines and reduce client wait times becomes essential in this situation. As a result, having a queue management system in place that is integrated with Digital Signage is advantageous in addressing all of the problems. It helps to reduce wait times, lower consumer anxiety, and increase customer satisfaction.
Digital signage lowers the customer's actual wait times. It also helps customers and businesses to promote a pleasant transaction experience. Furthermore, it enables efficient monitoring of queues and shows data on digital screens in real-time.
Stats say that:
It's essential to provide customers with a positive brand experience. This can lead to higher conversion rates and improved client loyalty. As a result, digital signage is the ideal way to control lineups in a variety of businesses.
How Does Digital Signage Work?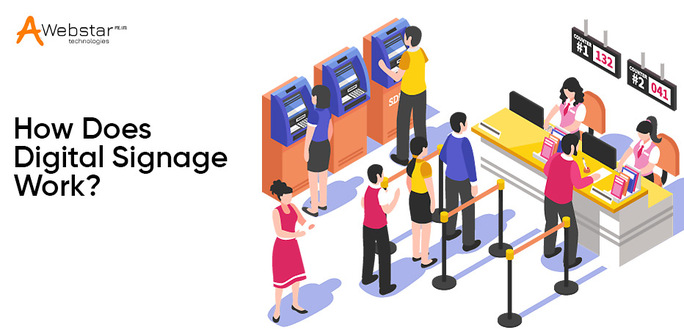 Queue management can be made more active and efficient with the use of digital signage. Digital signage, when combined with other technologies can easily track lineups while keeping traffic under control.
You can keep track of whether or not people are following the queue and distance rules. Furthermore, it can lead to more effective occupancy control.
Digital Signage Advantages With Queue Management System
Displays Wait Time Estimates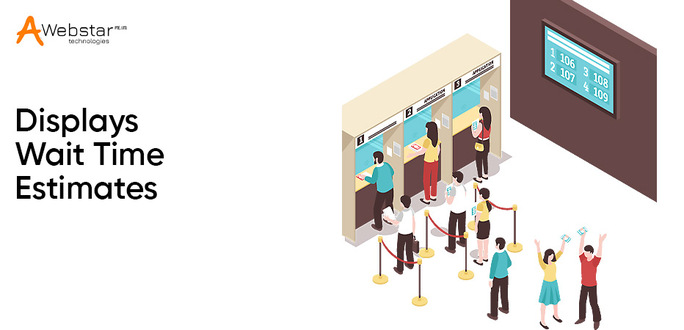 It is always beneficial and safe to inform clients about how long they would have to wait. Digital signage updated with the queue management software allows sending alerts to the customers about the waiting times. Besides, integration of the RSS feeds, information display live on screens, all is possible. As a result, the consumers receive notifications if there are any delays in their appointment journey. Waits or delays are inconvenient, but boosting awareness of the situation might help people accept the changes.
As a result, clients can predict and rest their real wait time. Annoyance and unhappiness among customers will reduce as well.
Direct Customers to the Right Counter
Customers will have a lot better experience at huge stores if they know which line to join and where the customer support desk is. However, client experiences and pleasure with your business will suffer if they have to make multiple efforts to achieve services.
You can simply direct customers to the correct queueing. Also, it will enhance business productivity by using digital signs in or around the store. Furthermore, data on digital screens is much easier to show than static banners or posters. Thanks to digital signage, such content increases sales by convincing customers to make purchases. Hence, with reduced queueing pressure, digital signage data on displays encourage customers to buy more. Overall, digital queue management streamlines operations. This makes it simple for both organizations and customers to remain at ease.
Additionally, if individuals know they're in the appropriate line, are less likely to have a bad queuing experience. Thus, the estimated wait times will be shorter.
Entertains and Engages Customer
Organizations can use digital signage to advertise information or events that entertain and engage customers, reducing wait times. Of course, customers in line are an active audience who seems happy and ready to view the visual content.
Multimedia information can keep customers engaged and occupied. For example, provide the information relevant to products, new item launches, upcoming sales, and so on. Therefore, the length of the queue and the boredom of waiting will decrease.
Boosts Staff Efficiency
Customers are informed of their queue positions and counter availability with digital signage. They do not need to contact representatives to identify and resolve their complaints. This is because all the information is available on digital screens.
Putting ticketing status and other information on digital screens reduces wait times and allows employees to focus on their core responsibilities. Staff at the counter can deliver better and faster customer service by eliminating queue distractions and disruptions. Thus, it will assist them to deliver exceptional customer waiting experiences.
Efficient Advertising
Queue management systems become more useful to enhance the customer's waiting experience and convey brand messages with digital signage. The relevant information can be shown on digital signs. Special deals and QR codes can drive customers to the appropriate counter. Also, new product launches and other factors can all influence consumer engagement and actions.
Summing Up
The use of digital signage has the opportunity to significantly boost the consumer The use of digital signage has the opportunity to significantly boost the consumer experience. From improving the efficiency of client interactions with the business to providing easy instructions that enhance the queuing experience, there are a variety of ways to improve the customer experience.
Thus, if you want to control queues as people enter the building, choose digital signage as the solution for your company.
Awebstar queue management system is the most reliable and automatic queue management software available. It ensures a reduction in customer wait times. It also boosts company revenue and employee productivity. Our industry-leading virtual queuing solution assists in digital queue management, the control of vital client data, online bookings, and the better management of crowds. In addition, to provide a better customer experience, we integrate our queuing software with digital signage. So, if you're having trouble regulating your audience on your premises, simply contact Awebstar.