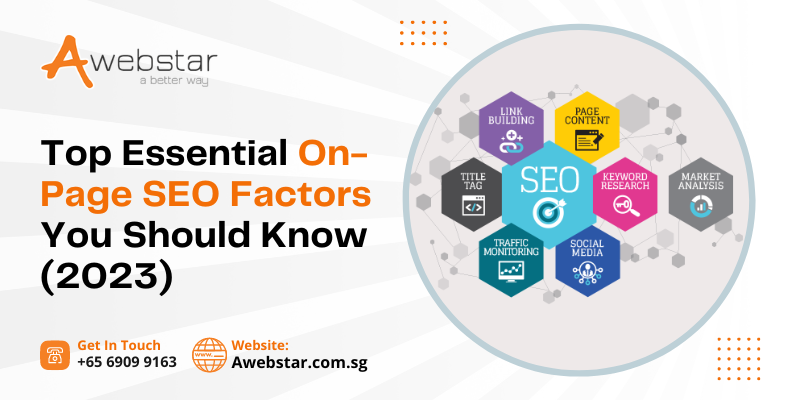 Top Essential On-Page SEO Factors You Should Know (2023)
Every business aims for great organic traffic and a higher ranking on search engines. Achieving so is easy and can be accomplished with on-page SEO. It is the practice of optimizing a website's essential factors or elements for users and search engines. These factors or elements are techniques including image and heading optimization, internal linking, wise and strategic keyword placement, and many more.
Search engines look at a website's on-page factors for providing relevant search results for a user's query. As a result, when your website elements are best optimized, you get a step closer to a higher ranking on search engines. Performing on-page search engine optimization is easy and requires minimal effort. It is a great investment for every business to attract new visitors and convert them into prospective customers.
Let's dive into detail and discuss the 10 on-page SEO factors. Understanding and optimizing accordingly will promote your website's placement higher in the search results.
10 Important On-Page SEO Factors In 2023 You Should Know:
Content Quality:
Website content is crucial information about what products and services your business offers. It is one of the most important website elements and the heart of on-page SEO. When a user gets to your website, the first thing a user looks at is the content to best understand the quality of your offering. Good quality content is vital for encouraging engagement with users and leads conversions. Additionally, it includes information that is relevant, accurate, easy to understand, useful, and, most importantly, authentic. Authentic content has always been and will be considered one of the ranking factors by Google in 2023 and the upcoming years. Writing and posting authentic content is the best way to communicate your business values to readers and search engines. The forms of publishing content are boundless. These include posting website blogs, articles, services description, and many more. Always remember to publish content that is of adequate length and easily readable to win readers' hearts.
Keyword Research And Placement:
Keyword research is a practice done by top SEO services agency experts of businesses to find the best search terms. The search terms include words or phrases of words that users use to make queries on the search engines. The queries that users search on Google are encouraged to get quality information for enormous queries. These queries can be about products or services that users are looking for or can be of general interest as well. Additionally, this will help analyze and find the keywords that are best used by your target audience. As a result, allowing businesses to provide valuable insight into users' queries.
Researching and selecting the best keywords is great but the placement of the same is vital for search ranking. Place the best-selected keywords strategically throughout your website content to let search engines properly index your website. As a result, it will enable search engines to provide super-fast responses to a user's query. Furthermore, increasing the chances of your website ranking better in the search results.
Title Tags & Meta Descriptions:
The importance of keyword research and placement has already been discussed. Now, it's time to know about the places to integrate your best-selected keyword's among the website content strategically. The prominent place for placing targeted keywords are title tags and meta tags. Let's first discuss the title tags:

Title Tags:

Title tags are one of the most important factors of on-page SEO. It guides both the users and search engines about the best information they can get on the corresponding web pages. In addition to adding a keyword in title tags, encompass the following things mentioned below to encourage more visitors to click on your webpage:
>Do not use all caps.
>Avoid integrating too many keywords.
>Numbers in title tags look appealing and convey value.
>Keep it within the optimal limit of 60 characters or less.
>Integrate focus keywords naturally on every web page in the title.

Meta Descriptions:

A meta description is the summary of your webpage and is one of the critical components for on-page SEO success. These short page descriptions appear under the title on the search engine. Additionally, a good meta description is the best way of influencing and encouraging search engine visitors to click on your webpage. Let us see what all elements make a good meta description:
>Highly avoid alphanumeric series.
>Use compelling sentences to draw the user's attention.
>Integrate a keyword phrase or the entire keyword phrase.
>Keep the characters of your meta description under the limit of 160.
Heading Optimization:
Heading optimization is vital to make your website content effective and actionable. These are also known as body tags and refer to the HTML elements including <H1>, <H2>, <H3>, <H4>, and so on. These body tags organize website content for readers and enable search engines to distinguish what content part is crucial and relevant. Ideally, the best place to integrate keywords in headers is at least two headers of the web page.
Image Alt-text:
Image alt-text, commonly known as alt descriptions and alt tags. This can be best understood as SEO of the images on your website. Alt descriptions tell search engines what your images are precisely about. Today, search engines aim to deliver image results more than text results. This is because visuals gain visitors' sight as they are easy to understand and depicts understanding of users' query better. Keep these things in mind when adding alt text to your images.
>It should be specific and descriptive.
>Ensure to keep it to less than 125 characters.
>Do not stuff keywords. Integrate only the relevant ones.
Internal Linking:
Internal links establish a hierarchy on your website, connecting the content of one webpage with the others. It is a crucial on-page SEO factor as it encompasses Google with the idea of your website structure. With a solid internal linking strategy, your business can guide search engines on which website content is most informative and valuable. As a result, both your users and Google will better understand your website, which in turn, will increase your website ranking.
We all are aware that search engine rank algorithms are constantly changing with the growing competition online. What could be next cannot be precisely determined. Linking your website's informative and relevant content effectively will get your business to stand out in the search results from the competition.
Slug optimization:
The best and most result-oriented slug optimization are mentioned below:
>Keep the URLs short.
>Use lowercase characters only.
>Integrate keywords you are aiming to rank at.
>Make use of dashes to separate words in a slug.
Image Optimization:
Images on the website are one of the best ways for providing valuable insights to new visitors and prospective customers. Posting engaging images of great quality, appealing, and, are easily accessible is great for attracting a large amount of audience. Doing so, is great but optimizing visuals is also vital for quick website loading speed and boosting search ranking. Image optimization is simple and can be done together with posting the best-quality images and following the best optimization ways. These ways include:
-Using a good alt tag.
-Considering file name optimization.
-Saving images in an appropriate format.
-Selecting the right compression rate to maintain the quality.
Mobile-Friendliness:
Undoubtedly, businesses can not compromise on this on-page SEO element in 2023 and beyond. The rise in the usage of smartphone devices for accomplishing everyday tasks is undeniable. We all use our smartphones even for accomplishing a tiny task. This is because today's generation and the upcoming ones will rely on smartphones for connecting to the social world. As a result, making your website smartphone compatible is crucial to avoid missing out on a large audience.
There are various factors to consider when optimizing your website for smartphones. Some of them include proper visibility on different-sized smartphone screens, loading speed, and many more. Get your website's smartphone optimization checklist ready and get started. You can also select the best and most affordable SEO services from your end to not miss out on this element. Doing so, will not only optimize your website for smartphones but also get you to stay updated with the upcoming optimization trends.
Website Loading Speed:
Google has always and will keep aiming to provide the best user experience as its top priority. Your website can be viewed on enormous technological gadgets including smartphones, desktops, and tablets. Ensuring the website's loading speed is quick and optimized best from your end is vital for a great user experience.
In addition, the best user experience facilitates great lead conversions contributing to improving the overall ROI of your business. Ensure that the website loads quickly and all the elements on the website are properly visible on enormous gadgets. As a result, it will provide the best engagement with building the user experience better.
Summing Up:
This was all about the vital elements of on-page search engine optimization. Understanding and implementing these into your website will bring you a better website placement in search engines. Do not worry about getting stuck in between. Get started first and even if you get stuck in between, we're here at your convenience to help. Awebstar Technologies is one of the best SEO company leading in the market providing result-oriented search engine optimization services. The experienced experts will get all your queries answered, helping to get along with search engine optimization with ease.