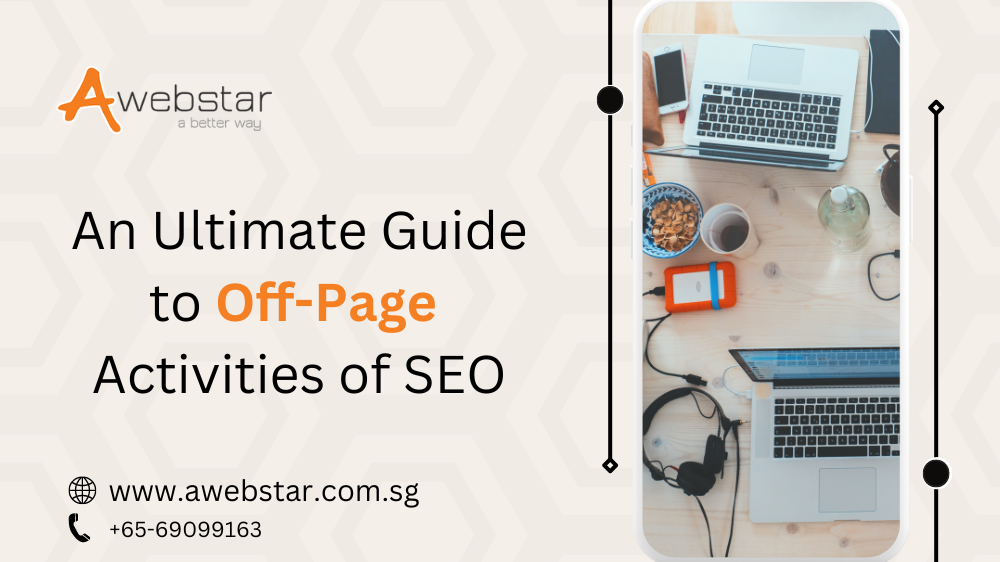 An Ultimate Guide to Off-Page Activities of SEO
Off-page SEO is the process of optimization and link building that increases the amount of traffic, clicks, and conversions from organic sources (such as search engine users, social media users, and physical location). It means that you need to optimize your website so that it can attract more visitors from social media platforms and increase the number of people who visit your site from search results. There are many ways of learning off-page SEO and even enormous companies offering SEO services for website rankings are available in the market. But first, know what is off-page SEO.
Such a technique helps increase your website's visibility in search engines by increasing its popularity on the web. In simple words, it is a broad term that refers to all activities that you can do to increase your website's ranking in search engines.
You can get some quality backlinks by writing an article about a product or service which has been used by someone else to draw attention towards. It also includes strategies such as link building, social media marketing, and even technical SEO.
So, if you are now ready, we will go through everything you must be aware of off-page SEO.
Why Are Off-Page SEO Activities Important?
Off-page SEO activities are not only about ranking a website in search engines like Google and Bing. They also help in building a good reputation for your business. Off-page SEO will help you in getting higher rankings in both local and international search engines.
Effective Off-Page SEO Strategies That Work
To do this, you need to create content that is high quality, useful for your target audience, and relevant to their needs. This content should be shared on various social media platforms like Facebook, Twitter, Pinterest, Instagram, etc. It will assure that it gets seen by people who are interested in what you are offering or selling on your website.
Backlinks Help Boost Off-Page SEO Efforts
Link building is not a thing of the past. It is still trending and acts as an essential part of SEO tactics. However, only doing it right can benefit the business niche and website. Ensure you backlink the sites with high-quality DA. It will help rank the site and gather votes of trust. Further, keep in mind the below-given metrics.
Ensure Niche Relevance: Always focus on getting links via websites aligned to your business niche. For instance, you own a beauty business site. You must aim to earn links that come from other beauty venture websites. It will ensure authority and make sense.
Link Authority for Improved Website Reputation: The Authority Score metric defines the website's overall quality grades. Also, it depicts the backlink effectiveness obtained from a site. The scoring depends on the following factors. So, make sure to keep these in mind when creating backlinks.
The authority and quantity of the domains.
Quantity of Referral IPs.
Difference between do-follow and no-follow links3
Produce Brand Signals
You might be aware that Google appreciates and rewards brands. However, it depends on how much effort you put into brand building. Again, it is about building an authorized online presence among search engines and users. But what SEO strategy and metrics do you need to implement for effective brand building?
Here, increasing brand searches is vital. You can either focus on raising the searches for your brand name and offerings, or also on the domain name. Besides, focusing on improving brand SERPs is also essential. Do you know why? Having a good reputation is not sufficient. A strong SEO in place helps Google understand your business credibility. As a result, Off-Page SEO comes as the help.
Content Marketing Can Not Be Understated
Many marketers or businesses think content marketing is an on-page SEO tactic including content creation and publishing on the website. However, you need to know that content marketing is purposeful and helpful for both on-page and off-page SEO.
So, publish informative and quality content on your business website. Submit guest posts, create infographics, etc., and link them to newspapers or case studies. Ensure, the copies you make help promote your brand, engage readers, and motivate users to share them as well. Some other best tactics to boost off-page efforts are whitepapers, case studies, blogs, PR, eBooks, research papers, etc.
In simple terms, Inform people about your valuable information.
Influencer Marketing is Effective
Influencer outreach is all about YouTube and Instagram. It is a great way to build the brand, create engaging content, and connect with wider audiences. Here, collaborating with the influencers is the ideal way to ensure your brand is represented on the platforms like TikTok, Instagram, etc.
So, you can connect with an authorized marketer who can represent your business. But make sure you do not use this marketing tactic to build links. As it may act against violating Google Webmaster's Policies.
Guest Posting
Guest posting is about publishing content on a third-party site to deliver valuable information to the audience.
Utilize guest posting as your Off-Page SEO strategy for link building. It will help to rank your site for the targeted audience searches. Furthermore, it will increase the potential traffic and help the site stay on top of SERPs in the relevant niche.
Having all such metrics in your mind will help you get valuable results. Also, do remember that you use guest posting for not only getting the links. Make the additional benefits it comes with.
Gather Informative and Positive Reviews
The brand's online presence and reputation are vital. Here comes another effective Off-Page SEO strategy. When the right reviews are collected and efficiently used for promotion, it can better help build brand trust among search engines and users.
In simple terms, having positive and influential reviews helps increase conversions and customer trust.
Conclusion
A lot of people are not aware that off-page SEO is an important aspect of Search Engine Optimization (SEO). Off-page search engine optimization can be used as an effective tool to improve sales or get more traffic to your website without using any paid ads or pay-per-click (PPC) campaigns. It can further help to attract more audience to your site through social media platforms like Facebook, Twitter, Instagram, and LinkedIn. In addition, creating content, performing social media marketing, and technical SEO can help improve site performance and boost traffic.
You can also hire the experts of Awebstar Technologies, the renowned SEO agency in Singapore that has been helping businesses meet their digital objectives. Our search engine optimization specialists have the skills and expertise in place to execute effective Off-Page SEO metrics and help clients improve all the business site performance aspects.