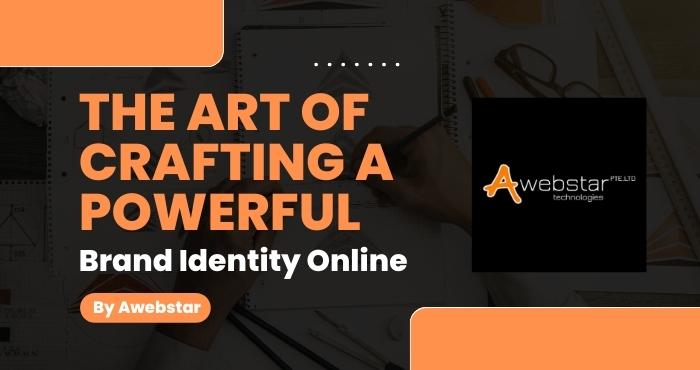 The Art of Crafting a Powerful Brand Identity Online
In the present scenario, when everything is easily accessible with the introduction of digital techniques, a powerful brand identity matters a lot. Considerably, your brand image is the face of your business and the essence of your identity.
Furthermore, it acts as a catalyst that links you with your audience in the vast world of the internet. It is technically about the creation of a compelling description directly aligning with your target audience.
In this blog post, we will hunt through the art of building a robust brand image that would have the capacity to shine in the online domain. We will focus on some powerful strategies that would help you to establish a distinctive identity online. This would certainly help you to gain a loyal following believing in your brand.
Come along on this thrilling journey as we unfold the secrets of a powerful brand creation in the digital age. Let's begin enthusiastically!!
Key Steps and Considerations for Crafting a Compelling Brand Identity
This section of the write-up will focus on the various key considerations of crafting a strong brand identity. So, let us unwrap these together below!!
Understanding Brand Identity
The face and personality of your business are undoubtedly represented by the brand identity. It is indeed the visual and emotional representation that customers connect with. This identity ideally consists of various visual elements like logos and colours, the tone of your communication and your core values.
Additionally, it consists of a deep understanding of your target audience. Thus, aligning all these components beautifully would result in the creation of a memorable & impactful impression, establishing trust & a long-lasting connection with your audience.
Research and Analysis
These components provide the necessary direction and insights that are required to shape your brand effectively. You shall be able to gain a comprehensive view of your industry through proper market research.
Subsequently, competitor analysis sharpens your understanding of your brand's unique positioning. A deep understanding of your target market allows you to speak directly to the audience's expectations and requirements.
The essence of your Brand Identity: Design
Designing an attractive face for your brand involves creating a memorable visual identity. It is distinctively that part of your website that your audience first captures and keeps in mind. It generally involves crafting a unique logo, packaging, website design and choosing the right fonts, colours and images for social media logos.
Typography
This consists of the type of font or style you pick for your branding materials. Hence, it is highly necessary to select the fonts for your logo and corporate fonts with utmost care.
Colour Palette
It is distinctively about selecting a set of colours conveying the right emotions and associations. For instance vibrant red signifies passion or a calming blue indicates trust. Every individual colour in your palette has a significant role in how your audience perceives your brand.
Thus, reinforcing your brand's identity in the minds of your audience creating a memorable visual experience. So, choose wisely as they display your brand across various digital platforms.
Shapes
The shapes you include convey subtle messages to your audience whereas fonts can invoke feelings of modernity, tradition and playfulness. Overall, shapes can suggest stability, innovation and creativity. Thus, establish a visual identity that is easily recognisable thus reinforcing your brand's personality. So, select them carefully to display your brand's unique story.
Therefore, it is important to establish style guidelines as it is the reflection of your brand's personality and values. Additionally, it is the visual language that communicates your objectives and perspectives. Hence, attention to detail and a keen eye for design are your partners in creating a brand identity.
Crafting Your Brand's Voice
The tone, style and personality of your communication make or break your brand's voice. It is the way you interact with your audience and it is a relevant element in the creation of a compelling brand identity.
It is highly mandatory to emphasise the voice as it must align with your brand's values and align with your target audience. The foundation of trust and recognition is consistency in messaging. Crafting your brand's voice demands a selection of the right words and ensuring your messaging aligns with your brand's mission and vision.
Consistency Across Platforms
Maintenance of a consistent brand presence across various platforms is critically important. Your target audience must experience a coordinated and recognizable brand identity when they visit your website.
Even when they are interacting with you on social media or reading your emails there should be an even tone in your communication. It further extends to visual elements and messaging that would definitely ensure uniformity in your brand's presentation. In this way, you will be able to convey reliability and professionalism.
Engaging with Your Audience
An essential aspect of crafting a compelling brand identity is productive engagement with your audience. You must actively connect with your customers as it is of no use to a polished image if its purpose is not fulfilled.
Engaging means listening to their feedback, responding promptly and establishing a sense of commitment. You can create interactive experiences by encouraging user-generated content and showcasing real customer stories. You can definitely transform your brand identity from a static concept into a dynamic relationship by genuinely engaging with your audience.
Measuring and Adapting
It is indeed a never-ending process to craft a compelling brand identity. Measure your brand's performance via key performance indicators to analyse data and feedback. It would help you to gain the effectiveness of your branding efforts.
Once you identify areas for improvement or shifts in audience preferences you can adapt accordingly. An inclination towards evolving and refining your brand identity ensures that it remains relevant and resonant.
Working with Professionals
A complex task like crafting a compelling brand identity can be a complex task so it must be left to the experts. Collaboration with professional designers, marketers and branding consultants can provide invaluable insights and guidance.
These experts bring a wealth of experience and industry knowledge while also helping you navigate the intricate world of brand development. They can elevate your brand identity to new dimensions by shaping a powerful brand message and designing an attractive logo.
Establishing a Strong Brand Image
The process of crafting a consistent and memorable image that aligns perfectly with your target market must take into account various factors. These include your brand's values, personality and uniqueness.
Every single element ranging from logo to your messaging must work together to leave a lasting impression. A strong brand image builds trust, loyalty and belongingness among your customers. Thus, it differentiates your brand from a crowded digital world.
Conclusion
If you too are one of those wondering How to build a brand then this blog post will solve your every query. Creating a brand identity is not everyone's game, can be tedious and moreover time-consuming. The right strategies discussed in this post if applied carefully with the guidance of professionals can do wonders.
Awebstar Technologies is one such renowned logo designing company in singapore that help with creating your Brand's identity. The experts associated with this brand hold your hand in the beginning itself to guide you through the consequences of the whole process. Their expertise assists you in the completion of your next customised high-resolution logo design project. 
Therefore, invest in a renowned logo design agency to take your online presence to the next level.