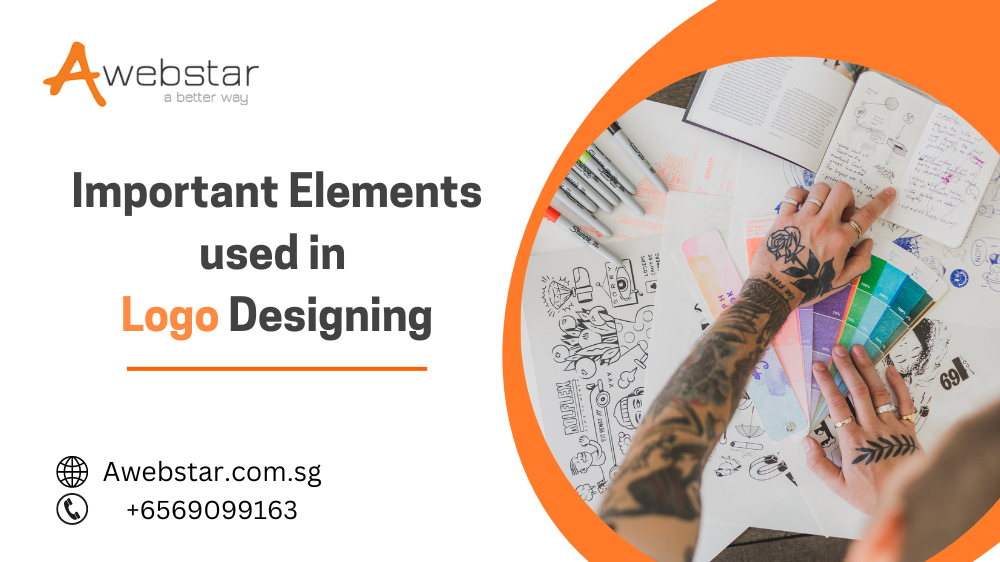 Important Elements of Effective Logo Designing
In today's highly competitive business world having a prominent and distinct brand logo is potent for business growth. A logo is the visual representation of your brand. Do you know according to consumer opinion statistics, 75% of people recognize a brand by its logo? That's huge!! Isn't it? The logo design of a brand has a massive impact on the success of your business.
Whether you have a full-fledged business, a startup, or want to take your business to the next level. Getting a logo designed for your business will get your target audience to recognize you. But, various elements need to be considered for an attractive and appealing logo design. An effective logo design will attract a large number of the target audience. Whereas, bad and unappealing logo design will have adverse impacts on the growth of your business leading to poor ROI. Even the smallest and most silly mistake in logo design will degrade your market position.
This blog article demonstrates the various elements used in logo designing techniques. Let us dive deeper into the topic to discover the 06 crucial elements in Logo Designing and understand the importance of a logo for business sustainability and growth:
06 Important Fundamental Elements In Logo Design:

1. Your Brand's Logo Should Be Simple:
People strive for two things in a logo design- simplicity and clarity. Great logo design is born out of these two things. Your logo design reflects your brand's values and personality and most importantly creates a strong first impression. A complex logo design often confuses the audience making it difficult to understand what your brand conveys. So, when you're approaching to get a logo designed for your brand, it is crucial that the logo design is simple, streamlined, conveys professionalism, provides assurance to the public, and is easily memorable and recognizable.
2. Your Brand's Logo Should Be Unique:
With thousands and thousands of brand logos, making your brand logo distinguish from the clutter and crowd is crucial. Brands like BMW, Mercedes, Starbucks, Rolls Royce, Lamborghini, and Jaguar have different and unique logs. These are a few of the names of famous brands. The audience recognizes the brand with its unique elements. Ensure that your logo design is unique and distinctively yours, to set your brand apart from the competition.
3. Your Brand's Logo Should Be Memorable:
So, how do you identify a brand? You will agree that brands with simple and easily recognizable logos are often memorable. The visual designs, colour, font, and style make it easy to identify a brand from the crowd.
The world's most famous and successful brands have extremely memorable logos. Think about the Apple logo, people recognize it by bitten apple image. Also, McDonald's golden arches. Furthermore, to capture the attention of a large audience, ensure that the graphical representation connects with your brand. A well-designed logo will enable the audience to identify the brand from a distance without any prompts.
4. Your Brand's Logo Should Be Versatile:
Every brand should make sure that its logo designs are highly versatile. That means the design of a logo should adapt itself to all the ways where it needs to be presented. Whether you have a traditional business or a digital one, marketing a brand in today's competitive social-media era is crucial. Irrespective of the business scale, owners envision their brand on banners, pens, keychains, various products, and many t-shirts as well. Digital businesses make use of websites, social media channels, brochures, and business cards. A rigid logo design will make it difficult to do branding. So, it is important to make sure that your logo design is versatile to adapt itself accordingly.
5. Your Brand's Logo Should Be Relevant:
One of the famous sayings is "Logo Design is the silent ambassador of your brand." This means a logo design should be relevant to your brand. Also, should deliver a clear and structured message about what it provides- service, product, and in value. A logo design is much beyond just a graphical representation of your brand. Relevant design is purposeful and targets the right target audience. It should represent your brand to some extent to get the audience to know it is your brand. Consider the following example – Successful brands Nike, McDonald's, and Burger King are easily recognized by the audience because these logos represent these brands.
You have a startup and want a high-resolution logo designed for your company that represents your brand. Contact the best result-oriented logo designing agency.
6. Your Brand's Logo Should Be Modern:
Even the most popular, unique, and famous logo design gets outdated with evolving technology, trends, and typefaces. Trends are changing continuously concerning time. Another crucial element of a logo design is ensuring a modern logo for your brand. With evolving trends, logo design gets outdated which significantly affects brand identity. The outdated design makes it hard to attract the target audience, potentially influencing the success of a business. Furthermore, to mark a place in the constantly evolving modern world, upgrade your logo design according to the trends and forecasts.
Summing Up:
Your logo design will ultimately have a positive impact on the success of your brand. A high-resolution and appealing logo design will get your brand to stand ahead of the competition. With the best logo design, your brand will communicate brand values and get an impactful, and positive audience response.
Want to get a professional and creative logo design for your brand? Awebstar Technologies is one of the top-ranked logo-designing companie that will design an impactful logo for your brand. Their team has professional logo designers who will get you the ultimate unique and modern logo designed for your brand.
Is your logo design outdated? Are you in urgent need of updating your logo? Do not worry!!
Get their assistance and get yourself customized with a unique logo.
Go Now!!