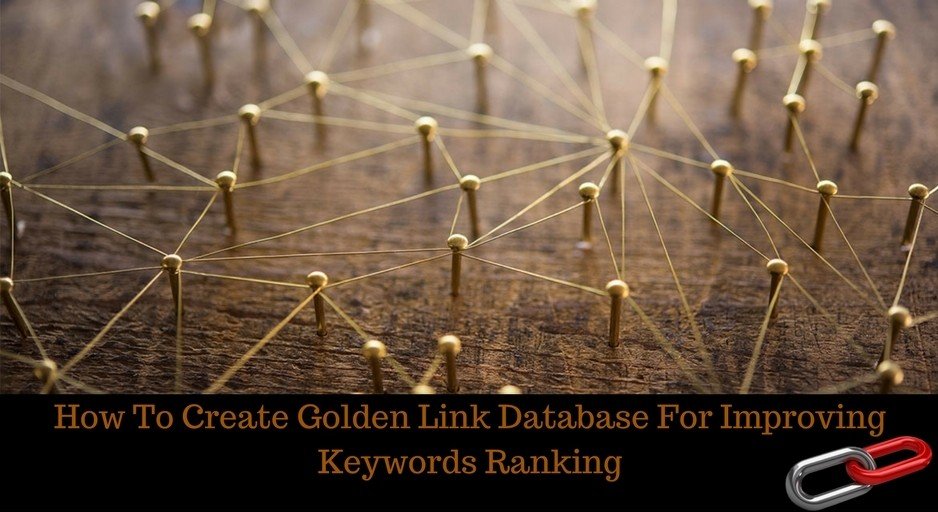 How to Create Golden Link Database for Improving Keywords Ranking
Anyone, who is the web-based business, uses a number of strategies to generate traffic to his/her website, convert them into leads, and make lots of revenues. It is the source of their bread and butter. The majority of SEO professionals use free ways to generate traffic to websites.
To improve the ranking of websites in Google & other emerging search engines, you need to build an excellent base of backlinks to your website. The quality, relevance, and quantity of those links help Google to give more importance to your website and show them in search results. So, what are the main link building strategies? Let's discuss and know.
Create Links in Database to Improve Keyword Ranking
Create High-quality Content as Per User's Expectations 
In the web-based business, the availability of fresh, SEO-optimized, fact-filled and informative content matters a lot. A website with plenty of user-centric content can perform well in the SERP of Google. On the other hand, websites having low-quality content is disliked by Google and their ranking in its SERP often remains low.
Consider some facts that show the huge importance of high-quality content:
92% of all social media users trust the content shared on social media websites and frequently browse the recommended sites,
20% of all online shoppers make instant purchasing decisions after reading reviews,
35% of all UGC (user-generated content) helps you in your SEO efforts and you become able to
create more leads,
More than 50% of all visitors trust the content available on high-authority blogs, websites, and social forums.
So, know the user's expectations (when it comes to content) and write high-quality materials. Your content should be interesting to the reader and must help you to achieve your business goals. Just have an editorial calendar describing goals, topics, and keywords and work accordingly. Write at least one content a day in the below-mentioned format:
Introduction + Annotation
Main part – Explain the thing you have outlined in the introduction.
Completion – Summarize the content and draw a conclusion.
Call to action – Tell the reader what to do next, such as purchasing a premium E-product, sharing the content on different social media channels, comment submission, etc.
Once you get the quality content, you can intensify your link building strategies.
Guest Blogging 
Guest Blogging is one of the most important ways of getting quality backlinks to your website. A lot of bloggers and SEO professionals use this technique the achieve goals of the web-based business. In plain words, Guest blogging is a process of getting the content published on other's websites/blogs and receive backlinks to your site. It helps to get free traffic to websites and obtain new subscribers. Your web-based business makes a big leap if you maintain continuity in the Guest blogging.
See the key Steps of Guest Blogging
| | |
| --- | --- |
| Key Steps of Guest Blogging | Brief Description |
| To find the high-authority website and blog owners who accept high-quality articles from Guest Bloggers | Search on the Google and test the DA of websites. Choose websites/blogs that have the minimum DA score of 50 or above. |
| Discuss the content requirements in detail | Some website owners demand a certain amount to publish your content. If you can afford that price, go ahead. If not, look for those site owners who publish Guest blogging content free of cost with a promise to provide dofollow links to your website/blog. |
| Write high-quality content and review it strictly at least 3 times. | It eliminates the chances of errors in your content and improves the chances of approval by the blog/website owner. |
| Content Publication | You get a dofollow (or more) link to your website and the publisher updates his/her website with your free content. |
| Content Rejection | The blogger reserves the right to reject your content because of its low-quality, delayed availability of the content after the initial request, etc. Ask the reason for content rejection and work on that. That are good chances that your content will be published by the blogger. |
Submit Comments on other's Blog with Your Link
Blog commenting is a process of submitting relevant comments on other's blog while reacting a particular post. It is an old SEO tactic, but very effective if you are looking for additional backlinks to your website.
As a website/blog owner, you should submit comments on other's blog under your niche. Make valid comments and leave at least one link of your website or popular posts. Visitors come across your link and click it to get more info if they are interested.
It helps you to increase the visibility of your own blog or site, get more links, and acquire more subscribers. Don't submit Spam Comment on blogs as it might ruin your brand's reputation in the eyes of visitors. Displeased visitors will always avoid browsing your website.
Be Active on Question-Answer Websites 
Even today, a large number of people search information on the web in Question-Answer format. For this, Google seeks good pages from prominent Question-Answer forums and display them in search results. Your website can also perform well in Google search results if it has a solid presence of Q-A websites.
So, leave your comfort zone and be active on leading Q-A websites. Give answer to the relevant questions posted by visitors and place relevant links of your website there. Request visitors to visit your website for getting more information about a particular topic. It will work as a backlink to your website. If this happens, a huge amount of traffic is diverted to your site or blog, meaning more business opportunities for you.
Social Book marketing 
Social bookmarks are one of the fastest and most convenient ways to get backlinks to your website. It is a process in which SEO professionals bookmark the high-performing content of their website on different social bookmarking websites.
It allows users to read interesting content on different social media channels and take further action if it meets their needs. Website owners get a permanent audience and they can attract new visitors as well. Resources in social bookmarking are quickly indexed by search robots. So, it increases the reference traffic to your website on low-frequency queries.
Internal Linking of Web Pages
While optimizing websites, digital marketing professionals emphasize on the effective implementation of integral linking. In this process, they interlink web-pages of websites with each other. It helps them to bring the bounce rate of the website under control, improve the indexing of web pages, and help visitors to spend more time on the site.
Press Releases
Press releases help a lot when you try to get a quality backlink to your website from reputable sites/blogs. So, from time-to-time, write good press releases about your company, new products/services, important business decisions, etc. Insert a link in the press release that points to your website. Get your press release published on popular Press Release Submission Sites. You get high-quality backlinks to your website, free traffic, more exposure to your brand, etc, absolutely free of cost.
Add Your Website Content to the PDF Directories
Different PDF Directories can also help you to get excellent backlinks to your website. Just convert the useful content of your website into PDF files and share them on famous PDF Submission Sites. A beautifully presented content in the PDF format can float in top search results in the SERP of different search engines even with low-frequency queries. But, you should do it properly in a restricted manner. It is because its excess can greatly dilute your reference profile.
Link Building on Broken Links
Broken links on live websites are one of the main problems faced by almost all website owners. They are displayed as 404 pages (non-existent pages). Such pages irk search engines and users and plummet the credibility of websites.
You should use tools to check the broken links present on websites under your niche. Contact the website owner or admin and inquire if they can replace the broken links of their website with the links of similar content available on your website.
If they agree, get it done as soon as possible. This helps you to get quality backlinks to your website in an easy and effortless way. It also assists website owners (of broken links) to delete 404 links on their site and redirect the user on a new link offering the same high-quality content.
Final Remarks
The above-mentioned link building strategies help you to promote your site and make profits huge profits on a minimal investment. If you don't have free time for link building, please let us know. Our experienced SEO specialists will help you in this regard.