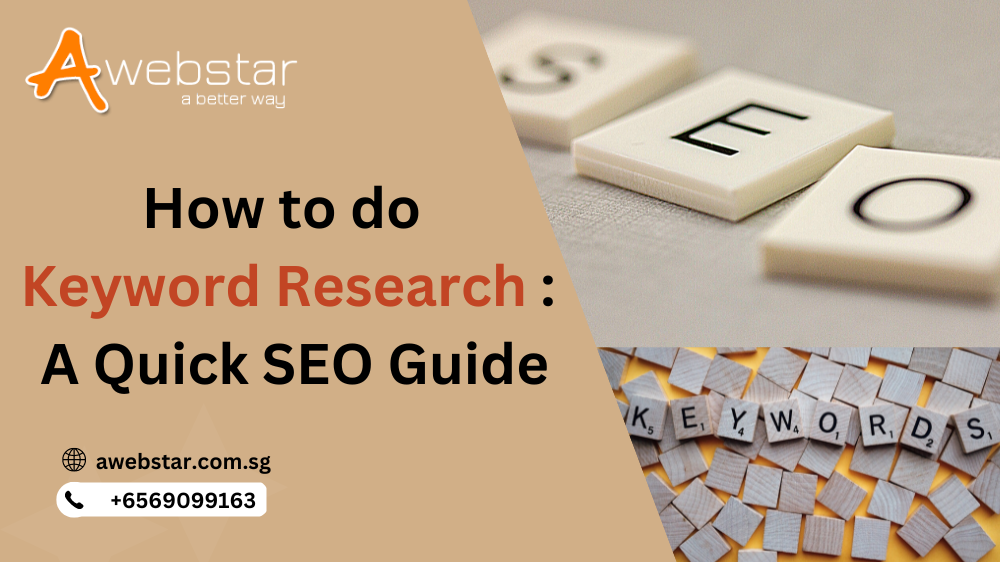 How to Do Keyword Research: A Quick SEO Guide
The one thing that differentiates reputable SEO services from usual ones is the inclusion of keyword research. Keyword research is an essential part of an overall SEO plan. Yes, you can get a lot of things right and make your website visible. But if you don't know what are the most searched terms in the world then all this effort will lead to nothing. That's why it's so important to understand how to do keyword research properly before starting any SEO project.
It is an essential task to be performed to understand your target audience and see the search terms customers are searching for. You need to choose good keywords to reach the target market. Besides, this process includes uncovering the popularity of key phrases or search terms, the ranking challenges, etc. In simple terms, proper keyword research helps to increase online visibility and rank businesses on top of SERPs.
Now, you have understood why keyword research is one of the most important elements in any SEO strategy. Next thing is we will highlight quick and simple tips on how to go about keyword research and make your business grow.
Why Is Keyword Research Important?
Executing thorough keyword research comes with a variety of benefits. Some of these include:
Increase Organic Traffic
Of course, when you determine the keywords suitable to your services, goods, or overall content, your business site ranks well on the SERPs. As a result, organic and sufficient traffic is attracted to the site.
Better Customer Acquisition
If you can provide the relevant information to the users and fulfil their demands, you can ideally take them from the awareness phase to buying. However, this is possible by using the right CTA and embedding the keyword with a higher search volume.
Determine Detailed Marketing Trends
Performing efficient keyword research helps in gaining relevant and in-detailed insights into ongoing marketing trends. All of this assists in designing the content according to the niche and target keywords for which the searches are high.
Tips to Perform Effective Keyword Research
Do you ever wonder why SEO works? The answer is easy. You can learn everything about SEO, but the efforts would not be worthwhile if the right keywords are not targeted. That's why keyword research is so important for the success of your website and business.
Brainstorm Keyword Ideas
One way to do this is to use a keyword tool. It will help you explore numerous keyword ideas based on multiple metrics.
Secondly, you can go with understanding your target audience and what they are searching for. Put yourself in their shoes and identify their wants and what problems they are facing.
Perform a competitor's analysis. Keeping an eye on what approaches the competitors are using, what sort of content they are publishing, and whom they are targeting can be helpful.
Use tools like Google Keyword Planner, Seed Keyword, etc.
Evaluate Keywords
After brainstorming ideas, it comes to choosing the most searched ones that fit your SEO needs. So, the steps include:
Analyze the keyword search volume: The number of searches for all keywords is represented by the search volume. Therefore, if there are more searches for the particular keyword, increased traffic can be expected.
Assess the keyword difficulty: Keyword difficulty metric helps understand how difficult a specific keyword is to rank on the SERPs. Also, it is a fact that keywords with higher search volumes are more challenging to rank. Here, the best way is to target long-tail keywords. This strategy is beneficial in multiple aspects. For example, they have better ranking chances as competition is not much. Plus, they can produce better conversions.
Demonstrate Search Intent
The customer searches for a query in Google hoping they would get the relevant answer.
Here, what you can do is understand the user's intent by thinking about and searching queries according to them. See which of your web pages are doing well for those search terms and if they are relevant to the searched questions.
Keep a note of all the keywords or phrases that match the buyer's intent and begin retargeting them. Also, you can seek assistance from a renowned SEO company that can perform keyword research for you and helps to target the ideal ones. Therefore, ensuring your business achieves organic and increased traffic.
Conclusion
Keyword research can be a tedious process if you're not doing it correctly. You might have come across some of the popular keyword tools, but don't know how to use them effectively. Or you may have discovered the right keywords and don't know which ones to target and how.
For this, you can go with re-evaluating all the good-performing keywords. When you see more and more keywords ranking well, make lists of those to keep up with their current rankings and implement ways to grow their ranks. The best you can do is hire a reputable SEO agency in Singapore like Awebstar. Our various SEO service packages are designed to ensure the business site ranks well on the search engines' result pages. The services include everything from keyword research to selection, mobile site optimization, and so on. All of this fits tailoring to business requirements and boosting the website traffic. Thus, ensuring the business begins to convert viewers into potential consumers.