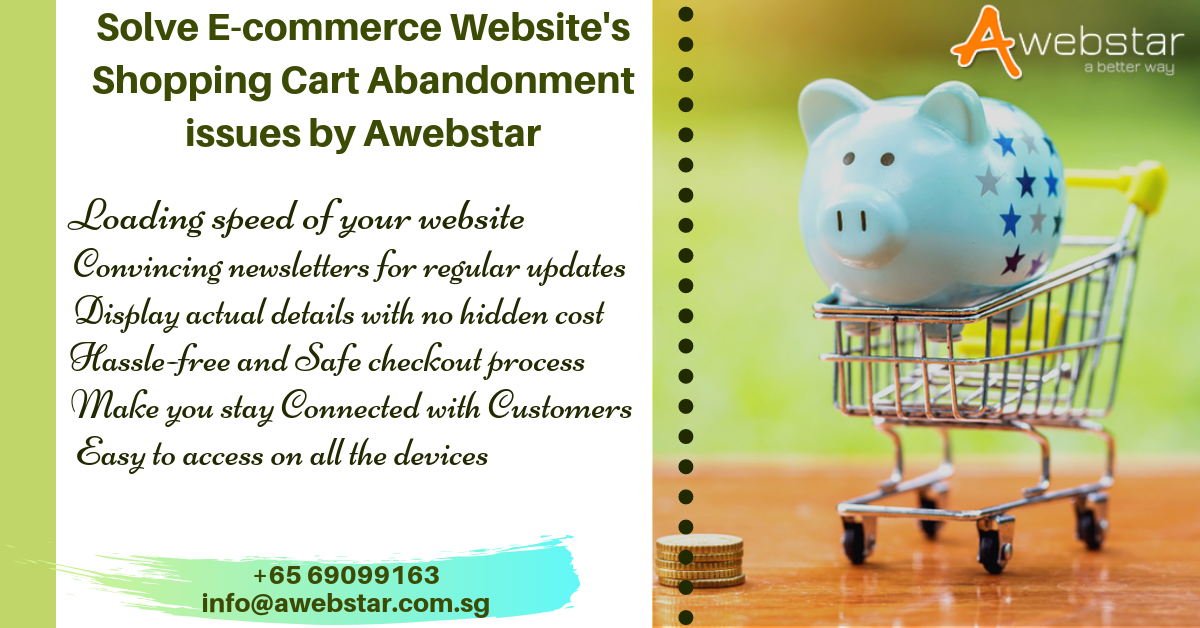 Ways to Solve the Issue of Shopping Cart Abandonment of Ecommerce Website in Singapore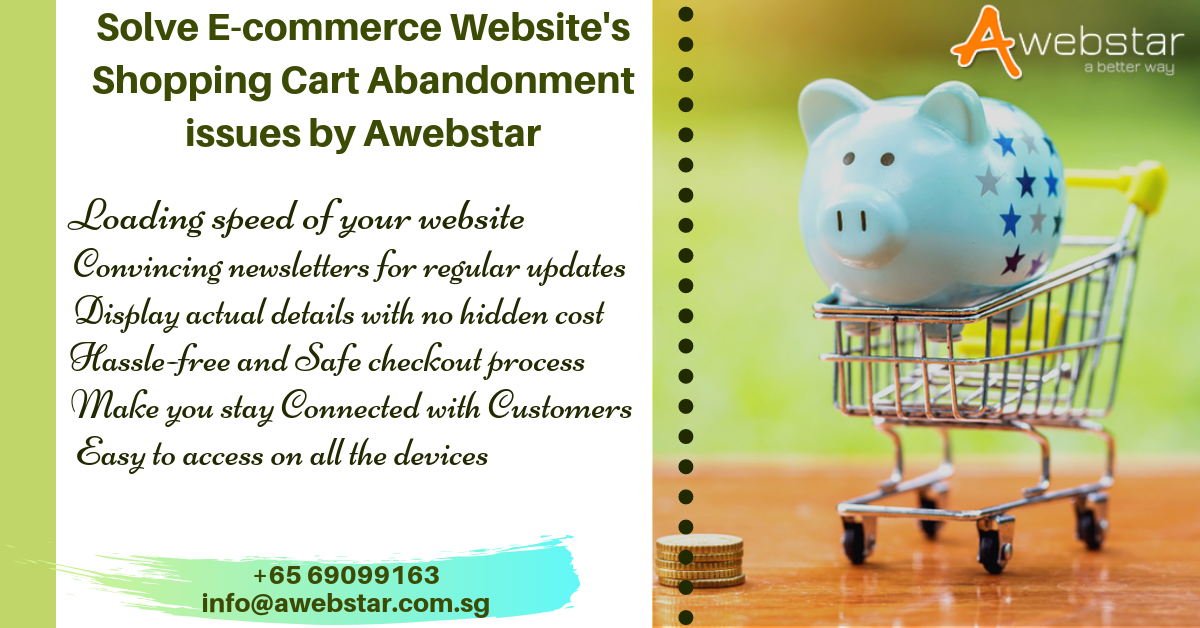 These days, Shopping Cart Abandonment has now become a perennial eCommerce problem. It doesn't matter how correctly optimized your site is, not all consumers will complete the purchase process. Many shoppers come to the eCommerce website, view products, compare prices, add products to the shopping cart and leave immediately without making any transaction.
Always keep in mind that only a few customers land on your website have commercial intentions. It is always worth challenging to influence their preference to make a purchase. Abandoned shopping baskets kill the profitability of all eCommerce business.
Let's discuss
How Awebstar solves the issue of Shopping Cart Abandonment of E-commerce websites?
Let's find out:
1. Remind the Customers About their Abandoned Carts
One of the most effective ways to retain a customer who left an online store without shopping is to send him a reminder letter. Therefore, be active and write convincing newsletters for customers and send them at the right time and with appropriate offers.
You can use specialized Email marketing tools to automate the delivery of newsletters and for customer retention. Use discounts and freebies to encourage customers to come to your website and complete the abandoned transaction as soon as possible.
2. Transparent Information About Cost & Delivery Time
Nobody likes unexpected expenses while purchasing products online, especially when it comes to the product's price & delivery date. Display the actual price of products including all details.
Always keep in mind that buyers don't like to wait for long after placing an order for their favorite products.
Online stores can reduce the rate of shopping cart abandonment by working on these two aspects. All ordered products must reach customers in a maximum of 4 business days.
Choose the Best eCommerce Website Design Company Singapore, for the best web designs needed to implement for the eCommerce store. Investing in a reliable company helps you to strengthen the base of the business.
3. Show Product Availability to Customers
For the buyer, nothing is more disappointing than searching for a product and finding that it is not in stock. You need to inform customers about this on the site. A simple "Currently out of stock" message will be useful.
You can Invite customers to receive an email notification when the product is in stock. Alternatively, you can offer similar items to customers from other brands.
Create a sense of urgency with the buyer when stocks of goods come to an end. All leading eCommerce brands use this technique to trigger mass sales during festive seasons.
4. Simplify the Checkout Process as Far as Possible
There are many customers who refuse to buy products online. It happens because they can't tolerate long and complicated registration/checkout process. In order to make it possible to ease the process of the check-out process.
Ask for only necessary information which is sufficient for selling products, such as name, email address, phone number, date of birth for some categories of goods, shipping address, and bank card details.
Add additional information to the card without making them mandatory. Let your customers know how to complete the order process easier. The checkout process should be easier and hassle-free. Offer guest checkout facility to customers to enable them to make transactions quickly.
5. Offer a Variety of Payment Options
Different people have different preferences when it comes to using a payment channel to purchase products online. They look for options to pay for the purchased products and services.
Allow customers to pay for the purchased products and services through different means such as VISA, MasterCard, American Express, PayPal, COD, mobile payment apps, etc.
Conduct a survey among customers to find out what payment methods they would like to see on your site and act accordingly.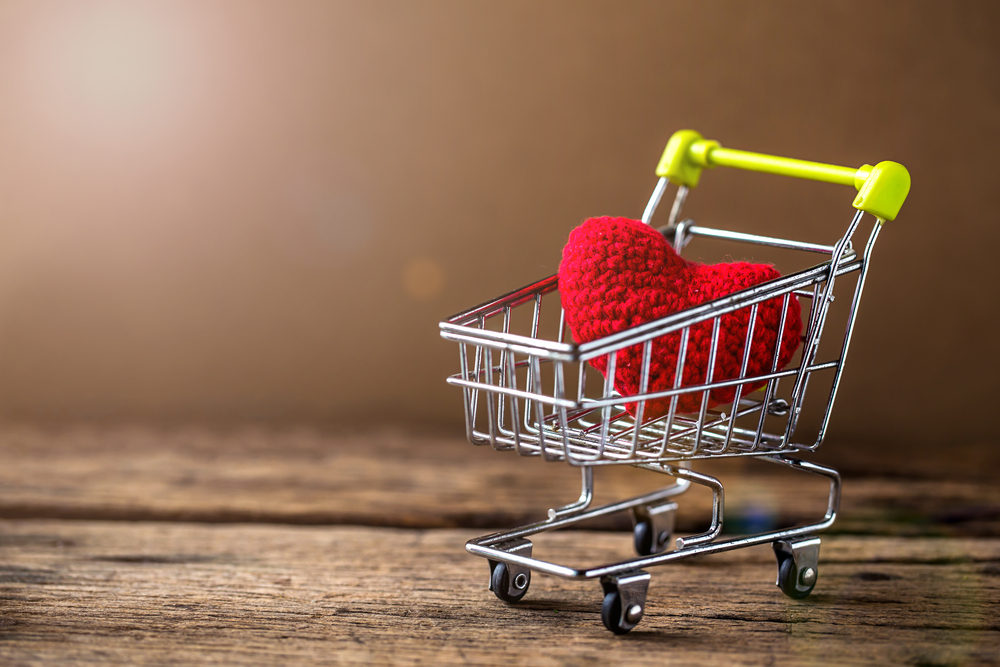 6. Stay Connected with Customers
Customers may encounter problems at any stage of product purchase. The sooner you answer their questions and solve problems, the less likely customers are to leave you. Add a chatbot system to your website. It will help customers to get immediate answers to their questions and make transactions quickly.
You can also check our blog [Digital Tips to Strengthen Your Business Leadership]
Deliver greeting messages to customers on their birthdays, important events of life, public holidays, festivals, etc, to stay in touch with them, make them feel associated with their brand, and generate more sales.
7. Focus on Mobile-friendly Customers service
A large number of online shoppers use mobile devices to purchase products online. Google always loves mobile, responsive websites and displays them in top search results. So, optimize your E-commerce web design with a mobile-first approach.
Make sure that users are able to place orders on mobile devices without facing any error in website display on different mobile devices. Take care of a content length, image size, CTA buttons, icons, pages, and sub-pages.
All these must appear well on mobile devices so that shoppers can make transactions quickly.
8. Speed up Your Ecommerce Website
Website loading speed matters a lot in the eCommerce business. To make a purchase, customers navigate several product pages. So, they expect an eCommerce website or its pages to load quickly on their PC, laptop or mobile devices.
This helps them to make transactions quickly. Slow loading Ecommerce websites or product pages frustrate visitors. They will close the tab and flee away. As per a report, slow loading can increase the shopping cart abandonment rate by 75.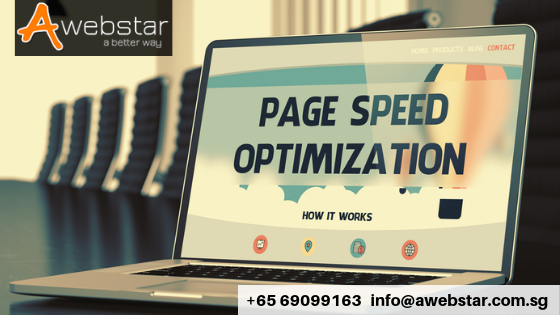 Also, loyalty drops by 50% on your website. You can use PageSpeed Insights to know the exact loading speed of your website or its pages.
Use a good hosting server, a Caching plugin, CDN to make substantial improvements in website loading speed. Delete all unnecessary files to reduce the load on the site's servers and make it load faster on all devices.
Have a conversation with your web designer Singapore to boost the speed of the website and to maintain it though. Once the issue is clear there will be a blast of customers all across the globe, every single day.
9. Ecommerce Website Security
Despite rapid digitalization, still, online shoppers refrain from online shopping because of security concerns. They don't want their data to be captured by cybercriminals and used for their benefit. So, it's your duty to make your eCommerce website safe for use.
First of all, if possible, use only premium plugins on the site. They have excellent security features and functionalities to eliminate cyber attacks on the site.
Attach an SSL certificate to the site to erupt the flow of information and data on your network. You can also use a firewall to stop spamming activities. Make it mandatory for all shoppers to register online or use social media channels to make comments and interact with the audience.
From time-to-time, conduct security audits, find all possible loopholes & fix the problems. A secured Ecommerce website definitely lets users feel safe & they love to make transactions without having any fear in mind.
Final Words
Shopping Cart Abandonment is a situation when buyers start the product purchase process but leave it, all of a sudden without completing the transaction.
A higher rate of Shopping Cart Abandonment is a direct loss to your online business. Just use these methods to combat this problem effectively & sell more products comfortably.
Happy Selling!