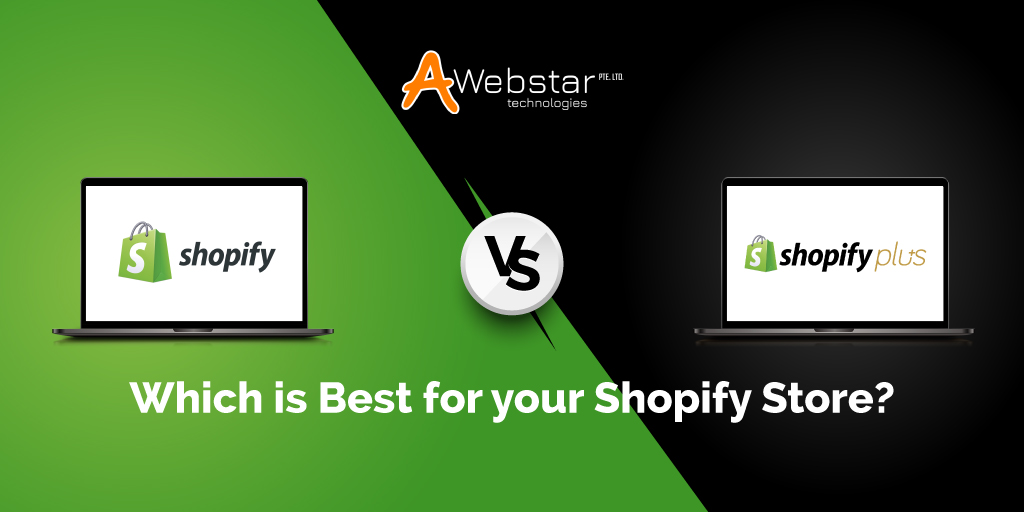 Shopify Plus vs Shopify: Which is best for your Shopify store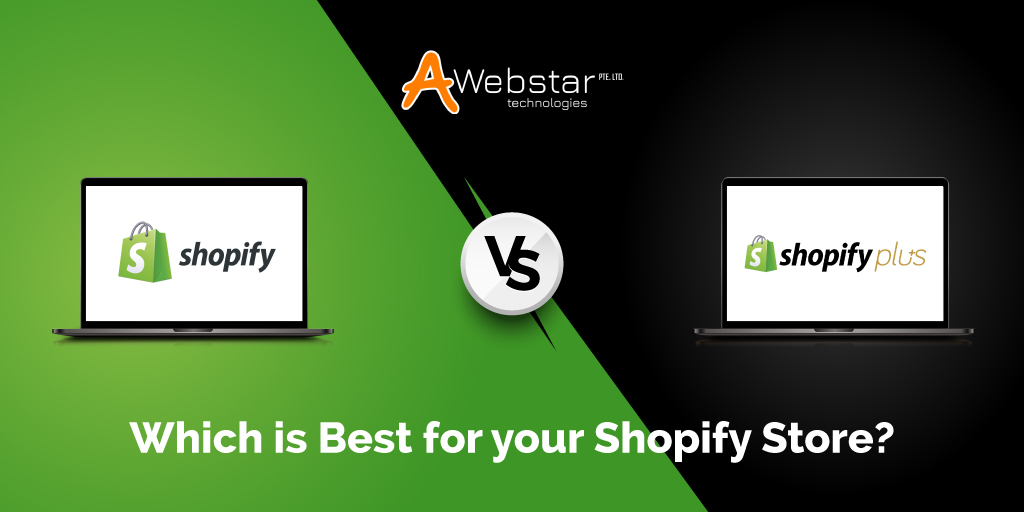 Online shopping has seen a boom recently! The technology-driven strategies are the reason for it. By understanding the customer's demands, outstanding eCommerce web development happened. Hence, capturing visitors' attention and authorizing them to purchase. Collectively, the eCommerce platforms have also gained praise. With so many options out there, Shopify and Shopify Plus are two of those platforms with higher usage rates.  
Assuredly, they hold the features that make them popular. However, the confusion occurs when online businesses consider creating an eCommerce site, but cannot decide which one to use. To clear out this confusion, we are differentiating between the two. Hence, it becomes easy for you to pick that suits your business niche, budget, aims and other important factors.
What Statistics Say About Shopify and Shopify Plus?
Check out the below statistics to know how both of these eCommerce solutions have become the choice for creating online stores:
Shopify is an ideal eCommerce platform that holds 23% of the market share in the US.
Around 1.75 million retailers are selling with Shopify.
The platform has overall sales of $200 billion globally to date.
It has approximately 100 paid and free Shopify themes.
When it is about Shopify plus, then, it has seized 5300+ businesses.
The retailers are generating from $1M to $500M in terms of sales.
What are Shopify and Shopify Plus?
Shopify is a comprehensive and best eCommerce platform for your online store needs. It allows you to create, manage and grow the eCommerce business. Shopify is a subscription-oriented platform that enables web development eCommerce to start selling quickly. Additionally, the solution allows the business person to sell products in physical locations with Shopify POS.
On the other hand, Shopify Plus gives an Enterprise level version of Shopify online store functionality. Hence, it is recommended that every Shopify Plus retailer who is running their business at enterprise-grade should neglect spending extra on something unwanted.
Are Shopify and Shopify Plus different?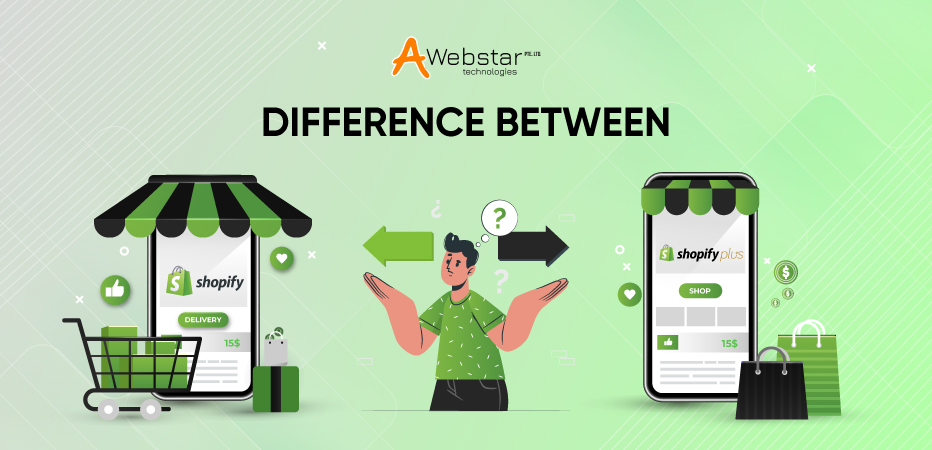 At first, you need to understand that Shopify and Shopify Plus are not varied platforms. Similar technology is used to create them; they include similar themes and deliver the identical interface with the same in-depth functionality. The main difference between Shopify and Shopify Plus revolves around enterprise-level features. And, these can be used only with the Shopify Plus Plan and defined pricing range.
Define the working of Shopify and Shopify Plus?
Both Shopify and Shopify Plus use the exact dashboard, help center and editor for information. Usually, the users get anxious regarding Shopify Plus; the working is not the reason, but what it can perform.
When it comes to Shopify, it presents to you everything for building and customizing the eCommerce website. Shopify Plus is one step ahead. How? For shipping, Shopify gives you live measured rates, flat rates and free shipping for Shopify services. But, for Shopify Plus, there will be authorization for shipping scripts to fix accurate rates. It implies you have to edit the shipping options according to cart content, customer tags or less order value. Briefly, Shopify Plus provides superb control by means of customization and set-up.
What are the different pricing plans of Shopify and Shopify Plus?
Lets' begin with Shopify pricing plans first-it gives several pricing options to pick from considering your store requirements.
It gives three plans for its users;
Basic Shopify – $29/month
Shopify – $79/month
Advanced Shopify – $299/month
With the increased range of plans, you will get additional features, such as a Point-of-Sale system, third-party calculated shipping rates, reports, etc. Collectively, all these will give businesses the required management. However, the user can also use this eCommerce platform with a 14-day trial by filling in the required details, email id, etc.
While you have now an accurate idea of Shopify store costs with 3 general plans. For Shopify Plus's price, there is a need for direct negotiation.
The deal can be fixed with Shopify Plus plans with the "Get pricing" button and by filling out the contact form for the right offer. But, the question is still there- what is the cost of Shopify plus? Usually, the merchant gets it at a price of $2000 every month considering the sales volume. If you will be able to reach sales of $800,000/month, then, the charging model will be converted to a revenue-generating system. Then, you only have to pay 0.25% for Shopify Plus fees, though, it has to be $40,000/ monthly revenue. Its transaction fee can be negotiated following the reliability and sales value of the online store.
What Designing Features are Common in Shopify and Shopify Plus?
It does not matter if you are running a local store or have an enterprise-level store, the retailers can benefit from Shopify's plans. Check out those benefits below:
Templates
Irrespective of the ten free templates, the others can be bought in the pricing range of $140 to $180. Certainly, many cannot afford it or find it a large amount, but it is a one-time investment. Definitely, it will represent your brand face effectively.
Themes
These platforms give almost a hundred customizable themes; they vary from free to paid. The eCommerce website design is executed by skilled designers having an in-depth understanding of the user. They are simple designs that can define your brand smartly.
Language Support
Shopify has a comprehensive list of languages that enable selling to customers globally in their own language. There is nothing that can link the business to the customers effectively than speaking a similar language. Find it valuable? As of now, it enables you to translate five varied languages for global selling optimization. To carry this out, there is a need for IP-based translation with the Translation app. It is present in the Shopify App Store that allows you to change the store language to the local one.
Which eCommerce features define Shopify and Shopify Plus?
Internationalization
Multi-Currency
Knowing the need to influence international customers for Shopify retailers, in 2019, Shopify holds the capability to sell in several currencies in Shopify Payments. It implies the eCommerce store may change the displayed price for your product according to where the customer is located. Alternatively, customers can receive a refund in local currency.
This bright opinion unlocks the door for sellers who plan to sell worldwide as it encourages the customer payment method. Luckily, the supported currencies are not extended to 133, hence, all can access the products without no restriction.
Because the customers need to choose the exact currency in a manual way on Shopify, Shopify Plus chooses the suitable currency for the purchasers as per their IP addresses. In addition to this, Shopify Plus enables customization of the rounding rules on the site after the system changes the starting price into the target currency. In a similar way, the customers can simply complete the payments by local payment gateways rather than making a new account. Definitely, it is an add-on to Shopify plus for those thinking to invest internationally.
Omnichannel
It is a feature of Shopify plus that has a huge role to play in giving customers a satisfying experience on social media, sites or conventional stores, etc. With storefront diversification, Shopify plus retailers have varied methods to interact with customers. It results in an enduring connection between customers and the brand.
With 100+ social media handles along with more than 80 online platforms, you will have the opportunity to increase the brand visibility to more target customers. Specifically, when it is about omnichannel, Shopify Plus lets you capture more customers with email and SMS automation.
Tax
Shopify
Shopify simplifies your tax worries using a built-in tax engine that handles basic sales tax calculations. Also, you can fix the tax overrides to manage particular tax regulations and specific circumstances. However, Shopify uses the usual updated sales tax rates, but you have to review them again to ensure that they are updated and accurate. The eCommerce platform enables you to change whenever required. Taking assistance from Shopify development company for an idea on tax is beneficial. They are experienced and skilled enough to confirm that you are proceeding on the right path.
Though, Shopify will not file for you or transfer sales taxes. For Shopify sales tax administration, you have to register the business with the federal or state tax authority. Shopify's reports and calculations are a helping hand for filing and paying taxes.
Shopify Plus
But, when it comes to Shopify Plus, then, there is an automatic calculation and tax filing. Avalara AvaTax is a paid service that is accessible only for Shopify plus plans. When the user gets registered with Shopify plus, they need to buy Avalara AvaTax. After getting it activated, it can be seen in the Shopify admin for getting taxes. The service is useful for:
Gathering updated and valid tax codes from 12000+ jurisdictions.
Changing the tax rules for business needs satisfaction.
Generating exact reports for taxes.
Shopify Wholesale Channel
Another best part of the Shopify platform is that it allows the merchants to sell products wholesale. It gives several ways with which the products can be wholesalers; from opening a different store to leveraging the discount codes.
The same thing is valid for the Shopify Plus platform. Though, the retailers can benefit from it as it assists in creating a wholesale channel different from Direct to Customer (DTC) sales. Because it depends on the conventional store, hence, you show the similar products to wholesale clients at a discounted price.
Additionally, the wholesale functionality of Shopify Plus allows you to make different pages to showcase terms & conditions, policies and FAQs, etc. It assists the customers to check out the data they are searching for without accessing other sites.
Integration
The retailers can enhance their eCommerce websites on either Shopify or Shopify Plus by including an Application Programming Interface (API) for different applications. API has an essential role to play in interacting with various systems and includes unique features to Shopify Plus and Shopify.
Each API of Shopify is cost-effective to be fair and stable to each merchant. However, there is a thin line between Shopify Plus and Shopify for integration.
Holding a doubled call limit of API, Shopify enables integration with a third-party platform with Enterprise resource planning (ERP), Inventory, and order management (IMS and OMS) and Product information management (PIM).
Analytics
Shopify operates on its unique analytic dashboard. The functionality of live reports shows the comprehensive image of updated customer information and business sales. When the retailer will pay higher, then, more comprehensive reports will be given.
Headless Commerce
In this digital age, headless commerce has gained momentum. It is a profiling factor that will surely grow in the coming years. Considering the recent technologies, the headless commerce of Shopify plus includes different features that can gain your interest:
Higher customization level
Link the eCommerce site with business and CMS such as PIM, ERP, CMS,
etc.
Improve the website visual quality with GraphQL Storefront API.
Let you use the tech stack for the online store.
Receive assistance from professional and skilled Shopify Plus Partner.
Is there customer Support by Shopify and Shopify Plus?
Definitely! Both of these eCommerce platforms give reliable customer service. It is one of the main reasons that several online business owners rely on them. In addition to great help centers that update you with the recent information, it also gives you assistance from the experts and users all around the corner with an extensive forum.
Shopify Customer Support
This eCommerce platform gives you round the clock assistance via live chat, email and phone. Definitely, it is the major advantage that makes it the best one among others.
Shopify Plus Customer Support
It gives the same assistance as Shopify. In addition, the retailers will get outstanding merits with this Shopify version. The platform provides you persistent support known as Launch Manager which gets your business ready in less than 90 days.
The Merchant Success Manager will accept the center stage in using your full potential with the best support and strategy. Evidently, it offers significant assistance to your success with forecasting, along with detailed instructions on optimizing Shopify Plus, strategic coaching, and study of trends.
Final Verdict
Now is time for final words! Choosing the one for your eCommerce site is a whole and sole choice of the retailer. Both are the same in one way or another. The difference lies in the three Shopify plans that are the best choices to start an online business for SMEs. Similarly, Shopify Plus works satisfactorily with strong functionalities, high customizability, and professional customer support. Hence, we end this conversation by stating both are best by their own standards! Pick the one that fits your budget and niche.
However, if you are considering migrating Shopify to Shopify Plus, Awebstar is here for your help! Our Shopify developers will perform the task easily and quickly with accuracy and security! Contact us and we will give you a quote for the same! Thanks!