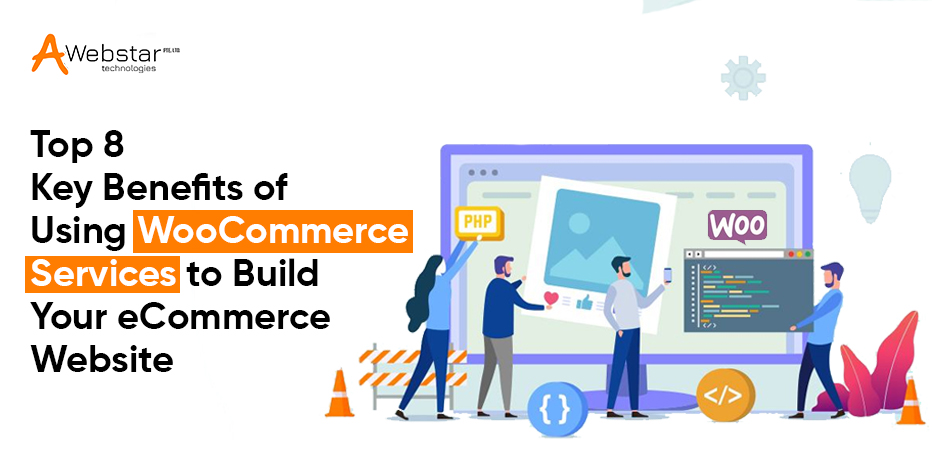 Top 8 Key Benefits of Using WooCommerce Services to Build Your eCommerce Website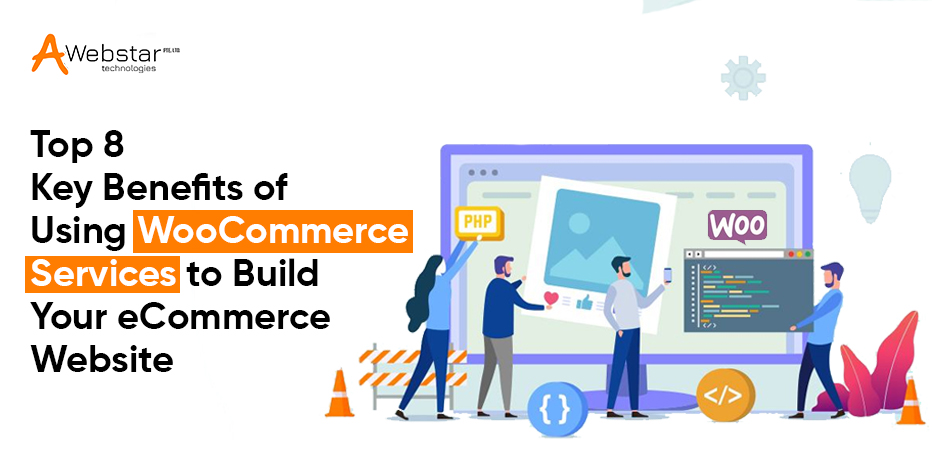 It's not easy to start an eCommerce website business. Every day, more brands are integrating with it, and the number of such platforms is growing.
Now, many businesses are wondering which platform to utilize for eCommerce website design. This is because retailers are aware of the significance of selecting the proper platform and how it may help their business over time.
When it comes to platforms, BigCommerce, Magento, Shopify, and others are among the most popular.
However, when choosing the one for designing the website for businesses, many business owners still prefer WooCommerce. Around 3.8 million live websites are using this plugin that  clearly implies its importance on others. 
Moreover, 
WooCommerce is used by

22% of eCommerce sites

that rank at the top of search engine results pages

93% of WordPress websites uses

this plugin
WooCommerce is known for being a free platform. But its extensive extensions, plugins, and built-in capabilities make it a powerful. This is why,  it is used by many online retailers.
Want to understand more?
Let's discuss what WooCommerce is and the advantages of using it to create an eCommerce website. 
WooCommerce Explained
It is a robust and useful plugin that is easy to use and allows you to quickly transform your site into a responsive WordPress website. Designing an online store is affordable for everyone, from small enterprises to medium-sized businesses. 
Benefits of Using WooCommerce Services for eCommerce Website Designing
Cost-Effective Platform
It is a popular option for retailers  to build an online store.  the reasons lies in the fact that it is simple to set up and free to install. 
While several platforms are accessible, such as Shopify, Magento, and others, some may be more expensive than others.
So, if you're looking for a cost-effective and dependable eCommerce platform to create a responsive and high-performing store, look no further. WooCommerce should be your first choice to develop a budget-friendly, high-quality online store.
It is the most cost-effective option because of the features, plugins, and functionalities that are available for free. Furthermore, by developing a seamless eCommerce website, any business can increase its website visibility.
Easy Storefront Customization
The storefront appearance is extremely important. It determines whether customers will visit your website and make a purchase or abandon it. Increased bounce rate can occur if your website's shop design is cumbersome and not optimized for quick access.
As a result, it is vital to create an enticing website design for your online store, It helps you in transforming the visitors into loyal consumers.
As previously mentioned, this plugin is based on the well-known WordPress platform. This CMS allows for easy storefront customization with the use of existing themes.
WordPress offers a variety of premium and free themes. These are accessible and customized to fit the needs of any business. 
You can also choose several templates and themes to make the online store more engaging. WooCommerce also allows website owners to customize the storefront by changing the colors and CSS of the themes. Isn't it great!!
Built-In WordPress Plugins and Features
While several platforms offer different features and add-ons, its versatility and dependability make it the ideal platform for business type. It comprises a range of add-ons that are most effective.
There are a plethora of built-in plugins and tools to help you create, operate, and improve online stores. Also, it isn't just about selling plugins. Advanced and premium extensions are available to run the business online store.
In addition to this,
Different currencies and geographical support are among the premium and advanced capabilities of WooCommerce. The advanced functionalities also allow online business owners to use a geolocation auto-detection capability. It tracks shipping and delivery information. It's also simple to calculate the taxes based on the order. The best part is that it comes with an in-built currency set. It  can be used to adjust the default currency accordingly. 

The proprietor of a WooCommerce website can use various payment gateways like; Paypal and Stripe to take order payments. Also, you can allow customers to shop using the same payment gateways. NetBanking, Debit Card, Credit Card, UPI, COD, and other payment methods can be considered. Also, you can install the payment option of your choice other than those mentioned here. 

WooCommerce features include drag-and-drop functionality for enhanced website functionality.

The features offered also help in enhancing the website's performance . The page load speed, making site navigation easy and adding products to the cart less time-consuming are assured.
Some Specific Features involve:
In-built blog

Attributes and tags

Product sorting and filtering

Location customization depending on currency, language, and so on

Product rating, feedback, and reviews

Services or goods category management
Easy Search Engine Optimization


Despite the platform's rich functions and add-ons, the importance of SEO for online business exposure cannot be overstated. SEO is crucial in ranking the eCommerce website on the tops of search engine results. 
Of course, SERP ranks are proportional to the amount of traffic that a website receives. WooCommerce platform converts the website into an SEO-friendly platform making it easy for businesses to rank their products.
For effective SEO, these tips will be beneficial:
Optimize page heading

Writer descriptions for each product offered and uploaded on the site

Image optimization using right alt texts 

Easy and hassle-free website navigation reducing the bound rate

Meta descriptions for every product are vital

Yoast SEO and other plugins are best to assess a product's or a webpage's performance.
Compelling Analytics
Every eCommerce store owner demands analytics, the most critical tool for assessing in-depth website outcomes. The availability of a wide selection of free and premium analytics tools makes it easier to find them these days.
However, small enterprises find it difficult to manage the complicated interfaces of analytics, which hinders business growth.
Thus, WooCommerce comes into play, as it provides a simple and intuitive interface helping businesses in identifying prospective client information and behaviors. Customer retention and happiness are the goals of every firm, thus it's critical to analyze in-store activity and visitor data.
It makes it simple for retailers to understand customer behavior, interaction patterns, and what they anticipate from items and stores. 
While many store owners pay a high fee to obtain their website's analytical reports, WooCommerce provides this service for free. The report includes metrics like average order, total sale, visit actions, and much more. 
The great thing about the analytics is that it's simple for any business owner to interpret.
In general, organizations can view data and performance in the form of easily available graphs and do not require special services.
Inventory Management
Again, inventory management is critical for operating an online venture. It lets the business owners recognize and track stock levels. 
However, for some, paying a large sum and beginning with inventory management can be stressful.
The inventory management system is a unique solution to provide quick product tracking, supply, and stock updates. Also, it sends notifications and alerts about out of stock or running low in-stock products. 
Furthermore, the Product tab and WooCommerce tab on the site's dashboard makes inventory management and updating a breeze. Managing refunds, emails, orders, and so on is also easy with it. Isn't it great!
Productive Marketing
The key to an effective and profitable eCommerce website is to market the products or services to their greatest potential. Marketing is the one business aspect that no business owner can overlook if they want to achieve success or expand the company.
The features offer lets you market products by running campaigns, promotions, discounts, and season sale. It ensures that clients do not have to make compromises when it comes to selling goods or services or growing their business.
To entice clients to the online store, offer free delivery, limited-time offers, and so on.
Reviews are effective in identifying the store's worth and persuading the visitors to make a purchase. Hence, request evaluations and feedback from your customers about their buying experience. Use plugins like Social Media Integration, Cart Add-Ons, Follow-up Emails, Smart Coupons, and more in addition to coupons and reviews.
You'll be able to advertise your items or services more successfully and efficiently this way. 
Excellent Security and Customer Support


Both WooCommerce and WordPress are open-source systems that make them available to a wide range of developers and businesses. It is the best platform because of its customer support feature.
Furthermore, the support feature helps in setting up the store's seating. WooCommerce's customer service and technical staff are also available 24/7 for advanced help and problem-solving.
Users can also find tutorials and FAQs to assist them in resolving any issues they may have in the seating store.
Wrapping Up
Having a wide range of excellent business solutions is usually advantageous in a variety of ways.  WooCommerce is, of course, a fantastic solution for any company looking to utilize content and establish a fully functioning eCommerce store. 
You can also get in touch with us at Awebstar Technologies to learn more about our services and offerings for creating sleek and responsive eCommerce sites. Our team of highly skilled web designers and web developers create mobile apps, compelling websites, landing pages, and more. So, you can visit or employ Awebstar for obtaining fully-fledged services including everything from custom websites to web development, designing, digital marketing, and so on. Allow us to assist you in taking your business venture to new heights.