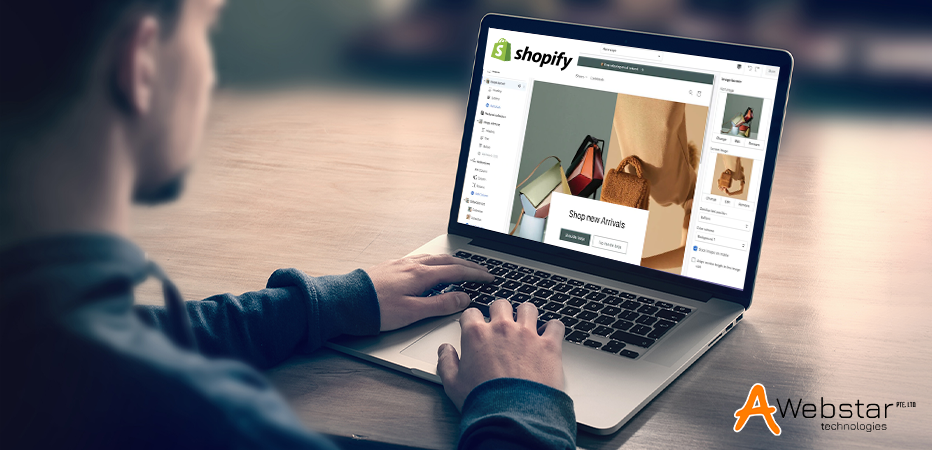 Website Design Mistakes To Avoid When Building A Shopify Store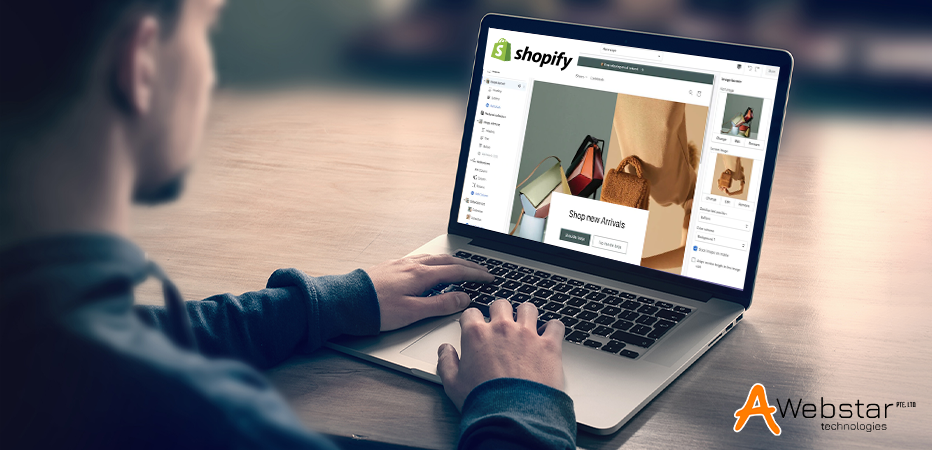 Website design is essential for improving online presence. No business can ignore the importance of an online store which is fully functional, easily navigable, responsive in design, CTA buttons, etc. And, when you have chosen Shopify development services for your eCommerce platform, then, creating, designing and running the site is a cakewalk. This platform enables launching the online store merely in some clicks. Shopify creates and hosts the sites. Approximately 1.7 million retailers are currently using this eCommerce platform.
But, even if it is a great platform to build and run the online store, there are several eCommerce Shopify websites that fail to increase ROI. Majorly, it is because of overlooked design mistakes. However, affecting the bottom line. Knowing those mistakes before does not hamper the success of the online store. Are you aware of them? No! Not an issue! We are here to help! This article aims to define the common mistakes of web design for eCommerce websites killing sales.
Table of Content
12 Shopify Web Designing Mistakes Killing Your Sale
12 Shopify Web Designing Mistakes Killing Your Sale
Does not include suitable filters
If the online store does not have the proper filters that it might annoy the visitors or customers. Imagine when they visit your site and are unable to filter according to desired specifications the chances that they will move to another site are more. Therefore, it is essential to have all the filters in one place. Indeed, there is no hard and fast rule here!
For including the useful filters in your eCommerce, you need to research. Find out the basics of your products and know which are more vital for your customers or fit perfectly with their perspectives.
In addition to categories such as price, size, color, etc. it is recommended to communicate with the customers. Practising so, you will have an idea of what they search for while shopping online. Below we have mentioned a few factors that could assist in outlining the right filters for your products:
Mention the quality of the product
Define the category of the product quality falling in. Obviously, with so many options available, the customers get confused about choosing the required products. Make their experience seamless by contributing the number of products that come under one quality.
It is also important to show applied filters to make it apparent for visitors to know which products they are searching. Essentially, they may want to widen their search and do not want to use the filter. In case, the desired product categories are not seen then they can amend the filter option. Hence, it is vital to authorize the customers to remove the filters easily.
Overlooking Design Responsiveness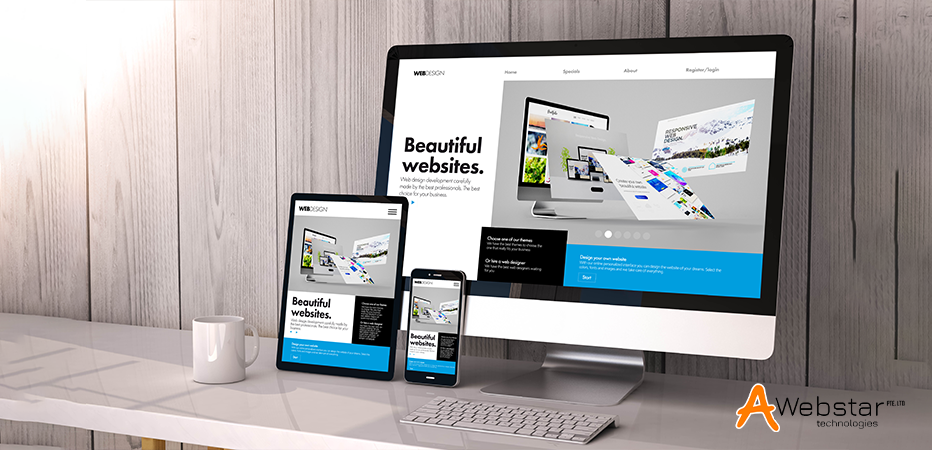 The next one is that most eCommerce site owners forget to make their site mobile-responsive. There is a need to understand that 73.1% of web designers eCommerce think the major reason behind site abandonment is non-responsive design. Certainly, from these statistics, it is clear that making the site easily accessible to mobile is vital in addition to desktop.
For Shopify store owners, it is paramount to build a responsive site that functions perfectly on the different portable devices. Mobiles tend to generate more than 50% of internet traffic. So, if the eCommerce site is not optimized for mobile users then, you are losing a large percentage of them. Customizing the theme's design, CTAs, and navigation is also important, but do not forget mobile device optimization.
Does not planning the site structure properly
Basically, when it comes to creating the web design, remember it has to be not too simple and not too complicated. Hence, you need to outline the online store structure; moreover, its primary and secondary web pages. This result is user-friendly and easy navigation.
However, do not block the visitors from accessing the menu to a limit (primary pages only). In addition, do not place the overall sitemap in the list as it could create a mess.
If you are not tech-savvy, then, take assistance from Shopify experts or the tools such as Mega Menu. Despite the way you choose, you can include a fully-responsive and fully-customizable menu to your Shopify Store in some clicks only. Make it easy for the visitors to explore the features like featured products, multi-level dropdowns and so on.
Neglecting the Site Search Option
Do you know what big names of the eCommerce industry, like eBay, Etsy, Amazon and more include the site search option in the main menu? The reason is that it makes it easy for the visitors to search for the products they require without checking every product page. Those who are new to Shopify neglect adding it to their online store. Yet, if your intention is not to lose the potential customers as they are unable to search properly, then, do not overlook including the site search option.
Showcase it on the main menu to make it visible to the visitors. Certainly, several themes hold built-in search options. But, in case you require advanced options then, search for the plugins accordingly.
Ignoring website loading speed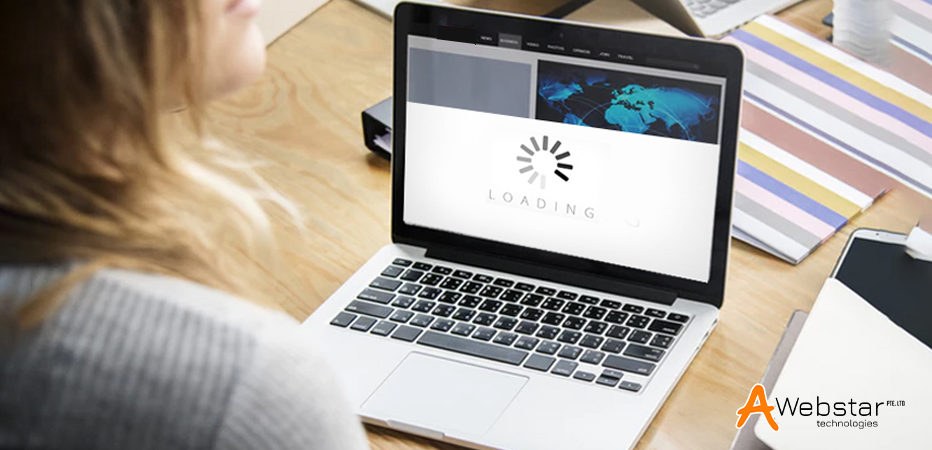 Your Shopify web page speed has to be fast, if it is not, then, losing customers to a great extent is possible. In one way or another, it affects sales. With higher network speed, many visitors contemplate that if the site is slow loading, then it has some server issues.
But, online shoppers are not patient at all. If they find the site is taking a lot to load, then, they move to others. Of course, there are many who are offering the same services or products who can give them the best experience as well. Most of the time, the issues behind page loading speed are tough to be identified. Though, many do not complain about the slow speed; simply they do not shop.
Complicated checkout process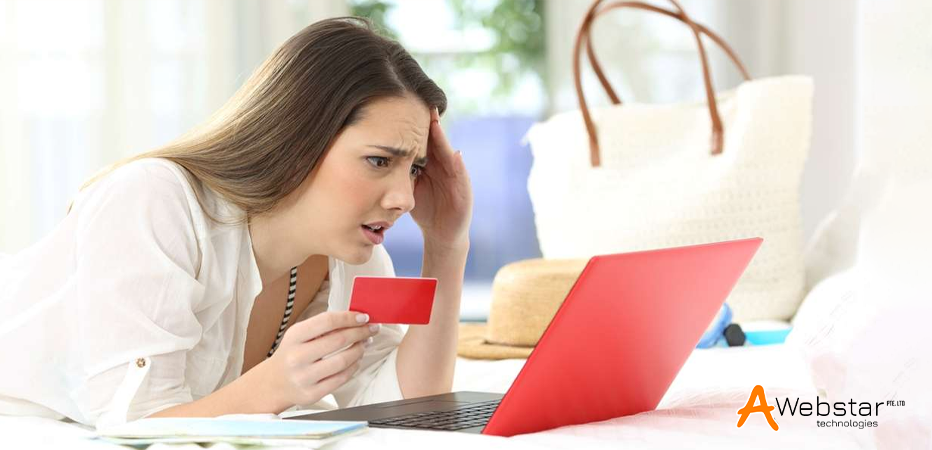 You might have experienced that many customers add the products to their cart, but do not purchase them. They simply abandon it. Assuredly, there could be many reasons. But, the primary one could be that your check out process is complicated, time-consuming and tough to understand. However, it will result in irritating them and they do not buy.

If your store is also experiencing the same, then, simplify the checkout process. Think, organize, design and create the checkout process again. Below are some of the key points that can be implemented for an easier checkout process:
Create trust among customers before the checkout process. Implement live chat, trust icons, free shipping, guarantees, returns policy, etc. All these points will strengthen trust and make dealing with them easier as well.
Notify customers regarding your brand benefits.
If the trust messages are repeated then, it can lead to an increase in sales. That is to say, remind them regarding data security, free shipping and warranty guidelines.
Include the brand logo on the checkout web page. In addition, the logo could be of colours that complement the brand.
Make customers acquainted with different payment gateways.
Increase the visibility of different card logos on the checkout page and improve the site's credibility.
Improve the visibility of the progress bar.
Similar to the logo, it is vital to enhance the visibility of the progress bar. Assuredly, you do not want to lose money, therefore, know where the checkout process has been approached.
Simplify the process for customers; they must know which step they have to follow next.
Not using High-Resolution Images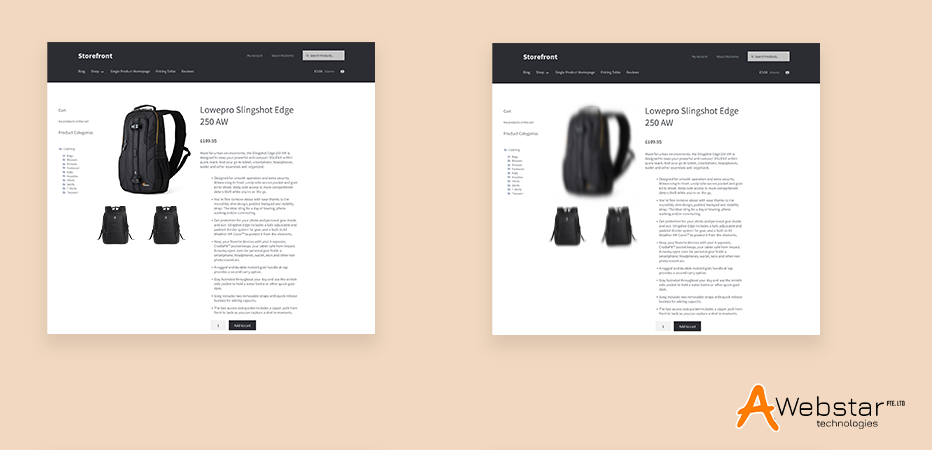 Does your eCommerce store include low-quality product images? If so, then, it is not pleasing the visitors anyway. Remember, the customers cannot try, hold, feel or touch the products in online shopping compared to physical stores. Therefore, it is essential for you to include high-resolution images and present a clear image of the product.

Uploading blurry, and low-quality images are non-profitable for your online store conversion rate. The visitors will fail to find out whether the product will be according to their needs or not. So, upload the images of high-quality and from various angles to have a better understanding. Click the images with clear backgrounds and good lighting.
Short or Wrong Product Description
When the added description is convincing enough for users, they will definitely buy from you. Even then many do not add the description that attracts them and instead of adding a unique copy for all products, they just use one.
There is a need to know that images provide an idea of the colours and appearance of the product. You can give the important details like texture, size, benefits, and weight of the products. Check out the below tips to create the compelling product copies:
Prefer to use a conventional and friendly tone. Better is not to use technical or difficult words.
Do not use the details given by the supplier or producers. They might be flat, bland, or could be used by many others Shopify store owners.
Give all the specifications.
Use bullet points and headings for improving readability.
Integrate primary keywords for boosting SEO.
Adding aggressive colours
It is essential to include unique colours while designing the Shopify Store. Otherwise, the visitors will not like it; they will move to another site and hence, the bounce rate will boost.
Do not forget that poorly coordinated colours can make the visitors disinterested. The business primary colours, overall colour scheme, the colours or CTA button or different icons or any wrong combination may fail to please them. Hence, prefer not to use aggressive colours in web designing. 
Does not have several payment gateways
Many types of research have confirmed the significance of including different payment methods. In today's world, digital payments are mostly used. There are many who pay from debit or credit card or prefer bank transfers. Noticeably, the payments via PayPal, Cash on Delivery, Stripe or different online modes of payments improve the conversion rate. Many Shopify retailers on the other hand follow the other practices that result in higher abandonment of carts.
So, it would be better to implement many of the payment gateways. But, remember that multiple methods demand paying monthly charges. And, cannot get compensated till there are higher sales.
Using Excessive Applications and Plugins
Of course, Shopify includes many applications. Businesses can include different features on the website with the installation of suitable apps. Because of these, the need of writing the code and integrating the new functionality into the site is eliminated. Consider an example; because of the easy carousel app, the Shopify experts are not required to write lengthy code.
We believe that plugins and applications give businesses the benefits. But, do not install all the apps that come your way. If you are thinking that the number of apps or plugins you can make the store more functional then, it is the wrong perspective. But, there could be many problems like:
Crowded homepage
Annoy the visitors with irritating pop-ups
Reduce the site speed
Note: Above, we did not mean that you are not authorized to use the applications. Nevertheless, use it when there is a need. Overstuffing can lead to negative consequences.
Prioritizing Aesthetics More Than Its Functionality
As a Shopify store owner, you definitely like it to look best. Indeed, presenting a boring site in front of visitors is not a correct decision. Your products will not sell if the customers cannot search for them easily and the checkout process is taking a long time.
The prime feature that the eCommerce site cannot survive without is the searching feature. Luckily, the Shopify app store has many search applications. Filters and Product Search Bar are mainly used. It has different features that can boost the user experience.
So, to use something for free, carry out quick search + and Filters rather. Additionally, it has several customisable functions and features.
Concluding Remarks
Now you know all the web designing mistakes that are affecting your Shopify store bottom line. It's easy to avoid them. Simply check out the mentioned one and find out if your site has the same issue or not. Build an online store that showcases your business the best way. In case you are not confident in solving the problems by yourself or require assistance in making the website design an engaging one then, choose Shopify development company for your site needs.
Awebstar has a team of Shopify experts to create the online store design as per your specifications and give a positive impression to your visitors. You can write to us at  info@awebstar.com.sg to get a quote for a perfectly designed online store.